Just because your master bathroom is small, doesn't mean you can't style it beautifully! I am telling you, I think we have one of the smallest master bathrooms ever, but every time I step into it, I feel like I have stepped into a cozy little spa! So I thought I would share with you all how to style a small master bathroom today.
You may be wondering how in the world can I make my tiny bathroom feel like that?? Well no need to wonder any longer, I am going to give you a few tips and tricks on what I did to make my bathroom both pretty and functional for us!
At our old house, we had a pretty big sized master bathroom. But to me, a lot of it just felt like wasted space. Because you would just walk into a big room, but there was really no where to put things or style things and it just wasn't really functional.
When we were building our new house, we decided that we would rather have a larger bedroom than bathroom so we downsized our master bathroom by quite a bit.
That decision may not be for everyone, but we were super happy with the result. And even though our bathroom may be on the smaller side, it is beautiful and very functional for us.
So let me give you all my tips on how to style a small master bathroom and I hope they can be of some inspiration to you too!
This post contains affiliate links. Click here to read my disclosure policy.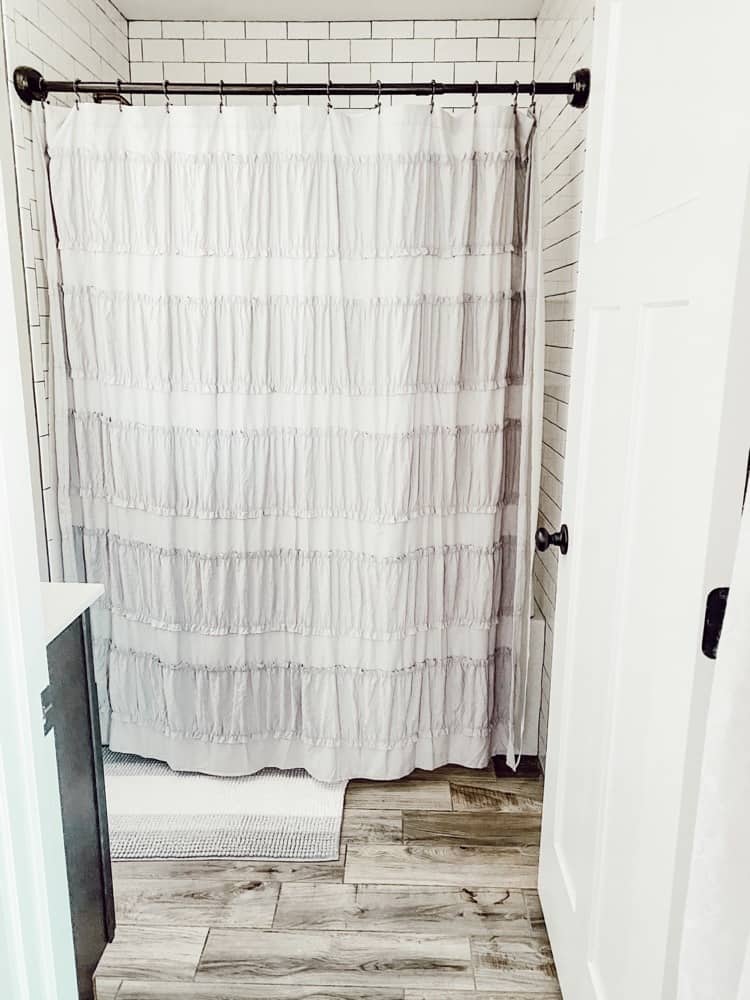 Keep It Light and Bright
I try to keep all the colors in my bathroom very neutral and I tend to stay on the lighter side of things. Our vanity is a dark charcoal grey color so it pops really well against all the lighter tones in the space.
I wouldn't recommend painting your walls a dark color because that will really make it feel even smaller. You don't want to feel like the walls are closing in on you in already a tight space!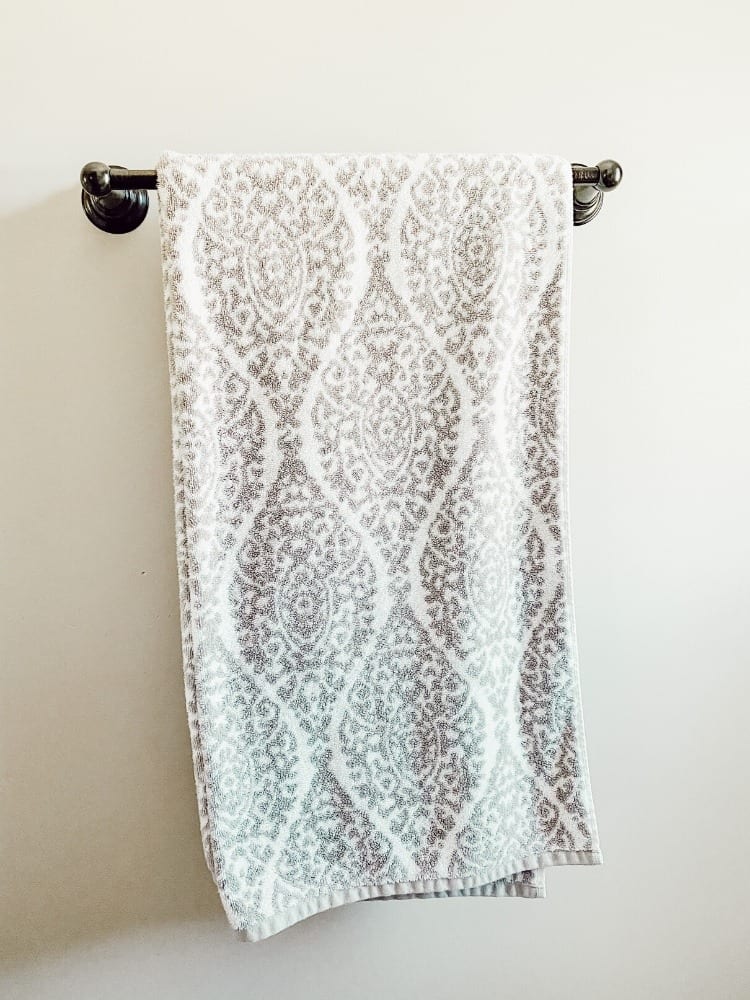 White paint will do wonders and really make your small space feel larger! We have the door leading into our master bathroom painted white and all the trim in there is white as well.
Our small bathroom space is painted in Revere Pewter by Benjamin Moore and it is a nice light grey color too. It balances out the white trim quite well.
Pick a Spot to Feature
Usually, if you are dealing with a small master bathroom space, you can choose an area to feature and do something a little different to it very easily. And since you are already dealing with a small space, the price to add in something special won't break the bank!
Ideas on Feature Spots:
Shiplap a wall in the bathroom
Subway tile the bathtub/shower area
Choose a fun and bold tile for the room
Use a stencil and paint a wall in a pretty pattern
So as you can see, there are plenty of ideas to add in something special. Use Pinterest or Instagram as well for loads of inspiration. There are always things you can DIY to make it even cheaper as well.
If you want to do a fun tile, but that tile isn't in the budget, then order a stencil and paint it yourself! It may be a little time consuming, but it would be totally worth it if you are saving money and adding a little style and fun to your small master bathroom!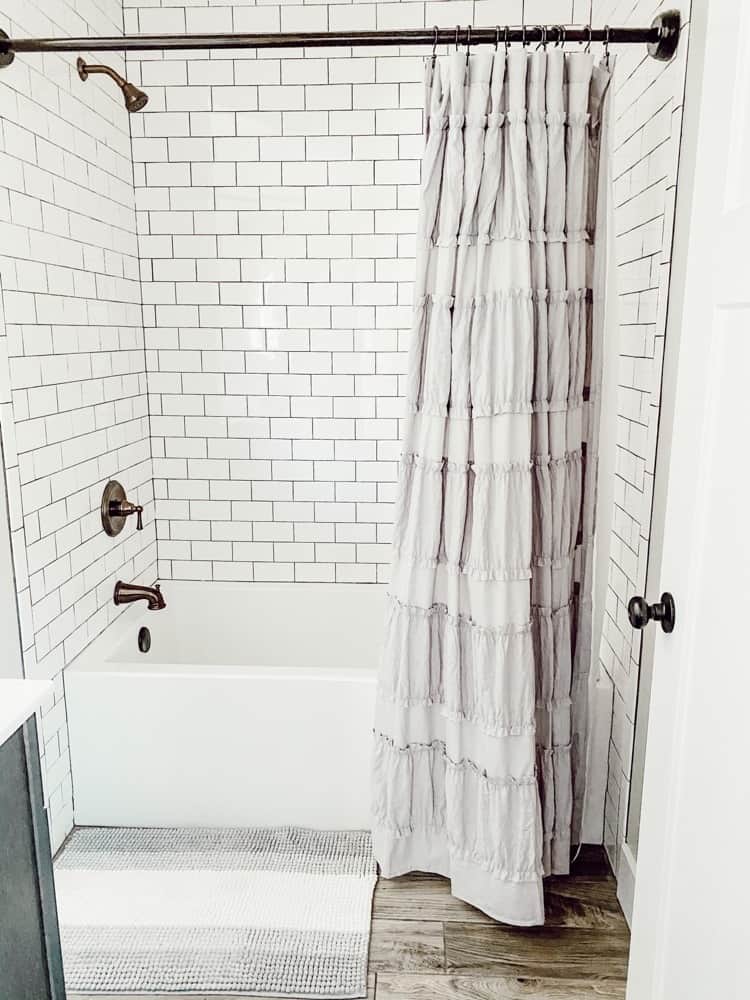 We chose to add extra subway tile in our tub and shower area. I did not want a builder grade tub in our master. I knew that from the beginning when we were building.
Ideally, I wanted an antique clawfoot tub, but that was definitely not in our budget at the time. So instead we decided to make it look more spa like and cozy by adding in simple white subway tile.

That's another way to keep it light and bright in such a small bathroom space. As soon as you walk in, you see the bright subway tile wall.
I think it is such a classic and timeless look and it was very affordable too. It gives our tiny bathroom just enough flair and makes it different than just a regular builder grade master bathroom.
Add Some Fun Mirrors
This is probably the easiest thing you could ever change in your bathroom without taking up much space at all! Regardless of size, every bathroom has to have a mirror.
And usually, they are the old, sad builder grade ones that have no style to them. So why not purchase a fun mirror to spruce things up?!
There are so many beautiful ones to choose from and you can find plenty online and have them shipped straight to your door too. Or, if you're looking to again save some money and do a DIY project instead, why not add a frame to the builder grade mirrors?
You could easily cut out some wood and stain it into whatever color you wanted and attach it around the mirror to make it look more personalized!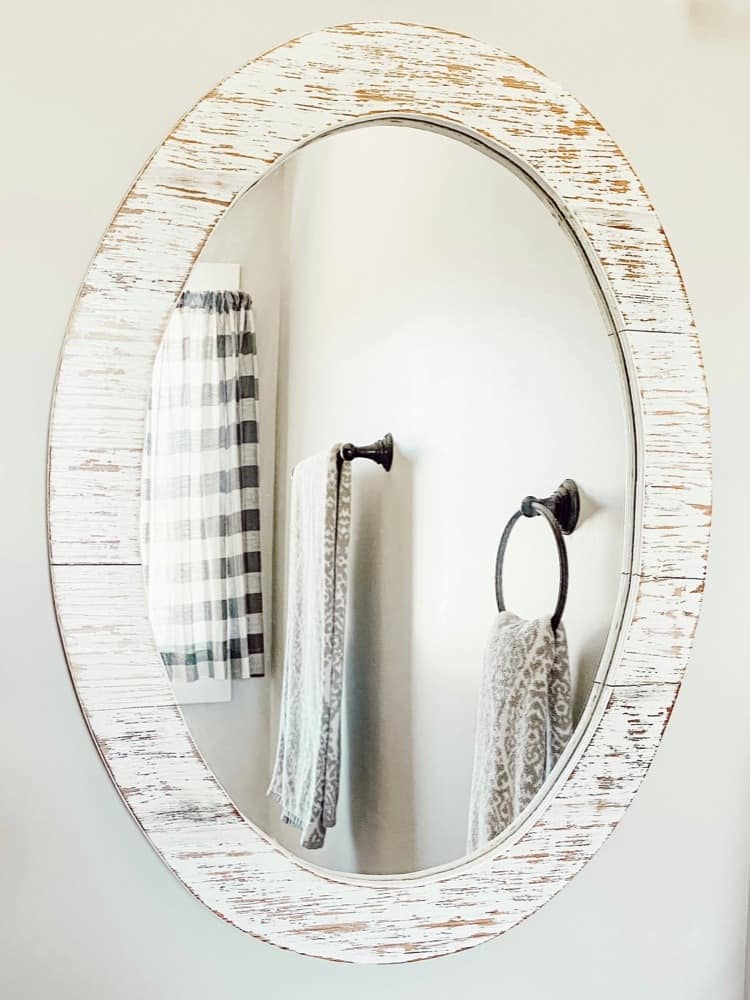 We chose to add in some handmade oval mirrors made from old barn wood. And again, they are white and chippy so they definitely help to keep things light and bright in our tiny master bathroom!
Utilize Open Shelving
If you have been here for awhile then you know I love me some open shelving. I literally have them in almost every room of our house. Utilizing open shelving helps me to have some decorating options in my small master bathroom area.
Even though I did not have a lot of wall space to work with, I found a small set of industrial pipe shelving from Hobby Lobby and it fits wonderfully in our space!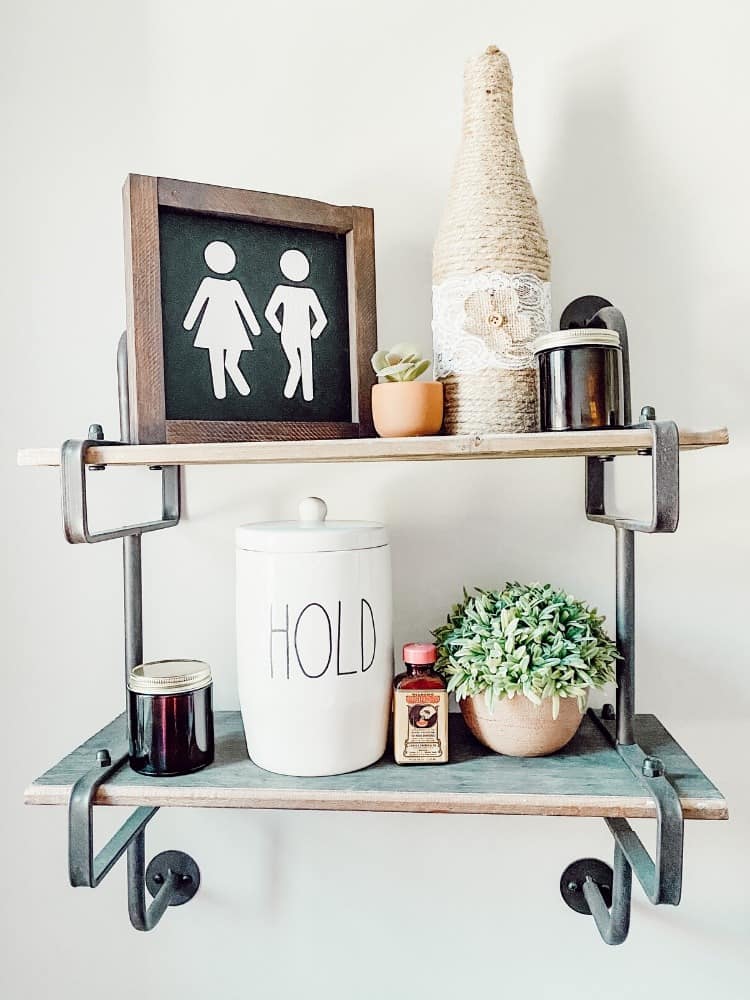 Not only does it serve as decor, but it is useful too. I keep my bath bombs and other miscellaneous bath items on there.
As well as some faux greenery because I always love to have greenery. That again makes it feel like a little cozy spa area!
Choose Some Fun Curtains
Depending on whether or not you have a window in your bathroom, you could always choose a fun, patterned curtain to make the room pop a little too.
This is another easy and cheap way to change up your small bathroom and help it to match your style a little better.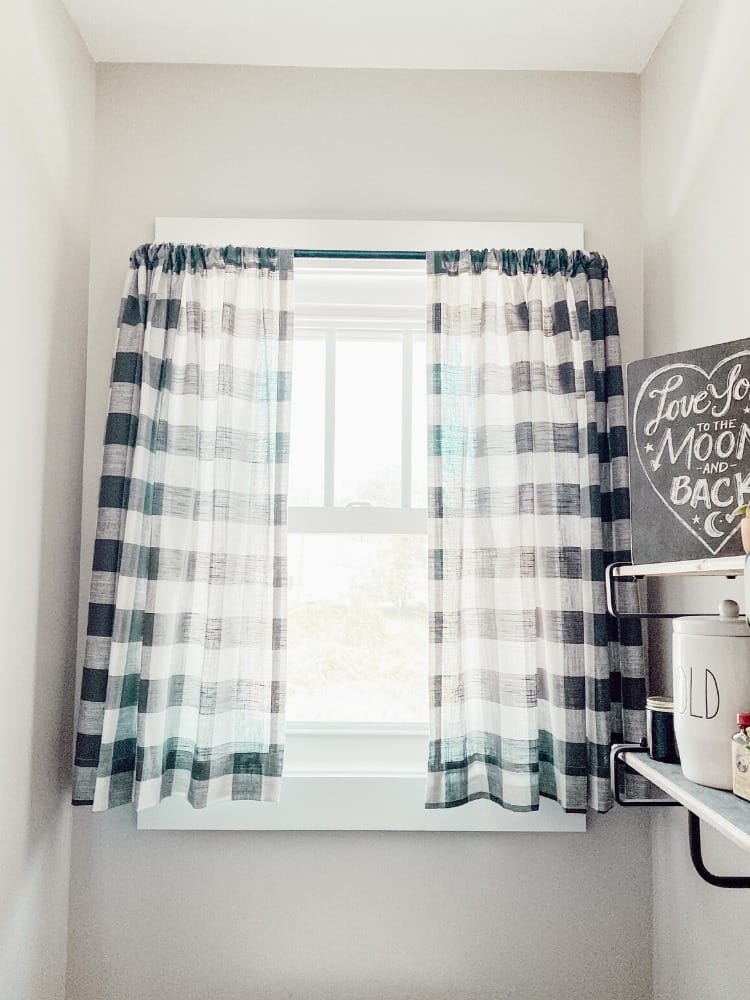 I choose these buffalo check patterned curtains from Target and they are the perfect size for our little window.
And since it has a little black in them, it gives it a nice contrast against all the light neutral color already in the room.
Pick Some Calming Scents
You can't style a cozy spa-like bathroom without having a few of your favorite scents laying around. Whether they be in candle, bath bomb, shower gel, or soap form!
Choose whatever scent is most calming and relaxing to you and that way no matter how small your bathroom is, you can enjoy it and feel at ease when you step in!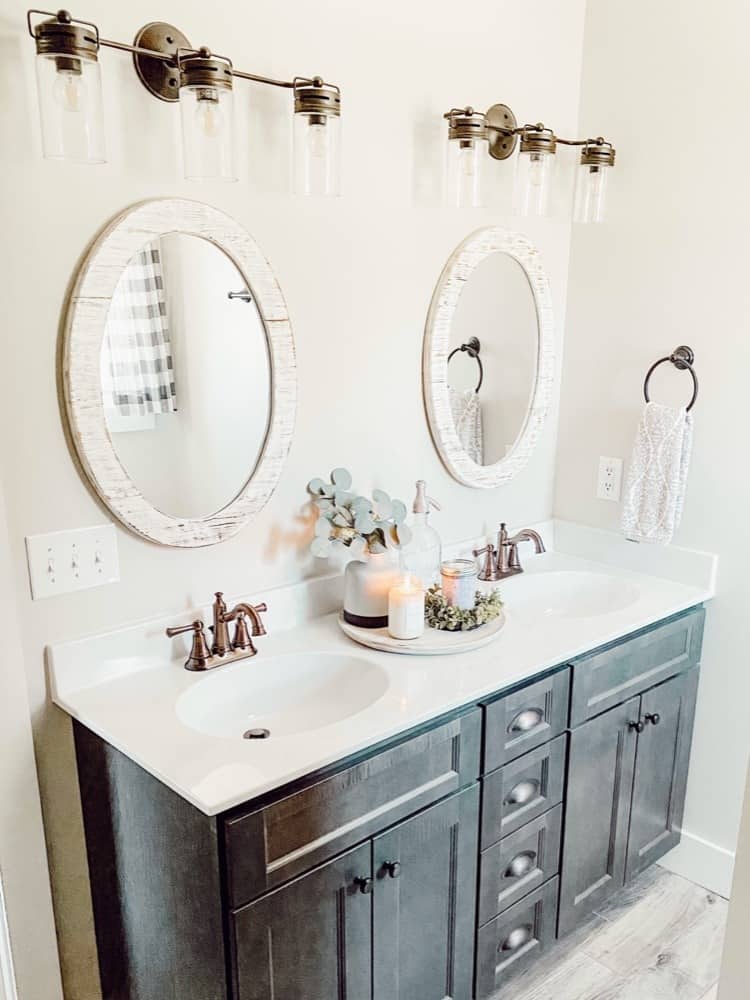 I always love lavender scents for the bathroom. It definitely makes me feel calm and at peace and it also helps me to sleep a little better at night! So I try to include as many lavender things as I can.
Such as this wonderful lavender vanilla scented candle and some amazing lavender bath salts. Lighting a candle and adding in a little something fun to my bath water definitely relaxes me and makes me feel like my bathroom is just perfect, no matter what size it is!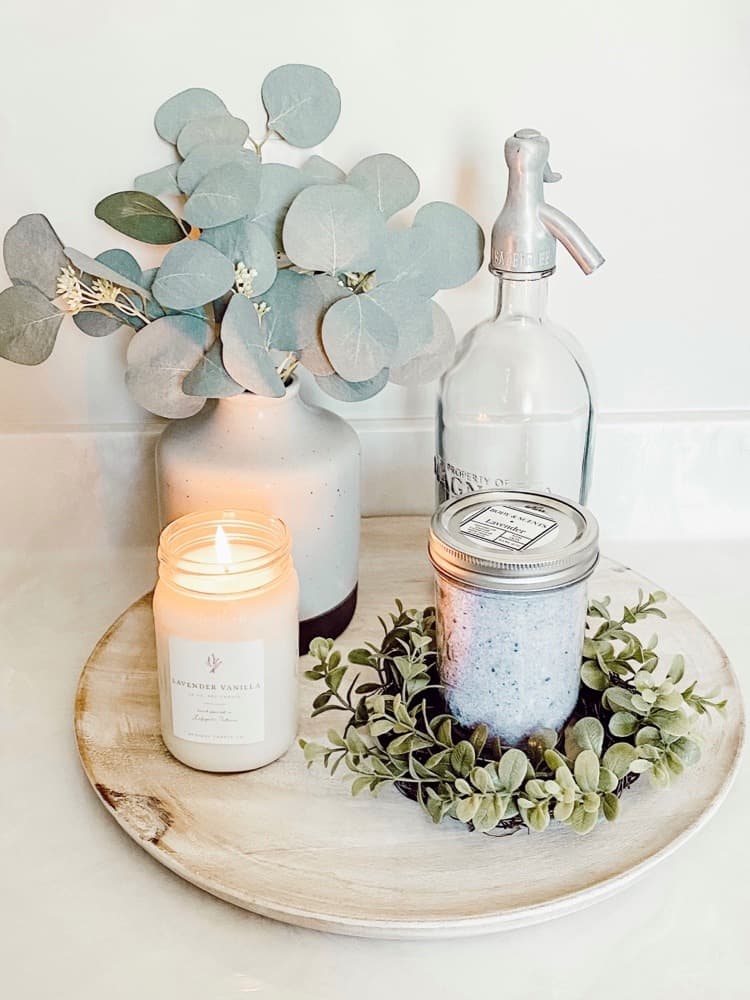 Well, I hope all these ideas have inspired you on how to style a small master bathroom too! Don't be afraid to try something new and fun to give your bathroom a little update!