Hey guys! So I am finally getting around to sharing with you all about how I took my $15 mirror frame I found while out antique hunting in Pigeon Forge, and transformed it into something that fit my home esthetic better by using a little fusion mineral paint and some antiquing glaze. So I thought it would be fun to show you how to paint and distress a mirror frame just like I did here.
This was such a fun project to do and I am so happy with how it turned out. I will give you all the tips and details on just how I painted and distressed this mirror frame and I will show you just how easy it was!
I was surprised it was so simple and easy to transform it into something I love even more. Keep on reading for the directions.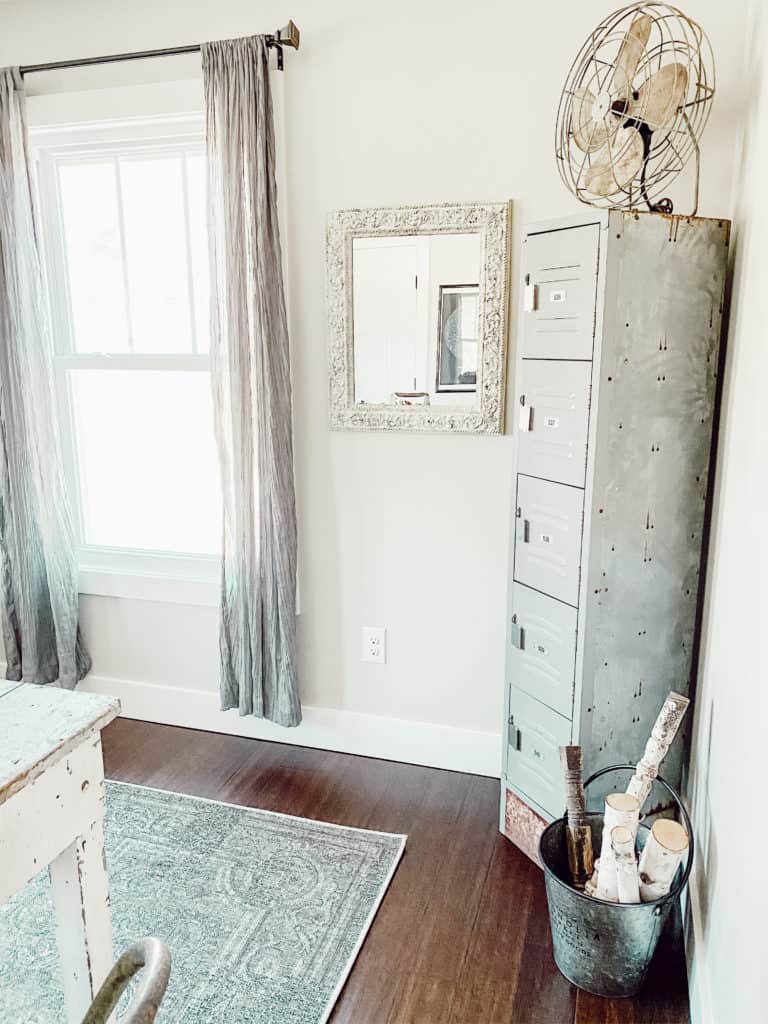 Supplies Needed:
Mirror frame (you could also use a picture frame too)
Fusion mineral paint (I used Raw Silk)
Paint brush
Antiquing Glaze (I used this Valspar Antiquing Glaze)
Painters tape (I did not need to use any because this mirror frame actually detached from the mirror itself, but it yours doesn't do that, you will need to use some painters tape to prevent paint from getting all over the mirror)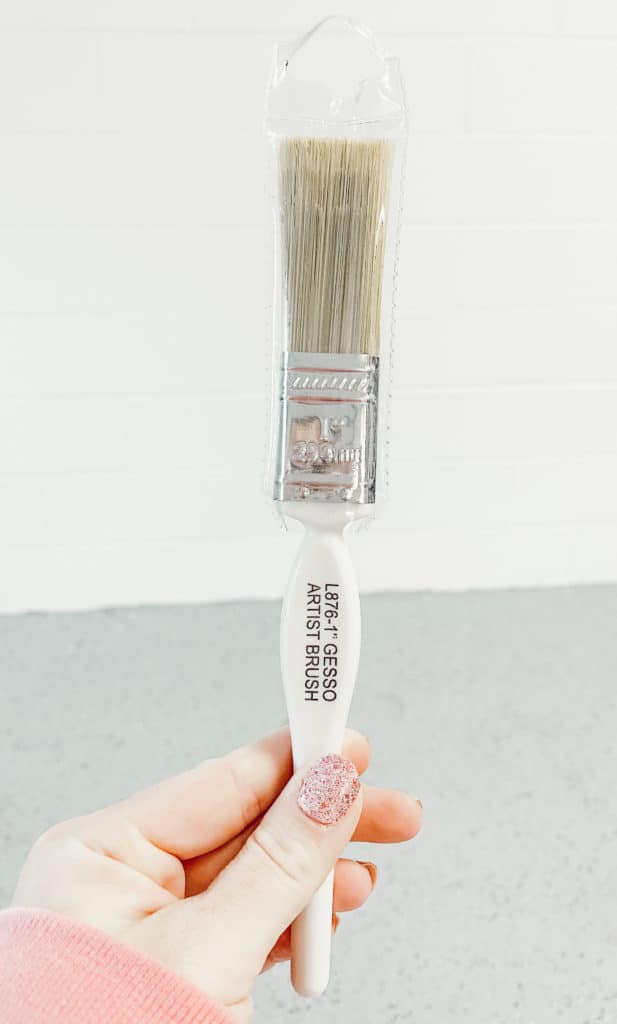 Wash The Mirror Frame
The first thing I did was take a damp rag and wiped all around the mirror frame. I wanted to make sure it was free from any dirt or debris before I started painting it. Then, I used another rag to dry it off with.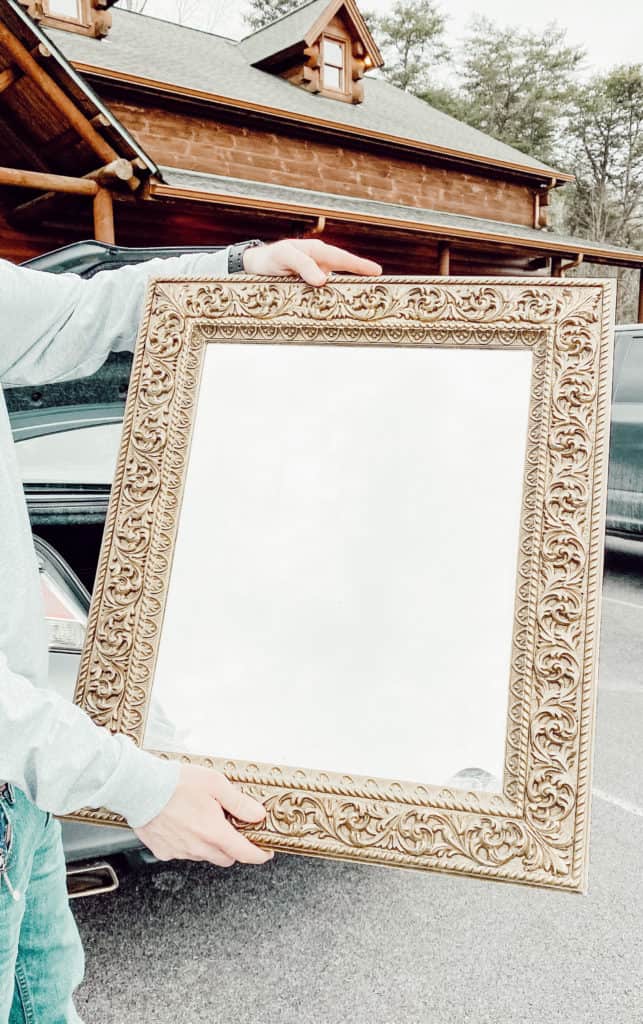 Paint the First Coat of Paint
So after you washed and dried your mirror frame, the next thing to do is apply the first coat of paint! Like I said above I used fusion mineral paint in Raw Silk for this project but you could use whatever paint you like best and whatever color that will work best for your home.
I was very impressed with this paint (see my honest review about it) and I only used a small sample sized pot for this entire mirror.
The sample size is only 1.25 fluid ounces and as you can see the mirror frame was pretty large and intricate so the coverage on fusion mineral paint is phenomenal.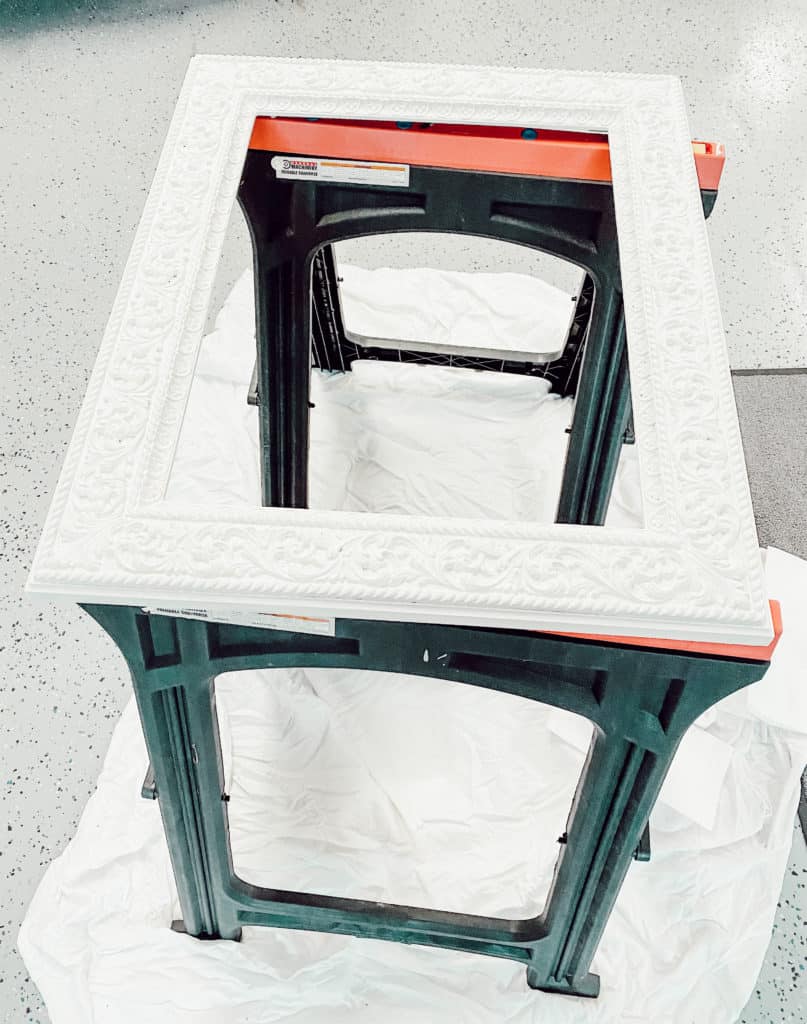 Let Mirror Frame Dry and Then Apply the Second Coat of Paint
I let the first coat dry for about 3 hours. For fusion mineral paint, it is dry to touch after only 30 minutes but you want to be sure to wait at least 1-2 hours before applying a second coat.
So I gave it plenty of time before applying the second coat. After I applied the second coat, I just let it dry overnight before applying the antiquing glaze.
This was mainly because I did not have any glaze on hand and I had to go get some the next day!
Apply the Antiquing Glaze
After your frame is completely dry, now you can apply the antiquing glaze! This was super fun to me to do because I have never used antiquing glaze before and I was also impressed by this product as well.
It definitely gave the painted mirror frame a distressed look to it, which is what I was going for. I used the antiquing wax pictured below. You don't need much at all to do this.
First, I mixed the glaze well and then I used a damp rag and dipped it in there, getting just a tad bit on the rag.
Then, using small circular motions, I applied it all around the mirror frame. I used more in some spots to give it a darker appearance and then less in some spots to give it more dimension.
It really made the appearance of the mirror frame look antique and vintage which is definitely my style! Click here to view the exact glaze that I used for this project.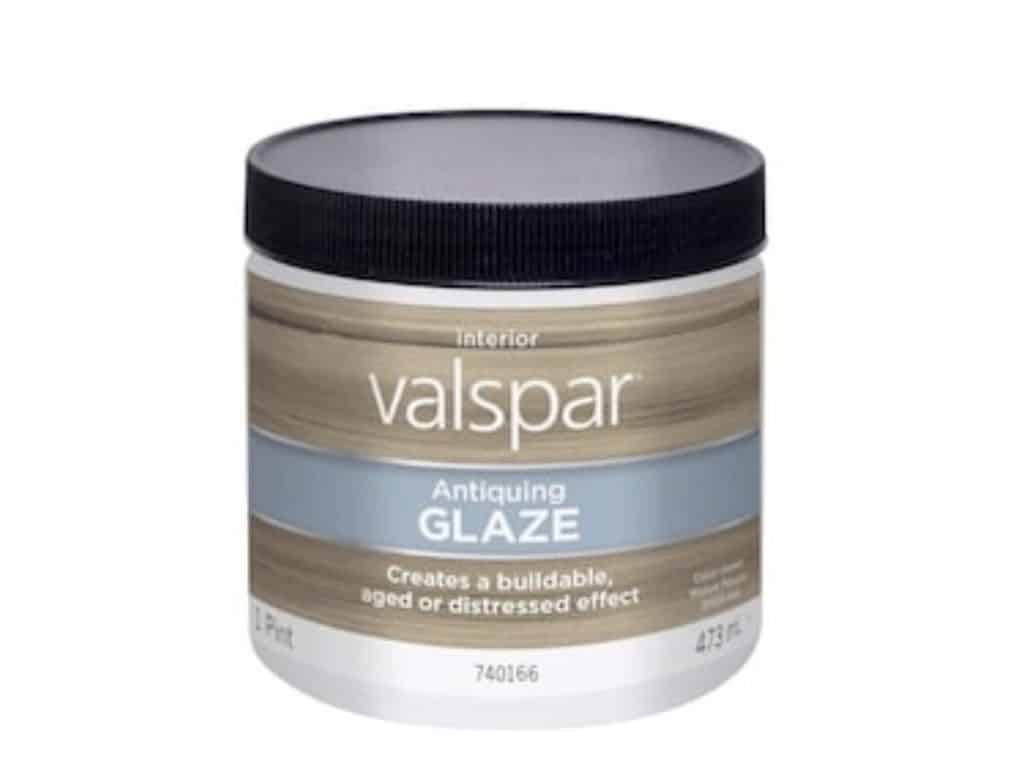 Let Mirror Frame Dry Completely
Again, after applying the antique glaze, I let the mirror frame dry overnight. I wanted to be sure it was completely dry before I hung it up.
It is also important to note the drying time if you are just painting the mirror frame with fusion mineral paint and not applying the antiquing glaze- Curing time with all acrylic paints is 21 days, but painted surfaces can be used gently after just 24-48 hours of drying time.
However, longer dry times and curing times are required when painting is done in high humidity and cooler temperatures.
So use your best judgement to determine when your mirror frame is completely dry from being painted and distressed!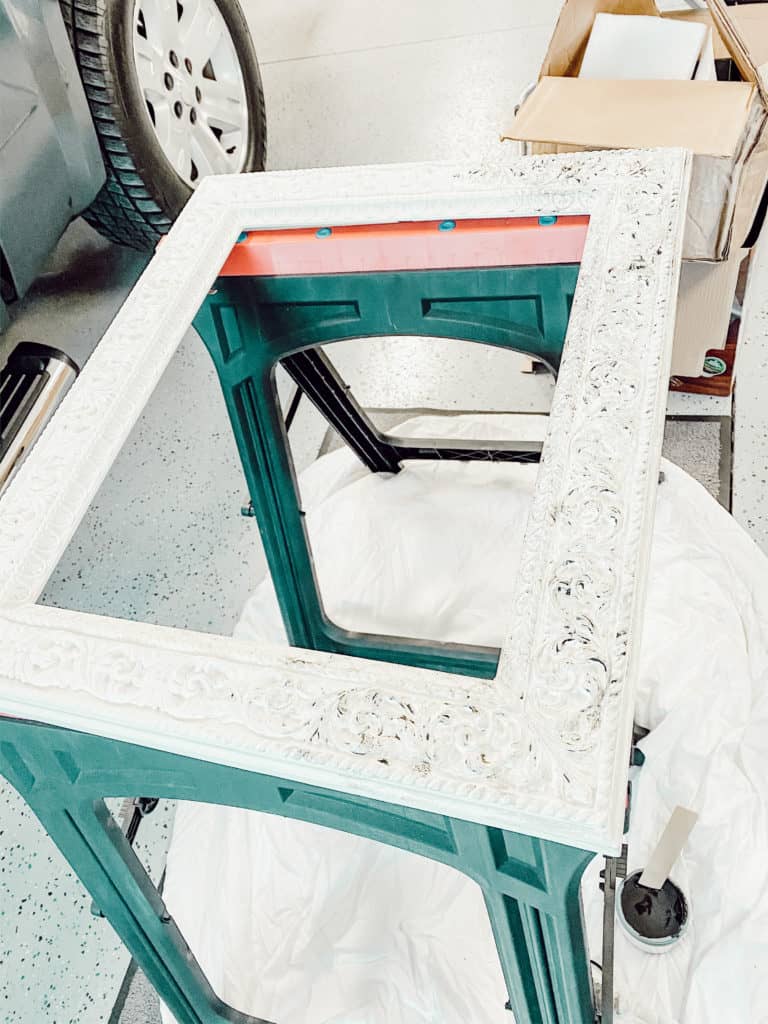 Hang Up The Mirror Frame
The last step is obvious, but once you have let your mirror frame dry completely, it is time to hang it up! I wanted to hang it in our office because I had some wall space next to my lockers that needed a little something.
And I think it is the perfect touch! I love how the painted and distressed mirror frame looks next to my old, rusty lockers. It's like it was made for this space!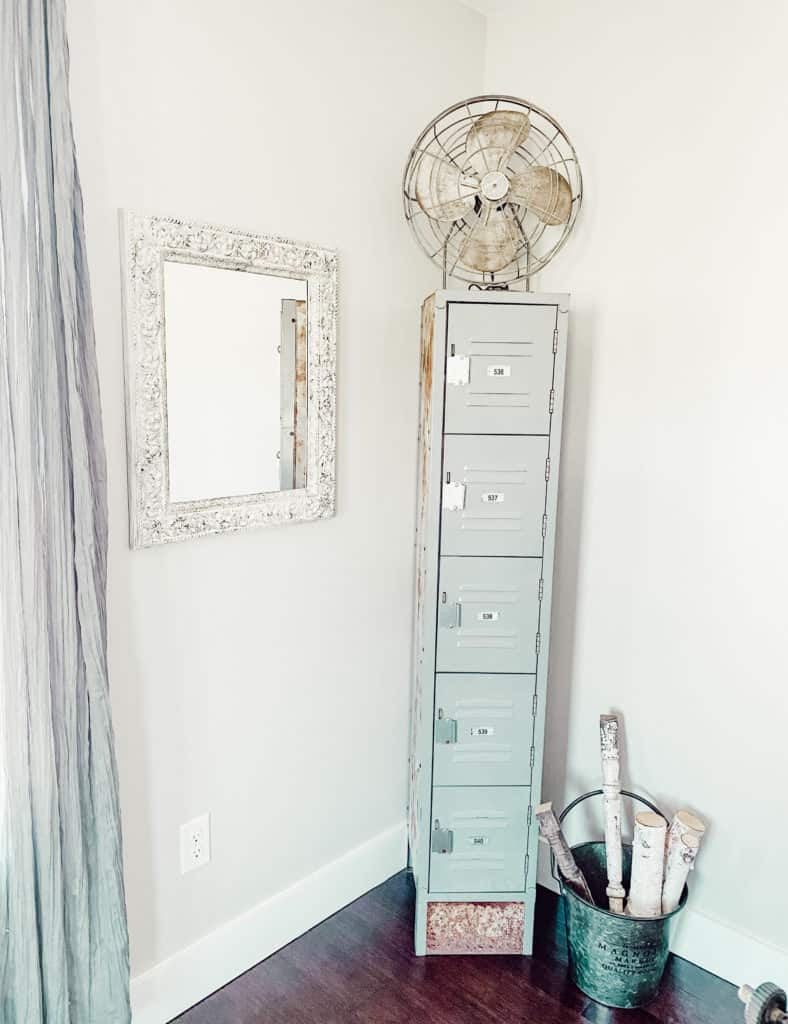 I hope this post was helpful for you if you are planing on painting a mirror frame, or anything else for that matter! These techniques can definitely be used for any kind of furniture as well.
I would love to find an entryway table to paint next so hopefully I can find one of those soon too. I will of course let you all know if I do!
Have a lovely day my friends and as usual, thank you so much for stopping by! I appreciate you all!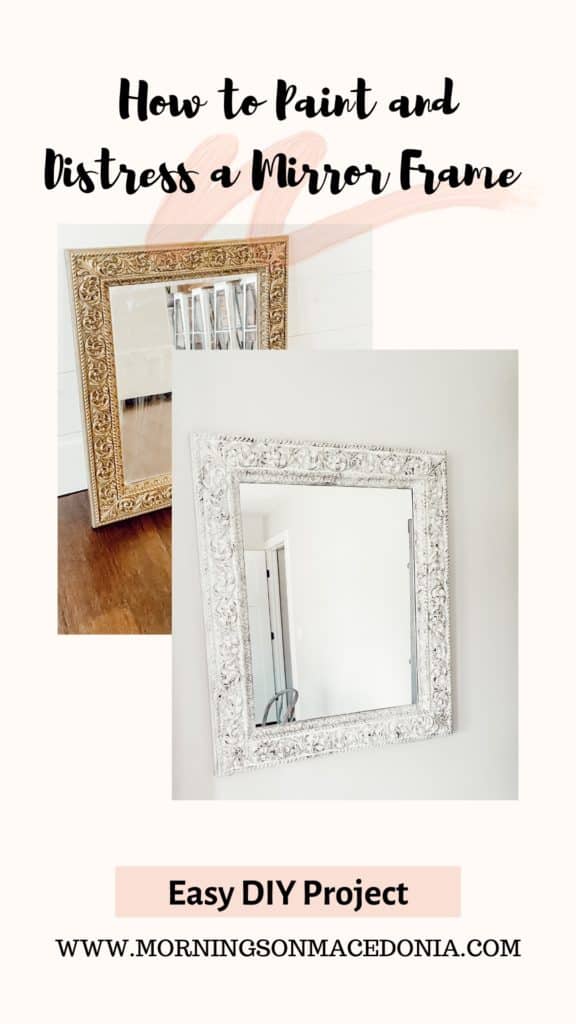 Learn more about how to turn your builder grade home into something more here too!