When the weather starts cooling down and soup season officially begins, I could not be happier! I love making any kind of soup, chili, stew, etc. So that's why I had to share with you all my favorite quick and easy turkey chili recipe.
I mainly love it because soups lasts us for several days. So that means I have plenty of leftovers and don't have to worry about cooking dinner for awhile after making it! That sounds like a big win to me, right?!
My hubby requests this turkey chili several times throughout the fall and winter. So it has become a bit of a staple in our menu rotation. I originally got the recipe from The Ambitious Kitchen and I made a few tweaks to it.
For example, we love a really spicy chili so I made her spicier version of it. But if you want a more milder version, she recommends adding less chili powder.
But either way, you just can't beat this delicious easy turkey chili recipe!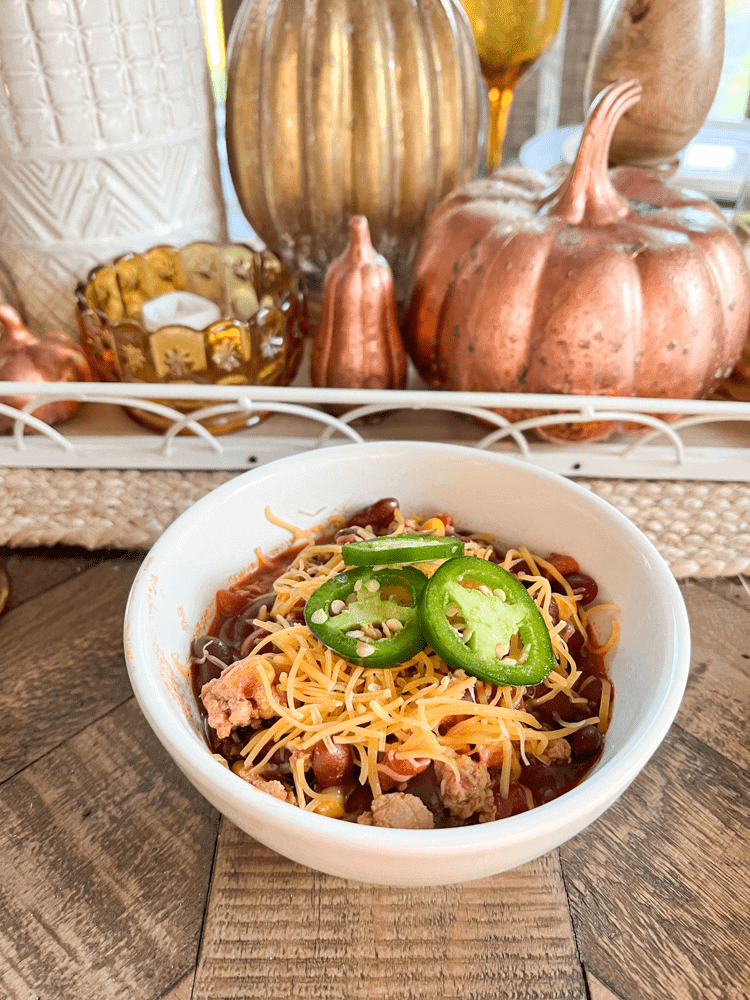 This post contains affiliate links. Click here to read my disclosure policy.
Ingredients Needed for Easy, Spicy Turkey Chili
2 teaspoons olive oil
1 yellow onion, chopped
3 garlic cloves, minced
1 medium red bell pepper, chopped
1 pound extra lean ground turkey or chicken (99%)
4 tablespoons chili powder (you can use less if you prefer it less spicy)
2 teaspoons ground cumin
1 teaspoon dried oregano
1/4 teaspoon cayenne pepper
1/2 teaspoon salt, plus more to taste
1 (28-ounce) can diced tomatoes or crushed tomatoes
1 1/4 cups chicken broth
2 (15 oz) cans dark red kidney beans, rinsed and drained
1 (15 oz) can sweet corn, rinsed and drained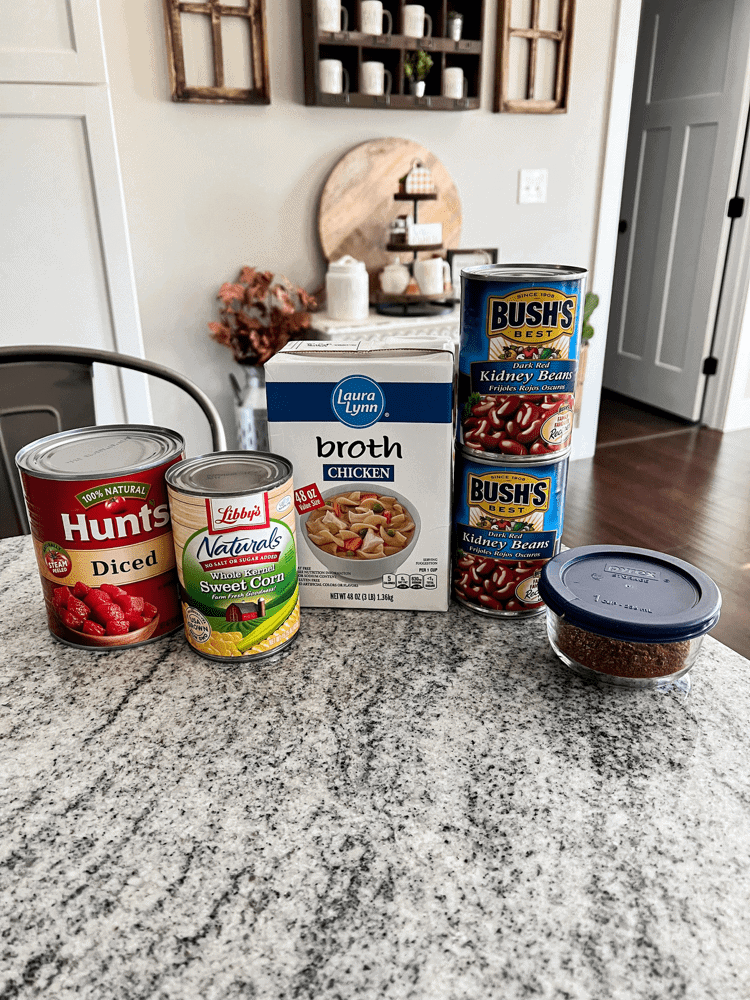 Tips and Tricks for Prepping Chili
I always go ahead and mix all my seasonings together ahead of cooking to save on time. I like to have everything ready to basically just dump into the pot and cook!
You could also go ahead and make a few batches of this seasoning mix too. That way, you have chili seasoning on hand and ready to go whenever you get a craving to make chili as well!
I just used 4 tablespoons chili powder, 2 teaspoons cumin, 1 teaspoon dried oregano, 1/4 teaspoon cayenne pepper, and 1/2 teaspoon salt to make this delicious chili seasoning.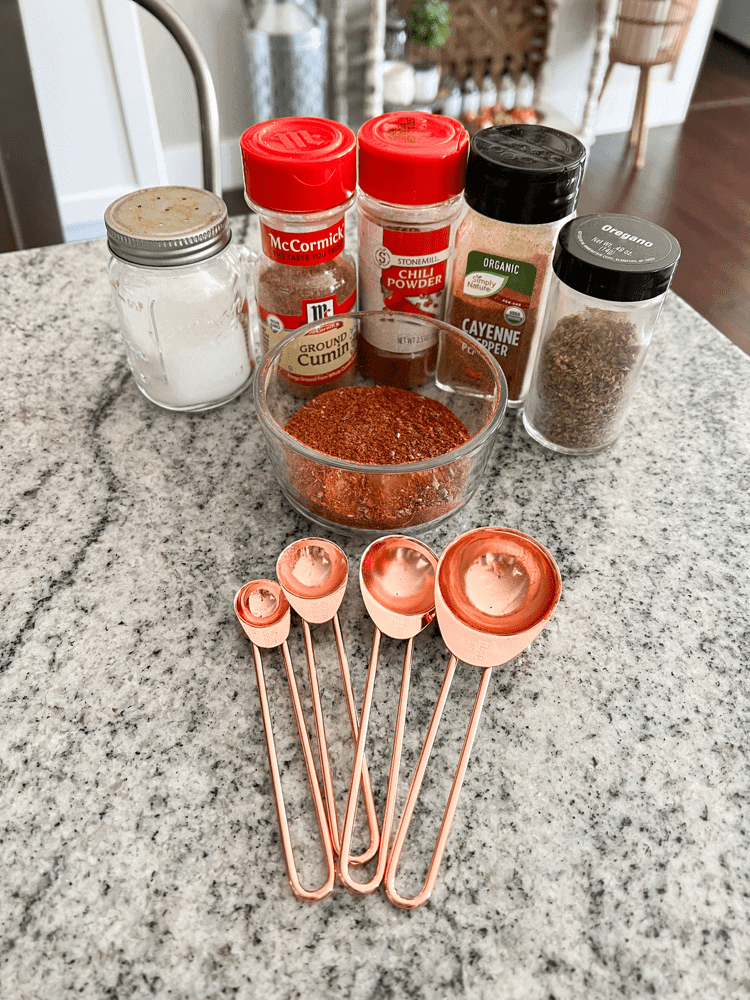 I also always go ahead and prep by chopping up all the veggies and having them ready to go as well.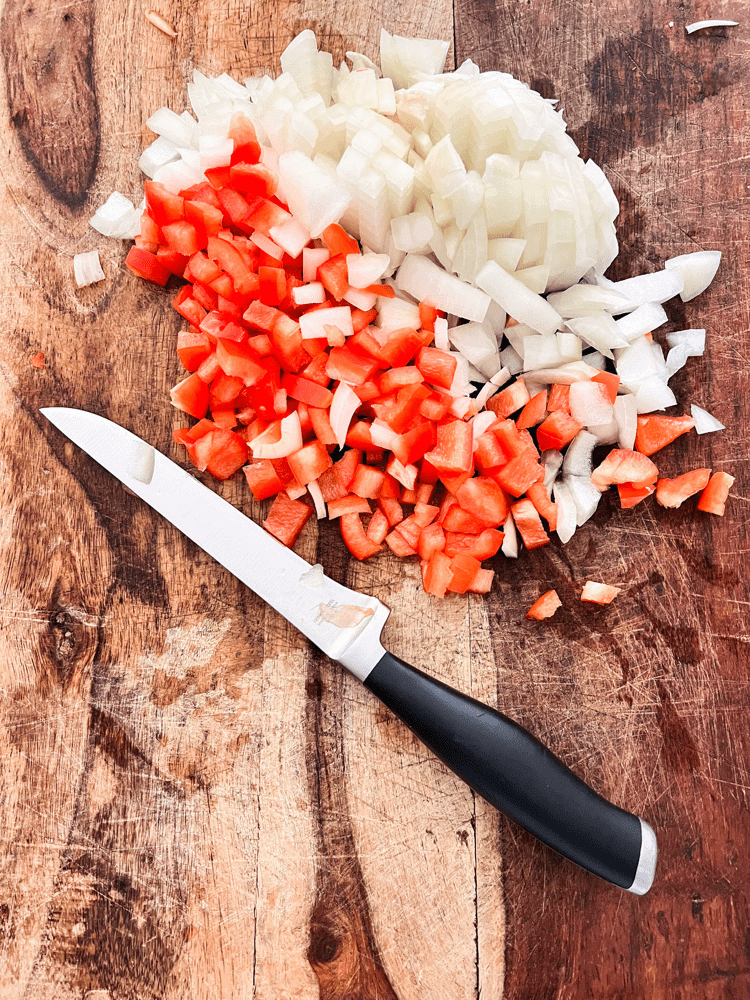 Turkey Chili Toppings
I love chili because you can totally customize it by using whatever toppings you prefer. We usually just use shredded cheddar cheese and sliced jalapeños. Like I mentioned above, we love a spicy turkey chili so the jalapeños add that extra kick for us.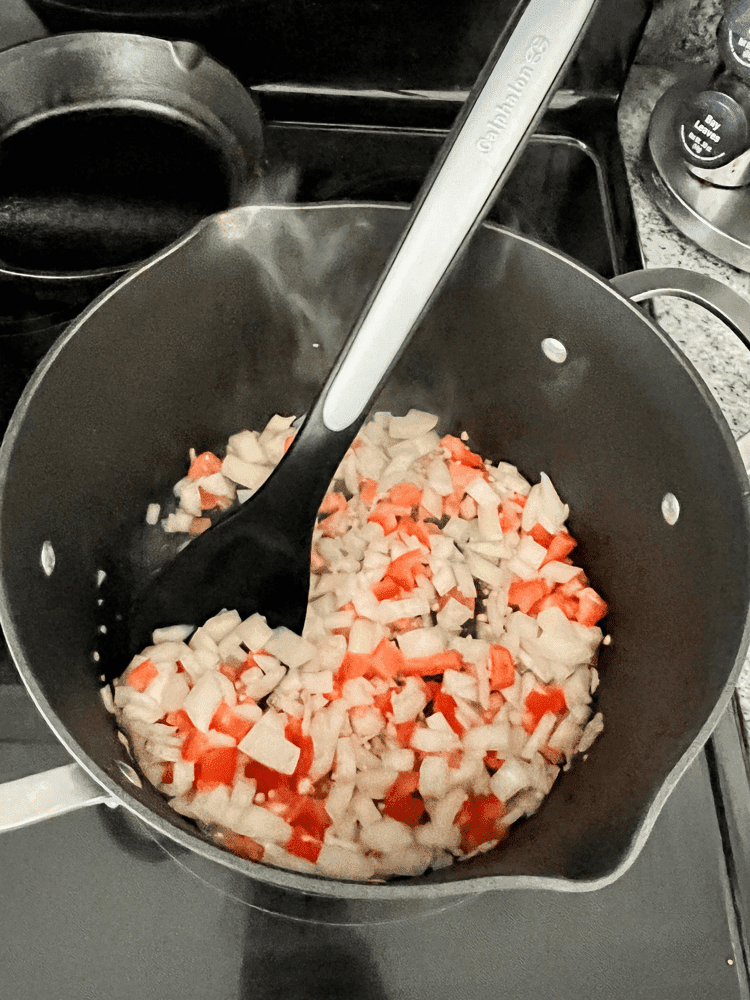 But you definitely don't have to go down that route if you don't want to. You could also just top it with freshly chopped cilantro or sour cream as well. Really anything goes when it comes to chili I think. What are some of your favorite toppings??
I hope you enjoy this easy turkey chili recipe just as much as we do! And let me know if you make it too and how it turned out for you as well!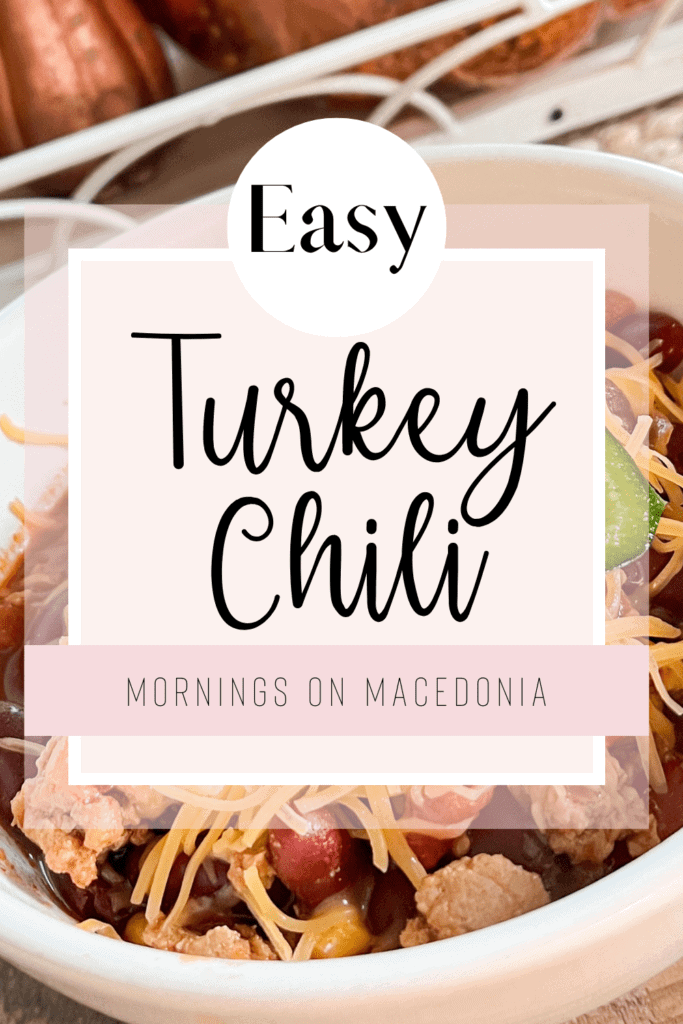 And if you're looking for some other soup recipe ideas, check out this Easy Cheesy Chicken Enchilada Soup Recipe or this yummy Creamy Tomato Basil Soup recipe as well!
Easy, Spicy Turkey Chili
Ingredients
2

tsp

olive oil

1

yellow onion

3

garlic cloves

chopped

1

red bell pepper

minced

1

lb

lean ground turkey

4

tbsp

chili powder

2

tsp

ground cumin

1

tsp

dried oregano

1/4

tsp

cayenne pepper

1/2

tsp

salt

28

oz

can diced tomatoes

1 1/4

cups

chicken broth

30

oz

dark red kidney beans (2 15 oz cans)

rinsed and drained

15

oz

can sweet corn

rinsed and drained
For Topping:
1

cup

shredded cheddar cheese

3

jalapeños

sliced
Instructions
Heat oil in a large soup pot or dutch oven. Add in chopped onion, red bell pepper and garlic. Cook for 5-7 minutes or until softened, stirring frequently.

Add in ground turkey and break up the meat, cooking until the turkey is no longer pink.

Add in chili powder, oregano, cumin, salt, and cayenne pepper. Stir for about 20 seconds.

Then add in tomatoes, chicken broth, kidney beans and corn.

Bring to a boil and then reduce heat and let simmer for 45 minutes. Or until chili thickens and flavors come together.

Serve with shredded cheddar cheese, sliced jalapeños, and/or sour cream on top.