Black Friday seems to be a little different this year and a lot of stores are rolling out their deals online much sooner than normal. I thought I would share with you all some of Target's Black Friday Deals going on now so you don't miss out.
Target is one of my favorite stores and I often order a lot of Christmas gifts from them. And since shipping is taking longer than normal too, now would be the perfect time to start a little early Christmas shopping!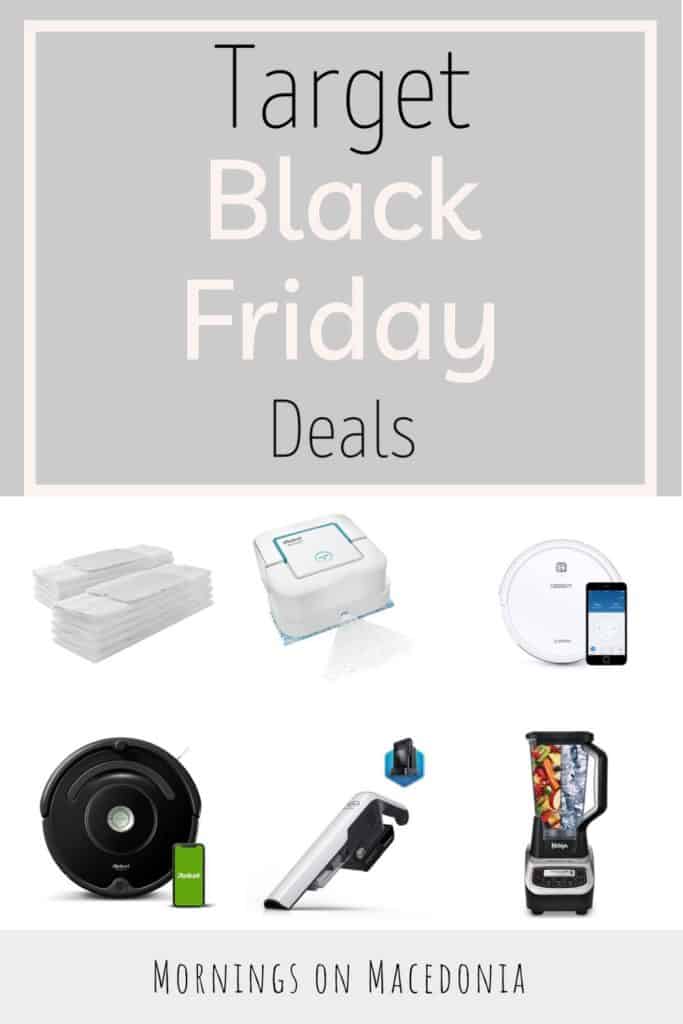 This post contains affiliate links. Click here to read my disclosure policy.
Black Friday Deals For The Home
I love gifts that can be both useful and practical so I thought I would include a big list of that first. Target has definitely included a bunch of them on their Black Friday sales this year!
Kitchen Appliances
Kitchen appliances are always one of my go to's for Christmas gifts. I always love gifting them and receiving them as well. One year, my mom and I got each other the same exact Instant Pot as a gift!
And she got one for her mom too! So obviously great minds think alike and here are some great kitchen appliances to choose from.

Vacuums And Floor Care
I would absolutely love to get a robotic vacuum for the home! Wouldn't you?? And I saw that they have a robotic floor mop on sale too! How awesome is that?!
I didn't even know that was a thing! That would save me so much time cleaning our annoying dark floors that show absolutely everything!

Other Home Items
I also think a Ring Doorbell or Amazon Echo Dot would make a great gift too! Those seem to be all the rage right now and I am sure they would make a perfect gift for anyone on your list.

Black Friday Deals in Electronics
Electronics are always a great thing to get during Black Friday sales! From TVs to Cameras, I have listed some of the best deals for you.
That way you can get the perfect gift for a tech lover in your life.
TVs
I'm pretty sure most of the TVs we own came from previous Target Black Friday sales. I mean how can you resist a good price on a TV?! And you can always use a newer, bigger TV right?!

Laptops
A laptop would be such an amazing gift for Christmas, especially for any bloggers out there. And thankfully Target has some killer Black Friday deals on theirs below:

Cameras
I think this year for Christmas I am asking for a nice camera. I would love to have a higher end camera to work on my blog photos more.
I currently just use my iPhone so I would love to be able to upgrade and learn how to take more professional photos!

Smart Watches
My hubby surprised me with an Apple Watch last year for Christmas and I have been loving it all year so far.
My favorite thing about those are all the fun straps that you can use and interchange. I love being able to take it from casual to dressy with just a change of the strap!
I used to be a huge Fitbit lover too so I included some options for that as well as some other beautiful smart watch options.

Headphones
I need to get some new headphones and thankfully Target's Black Friday deals are awesome this year. Check them out for yourselves!

Black Friday Deals For Clothes
Women's Boots
All of Target's boots are BOGO right now which is such an incredible deal. I absolutely love Target's shoe collection and I have several from them currently. I also continue to buy them as well.
I wouldn't mind a pair or two for Christmas and this would be a perfect gift for a fashion lover this Christmas!

Women's Jeans
This may be one of the best Target Black Friday Deals going on right now. Women's jeans for only $15! Say what?! You better run and order you some right now!
Perfect for gifts or just for yourself too!

Women's Jackets
They also have their puffer jackets on sale too. Most of them are only around $25 which is an amazing price for a big jacket like that!

Men's Shoes
The same BOGO deal applies for men's shoes too! They have a great selection to choose from, including many casual and/or work shoes as well.

Men's Jeans
My hubby loves Target's jeans so I had to share a few that were on sale with you too. They aren't as cheap as the Women's Jeans, but still a very good price for a great pair of jeans!

Conclusion
Hopefully this post was a little helpful for you this season. I hope it helped outlined all of the best Target Black Friday Deals going on.
Are you shopping black Friday deals this year?! If so, what is the main thing you are looking for? Let me know below!