It's no secret that I love Christmas decor; and the Hearth and Hand collection at Target! So when the two are combined, I really love it! That's why I thought I would share with you all today my Christmas Hearth and Hand Favorites from the new collection.
You may be thinking it's a little too early to be talking about Christmas decor, but it all honesty, these pieces sell out so fast so if you see something you like, you gotta grab it early! Plus, for me, it is never really too early for Christmas decor in my opinion.
This post contains affiliate links. Click here to read my disclosure policy.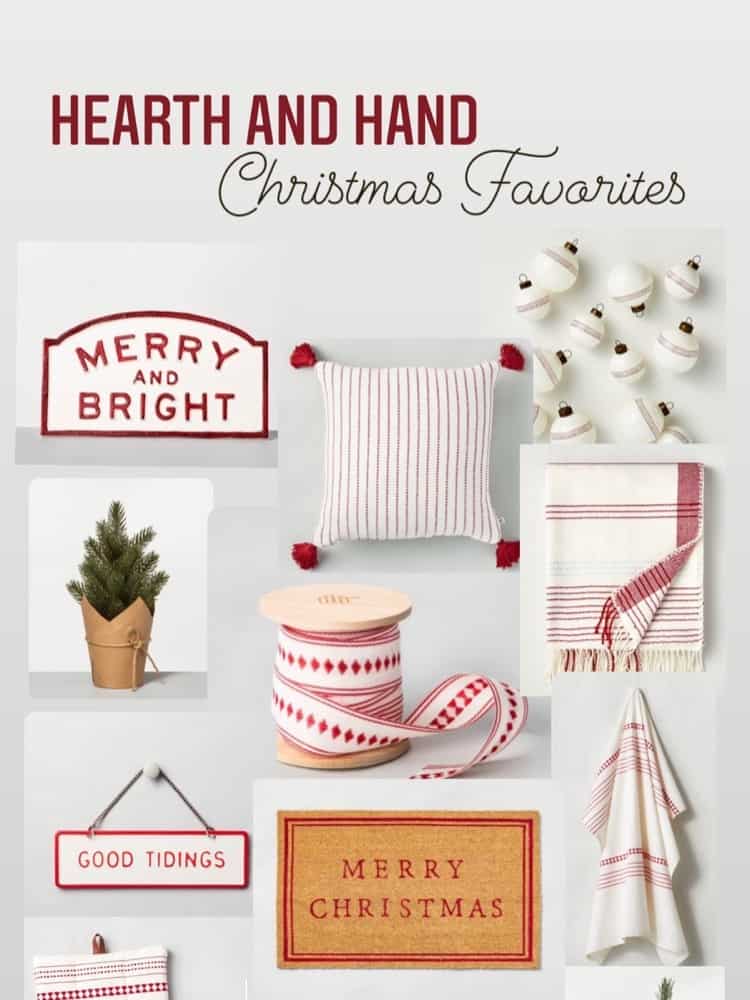 Christmas Dishes
The first thing I love about the Christmas collection this year is their adorable Christmas dishes!
You can never have too many Christmas dishes in my opinion, and it just makes the holidays more fun when you have seasonal dishes to compliment it!

I love the simple look to their Christmas dishes and how they even have coffee mugs to match! And they even have some more options to choose from as well.
The cream and white color palette is so beautiful and understated and should go easily with any other Christmas decor.

And let's talk about this amazing milk and cookies set! I mean, can it get any more adorable than this?!
This would be so perfect to sit out some cookies for Santa on Christmas Eve night for sure!

Christmas Kitchen Towels
I personally love their kitchen towel collection too. I love to display seasonal tea towels and this hot cocoa one is so perfect for Christmas.
I definitely want to get this one since I do a hot cocoa bar at home! It would look so perfect hanging there. It's simple and beautiful and I love how it is just black and white.
This would be the perfect neutral option if that is how you are planning your Christmas decor this year!

But, if you also love color like me, then they have a beautiful option in the cream and red color as well. Just like the dishes pictured above.
I love how everything matches so well and goes together in this beautiful Christmas collection.

Hearth and Hand's napkin collection is also very pretty as well. I have a set from their release last year and I love them. You can see them in my Vintage Christmas Bar Tablescape.
This years collection is very similar and I love the simple embroidery pattern to them. It adds just the right amount of Christmas flair!

Tabletop Christmas Trees
Can you ever have too many little tabletop Christmas trees?! The short answer is no, of course not! I love using these for tiered trays or open shelving.
You can easily add them anywhere in your home and it instantly gives the room a Christmas touch!

They are also such a great price and you can get a few of them to move around and style in your home.
These little trees below look so cute and remind me of the vintage bottle brush trees as well. I'm definitely thinking I need to get me some of these as well.
These are even smaller and would look just perfect on a Christmas themed tiered tray!

Other Christmas Favorites From Hearth and Hand
As you can see, there are so many cute options to choose from already! I'll share just a few more with y'all below so you don't get too overwhelmed like I am looking at it all!
I feel just like a kid at Christmas looking at all the beautiful decor! And how cute are these ornaments below?!
I love how they match their whole collection so far and they would look so beautiful on any kind of tree!

You also definitely need a seasonal door mat and how cute is this one?!
I have one from their collection last year (see my Christmas Front Porch) and this year's version is just as cute as well!

I'm also obsessed with tree collars and baskets and their collection doesn't disappoint! I love the basket look and they even have a copper and a matte black option as well!

Conclusion
I can definitely see myself spending way too much money on this Hearth and Hand Christmas collection this year!
But I tried to highlight just a few of my favorites to make it easier for y'all to shop and pick out some of your favorites too! But be sure to check out their whole collection and see which ones call out to you as well!
Thanks for checking out my favorite Christmas pieces and happy decorating and shopping to y'all as well!