AD This post is sponsored by Beautifully Responsible® Resilient Flooring, but all thoughts and opinions are my own.
If you're like us, and have a wonderful fur baby or two at home, you may be wondering what the best flooring options for cats may be for your home. Well, no worries, pet owners! I am here to give you all the info on the best option for flooring when it comes to your furry friends!
We all know that new flooring can definitely be a huge investment for your home, so you want something that lasts. And with resilient flooring, you know they definitely will! It's a great option for cat owners because the flooring holds up even with high traffic and tough love.
Resilient flooring is also environmentally friendly too because it reduces the waste associated with replacing damaged or worn out floors too. You may remember I shared all about Resilient Flooring and if it was right for your home or not last year as well.
So this year I am focusing more on the pet-friendly side of it. Especially since we just added a sweet little kitten to our family! So now we have a total of two cats roaming about and we definitely need know what the best pet-friendly floors are!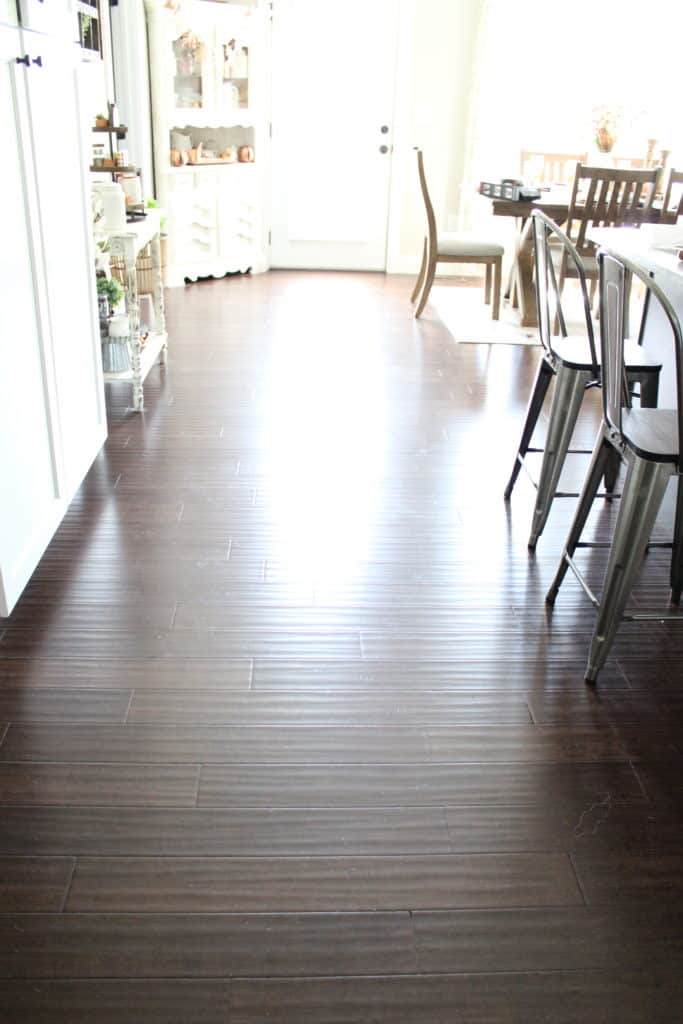 What Exactly is Resilient Flooring?
If you missed my last post about it, I am going to briefly share a little about what resilient flooring is first. That way, you have a clear understanding as to what it is, and why it is one of the best flooring options for cats as well.
Basically, Resilient Flooring is just a category. Kind of like how you would consider hardwood flooring or carpet tiles to be. It is a blanket term that covers different flooring types that have some "give" or flexibility to them, and yet are still non-fabric solid surfaces.
They are also made to provide durability, comfort, and sustainability without the high price of ceramic tile or real hardwood floor. They are also more comfortable and exude the ache that comes from standing on concrete floor as well.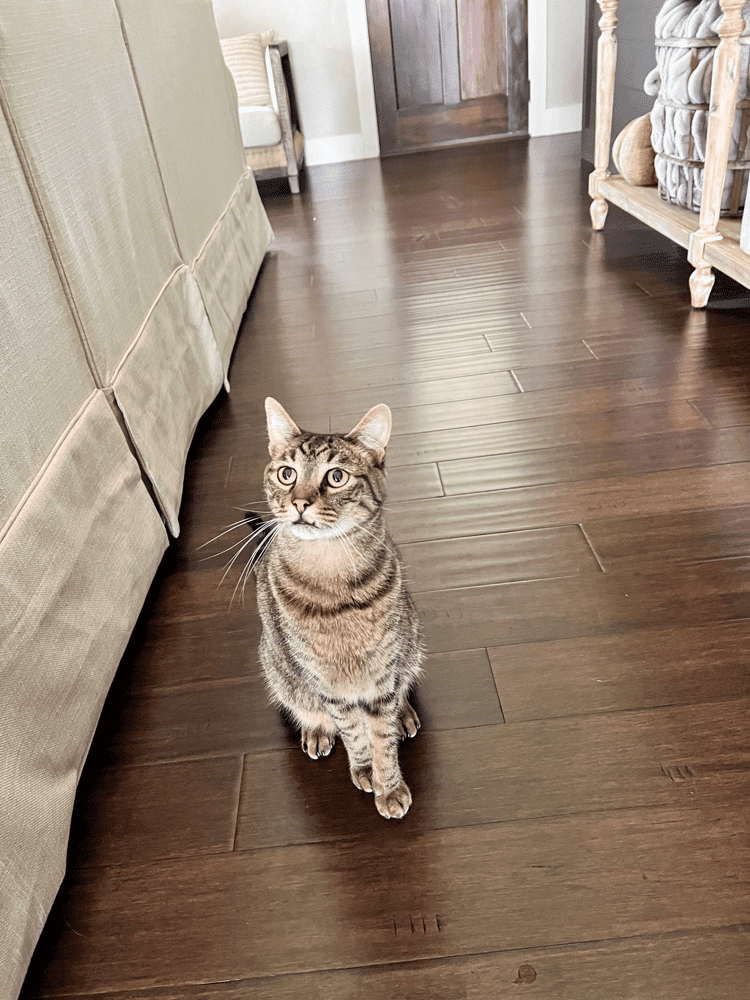 Why Is Resilient Flooring Considered Pet-Friendly Flooring?
Resilient Flooring can stand the test of time and last throughout all the stresses of everyday life. They have advanced scratch protection, which is very ideal for when you have sharp cat claws walking about on it!
We try to keep our cat's claws cut down with a nail trimmer, but still sometimes, they are liable to scratch things. And I know most pet's nails are the same way.
Scratch Resistant
Our kitten especially has very sharp claws so we definitely need some flooring that can hold up to that! Resilient flooring is also stain resistant which is perfect if you are dealing with older pets who tend to have accidents.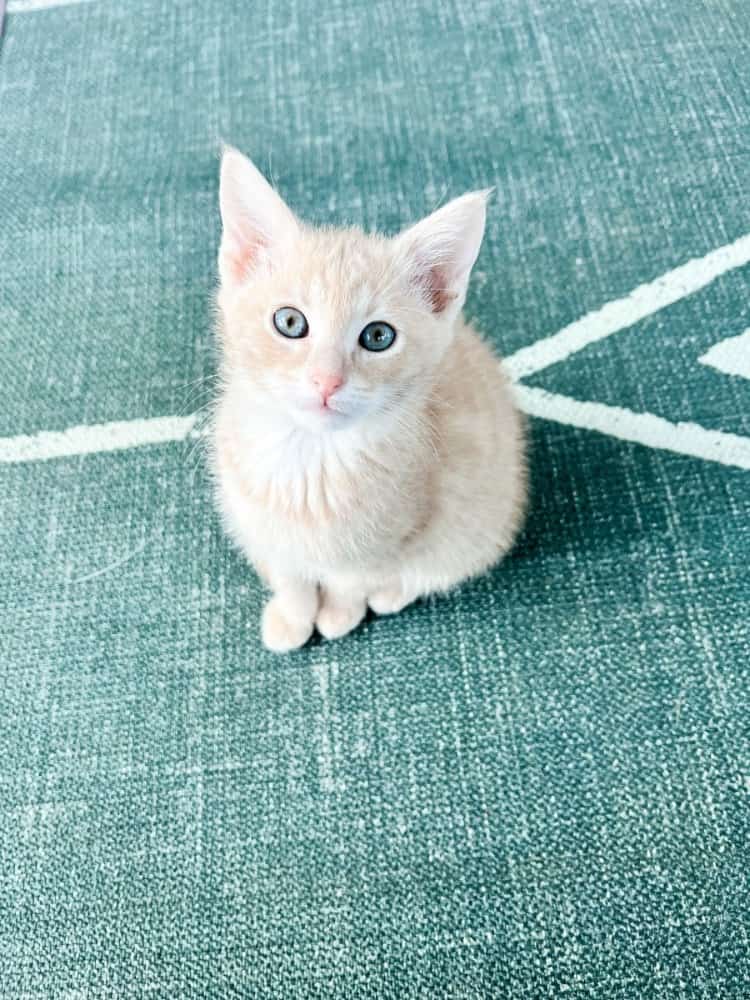 Waterproof flooring is definitely a must, not only in the kitchen and bathroom areas, but for when pet accidents are occurring as well. The good news is that we don't really have an older cat, Toby is only 7 and Riley, the kitten is only 2 months old. And both are litter box trained so we don't have frequent accidents with them.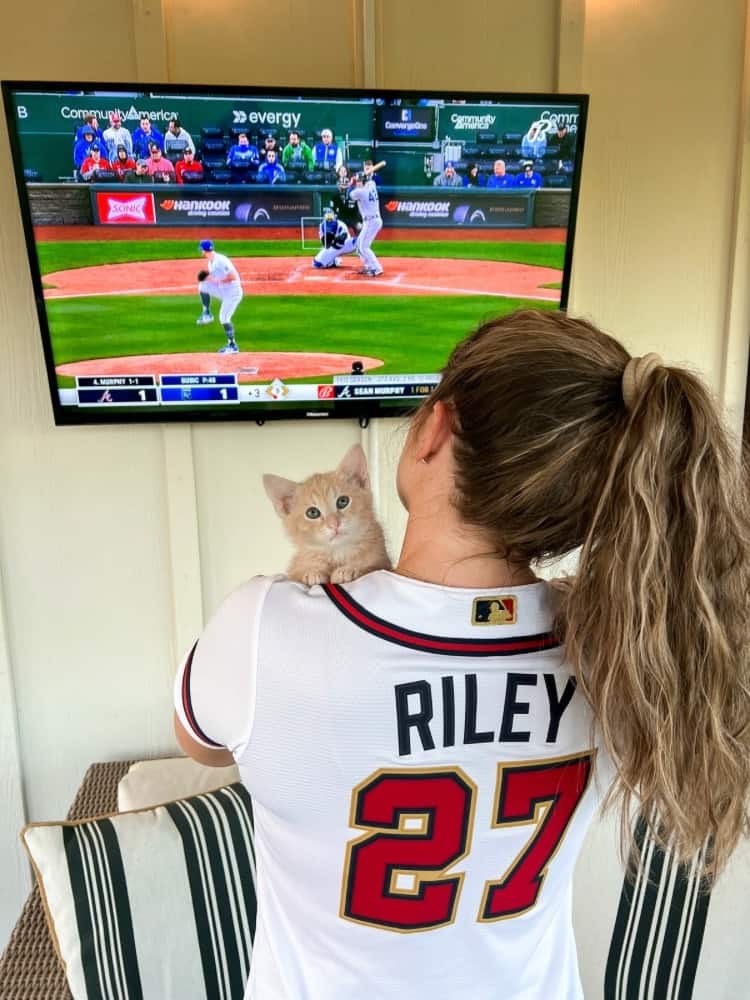 Although, it is nice to know that there is options when it comes to types of flooring if you are dealing with that as well. I know cleaning up cat urine or any kind of pet urine off the floor can be no fun!
Easy Clean Up
Resilient Flooring is the best flooring options for cats because it also comes clean without a ton of elbow grease going into it. Any messes, orders, or cat hair can be easily cleaned up without too much hassle!
I think the main thing I struggle with cleaning our floors is cleaning up all the kitty litter from around their cat room. If you missed it in the past, I did make my cats their very own cat room! They are spoiled, I know!
And the flooring in their room is the same vinyl plank flooring that we have everywhere else in the house. It has held up wonderfully, but I do need to sweep/vacuum the room a little more because you can definitely see the white kitty litter against the dark hard floor easily.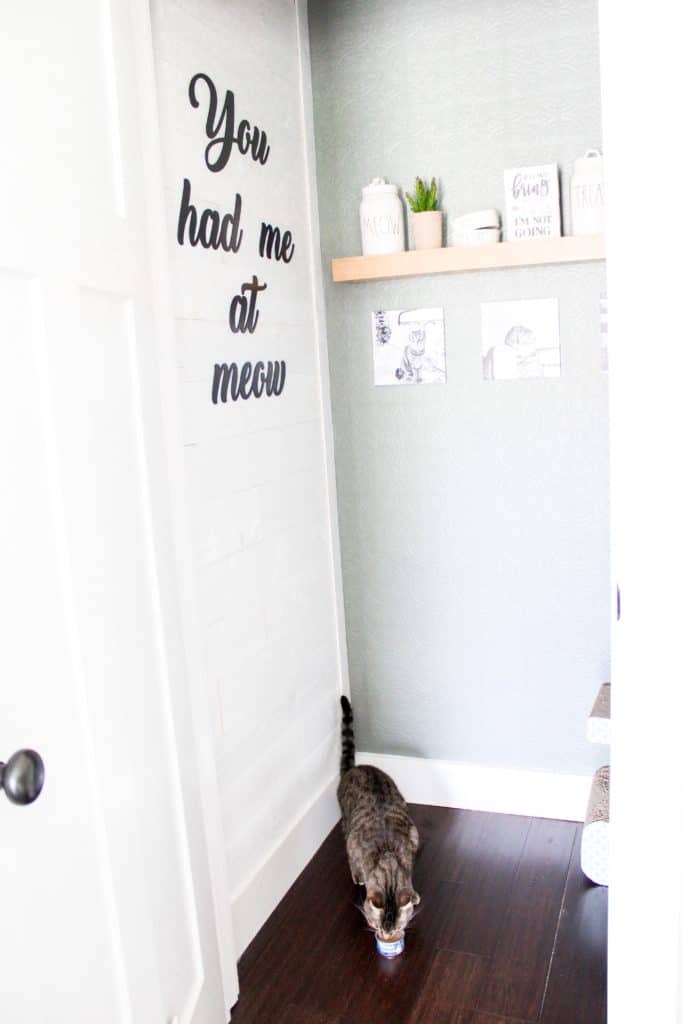 Water Resistant
I mentioned this above too, but wanted to go into more depth about how Resilient Flooring is water resistant. This flooring comes with built-in properties to help protect against the growth of mildew and mold, without the need for harsh or strong chemicals!
Again, this makes it one of the best flooring options for cats because we all know how messy they can be when drinking out of their water bowls! I know my cats gets water everywhere, causing a very slick surface, and I want to make sure that there would be no future water damage from this issue. And with Resilient Flooring, I know there won't be!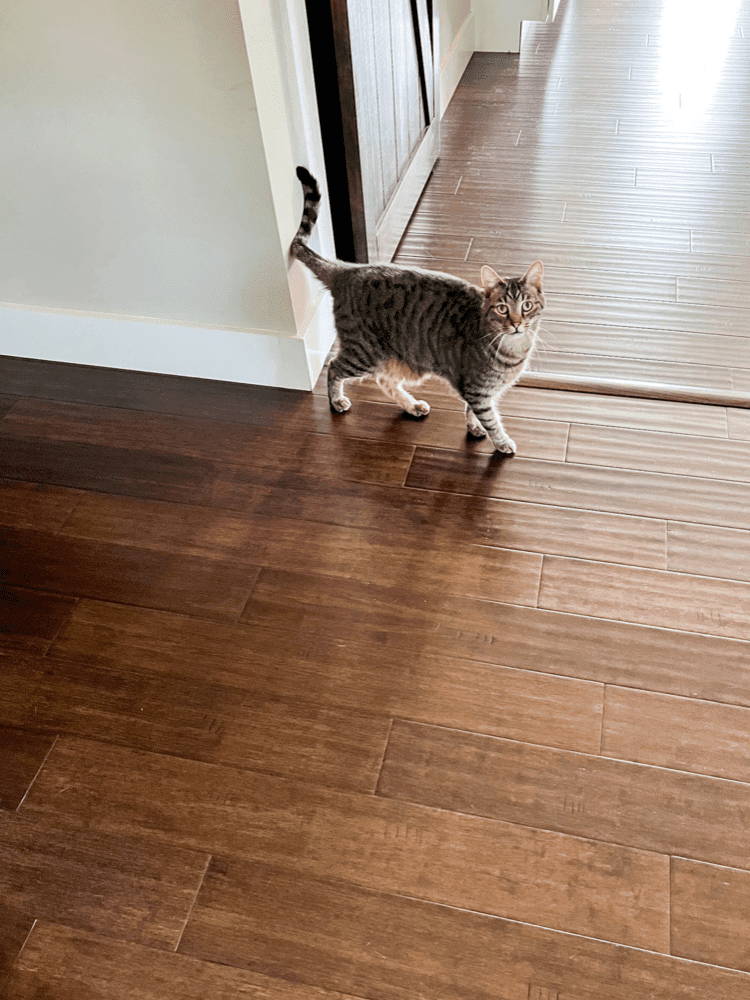 Where Can I Find These Pet-Friendly Floors?
We all know that you want your pets to live their very best life in your home. Weather, they be cats, dogs, bunnies, you name it! Beautifully Responsible Resilient Flooring offers the protection against spills, dirt, sprints (AKA- the zoomies! All you cat owners out there know what I am talking about!) and more!
Plus, they come with a variety of options to please any aesthetic vibe you are going for. If you just brought home a new furry friend, like we did, and need to create a beautiful and durable space for them to play in, then be sure to go to your local hardware store and explore all luxury vinyl flooring, tile flooring, bamboo flooring, luxury vinyl tile, and laminate flooring options they provide.
That way you can see in person just which flooring options are best for cats, or whatever family pets you may have. Come pick out your perfect choice of flooring here! And treat yourself and your sweet cats to some beautiful, Resilient Flooring that will hold up to the test of time!