We just got back from an amazing, romantic getaway in Pigeon Forge, Tennessee and I have to tell y'all all about it! There are so many things to do in the Pigeon Forge and Gatlinburg area, so we go there often.
But, this trip was a special occasion because not only was it an early Valentine's Day getaway for us, but we were hosted by the great Margaritaville Island Hotel! If you haven't heard of this hotel before, you are missing out!
It is the most perfect place to stay for a romantic getaway in Pigeon Forge, in my humble opinion! We had the best time and I am going to show you all just how incredible the room was, as well as other fun and romantic things to do around the area.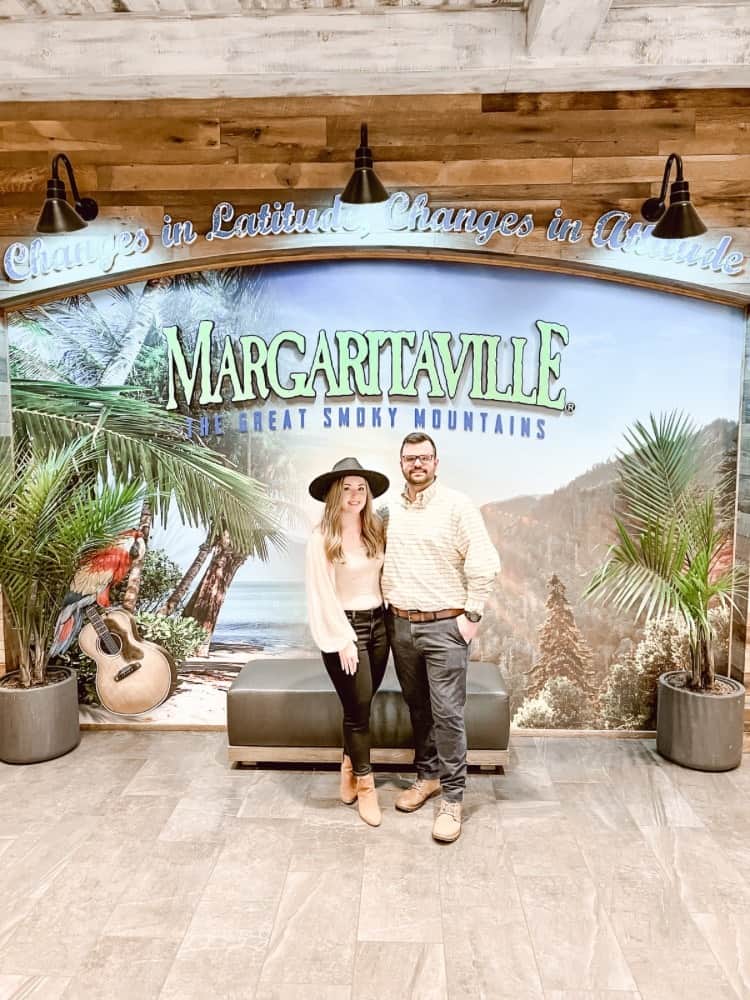 This post contains affiliate links. Click here to read my disclosure policy.
Margaritaville Island Hotel
First things first, let's dive right into all about Margaritaville Island Hotel! This hotel is nestled straight in the middle of The Island, so it is the perfect spot because you can walk to all the fun activities The Island provides as well.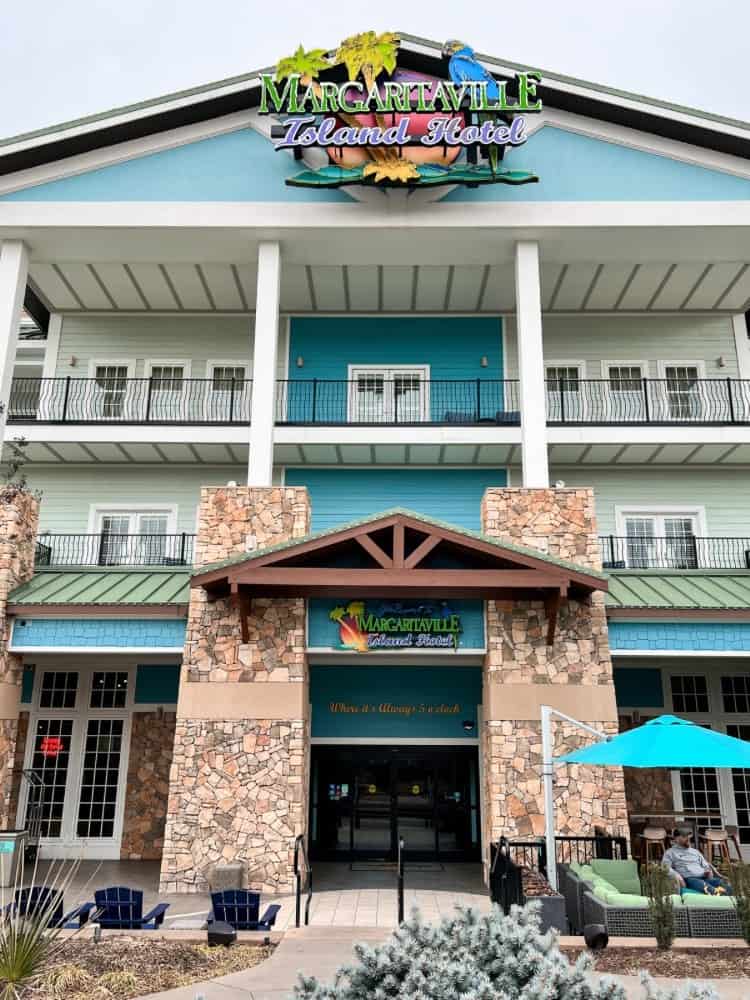 They also offer valet parking, so you can easily grab your car if you want to drive around and explore more of Pigeon Forge TN too.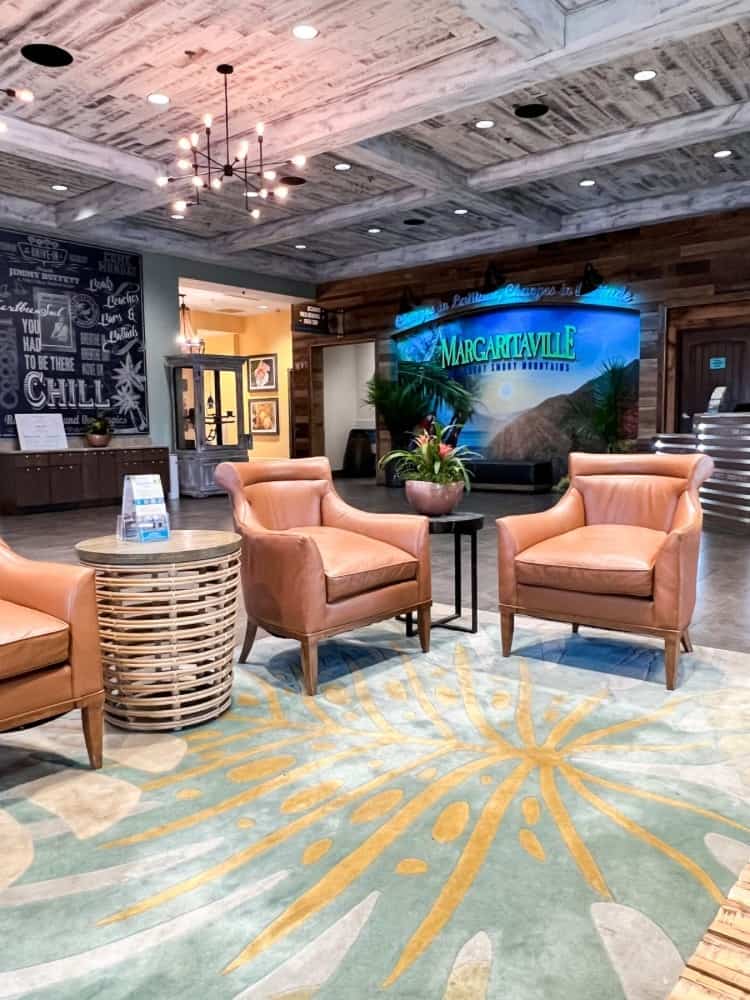 We were lucky enough to get a fountain view room here, which is the best one! We had a straight shot view of the show fountain here, which is The Island's main attraction!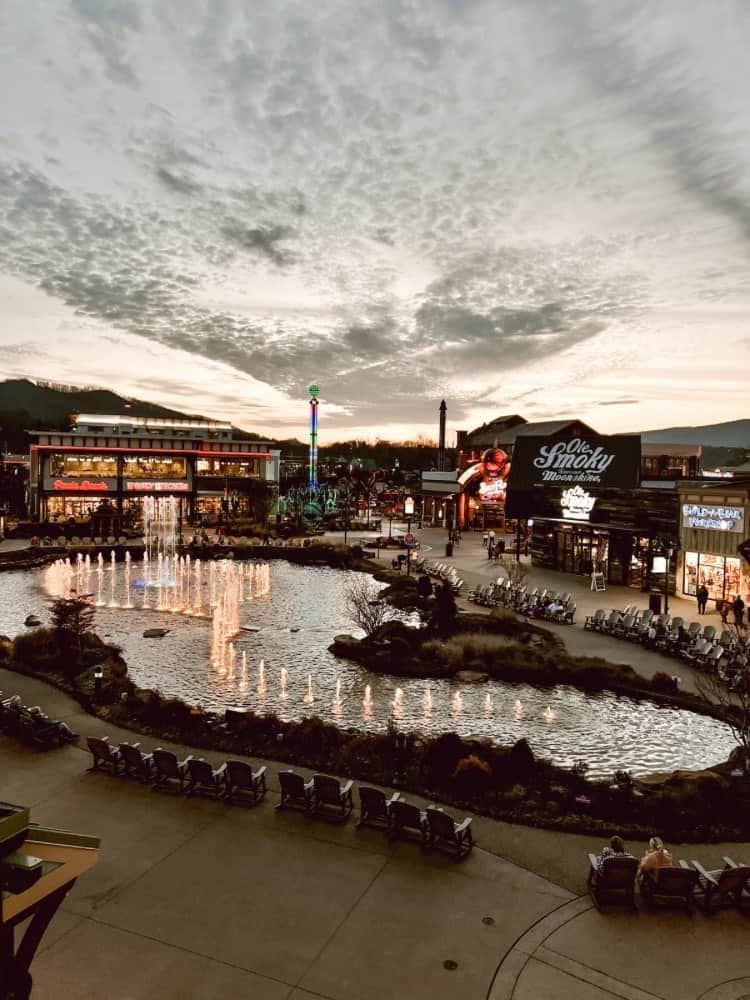 It provides a beautiful water show synced up to several popular songs. And it plays every 30 minutes, so you're always able to catch one.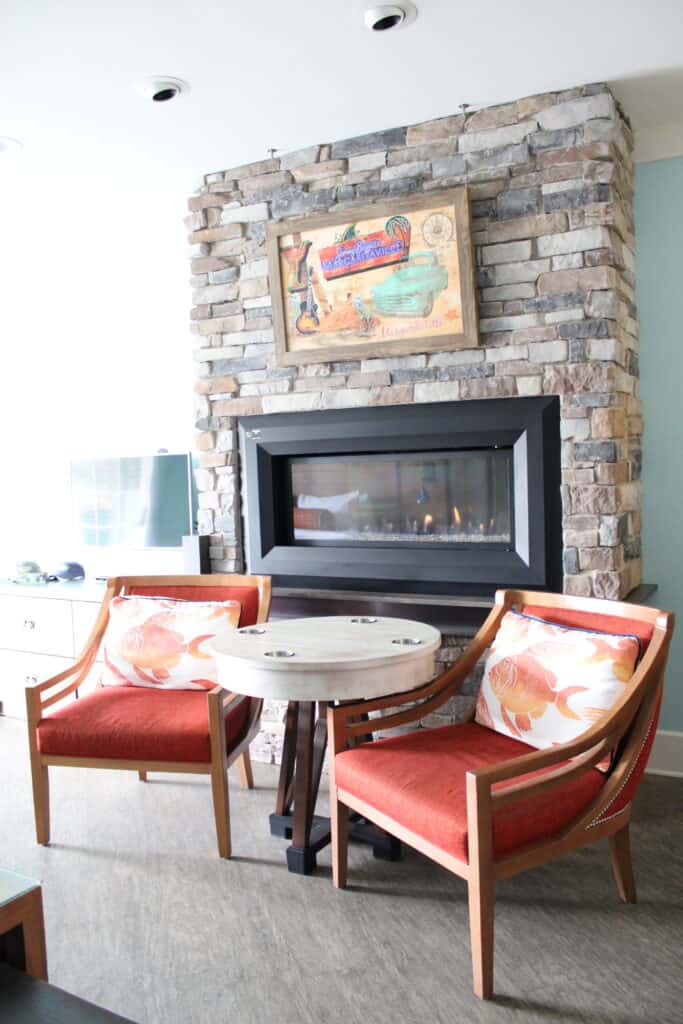 The best time to view it is at night because of all the lights! Plus, you also get a beautiful view of the Great Smoky Mountain Wheel too, which is also lit up as well.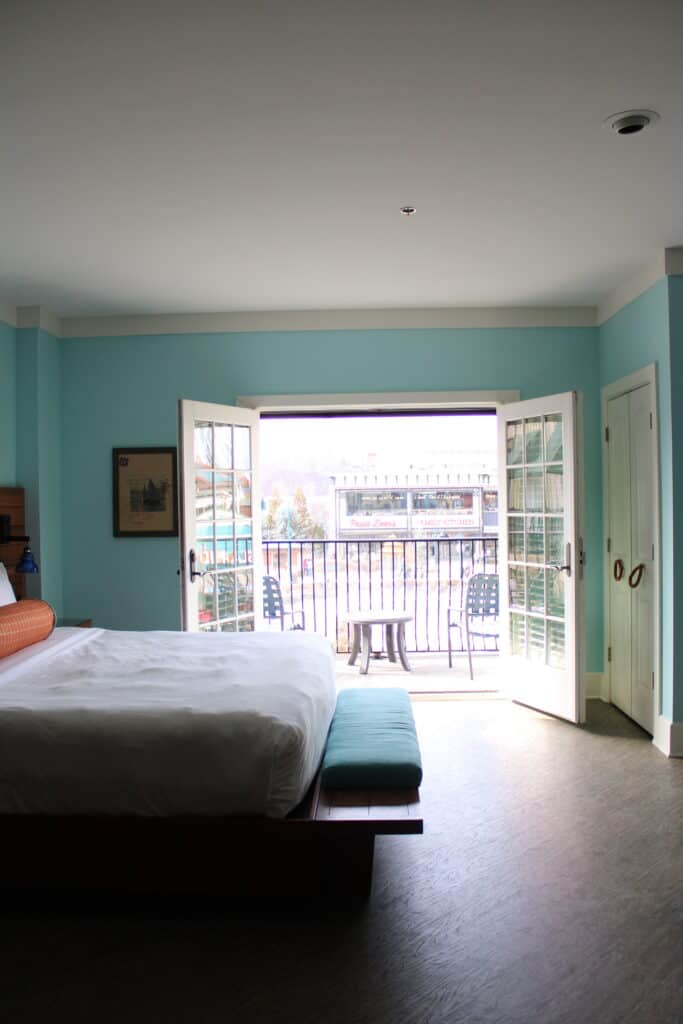 Our room included a king bed, balcony, fireplace, sitting area, coffee bar area, and so much more! That's why I really enjoying staying at the Margaritaville Island Hotel. Each room provides you with so much space, you don't feel too cramped and confined.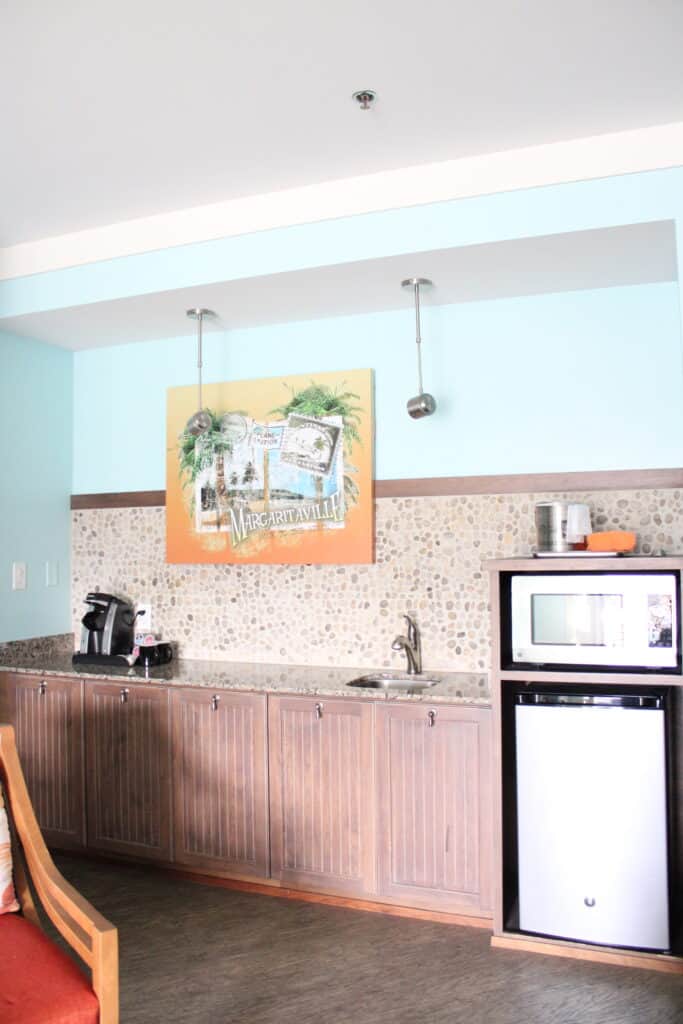 We have stayed here before last year for my husband's birthday and had a balcony view of the village instead of the fountain. And that was also a nice room as well! Although, I definitely would recommend the fountain view more!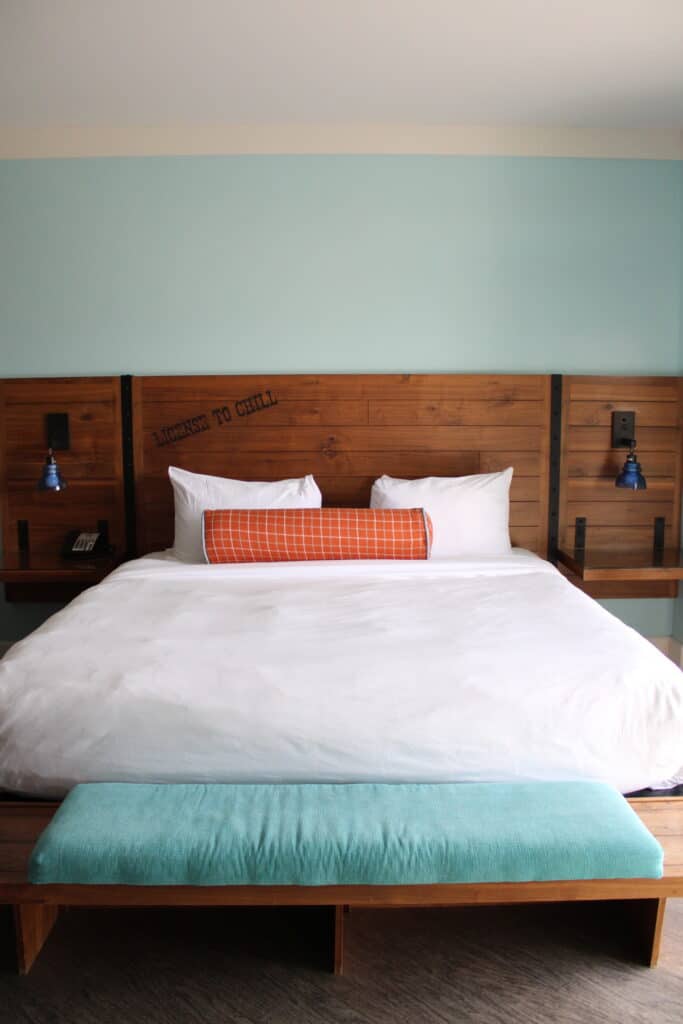 And now, I am going to share a few commonly asked questions and answers about staying in the best romantic getaway in Pigeon Forge!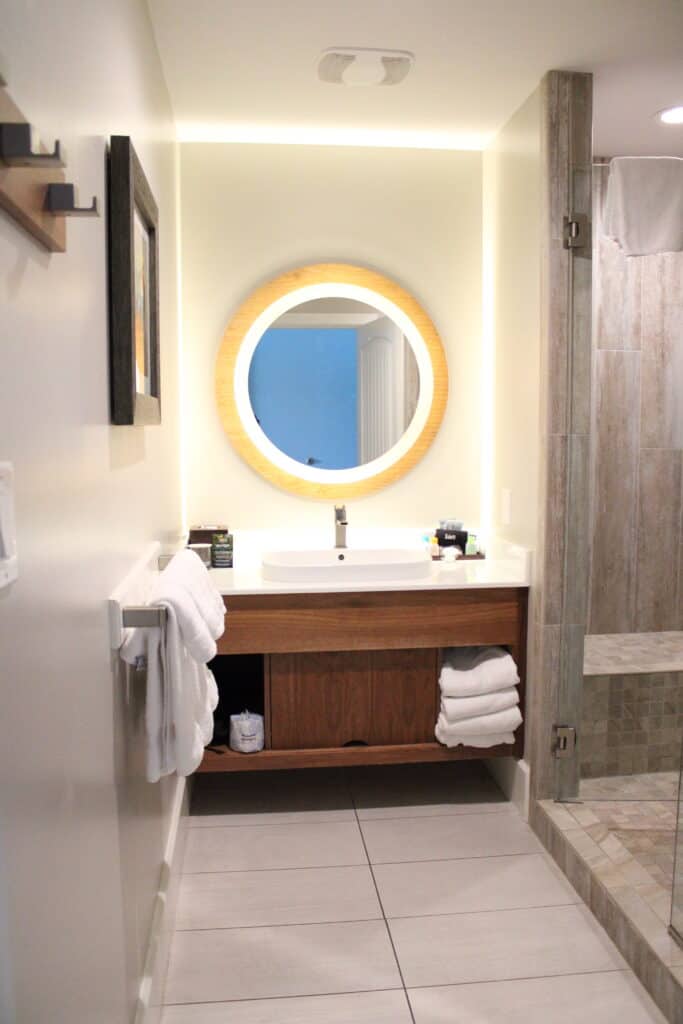 How Many Rooms Does Margaritaville Hotel Have?
A common question is how many rooms does the island hotel have? They have a total of 134 rooms blended in an artistic mountain latitude and island attitude style. All the rooms are the ideal place to just chill and escape everyday life!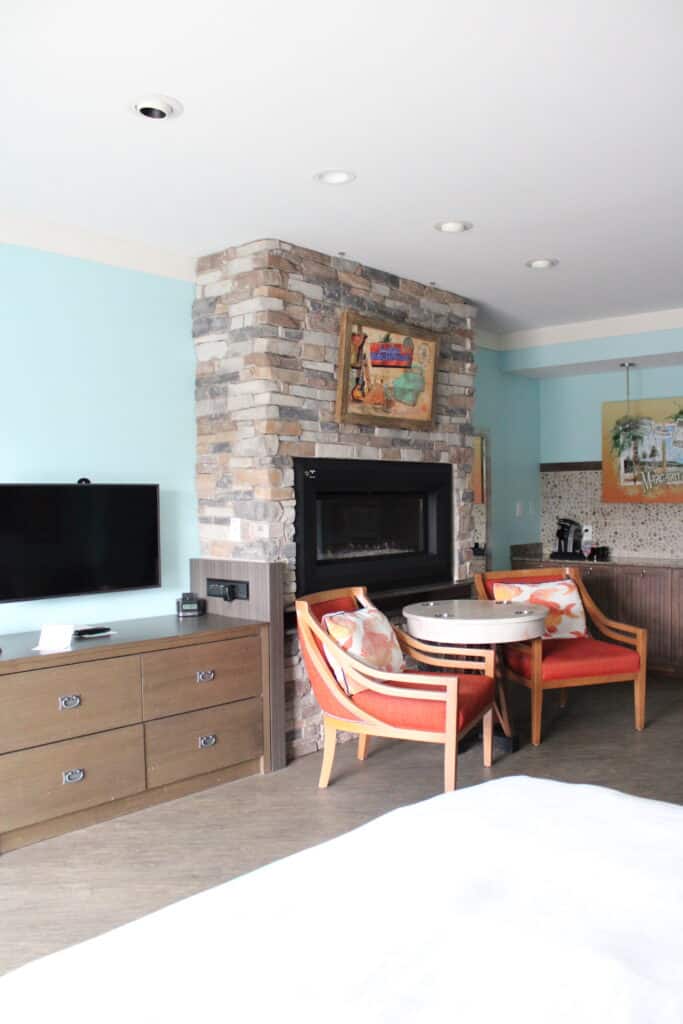 When Did Margaritaville Island Hotel Open?
This beautiful hotel opened on December 9th, 2014. It originally opened with just 55 rooms and suites as part of it's phase one opening.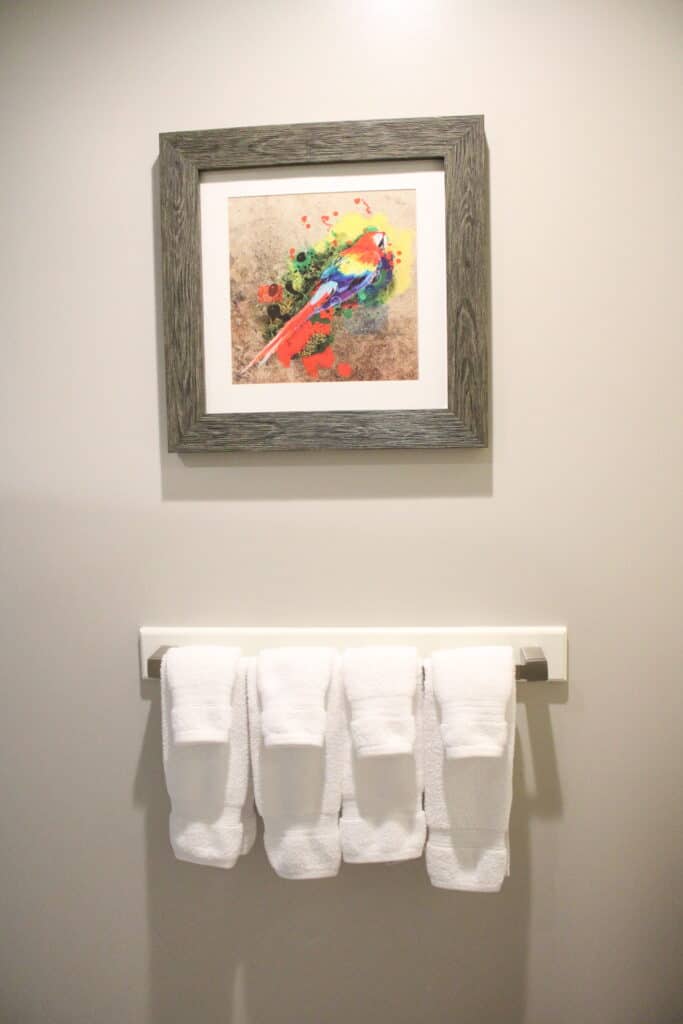 Can You Go To Margaritaville Without Being a Guest?
You can visit the bars, restaurants, and shops without being a guest. But, you can't have any access to the pool areas or fitness areas without a keycard.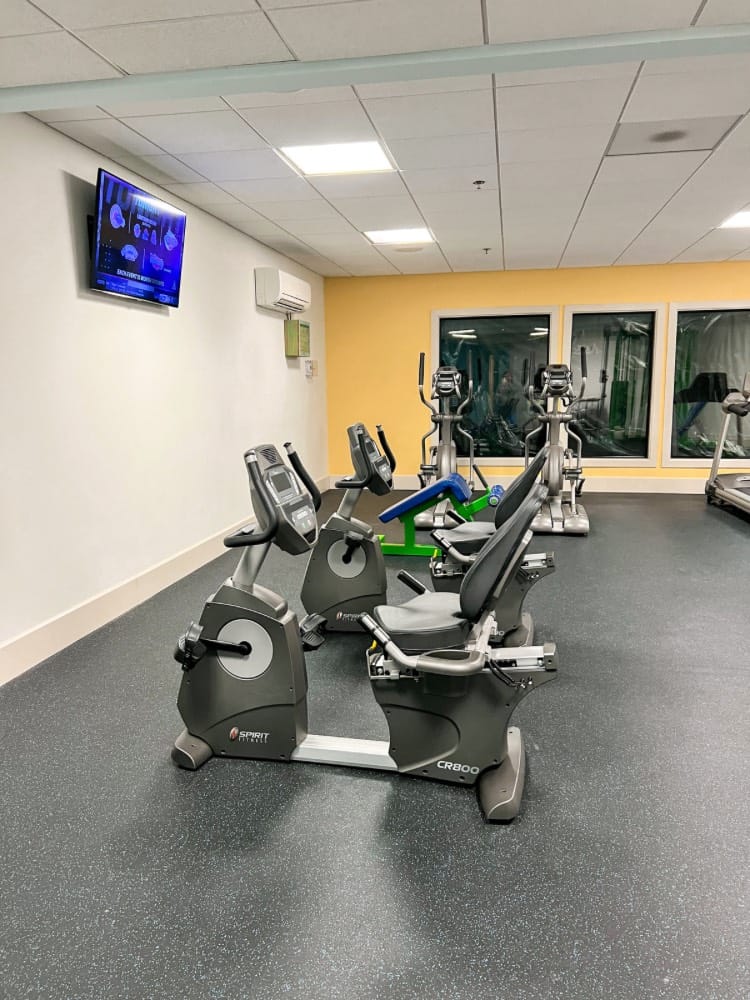 What is the Cancellation Policy For Margaritaville?
You would need to cancel within 48 hours upon your arrival to the hotel to avoid a one night deposit fee.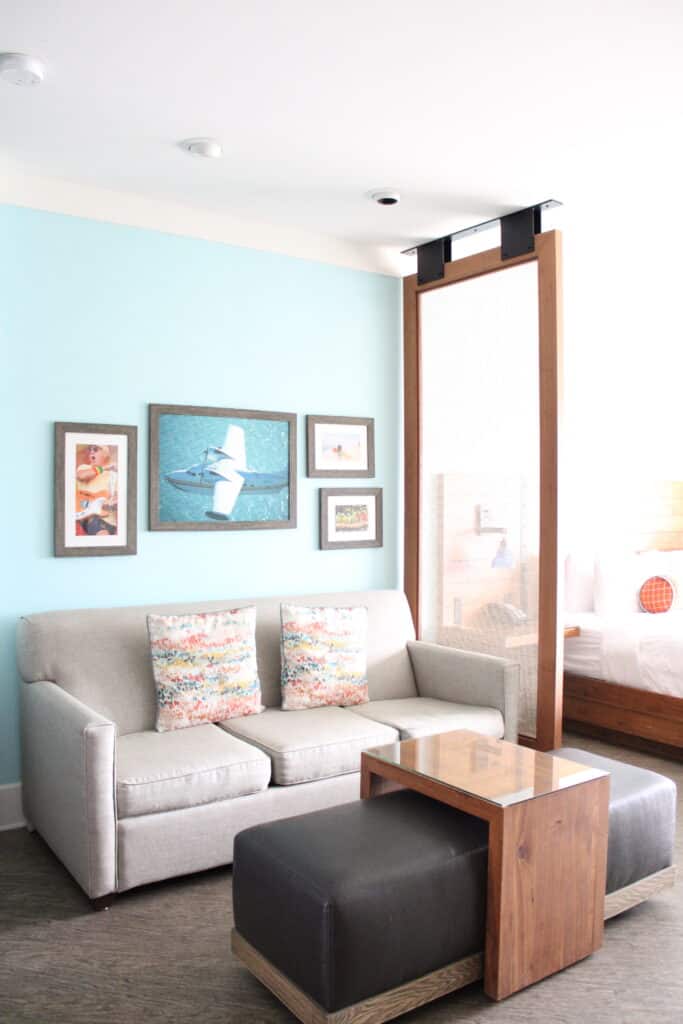 How Far Away Is Margaritaville From Dollywood?
I had a few questions on this and I wanted to share that it is only a short, 10 minute drive. So, you could easily stay at Margaritaville Island Hotel and drive over to Dollywood during your stay as well. If you wanted to include some amusement parks into your visit!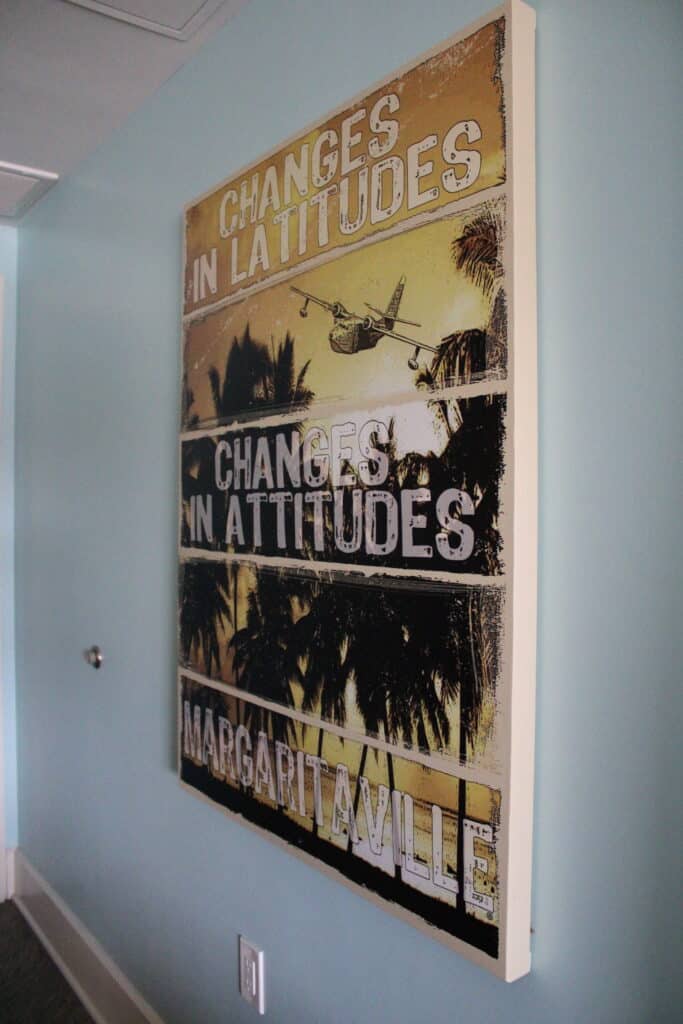 What Amenities Does The Margaritaville Island Hotel Have?
As I mentioned above, they do have a great fitness center. Which was really nice because I still love to try to squeeze in a few workouts, even while on vacay!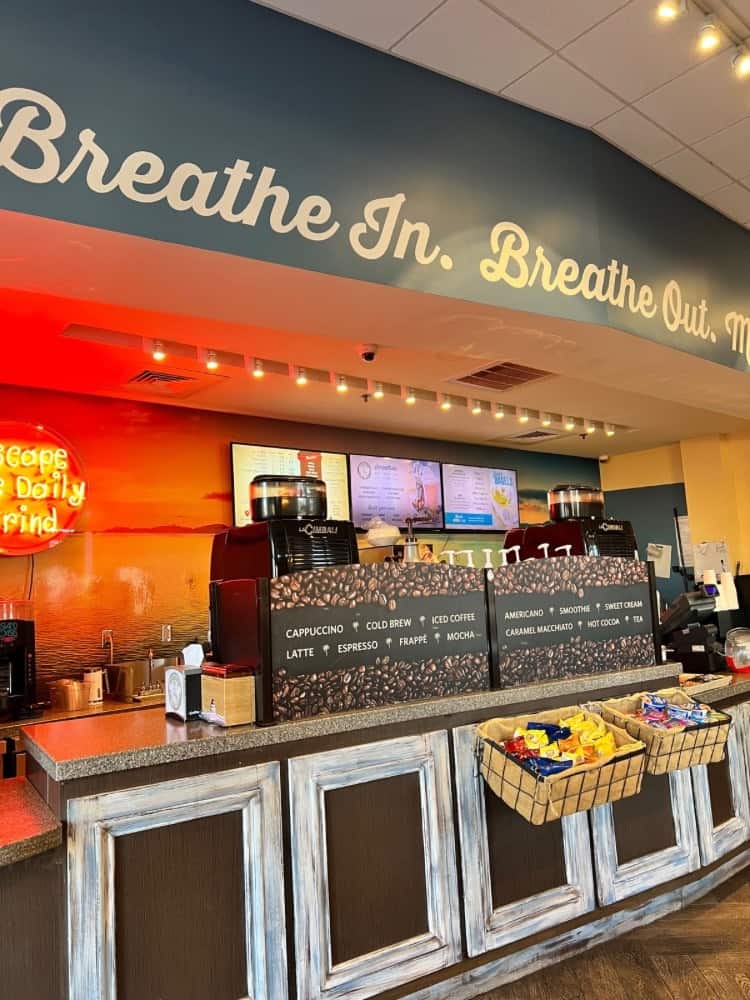 They also have a rooftop pool and bar with a hot tub, but unfortunately it was closed due to renovations when we were there. So I wasn't able to grab any pictures. But the fitness area usually looks out to the pool area so you have a nice view.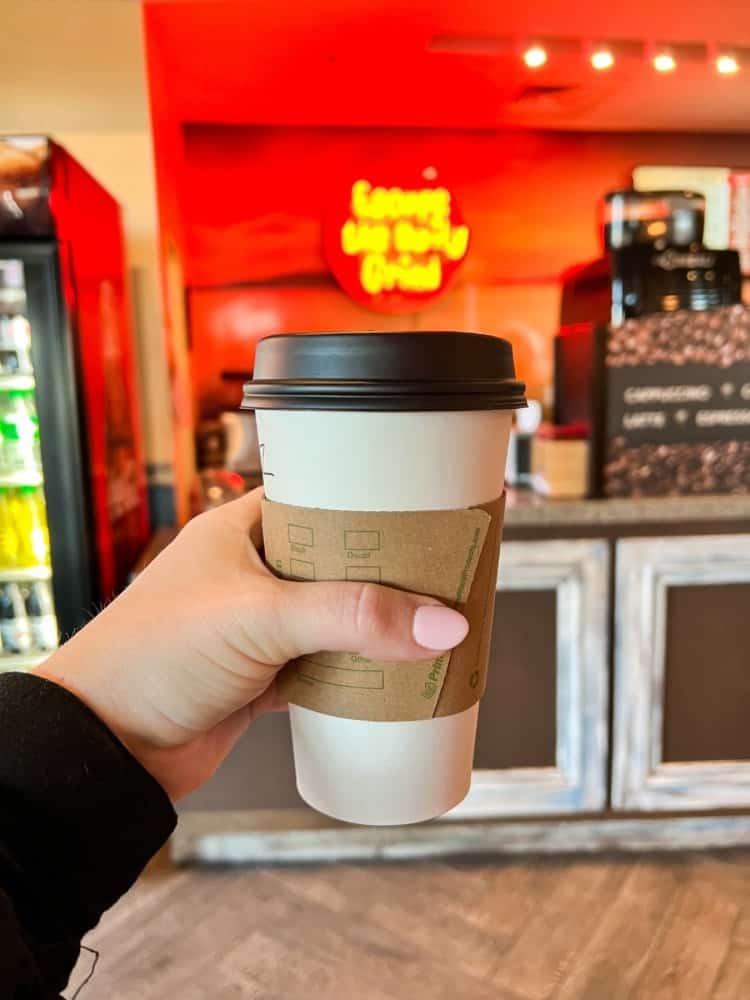 Margaritaville Island Hotel also has their own coffee shop, which I LOVED! Y'all know I am coffee obsessed! So it was very nice to just walk downstairs and grab a delicious latte whenever I wanted!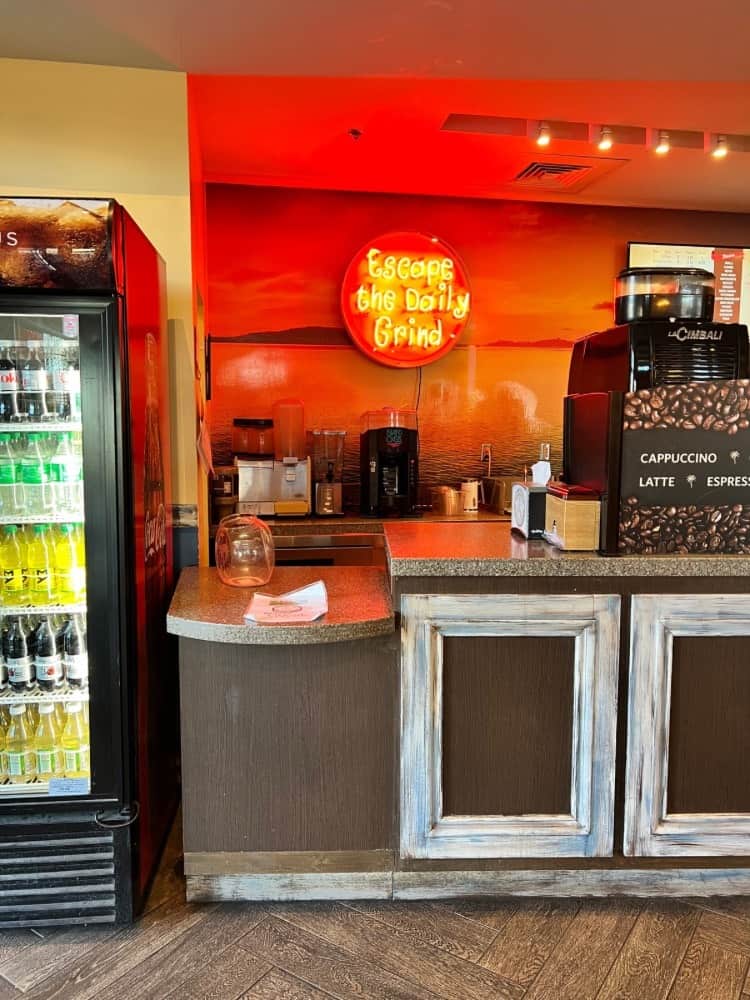 Most Romantic Things to do In Pigeon Forge
Now, I am going to share some of the most romantic things to do in the area. And one of them being right in the island hotel itself! They have the incredible St. Somewhere Spa where you can relax and enjoy several spa services. We wanted to book a couple's massage while we were there too, but we ran out of time!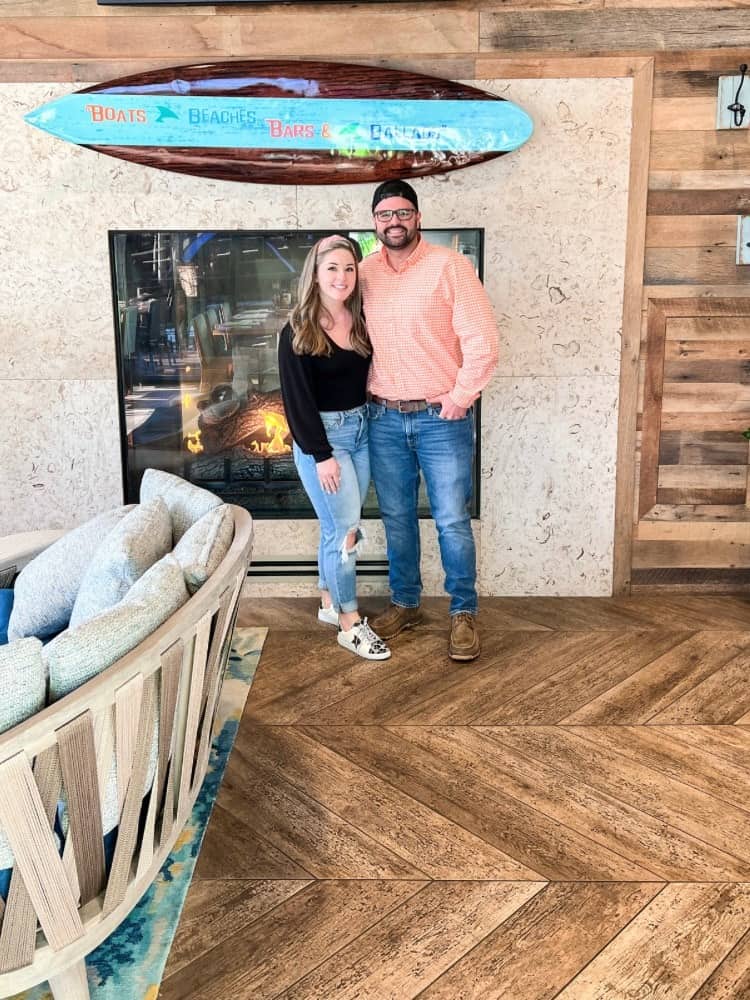 I highly suggest y'all check it out and get a couples massage though if you get a chance while staying there!
Romantic Day Activities
For history buffs, you could always visit the Titanic Museum for a fun date day activity. Or for more adventurous couples, go for some horseback riding over near Sugarlands Riding Stables!
They offer multiple horseback rides which would make for a very romantic vacation activity. Fun fact about me though, I have actually never been horseback riding before! Can you believe that?!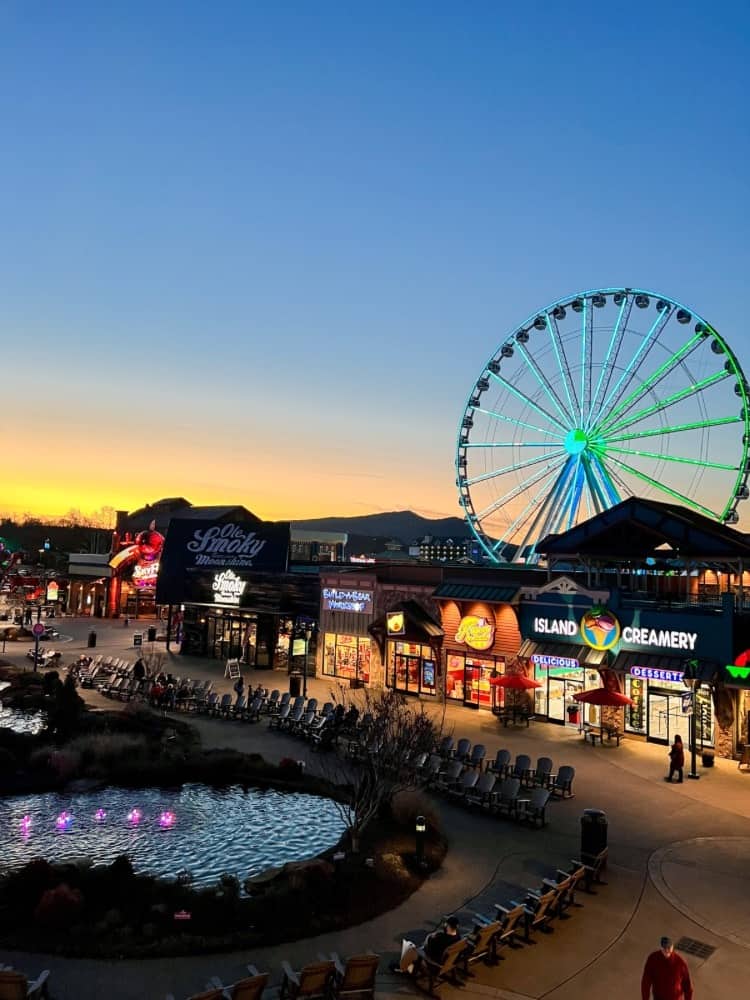 One of our favorite, romantic things to do is to just chill in a hot tub while we are away. And we loved just relaxing together on the balcony here, taking in the view!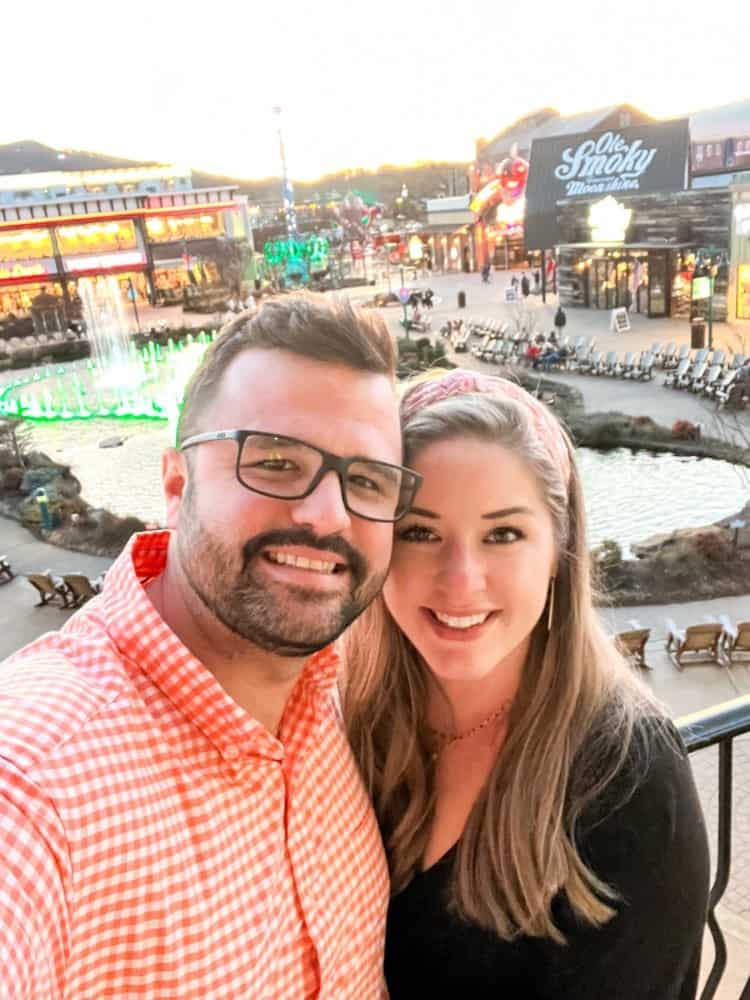 Also, if you enjoying hiking as a date, then be sure to drive over to the Great Smoky Mountains National Park as well for the day. Plenty of beautiful views and hikes to choose from!
Cades Cove is another beautiful area as well. You may even get lucky enough to see some black bears hanging around too!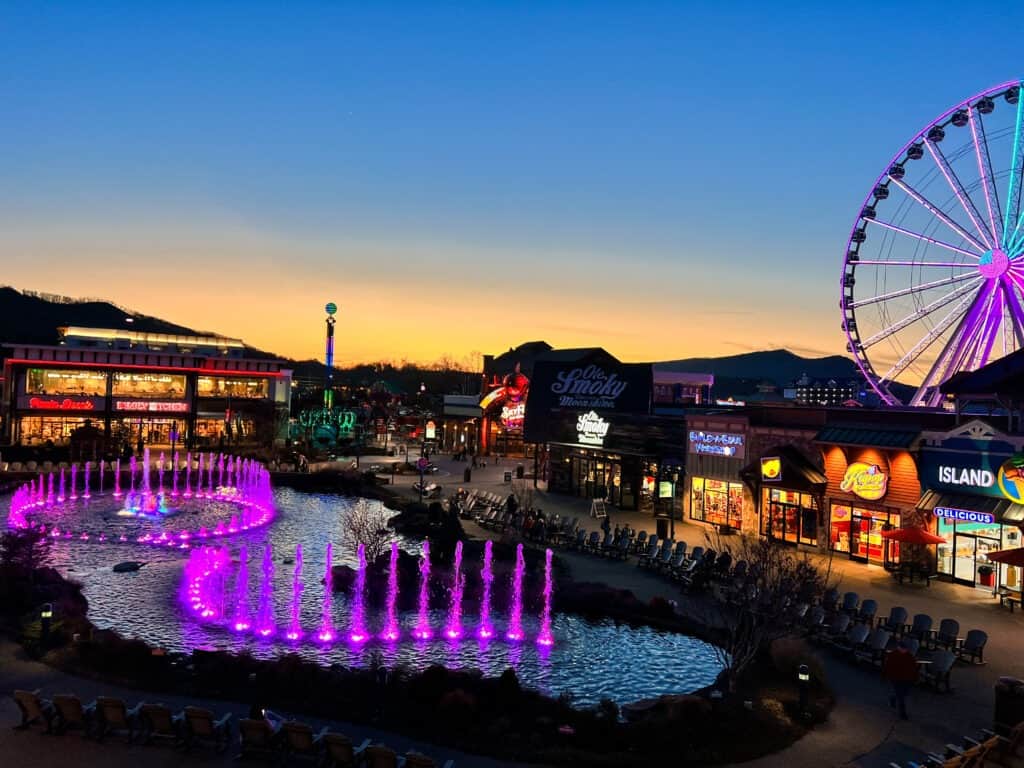 We always love going antiquing too. We are big into vintage things (if you can't tell) and I have previously shared all about the best places to antique hunt in Pigeon Forge. So be sure to check that post out, if antiquing is your thing as well!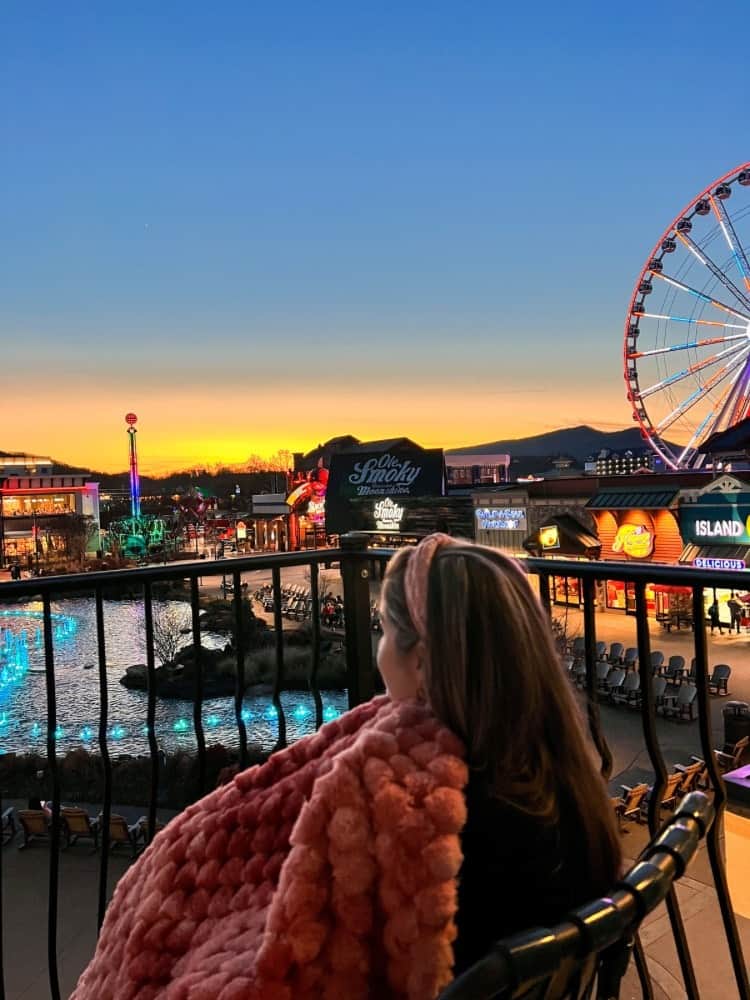 Things to do in The Island
As I mentioned above, our hotel is located right in the middle of The Island and there are several things to do there as well. I also mentioned the Great Smoky Mountain Wheel earlier and I wanted to talk a little more about it here.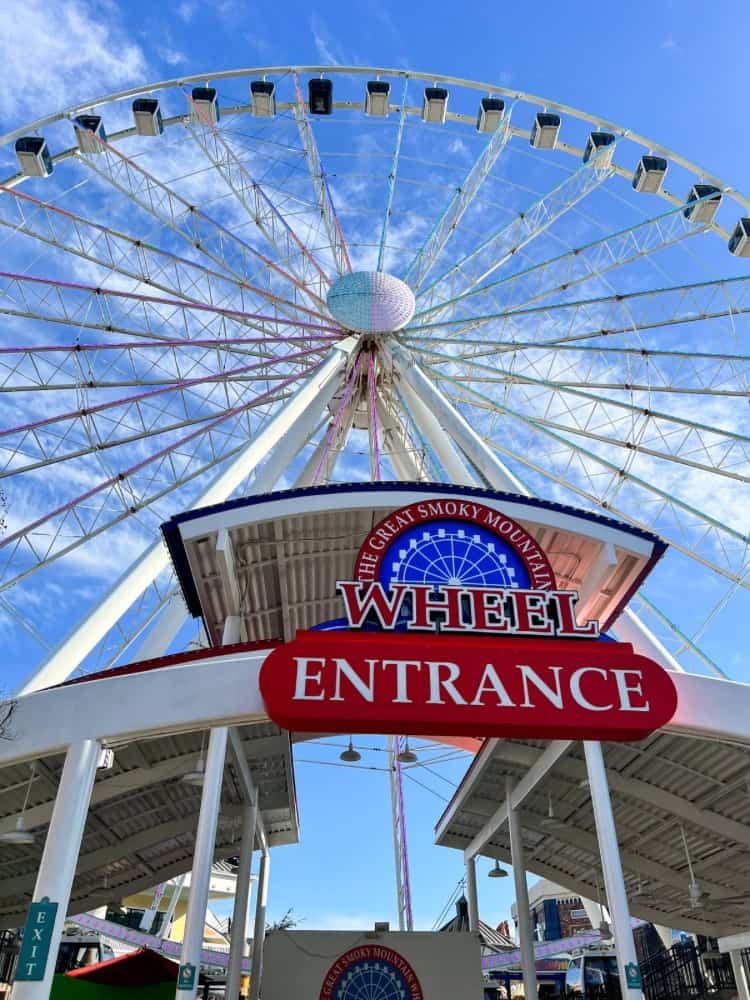 Great Smoky Mountain Wheel
It's basically a ferris wheel with glass gondolas that you get in and it takes you all the way around several times. That way, you get a full above ground view of The Island, as well as all the beautiful mountains surrounding the area too.
It's a great way to have a birds eye view of the space without taking scenic helicopter tours, those just aren't for me!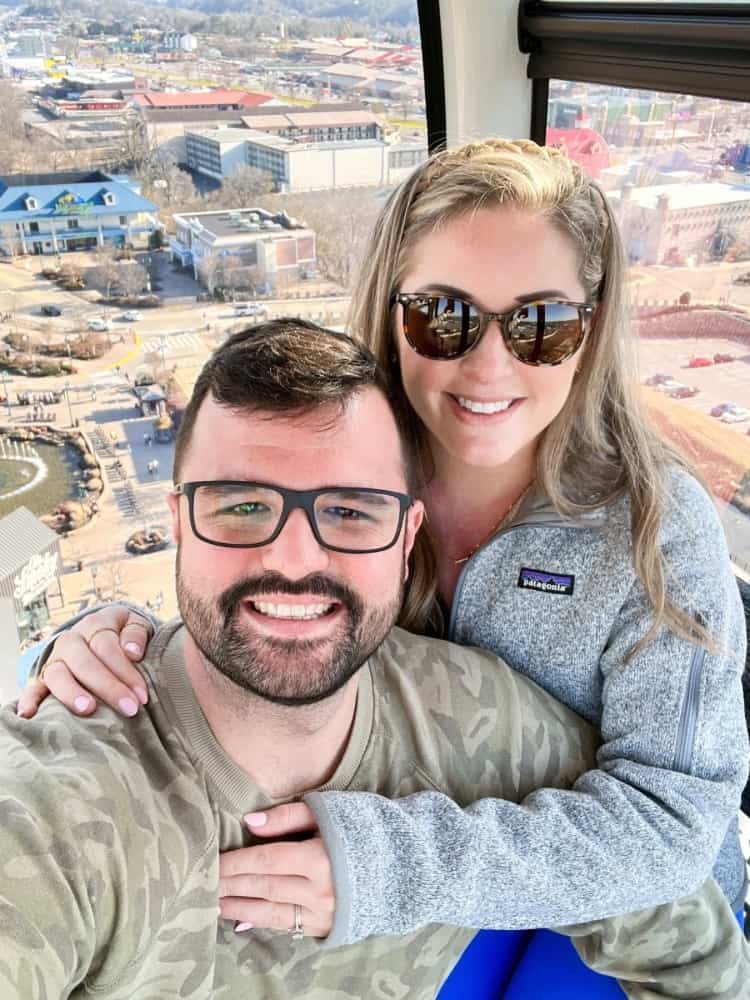 Also, Ole Smoky Moonshine offers a stage where live music is played everyday! We were lucky enough to be there during the Tennessee Songwriter Festival and saw some incredible country music artists, such as Brandon Bing perform!
That was the best part to our last day, just sitting around and enjoying some live music without a care in the world!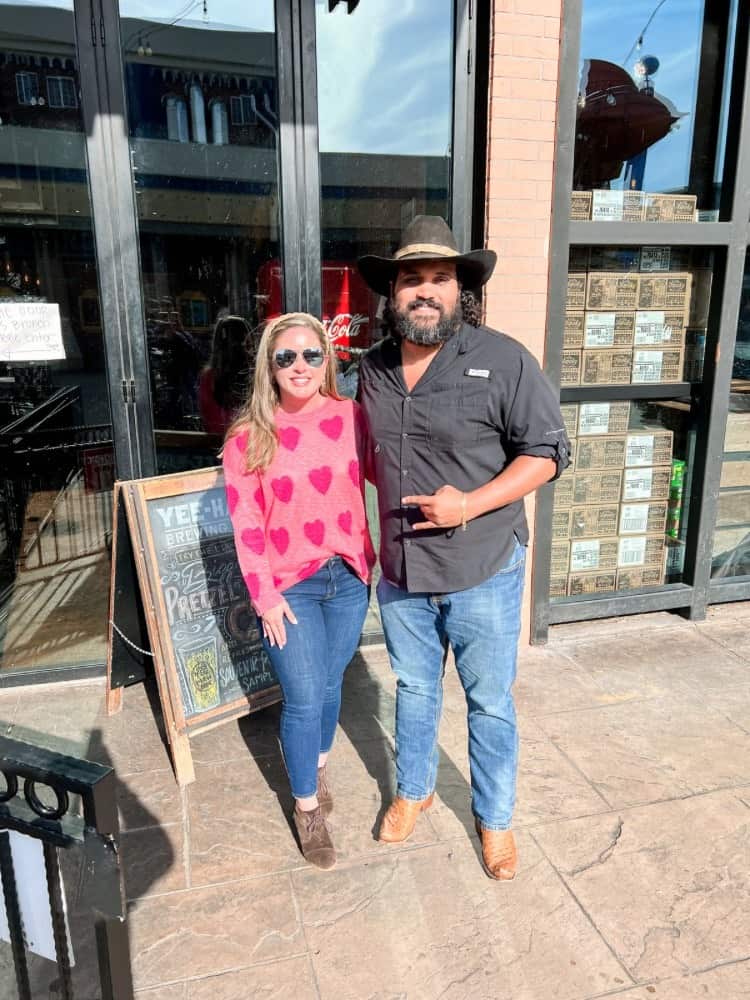 Sky Fly Theatre
The Island also has the Sky Fly theatre which was absolutely amazing! I guess you could say it was a romantic ride for us, as we were the only ones in the theatre at the time! But, it's not like roller coasters or anything like that.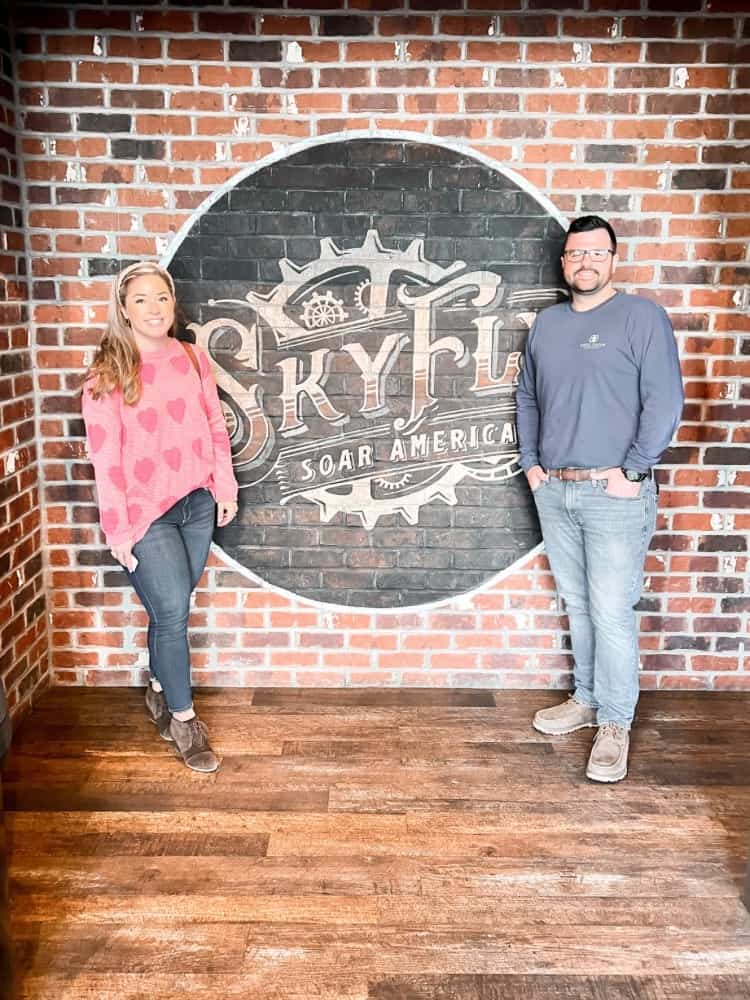 More of a moving theatre that takes you around scenic America, and you feel like you are really there. With water splashing on your face, quick and sudden drops around mountains, and laps around the Bristol Motor Speedway, you are sure to love it!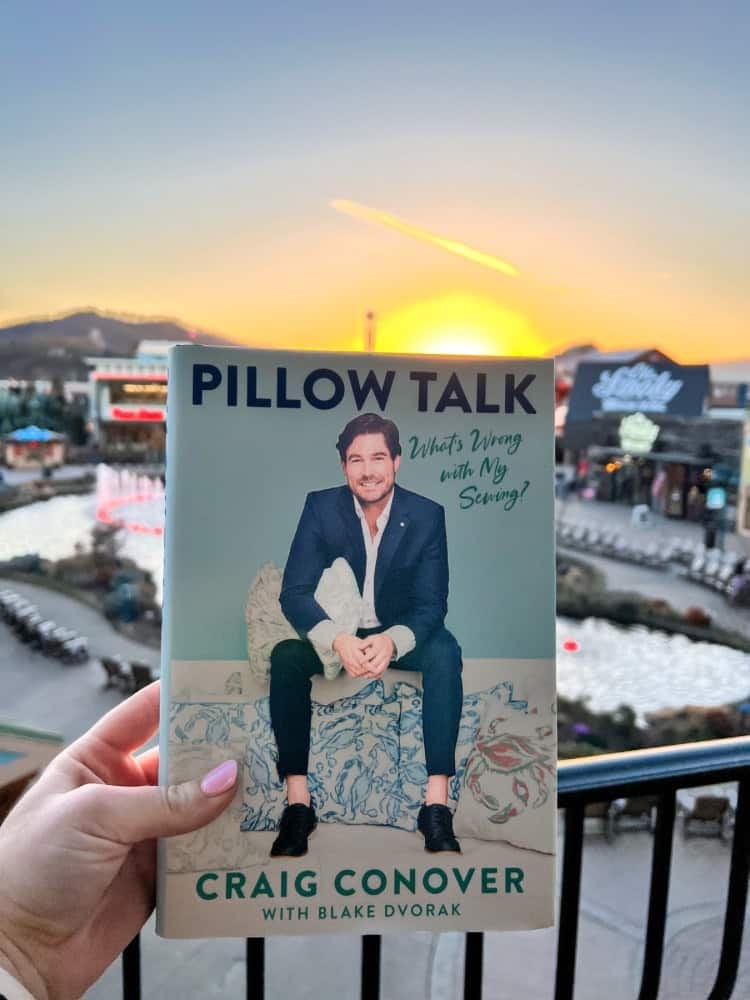 That's why Margaritaville is the best romantic getaway in Pigeon Forge, because you are within walking distance to do all these incredible things. And just be able to spend some amazing quality time with your loved one, without any stress!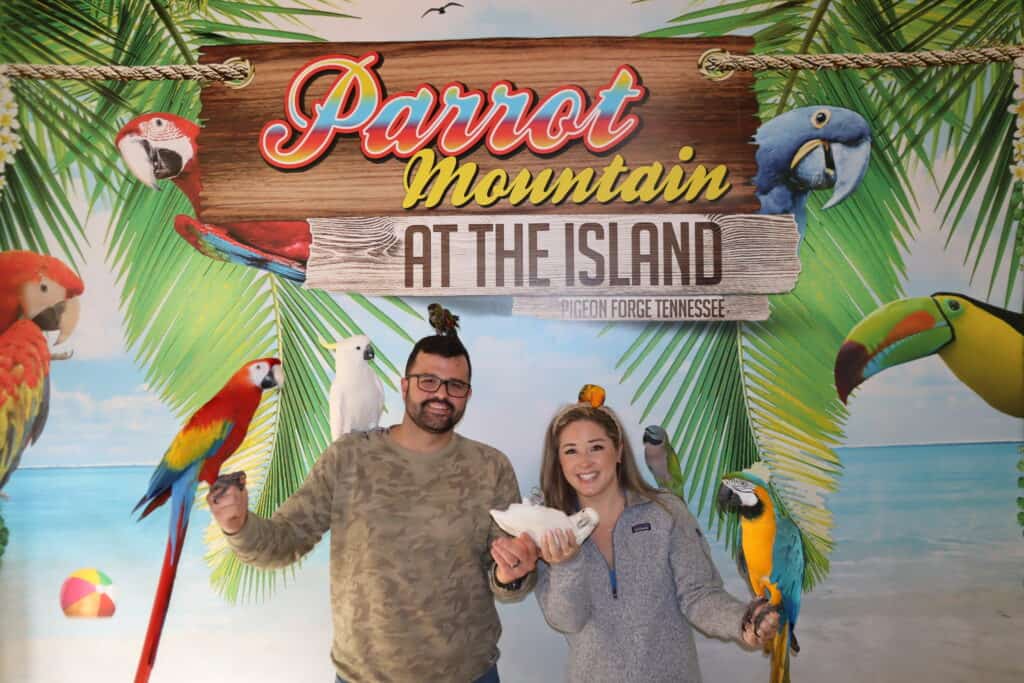 Best Restaurants for a Romantic Evening
We have been to several restaurant in both Pigeon Forge and Gatlinburg TN so I think we have a pretty good idea of some of the best spots around! One of our most favorite places to go to for a romantic dinner is The Greenbrier Restaurant.
Located on the very top of a mountain with plenty of floor to ceiling windows showcasing several mountain views, you can't go wrong!
The food is delicious, the service is incredible, and you just can't beat the sights! This was probably the most delicious meal and best date night we had while being down there!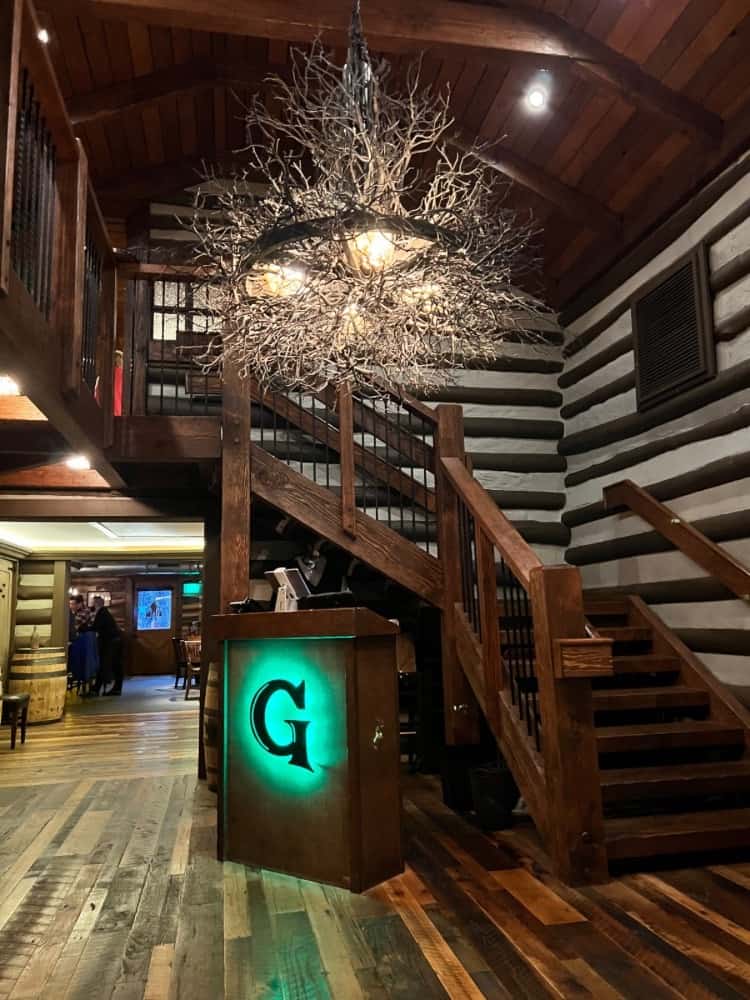 There are also plenty of options for a dinner show around if that is more your style. If you're looking for a good dinner theater, there are several to chose from. We have been to the Dixie Stampede before and I've heard that the Country Tonite Theatre is really good too!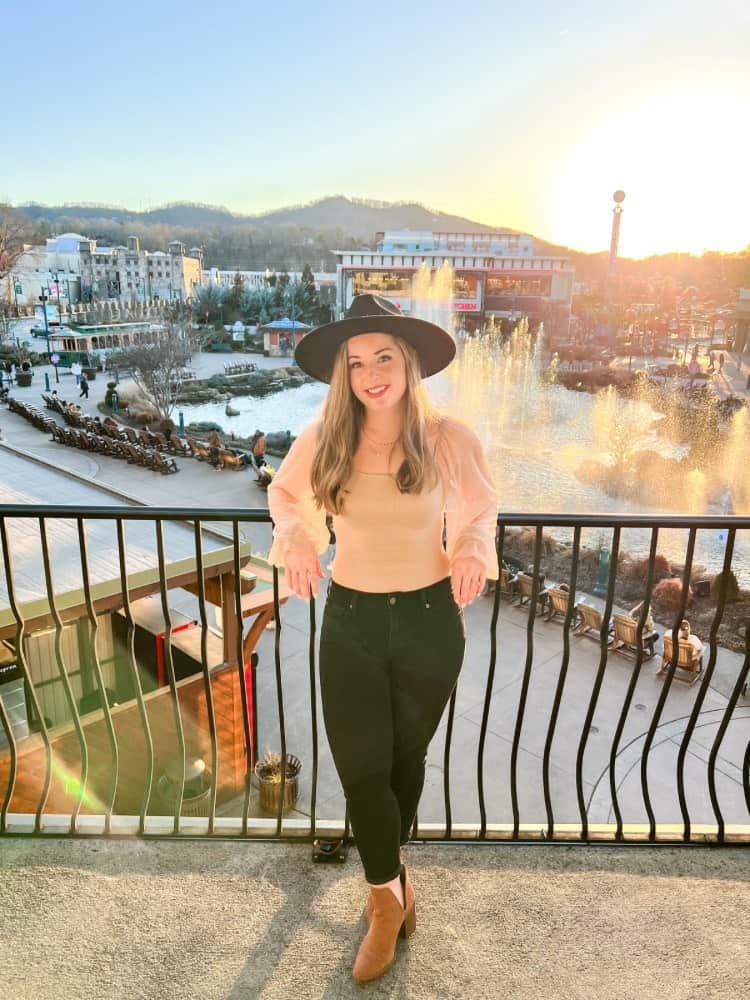 Other great restaurants near the area include, The Peddler Steakhouse (located right in downtown Gatlinburg), Alamo Steakhouse, Old Mill Restaurant, Johnny Carino's, Local Goat, Big Daddy's Pizza, Junction 35, and more!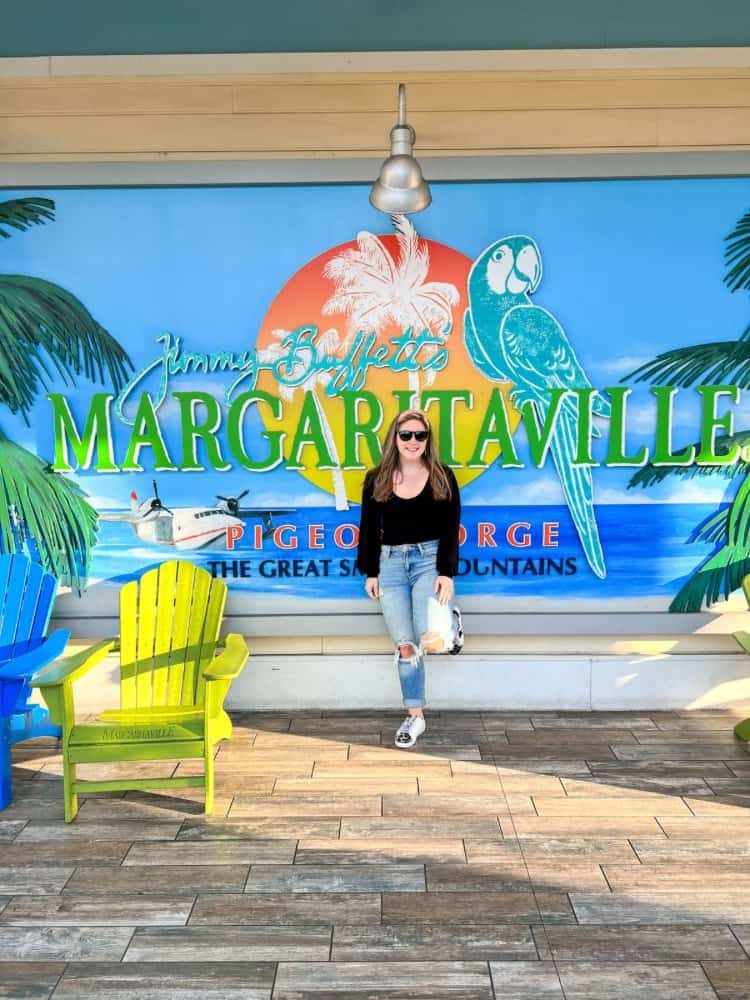 I mentioned more in depth about some of the other restaurants we have tried before, back when I shared my post on things to do in Gatlinburg several years ago. So be sure to check that out for even more info on all the great food they have around!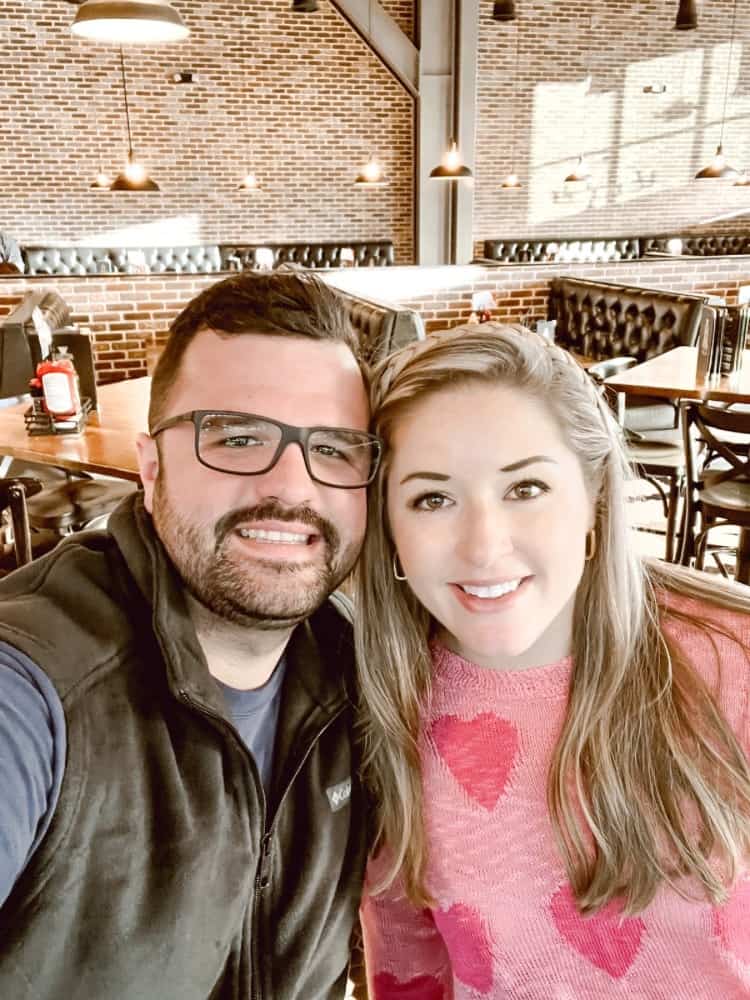 Why Margaritaville is the Best Romantic Getaway in Pigeon Forge
Have I not convinced y'all yet that Margaritaville Island Hotel is hands down the best romantic getaway in Pigeon Forge?! I'm pretty sure that I have, after seeing all these romantic restaurants you could visit for a great date night.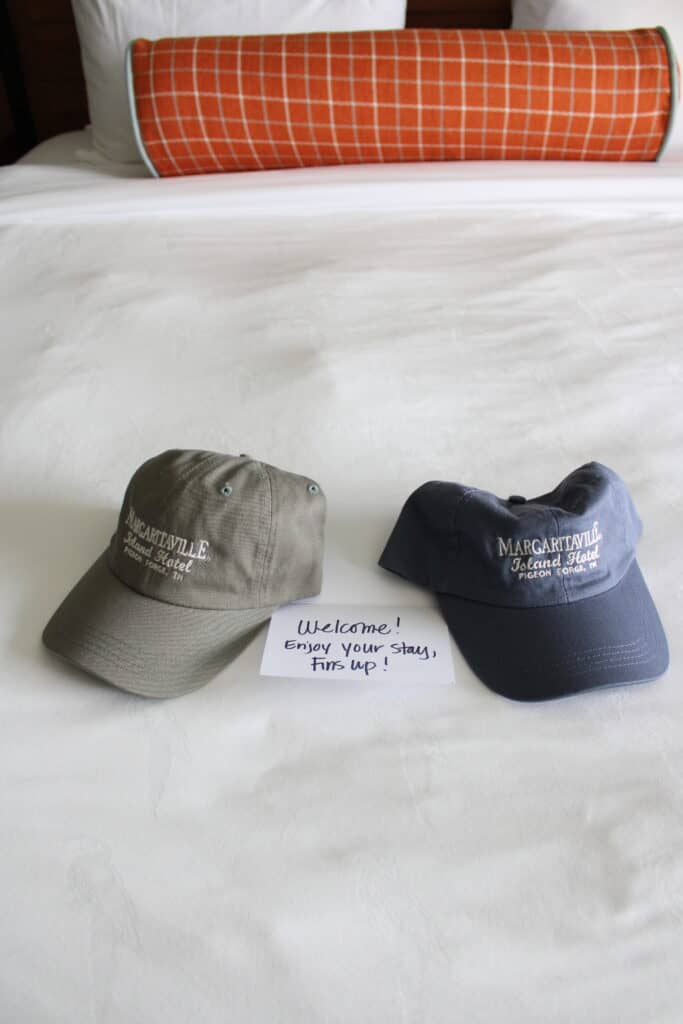 Or all these other top romantic things to do in Tennessee that I already shared! So if you're looking to book you're next romantic getaway, why not consider Margaritaville Island Hotel? I can't think of any better places to go honestly!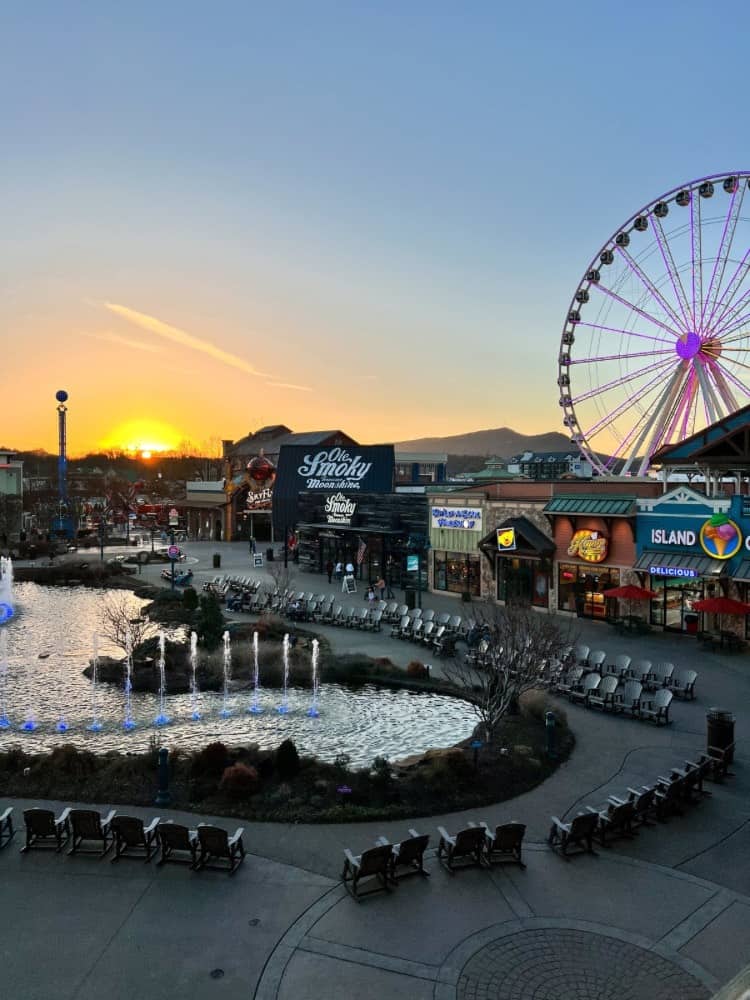 We had such an amazing time and considering all the fun things that we did, it was well worth the trip! If you have any more questions about Margaritaville Island Hotel, or Pigeon Forge, or Gatlinburg, leave them for me in the comments below! I would love to talk more about one of my most favorite places on earth!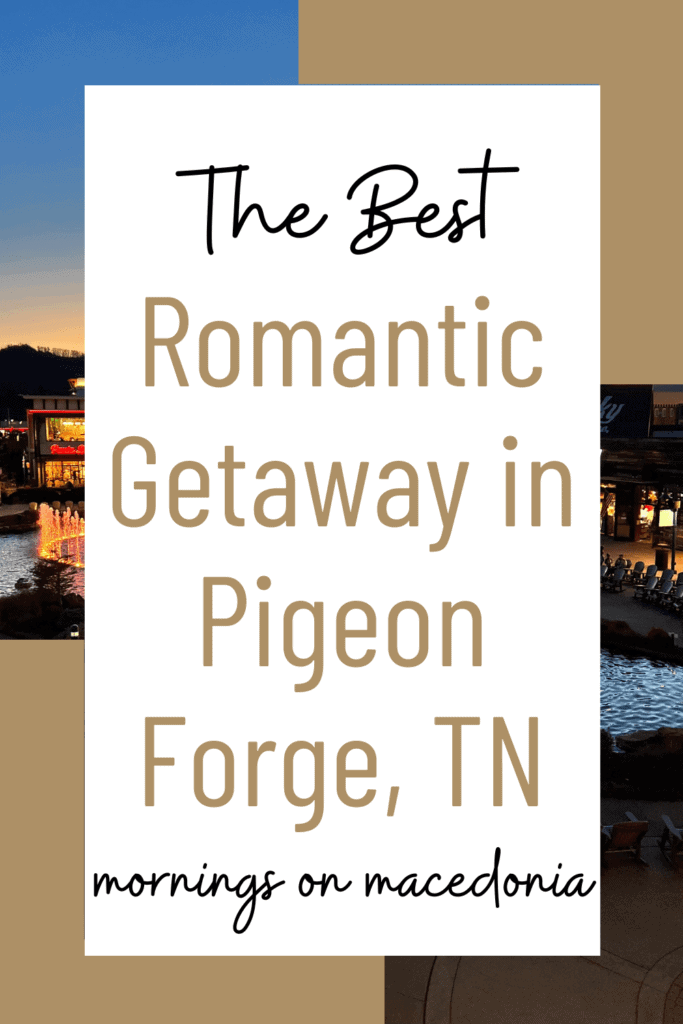 See more fun places to travel here!