Y'all know I love me a good charcuterie board, especially one that is themed. Kinda like when I shared my fall dessert charcuterie board last year. So today, I thought it would be fun to share how I made this Valentine's Day charcuterie board and dessert platter.
It was really simple and easy to make, and didn't require me purchasing a ton of food that I don't normally purchase anyways. And the best part is you can easily customize this platter to fit your needs and wants better.
It's the perfect way to celebrate Valentine's Day. Especially if you are having a little get together for it too. Or even if you are staying in and having date night, this is a great way to do so as well.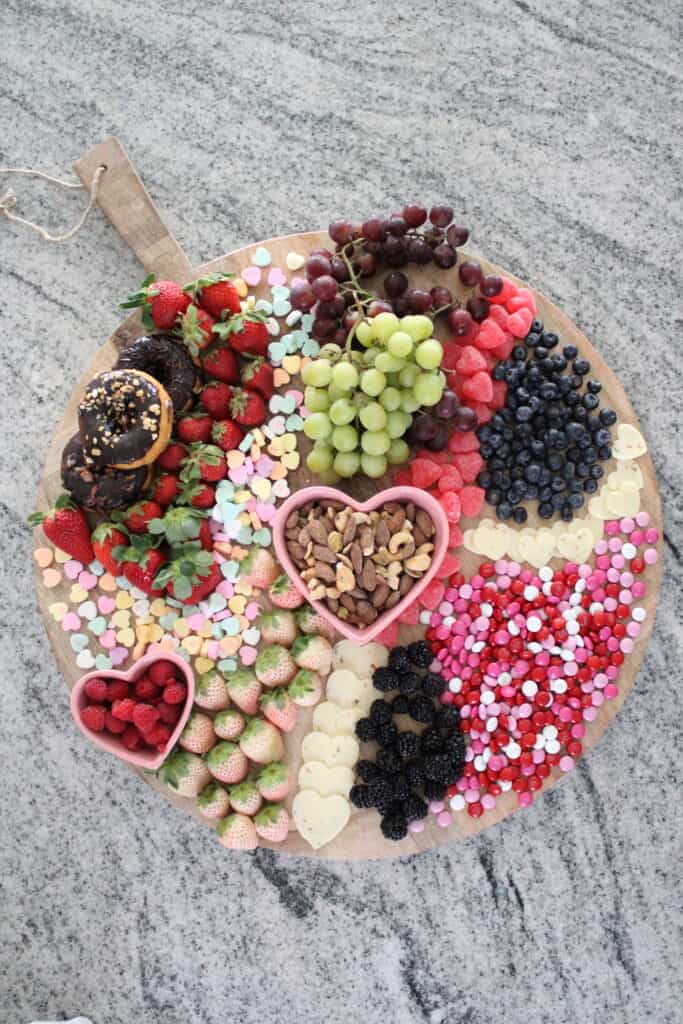 This post contains affiliate links. Click here for my disclosure policy.
Charcuterie Board Ingredients
Fresh Fruit (I used strawberries, raspberries, pineberries, blueberries, red and green grapes, and blackberries)
Mixed Nuts
Cheese
Valentine's Day Candy (I used conversation hearts, cinnamon jelly hearts, and valentine's M&M's)
Sweet Treats (Such as donuts)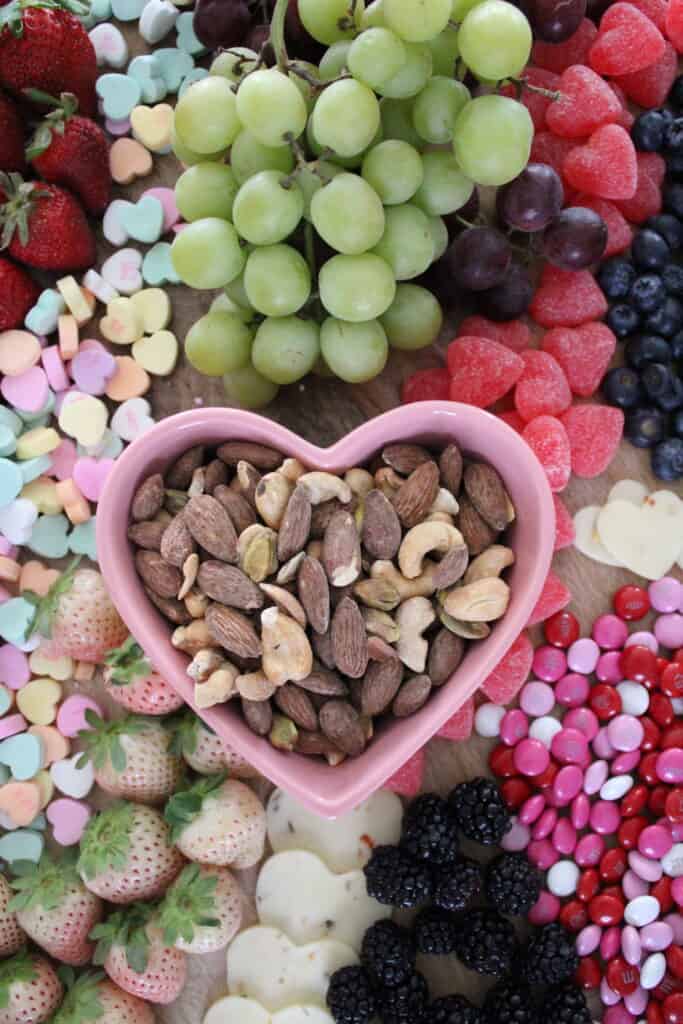 Other Materials Needed: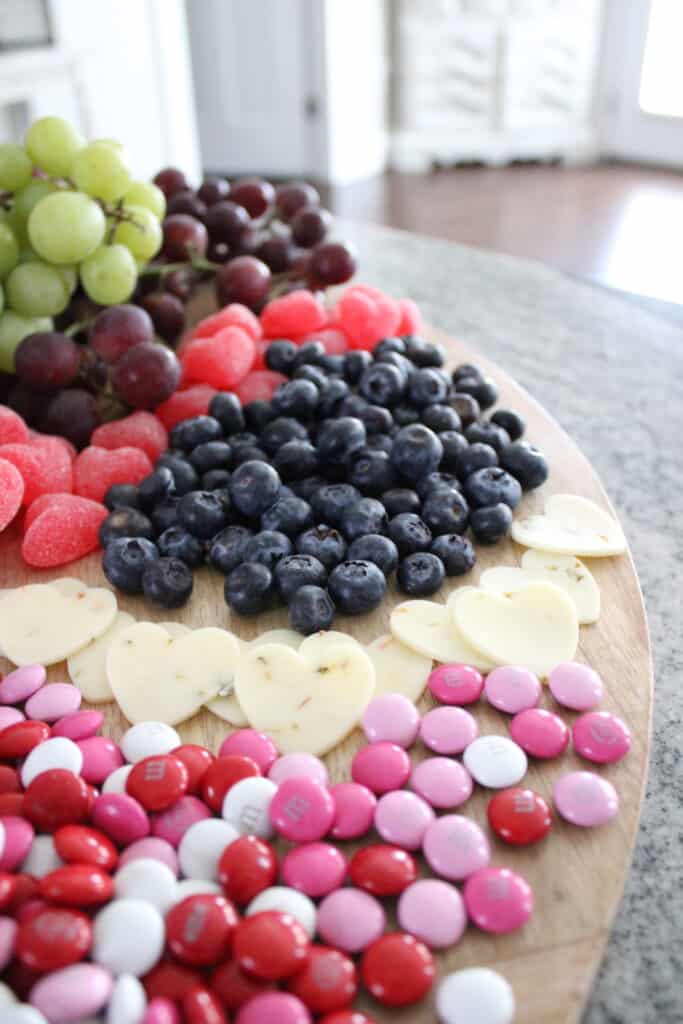 As you can see, the majority of food items listed above were things I already needed to buy from the grocery store anyway. I didn't want to go all out and buy a crazy amount of valentines specific items. I also didn't want to make it specifically a valentine's day dessert board either.

We have been trying to eat a little more healthier this new year, so I didn't want any added temptations laying around! We try to just aim for as many healthy snacks as we can instead. I did settle on adding a few donuts for a sweet treat, but other than that, I mainly stuck with fruits, nuts, and cheeses. And of course the candy too, but I am not a huge candy person, so it's easy for me to say no to those! Otherwise, I have the worst sweet tooth in the world!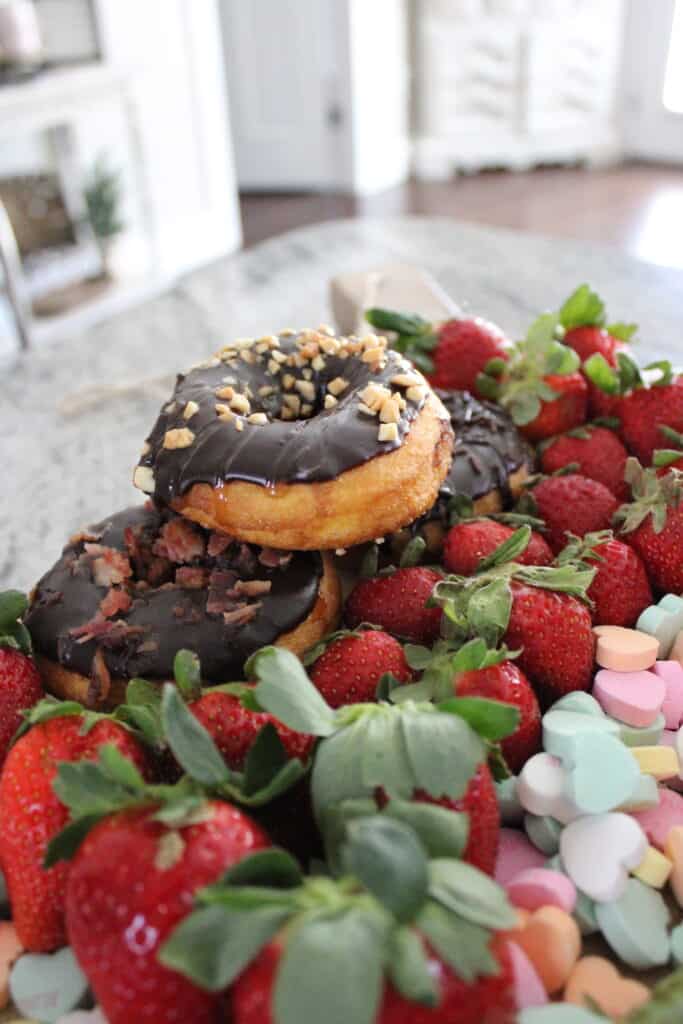 Prepping
To get everything ready for this valentine's day platter, there is a little prep work involved. Such as washing all the fruits. Also, I decided to be extra and cut cheese slices into hearts.
I did this by using a heart-shaped cookie cutter. I used two different sizes to create more visual interest to the platter as well. And I just pressed the heart cutters straight into the slices of cheese on a cutting board and then placed them on the board. This would be fun to do with various different cheeses and make more of a cheese board instead too. I mean, is there anything more fun than heart-shaped foods?!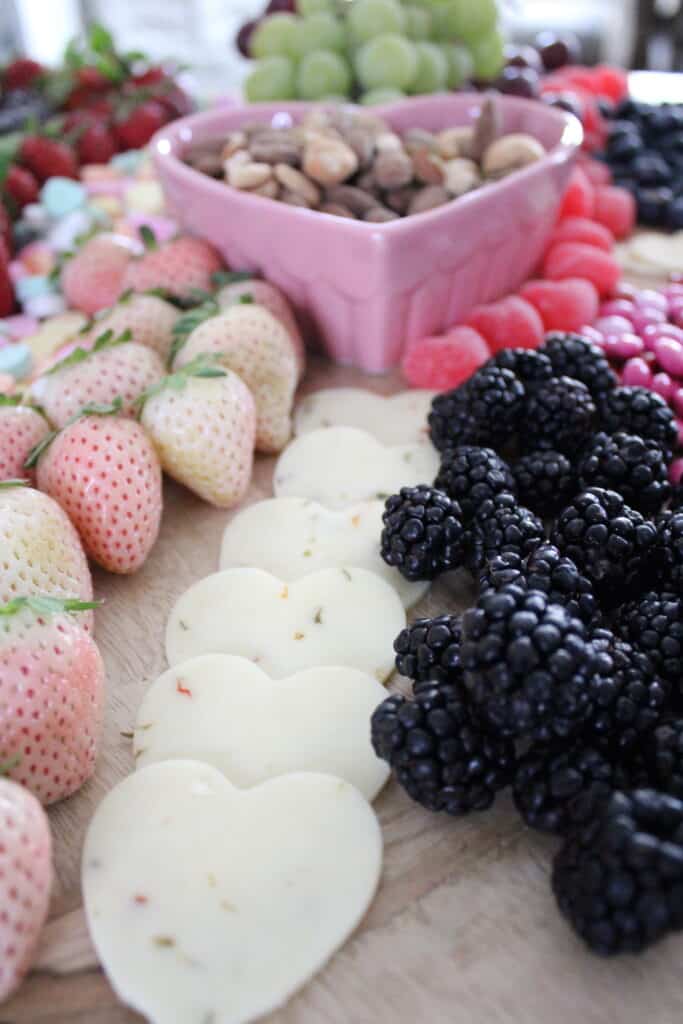 Assembling the Valentine's Charcuterie Board
In the very center of the board, I placed a large heart shaped bowl and filled it with the mixed nuts. And then I just worked my way around that. Over to the side of the board, I stacked a few donuts on top of each other. I like to place some of the larger items like that towards the back of the board. That way, they don't block your view of anything else.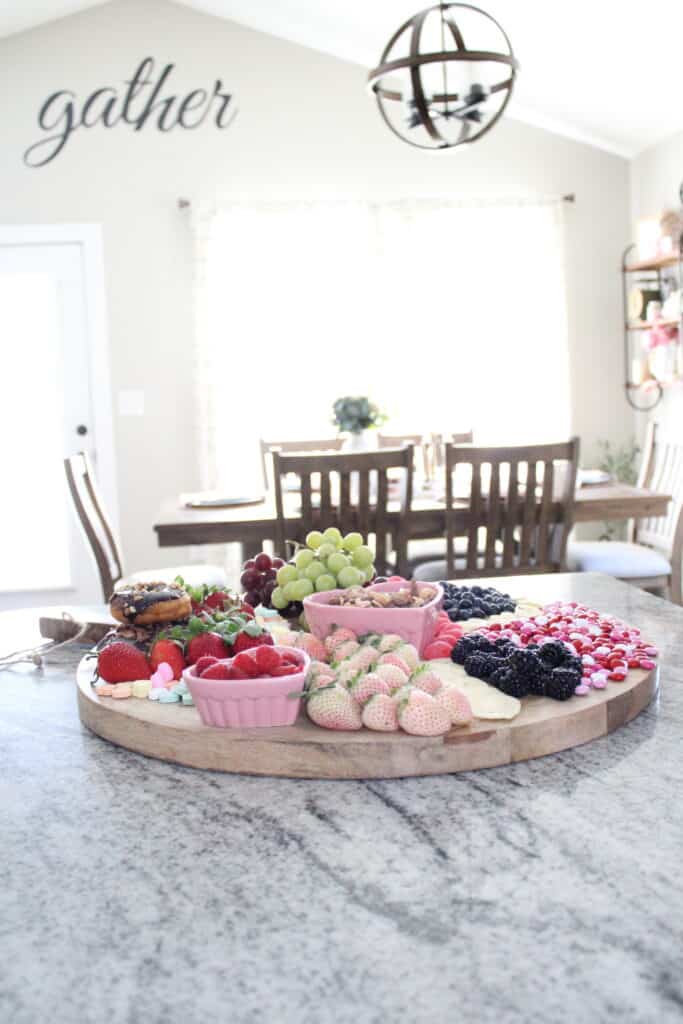 I got these donuts from Duck Donuts, and if you have one local to you, I highly suggest you check them out! They are heavenly! But, if you don't like donuts, you could easily sub them out for some valentine's day cookies instead.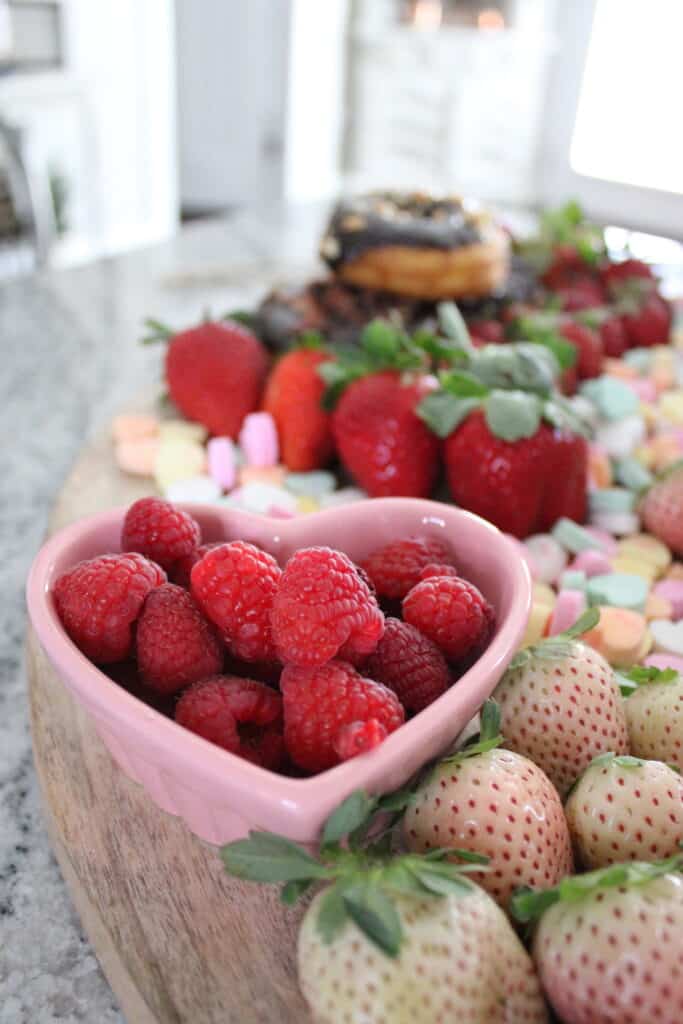 The next step to this Valentine's Day Charcuterie Board is to add in some fruit. I placed some strawberries next to the donuts and a cluster of grapes towards the back of the platter too. Since this is a round tray, it is easy to work with. You have a ton of room to place all the food around.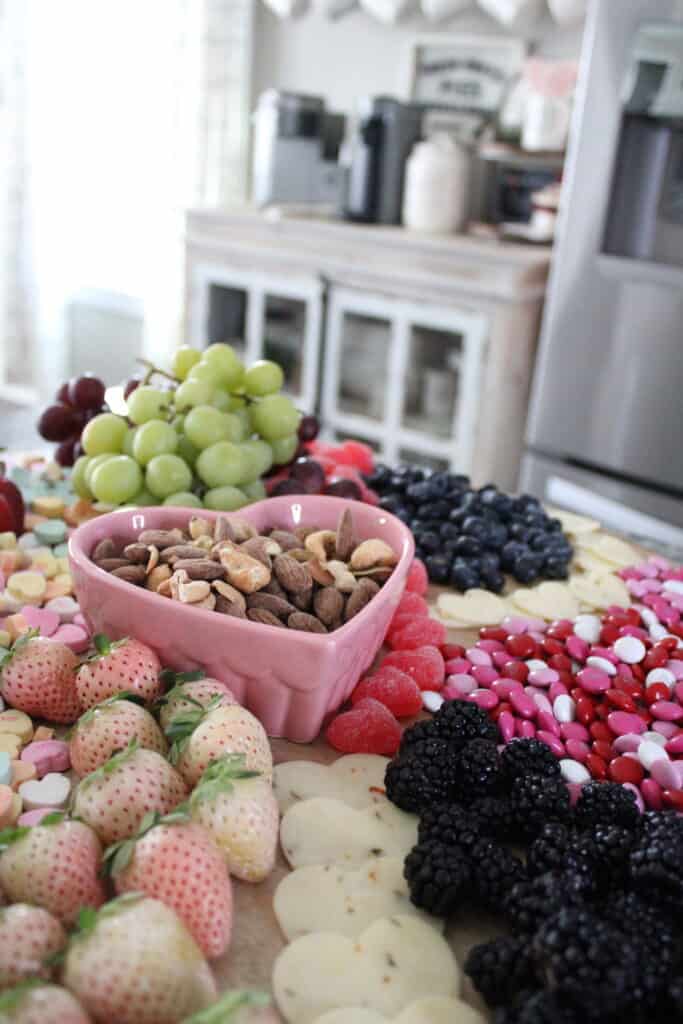 In between all the fruit, I added in the candy to make it flow and to fill up any gaps to the grazing board as well. This board really has a little bit of everything, which makes for the perfect assortment of fun valentine's day snacks!
Other Food Ideas to Add In
If you're stuck and wanting some different foods to add into your grazing board instead, try using some chocolate-covered strawberries too! Those just scream Valentine's Day to me! And you can make them from scratch (using my recipe of course!), or make it even easier on yourself and buy them pre-made. I thought about adding some to mine, however, I didn't find any pre-made in the store. Nor did I have time to make them myself either.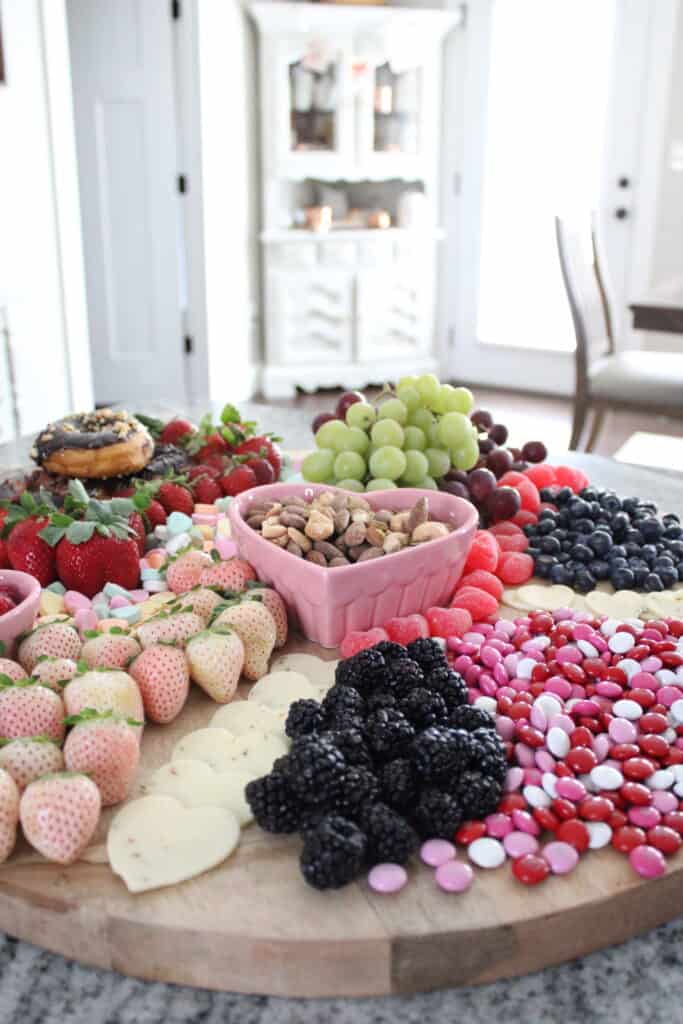 You could also add in some white chocolate chips, milk chocolate chips, and/or dark chocolate chips as well for a more sweeter touch. Or better yet, add in some melted chocolate for guests to be able to dip the fresh fruit into as well!
Again, you could go more for the cheese platter route and add in a variety of hard cheese and soft cheese, such as blue cheese as well. With a cheese platter, you could add on a variety of crackers and savory dips for some delicious accompaniments to the cheese.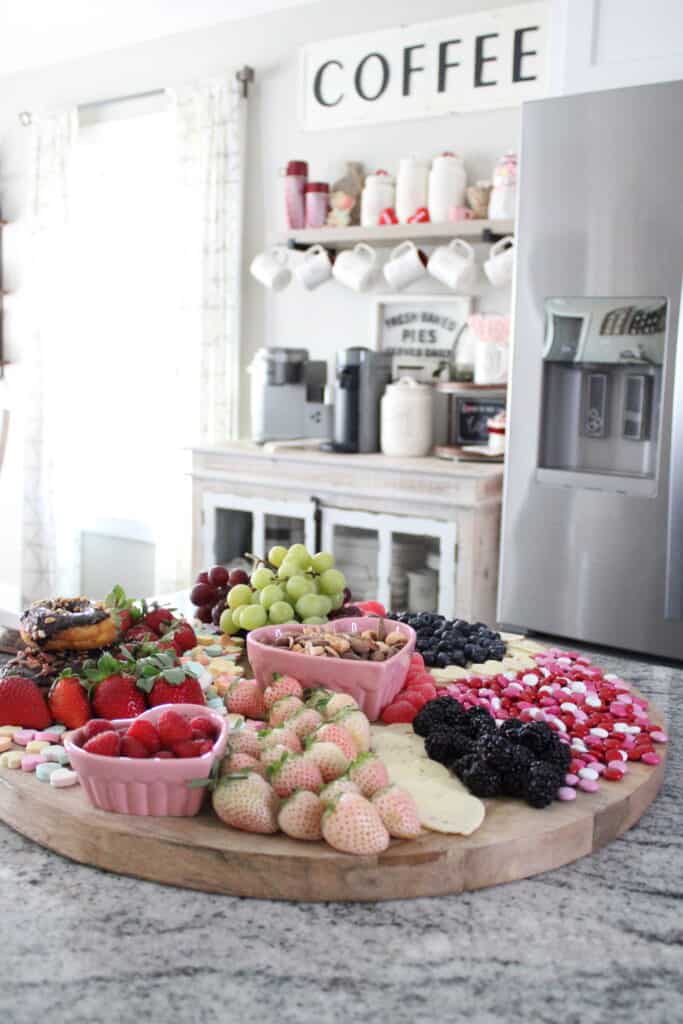 I also just had the thought that I should have added in some sliced red bell pepper too! Since it's both healthy and red, which is the perfect color for a Valentine's Day charcuterie board!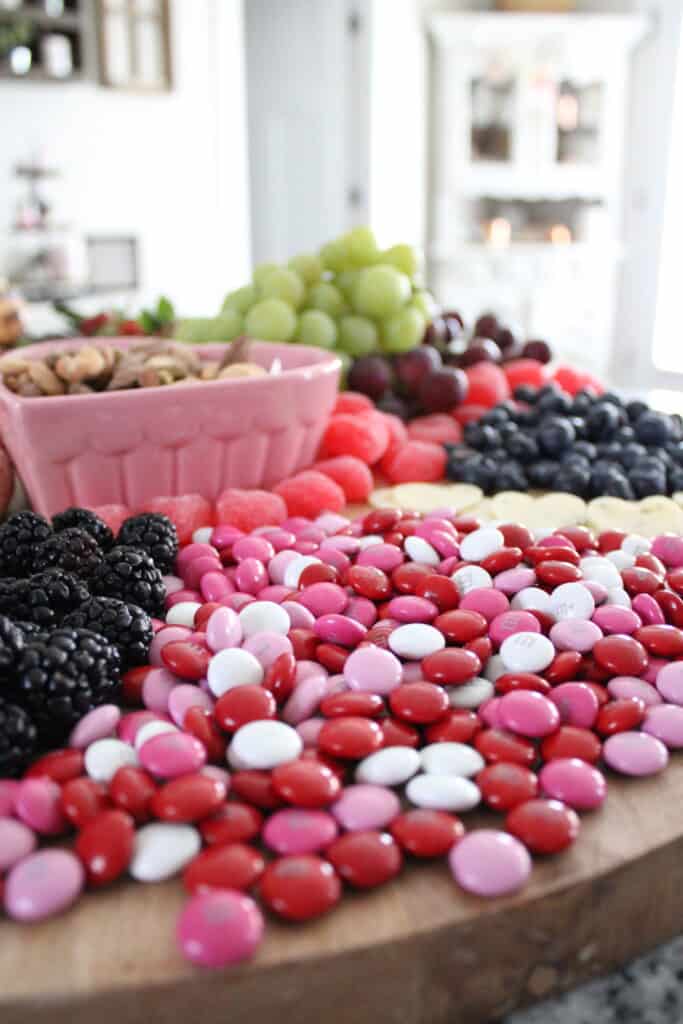 As you can clearly see, there are many ways you can make some beautiful boards for Valentine's Day! And they always look so pretty too, no matter what you add to them really, because they have such a variety of textures to them!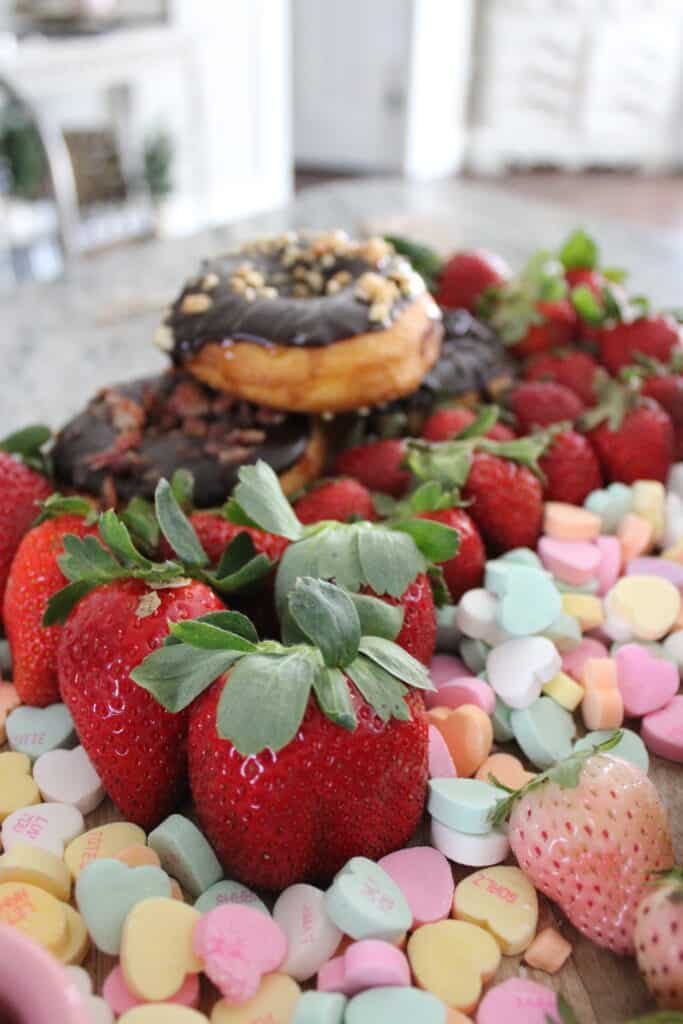 This perfect board was made with lots of love, and really is the perfect way to celebrate valentine's day! Is this something you would be interested in making too? If so, let me know below and tell me what you would put on your Valentine's Day charcuterie board as well. And as usual, thanks so much for stopping by my friends! And I hope you all have a wonderful, happy valentine's day this year!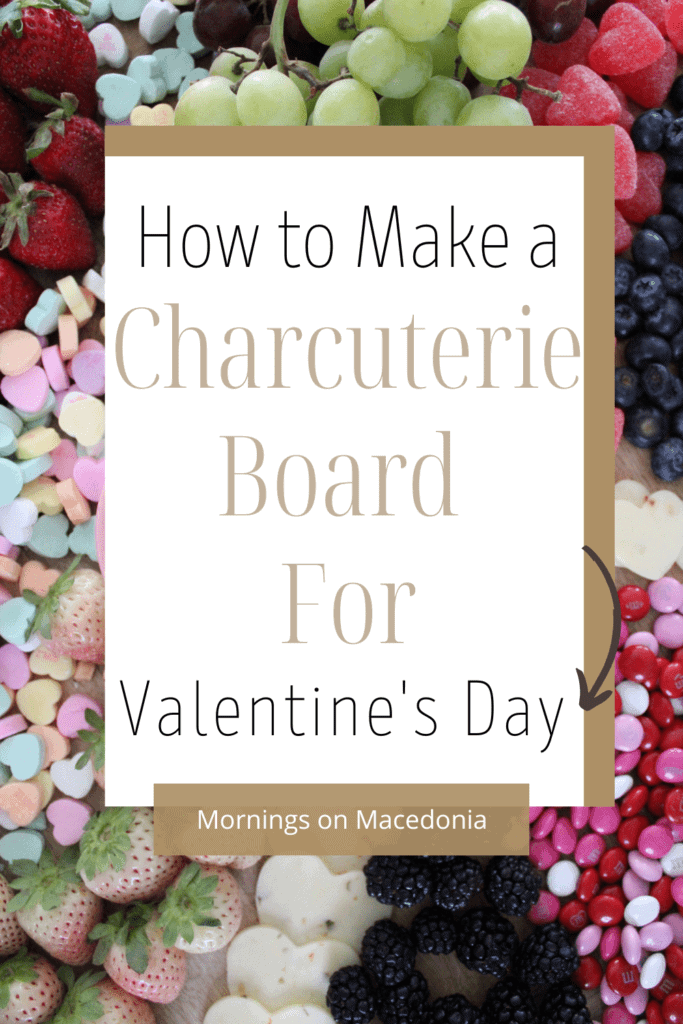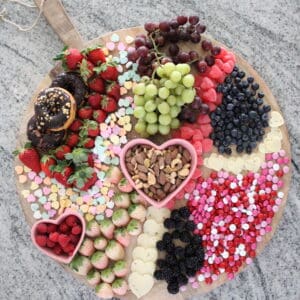 Valentine's Day Charcuterie Board
Ingredients
Fresh Fruit

I used strawberries, raspberries, pineberries, blueberries, red and purple grapes, and blackberries

Mixed Nuts

Cheese

Valentine's Day Candy

I used conversation hearts, cinnamon jelly hearts, and valentine's M&M's

Sweet Treats

Such as donuts
Instructions
Start by cutting out sliced cheese with a heart cookie cutter if desired.

Place fruit, cheese, nuts, and candy all around charcuterie board. I used the candy to fill in the spaces between the fruits and cheese.

Also, use heart shaped bowls to display food in, such as nuts.