There really isn't anything much better in my opinion! And I was lucky enough to go to a candlelight stroll over at The Garage on 25, which is a little local antique shop, last weekend. I enjoyed antique hunting there and it was so much fun. I was so excited I got to be included in this amazing event.
There were also a lot of other Instagram influencers there as well and we were able to shop and mingle with everyone which was really nice.
They even had a table full of snacks and drinks for us to enjoy while we shopped. So keep on reading and I will show just how cute this shop is and all my vintage Christmas goodies I purchased as well!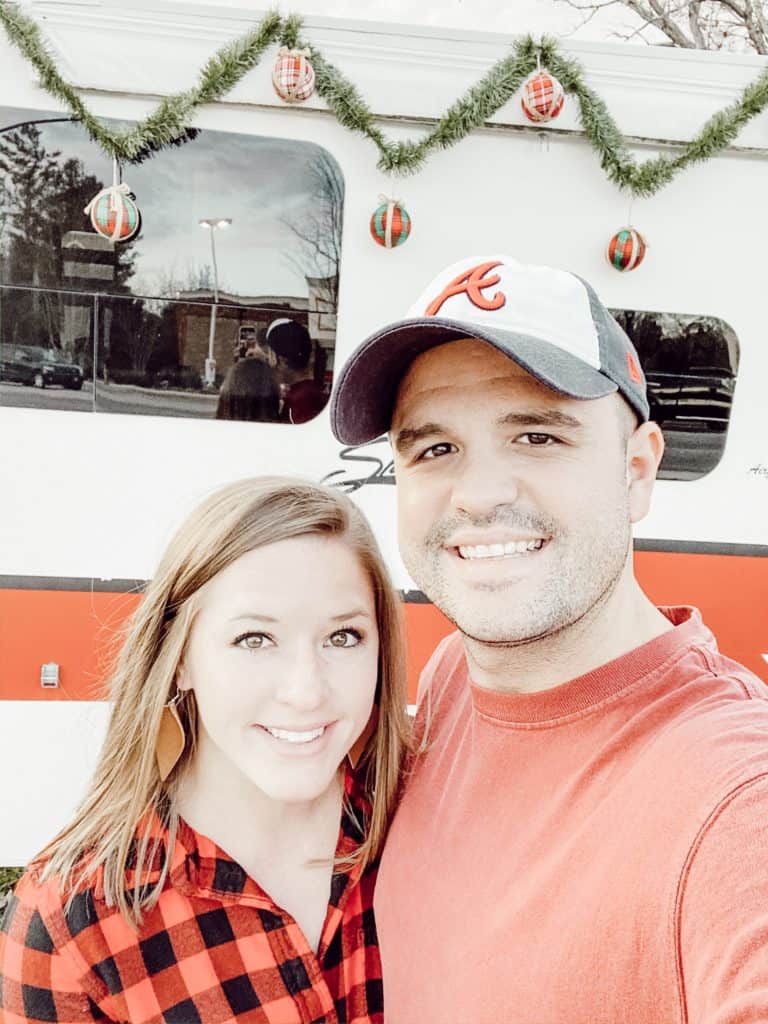 Christmas Photo Op
Outside of the shop, there is the most adorable little camper that is decked all out for Christmas. It has garland and ornaments hanging from the top as well as red chairs and pillows in front of it.
It was the perfect opportunity to take a Christmas photo! Unfortunately, we got there early and no one was around to take our picture for us so we had to settle for a selfie!
So you can't really see the full camper from the picture above, but I promise it is the cutest backdrop for a Christmas family photo!
But, if you're local and looking for places to take cute photos for Christmas cards, I would highly recommend this spot!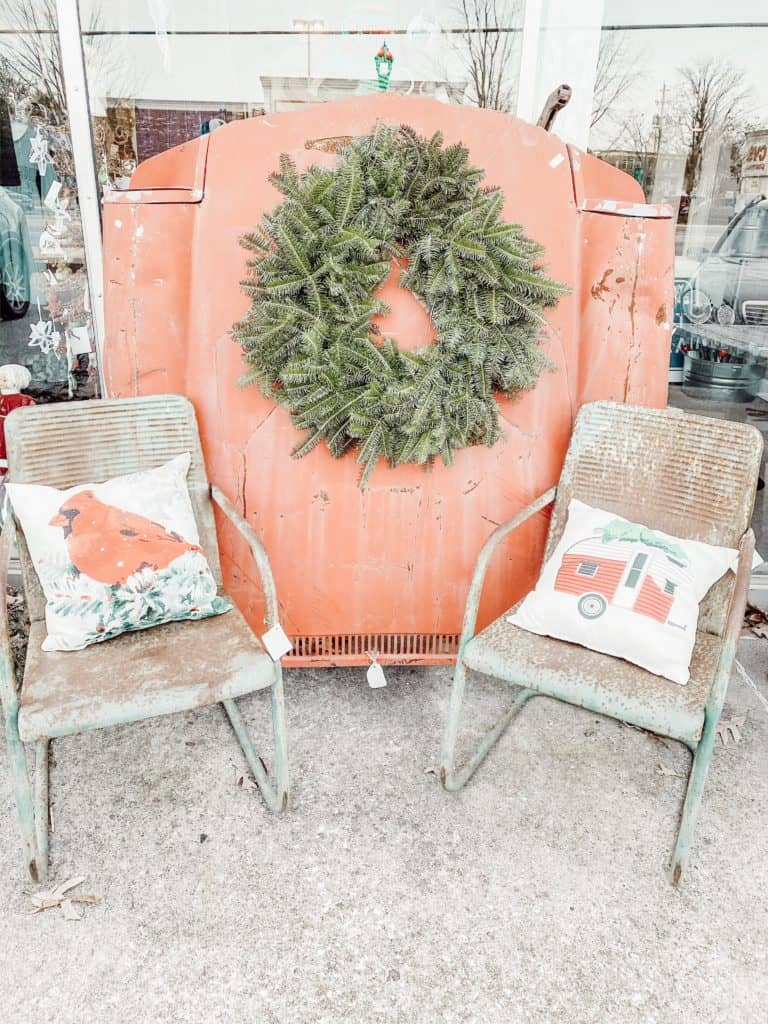 Also outside their storefront, they had such beautiful decorations for Christmas. It was definitely inspiring and I wish I had done something similar to my Christmas front porch like that above!
I just love how they decorated that old hood. I would have never thought to do that myself, but it sure is perfect for Christmas!
They also had plenty of fresh Christmas wreaths for sale too hanging on the windows. Just a quick look from the outdoor decor definitely made me want to go inside and start antique hunting!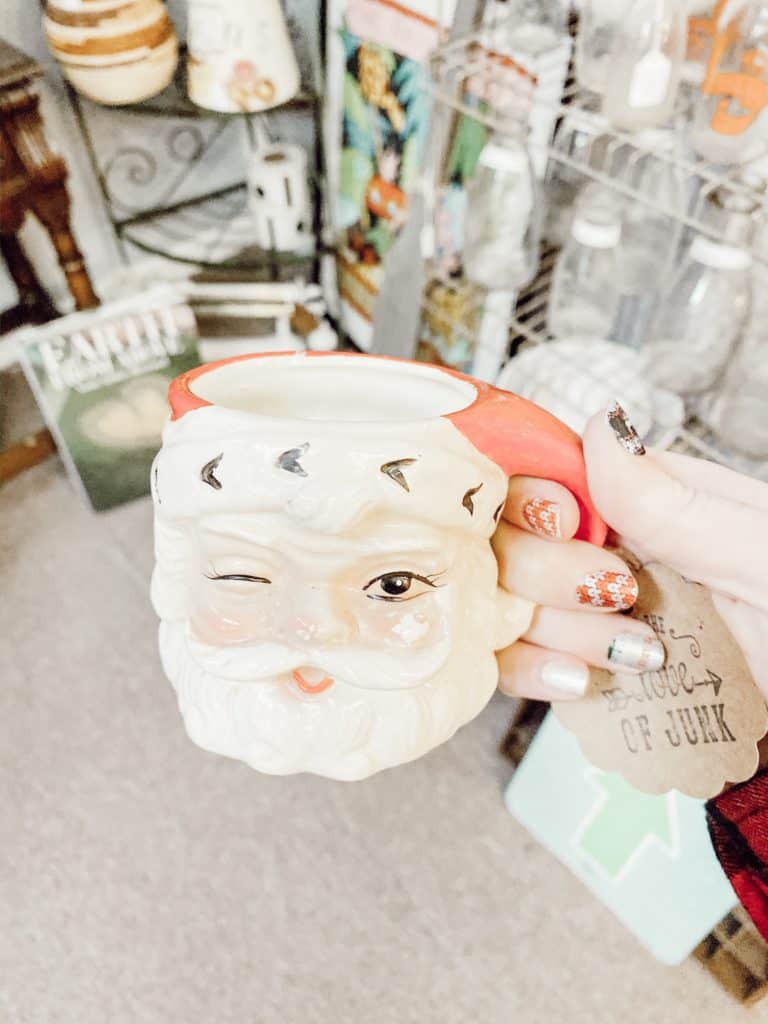 Antique Store Review
Walking inside, I was very impressed with the layout of the store. They had Christmas music blasting and a table of goodies all set up for us to enjoy while we shopped.
There were a lot of little booths around and even more downstairs as well. I like the size of this antique store. It wasn't overwhelmingly big, but it wasn't too small either.
It was literally the perfect size and they even have a small coffee shop located right beside the store as well. And the coffeeshop was playing one of my favorite Christmas movies, Elf, so I knew right then it was a cool place!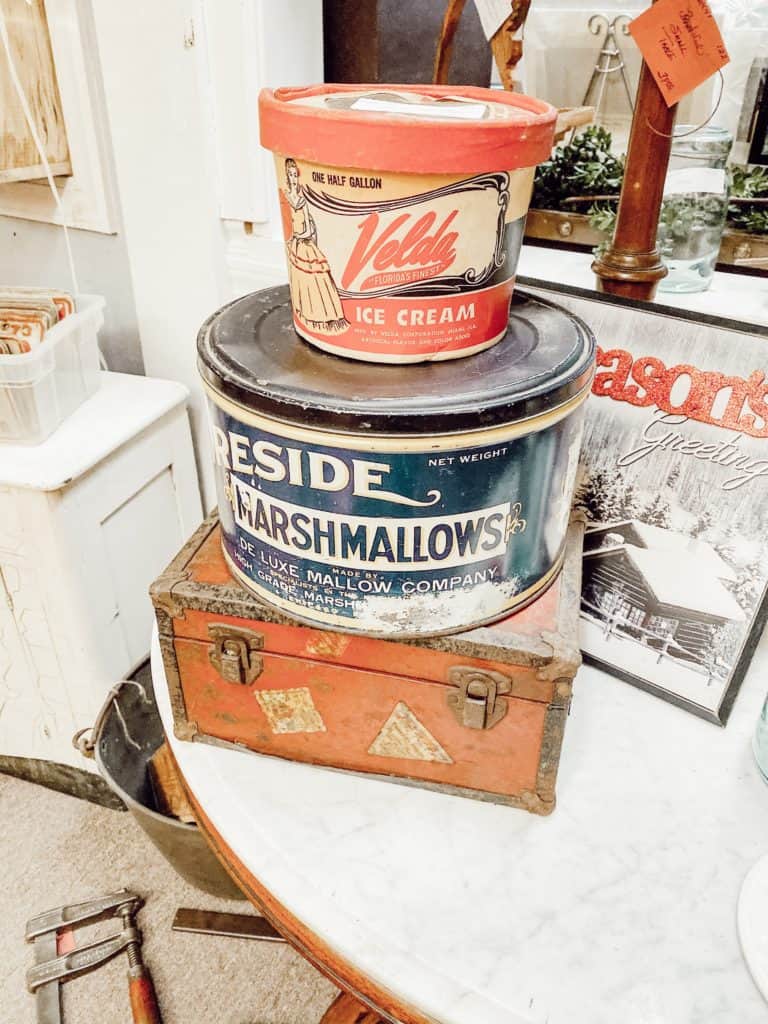 I found a few vintage Christmas goodies while I was antique hunting and I was so excited to find them! Currently, I do not have a large vintage Christmas collection, so these little pieces are my very first pieces to add to my hopefully growing soon collection.
I was definitely so inspired looking around at all the vintage Christmas displays there and I wish I could have purchased more, but I am so happy with what I did end up getting!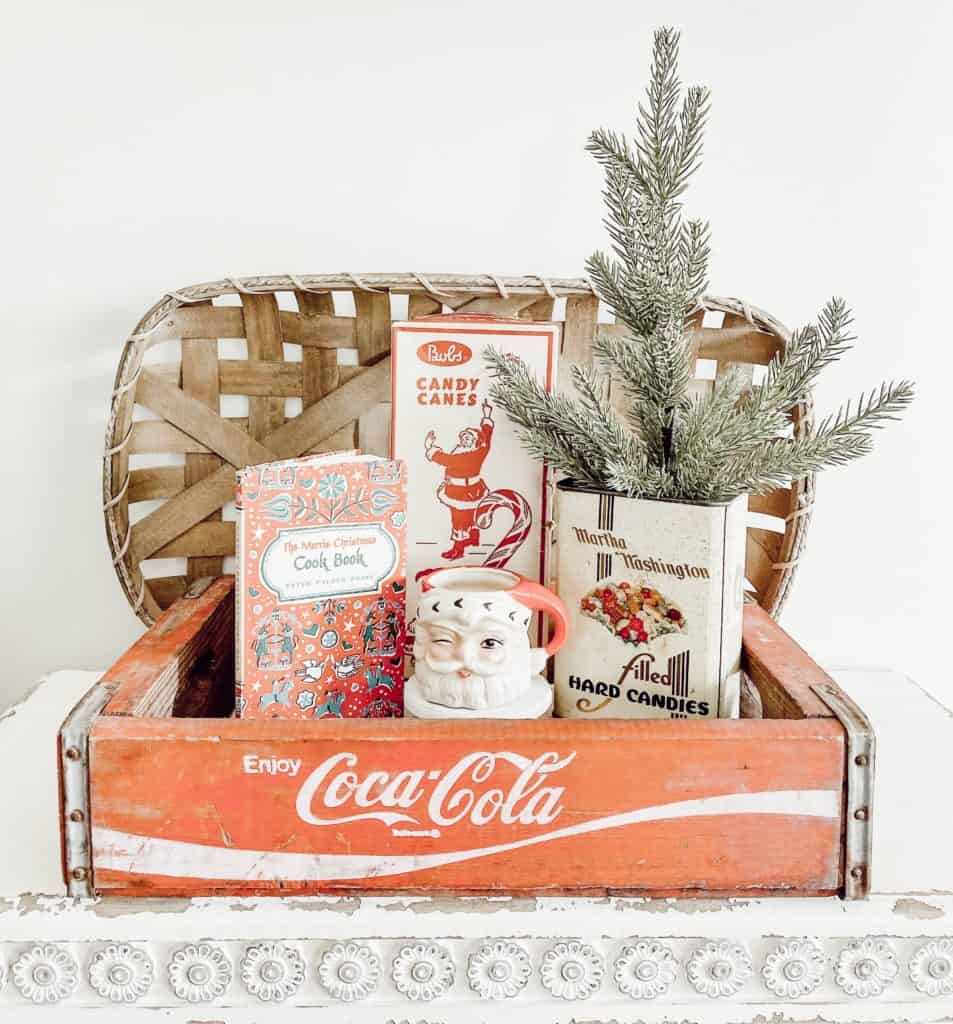 You can see everything I bought there pictured above. So many cute vintage goodies! I am just in love with that vintage Santa mug too and now I want more to add to my collection!
The Garage Information
So if you're local to Asheville, or anywhere close by, I definitely recommend that you plan a trip out to The Garage. As you can see, it's totally worth it and I am sure you will find so many goodies there too! Below is all their information:
The Garage on 25
3461 Hendersonville Road
Fletcher, NC 28732
Click here to visit their following pages: Website, Facebook, and Instagram. Go give them a follow and check them out! And if you go, let me know what you think and show me all the cool pieces you find too!