This post contains affiliate links. Click here to read my disclosure policy.
You all know I love to decorate my front porch for every season, and Christmas is no exception! Even though we don't really sit outside during the cold weather, I wanted to make a beautiful entryway for my guests to enjoy when they walk up to enter our home.
So I kept it very simple and just added a few Christmas touches, mainly working with what I already had on hand. I don't go to crazy with the outdoor Christmas lights, mainly because my hubby won't let me!
If it was up to me, I would probably Clark Griswold the whole place! But I did add a couple of mini trees, just enough for a cozy glow. Keep on reading to see just how I styled our porch!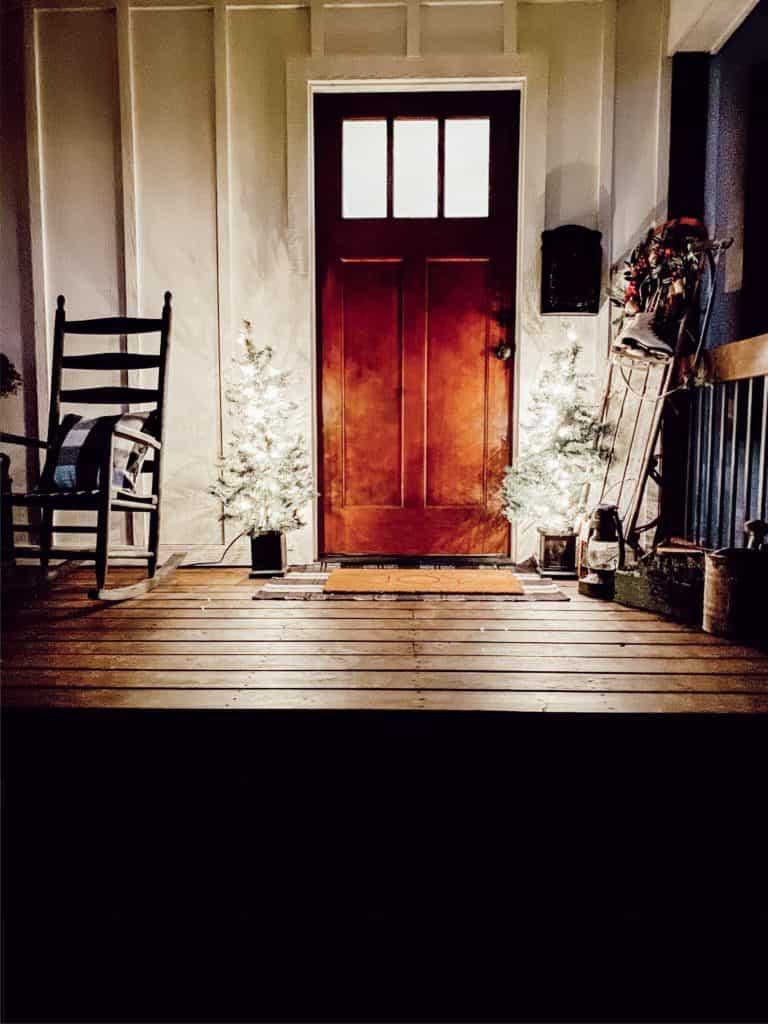 Christmas Doormat
So the first easy touch I added was a new Christmas doormat. I still had my buffalo check scatter rug from Kirkland's that I wanted to re-use for Christmas, so I just needed a new doormat.
I ended up getting the Joy doormat from the Hearth and Hand collection at Target. This doormat is nice and simple. And that's how I want people to feel when they enter my home- full of joy! So it was the perfect little touch.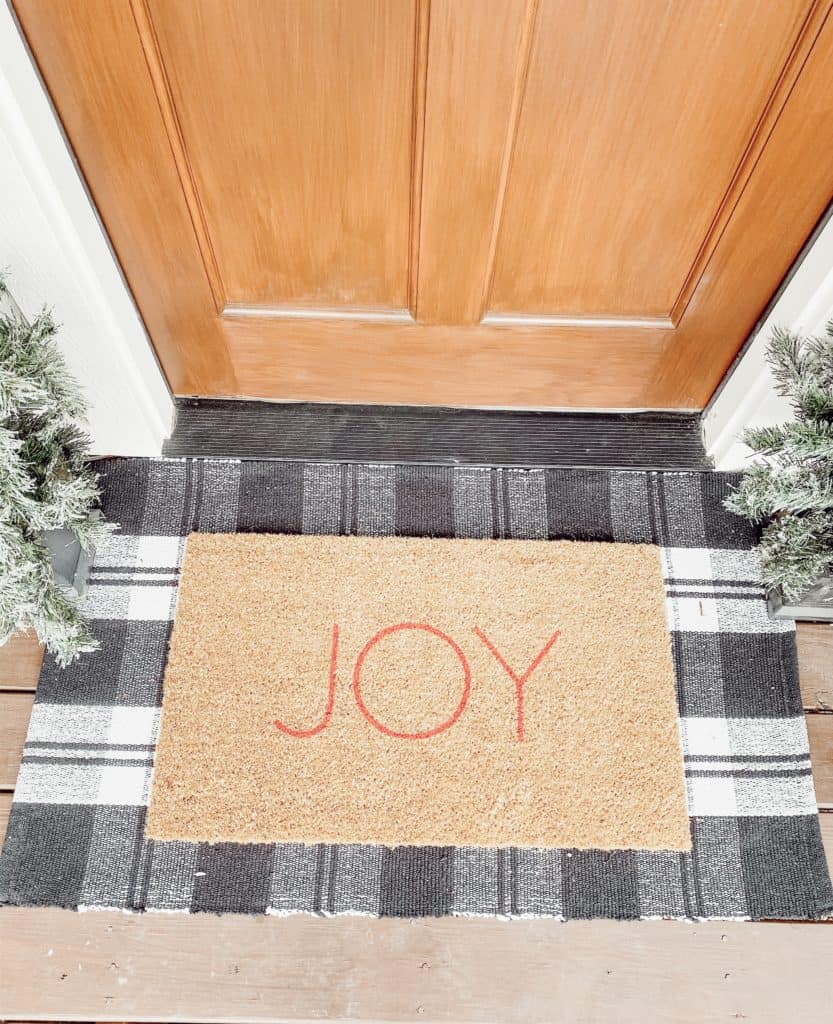 On each side of the rug, I added two little trees that light up. I got them from Big Lots several years ago and we have them set up to a timer so they automatically come on every night at 5:30 pm and turn off by 11:00 pm.
I would highly recommend getting a timer that way you don't have to remember to go out in the freezing cold to turn your lights on and off! It's definitely been a huge help to have them set to a specific time.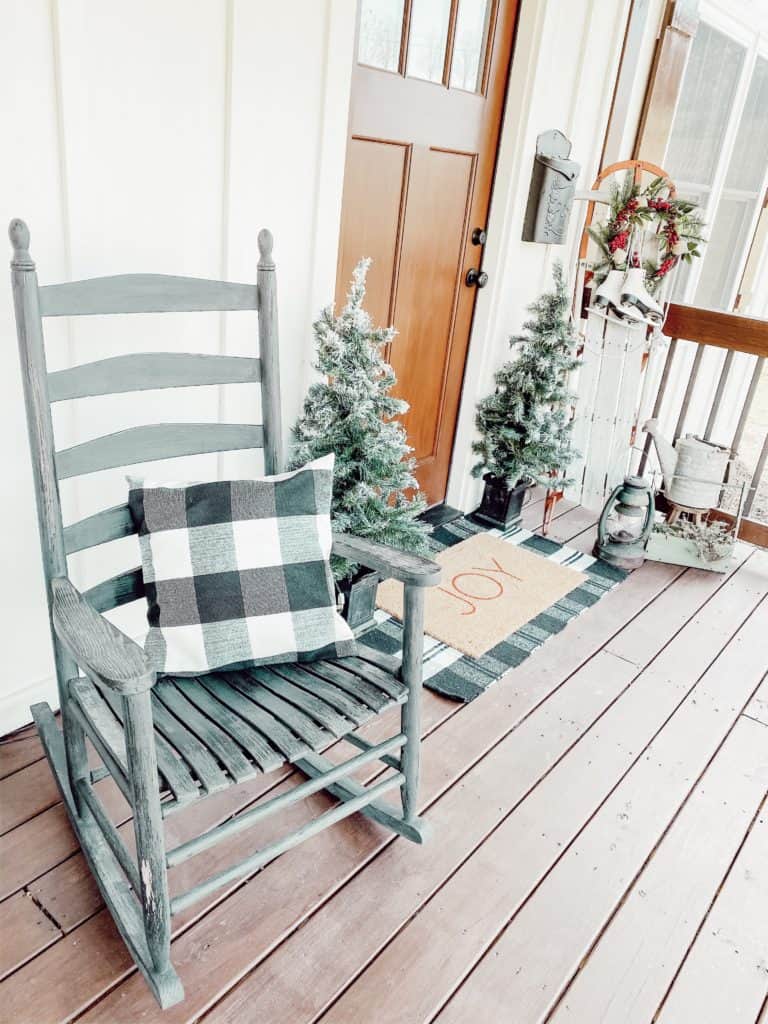 You can see my two trees a little better in the picture above. The only problem I have with them is that they are very lightweight and just the slightest gust of wind will blow them over.
So I need to try to find a heavy rock or something to put in the base of the trees to help secure them in place a little better. I also included the buffalo check pattern into my rocking chair pillows too.
I ordered these pillow covers off of Amazon and just put them over my pillows I already had on the porch. This was a cheap way to add a festive little touch as well.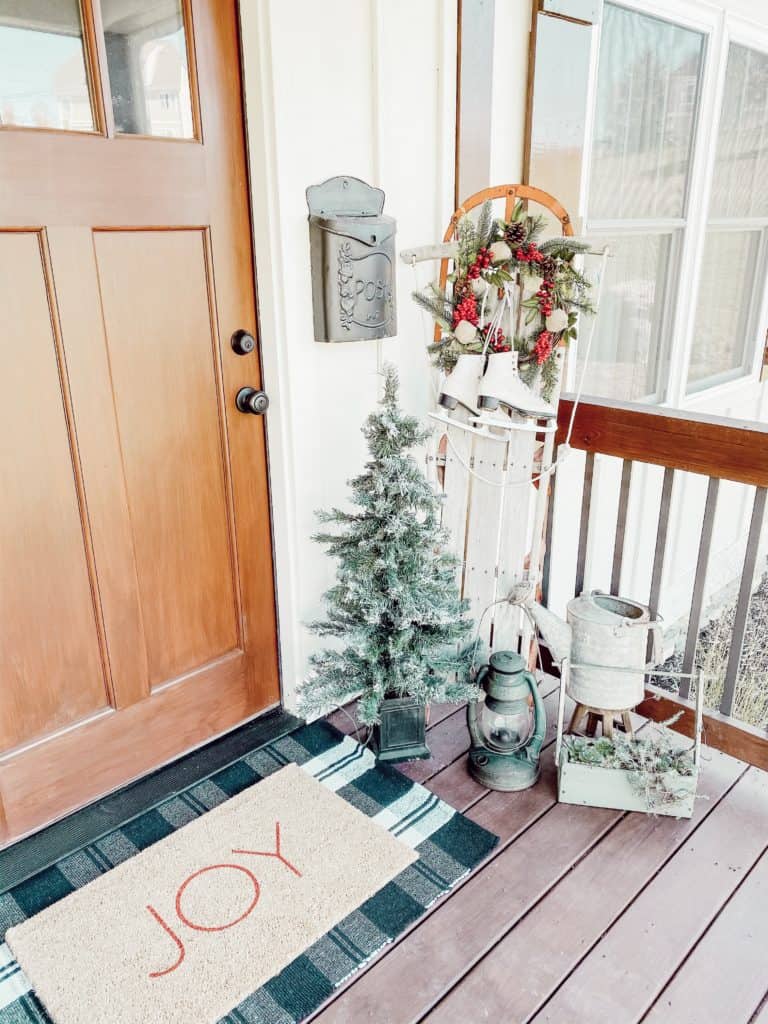 Vintage Christmas Sled
Now time for my favorite part of my Christmas front porch decor- that vintage sled in the corner! My mother in law gave that to me this year and I am obsessed!
I knew when she gave it to me, I needed to find some vintage ice skates to go with it and a wreath too. Luckily, I found the Christmas wreath from Tiny Land.
I also got those vintage ice skates from Vintage Market Days and I am so happy I found them! They all look so perfect. It came together just like how I imagined it would!
The only problem with the sled being in the corner there was that when it was windy outside, it would get knocked over. I've lost a few pinecones on my wreath from it falling over so much!
But, we got creative and zip tied it to one of the rails on the porch and that prevented it from falling over again.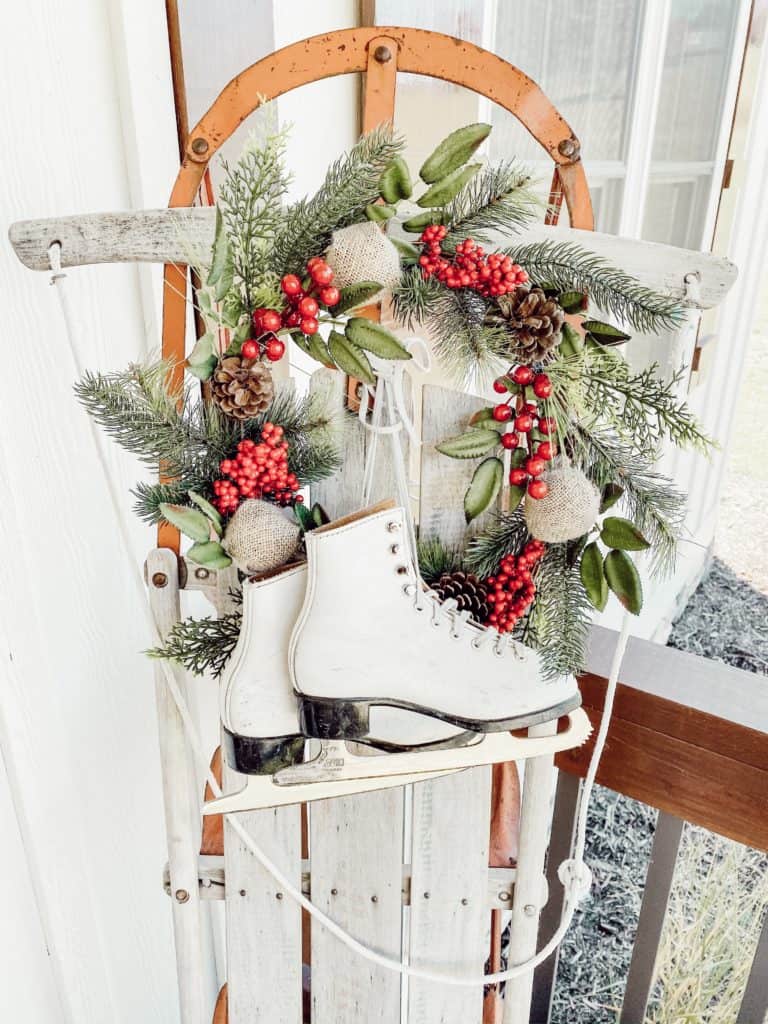 So as you can see I just added a few touches to my porch and made it more festive and bright for the season! It only took me a few minutes to create and I was able to keep the cost down low since I did not have to purchase too many new things for it.
Do you guys decorate your front porch for every season too? Let me know! I would love to hear what y'all like to do for a Christmas front porch at your home too!