So I have recently partnered with a company called Care Of and they literally send you any kind of vitamins and/or supplements straight to your door every month!
You simply go to their site and fill out a fun little quiz. Then, it will give you suggestions as to what vitamins you should be taking every day.
You can either order them all, or pick and choose which ones you want. It is completely customizable, which I love! I thought I would share a fun little review of it today in case you haven't ever heard of them before.
I think they are totally worth it. Plus, you can use my coupon code "CHARITY50" to get 50% your order with them.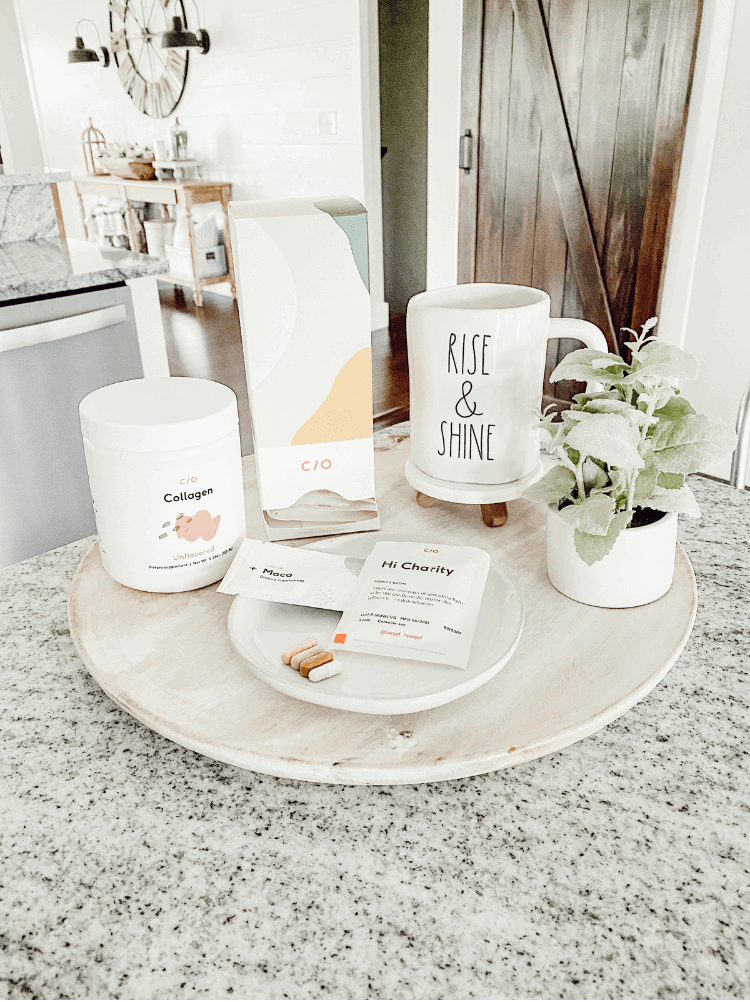 This post contains affiliate links. Click here to read my disclosure policy. Always consult your doctor or physician before starting a new vitamin or supplement routine.
Why I Love Care Of Vitamins
One of the main reasons I love Care Of is because of the cute and convenient packaging. They put every single vitamin you need into one little pack that you take everyday.
Which means it makes it super easy to pack whenever you go on vacation or out of town! No more packing a bunch of different bottles!
Just take with you however many packs you need for the amount of time you are gone for. And each packet as a cool quote or fact on it. It's definitely a fun way to start your morning!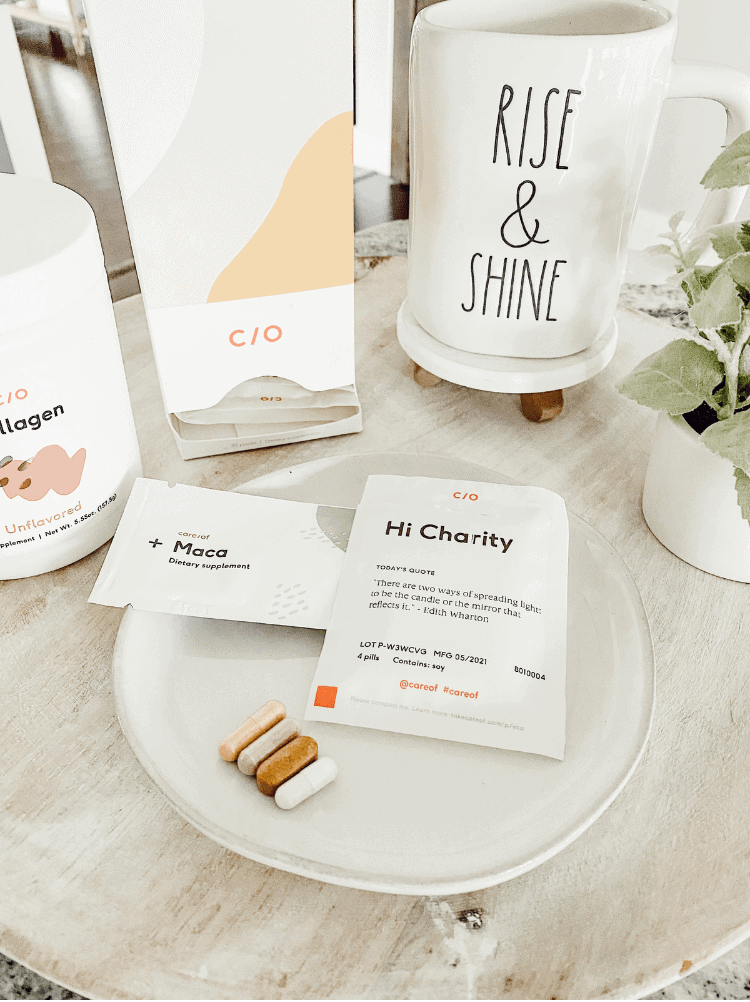 Also, they don't have just vitamins alone. They have many other supplements that you can choose from as well too. I get Maca and Collagen Powder with my order every month too.
I will talk more in depth about the specific ones I get a little later. But I love how they give you the options to add on collagen, boosts, and protein as well depending on what your body needs.
What Does The Quiz Ask?
As I mentioned above, you take a personalized quiz on Care Of's website. This gives them an idea as to what you should take daily. It takes less than 5 minutes and it is super easy to do.
They start off by asking if you are a vitamin-pro or if you are a little skeptical of taking vitamins. It also asks how many vitamins and/or supplements you take daily as well.
Other things it asks about are if you take any powders and if you are interested in either prenatal or postnatal vitamins.
Of course your age and sex are a part of the quiz basics. It dives a bit deeper and asks you what your goals are. Like things you want to improve on such as immune health, sleep, heart health, etc.
From those it will ask you what your top priority is. Then after you give all your answers, it will come up with a plan for you.
Of course, you don't have to add in all of the suggestions it gives you. I did however add everything in it suggested for me and I am glad that I did!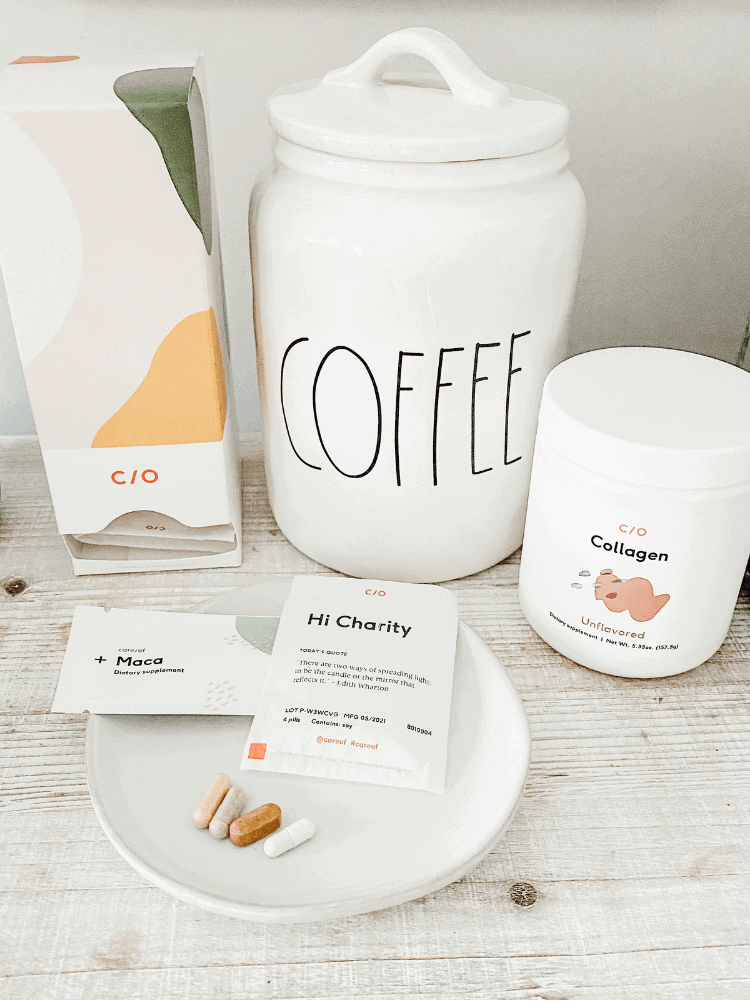 What I Take Everyday
After taking the online quiz, here is what it told me I needed to take:
Maca Powder- For energy and fitness performance

Comes with 5 single serve packets
You can mix it with water or add it into a smoothie. I personally like to add it into my morning smoothie when I am feeling extra tired.

Collagen Powder

Supports elasticity in skin as well hydration
Helps strengthen nails
Comes in unflavored as well as other flavors too (I get the unflavored)
Add into coffee, smoothies, or tea daily

Rhodiola

Supports a healthy response to occasional stress

Vitamin C

Helps maintain a healthy immune system

Probiotic Blend

Helps naturally regulate your digestive system

B-Complex

Supports the nervous system
Promotes energy metabolism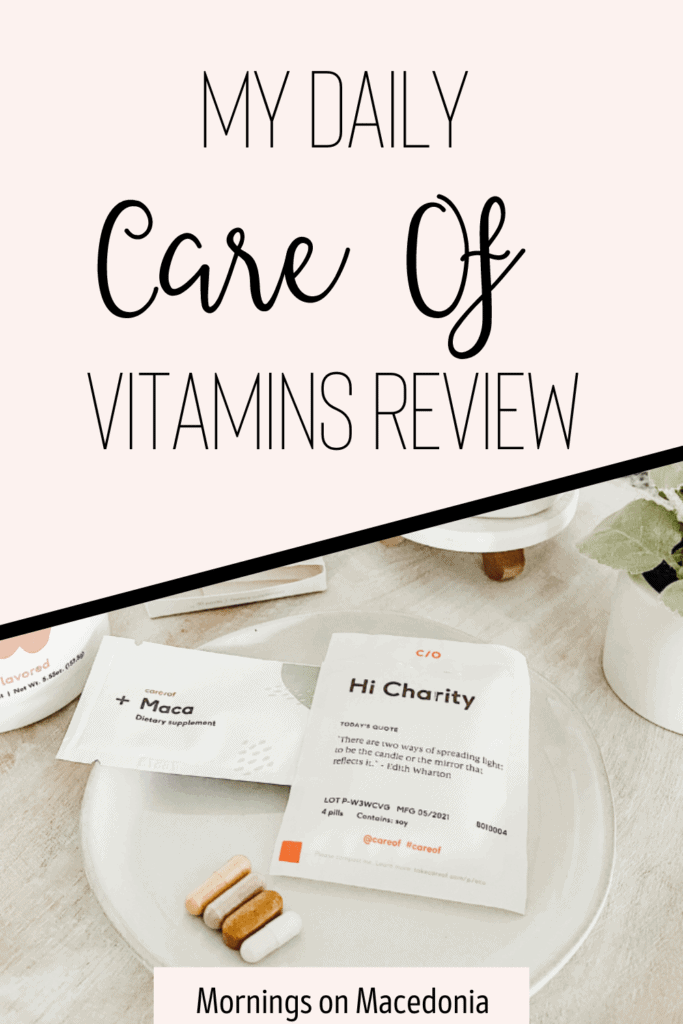 Conclusion
I think Care Of is a great idea and a great way to get you to take the necessary vitamins your body needs. Before them, I never really took any vitamins at all.
Y'all know I take Goli Gummies (see my ashwagandha experience or apple cider vinegar experience), but that's about it.
And I would consider those more as supplements rather than vitamins. So I am rather pleased with myself for taking this step and caring more about my overall health.
I have been taking them for a month and a half now and I have had no ill experience with them at all. It's convenient and easy and if you are looking to improve your health too, then take the step and join the Care Of family!
If you have any questions at all, then please let me know! I would love to help you out in any way that I can!