Welcome to my Christmas Home Tour of 2020! I may or may not have gone a little overboard with my Christmas decor this year.
I figured since it's been such a hard year on everyone, why not go all out with some Christmas cheer by adding lights everywhere that I possibly can in my house?!
Christmas lights and decor make me happy and makes everything feel so cozy.
I thought I would share with you all the Christmas touches I have done around my home this year to make it feel special and festive, despite the circumstances.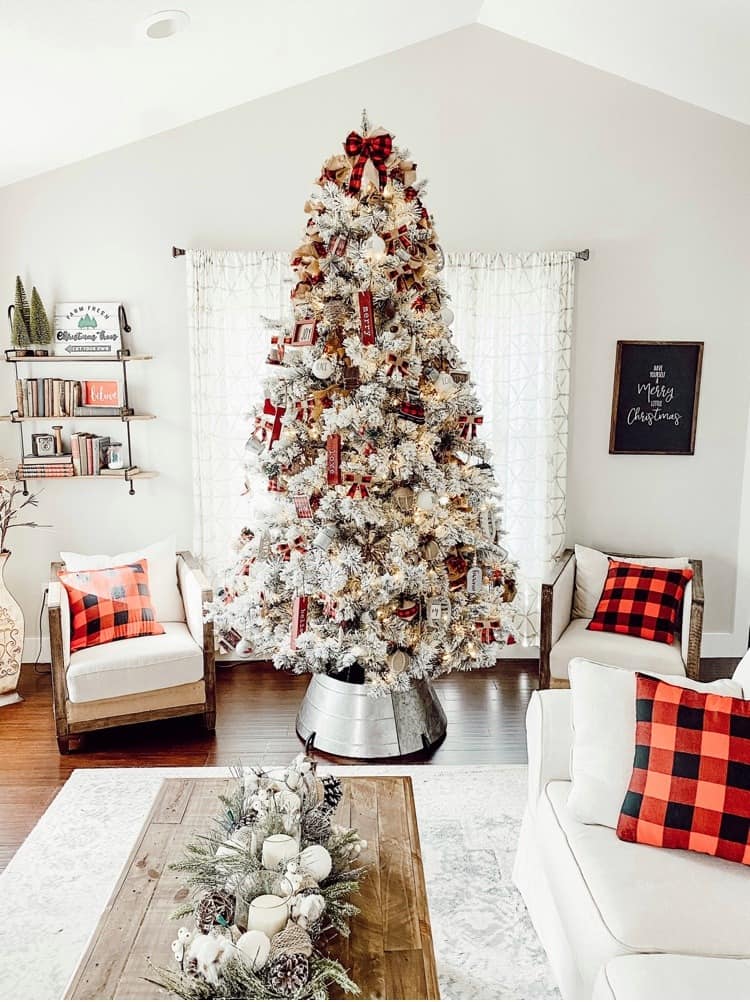 This post contains affiliate links. Click here to read my disclosure policy.
Christmas Entryway
First stop on my Christmas home tour is my entryway. This is the first area you see when you walk into my home, so I wanted it to be very festive and welcoming.
I have a little entryway nook right beside the door so I added in a cute, seasonal pillow (can you guess where the quote is from?!) and a festive sign and banner as well.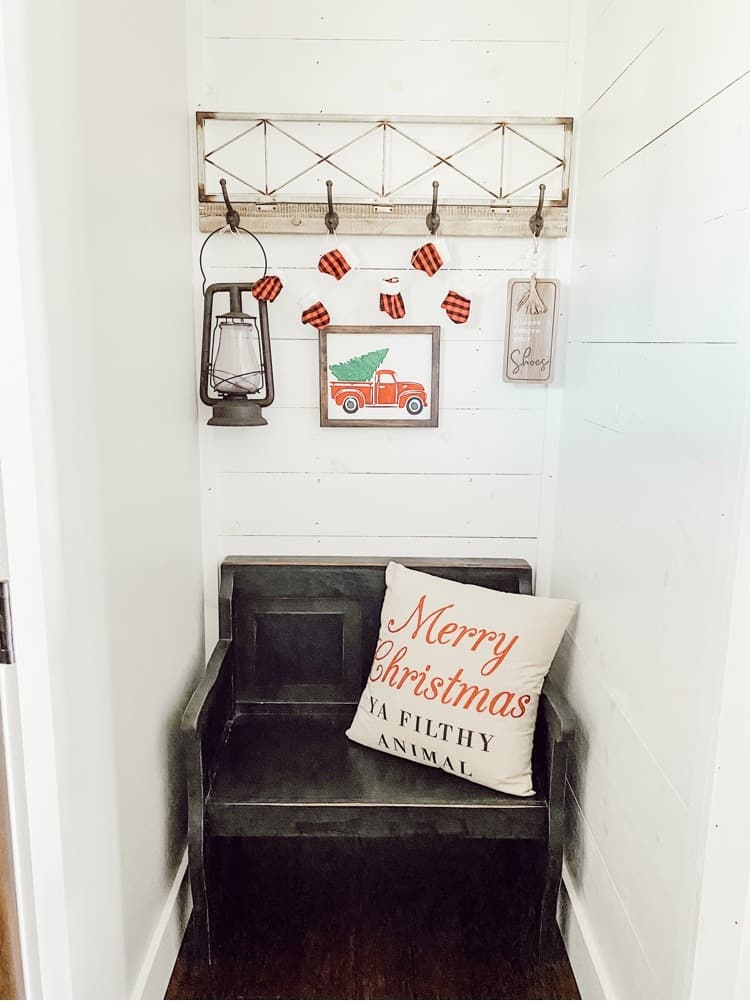 Right beside this little entryway nook is my favorite entryway table I got for my birthday this year. I left my dough bowl in the middle and added in some pine garland and rusty red bells.
I also replaced the candlesticks I had on one side with that cute table top tree as well. I even added in some battery operated string lights to the tree to give it more of a cozy glow at night.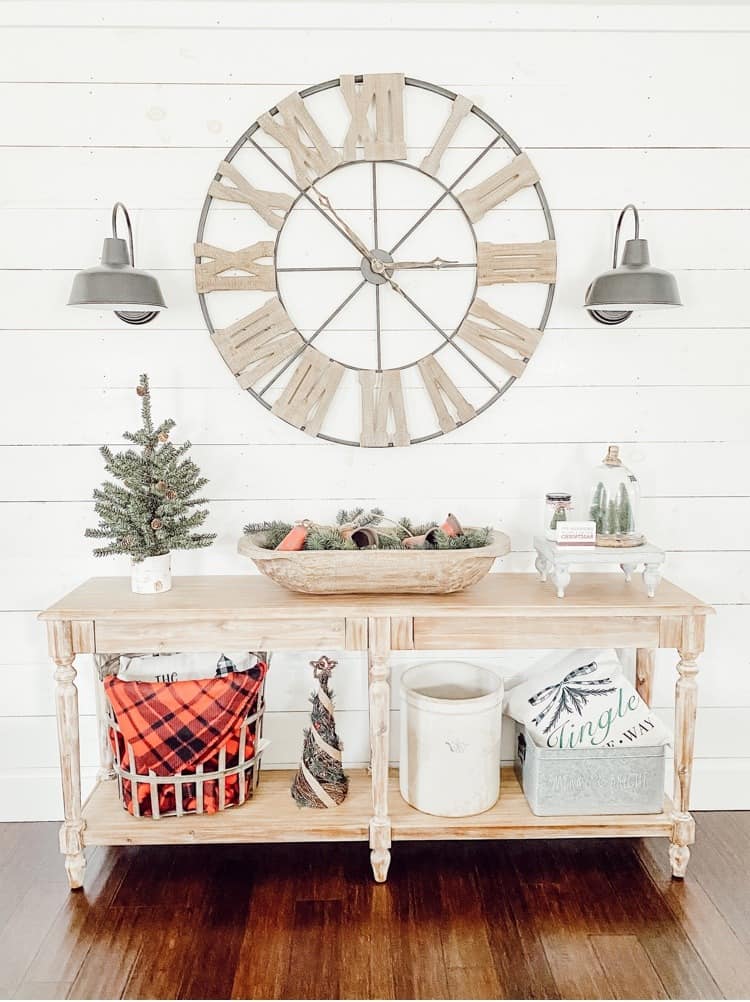 Under my cloche, I added in some cheap bottle brush trees. I used a mixture of tall and small trees to give it some definition. Also, remember those DIY Snow Globes I made last year??
I placed one in the back of that riser as you can see in the picture above! They are so cute and easy to place around the house for some instant Christmas cheer!

Living Room
My entryway and living room are all connected together so I tried to tie in the same theme in both of these areas. I love the buffalo plaid color scheme on my tree so I tried to tie in it multiple areas around the living room too.
I found those cute pillow covers off of Amazon and ordered enough to cover all the existing pillows I already had in my living room.
The ones I had were a light blur color, so they wouldn't really match my color scheme. Pillow covers are a cheap and easy fix to tie in any holiday color scheme you have going on in you own home!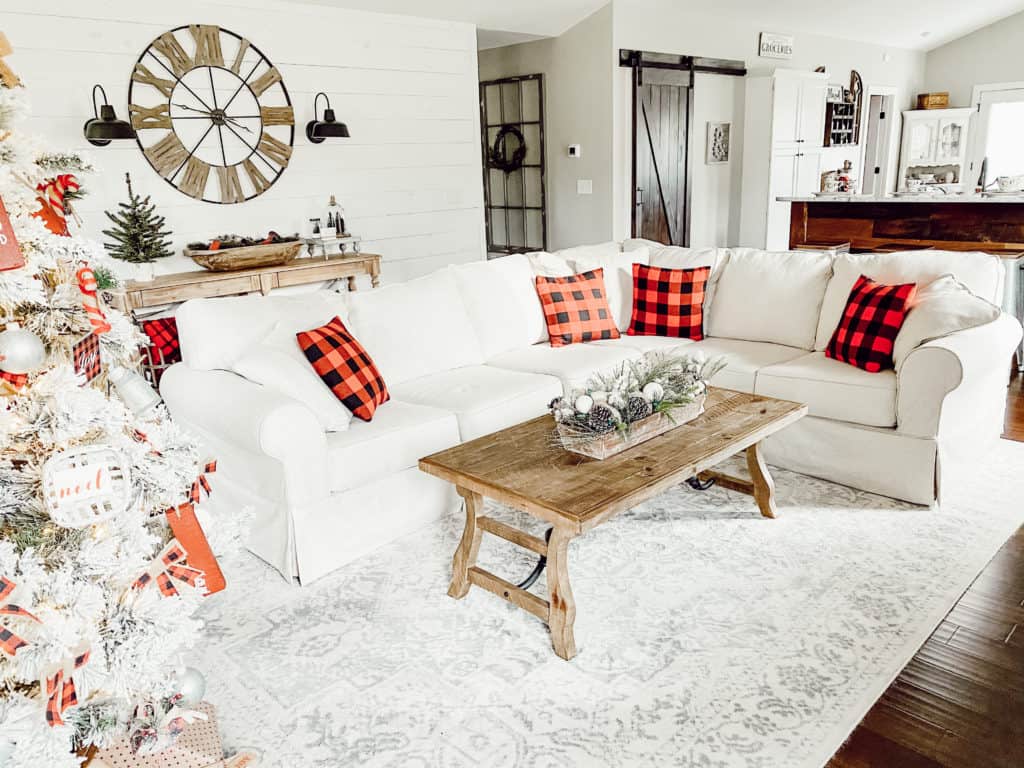 I also love decorating around our fireplace and while we may not have a mantel, I still like to display my stockings. I used my blanket ladder to hang up my stockings by the fireplace.
I shared more about that in a post last year (see no mantel, no problem!) if you want more information on that.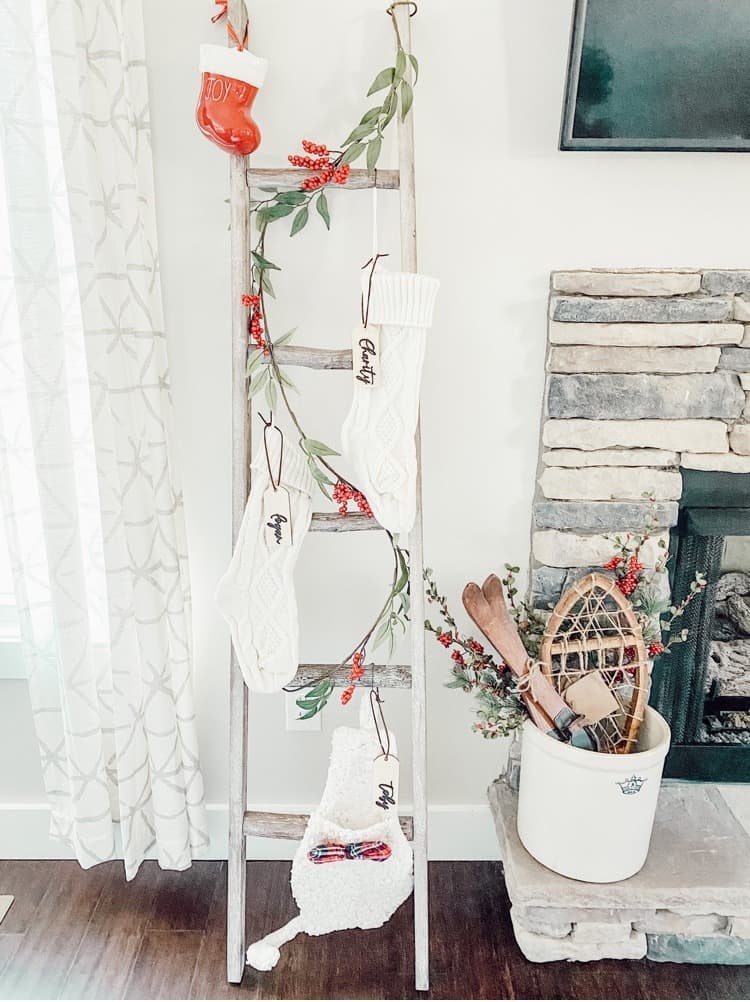 I also had to style the shelves right beside the Christmas tree of course too. And again, you can see one of my DIY snow globes on here too.
I kept the placement of my vintage books the same, just added in some bottle brush trees and some Christmas signs and that was it!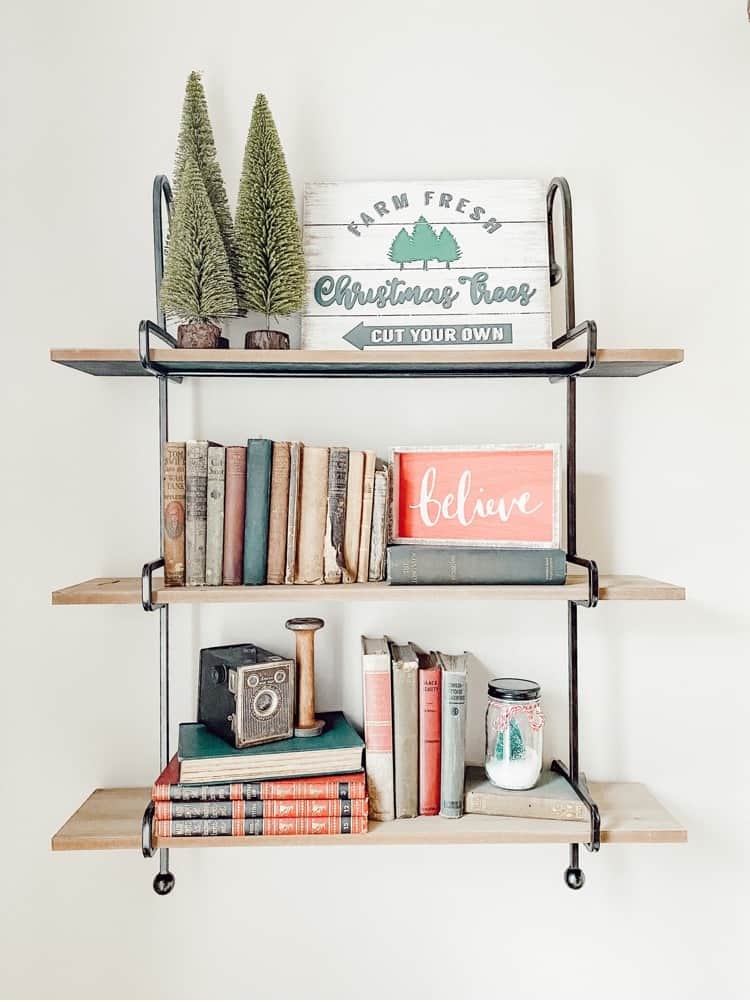 Vintage Christmas Coffee Bar
Of course my favorite spot in my Christmas Home Tour is my coffee bar! I went with more of a vintage Christmas theme this year and I am so glad I did! I absolutely love how it turned out.
My vintage santa mugs hanging on the bar gives it such a perfect vintage touch I think!
I had to search high and low for these bad boys! And I ended up ordering most of them from Etsy. They are impossible to find around here.
I have only found two in person within the past two years locally. I am hoping to increase my collection eventually but for now I think I have a pretty good start!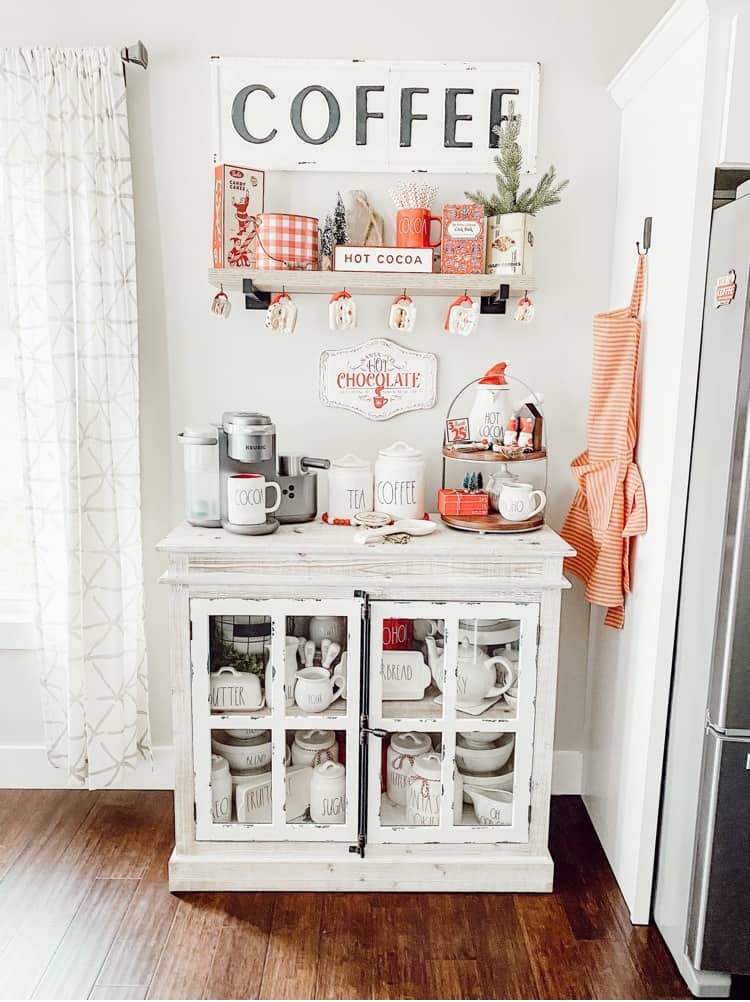 I also continued the vintage theme on my tiered tray. I added in a vintage grocery tag on my flower frog and my cute santa salt and pepper shakers are vintage inspired too.
I tried to incorporate a lot of hot cocoa pieces too since it is Christmas time. I wanted it to be a combination of hot cocoa and coffee since I drink both during the holiday season!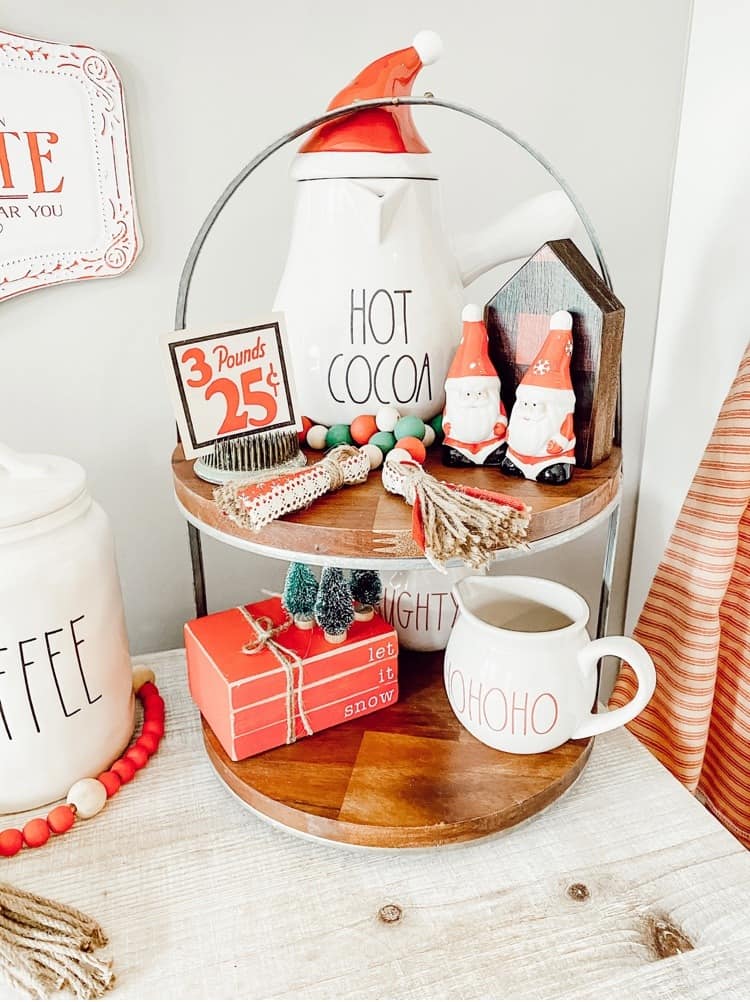 I got a lot of pieces from my friend Jackie's shop, Rodworks Asheville, to decorate this space with this year. And if you remember from a few weeks ago, she was apart of my 20K giveaway too!
I love being able to support small shops and businesses during this tough Christmas season so I try to shop small and local as much as I can!

Dining Room
My dining room is connected to my coffee bar so I wanted to keep the whole vintage theme going on there.
I will share more about my vintage Christmas tablescape in a few days, so I won't take up too much time here. But I will say I am very happy with how it turned out!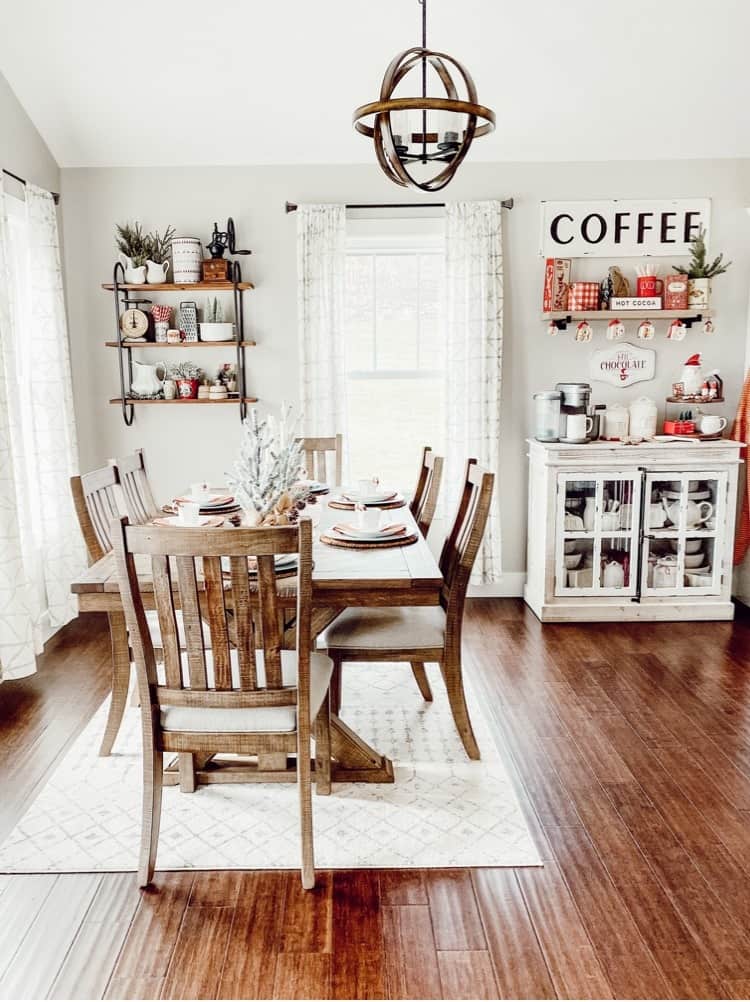 I am also loving how my open shelves in the dining room turned out this year too. I think they definitely stayed on track with the whole vintage theme as well. I even added a santa mug there too.
This was actually one that I broke (I was sick to my stomach when that happened!). I opened it up from the package and dropped it on my granite countertop and it broke right in half.
Thank goodness some superglue fixed him right up, but I was too afraid to hang him on my coffee bar. So now he sits up there on the shelves looking pretty!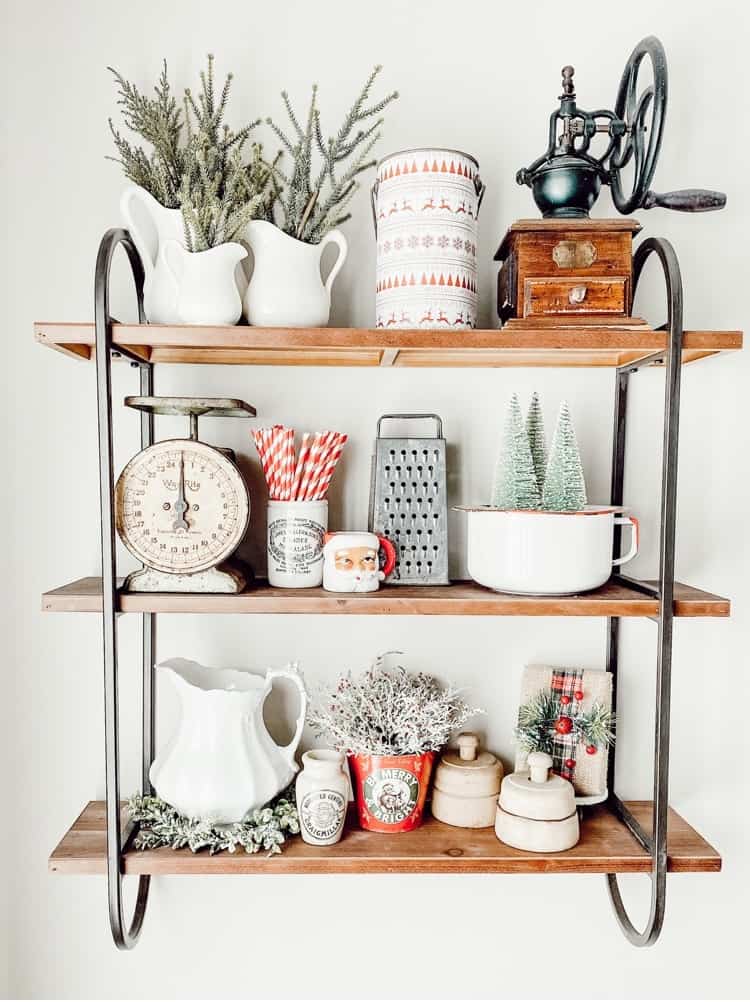 I tried to add in as many Christmas touches as I could to my already styled vintage shelves. Such as adding in faux pine greenery in my ironstone pitchers up top and bottle brush trees in my vintage enamelware bowl in the middle.
I also love adding in fun, festive colored paper straws to my old dundee jar in the middle shelf too. I tend to do that for different seasons as well.
Christmas Bedroom
Next up on the Christmas home tour is our bedroom. I love having my two pencil trees in here as well. It gives the bedroom such a cozy and warm vibe.
I pretty much styled the bedroom the same as last year because I just loved that look so much.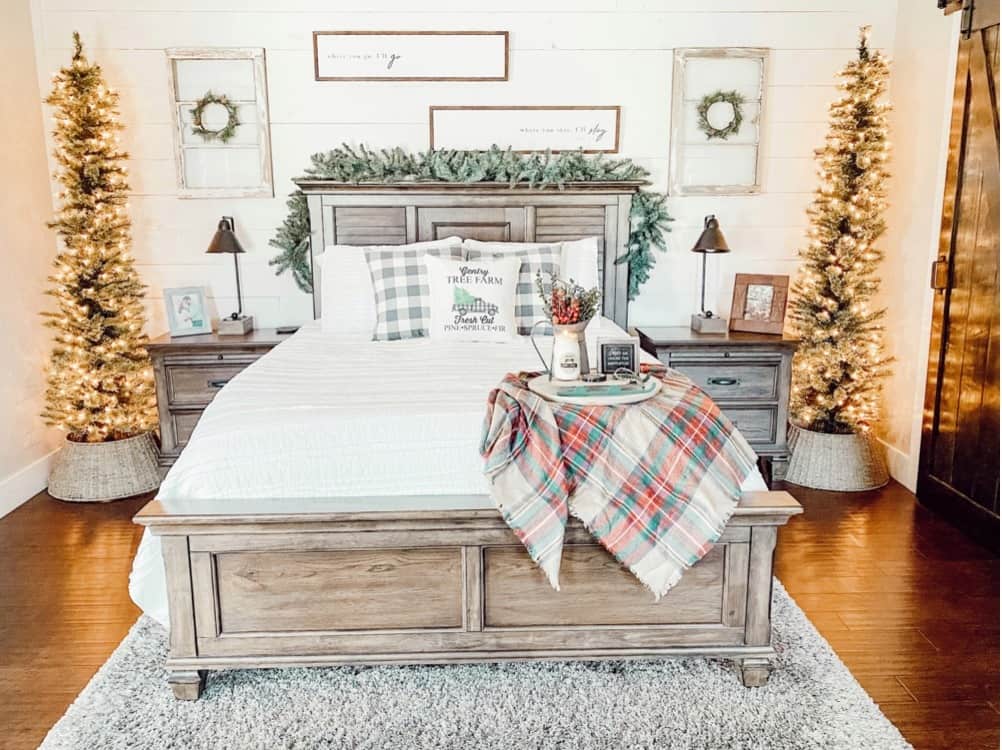 If you want more information about how I styled this space, see my Christmas bedroom from last year. I did end up ordering two new Christmas trees for this space.
Because if you read my post from last year, you'll notice how the two pencil trees didn't match up entirely and that drove me crazy! So this year I finally got two matching ones.
But I also always love to add in a styled tray with some cute Christmas decor as well as a delicious smelling Christmas candle as well!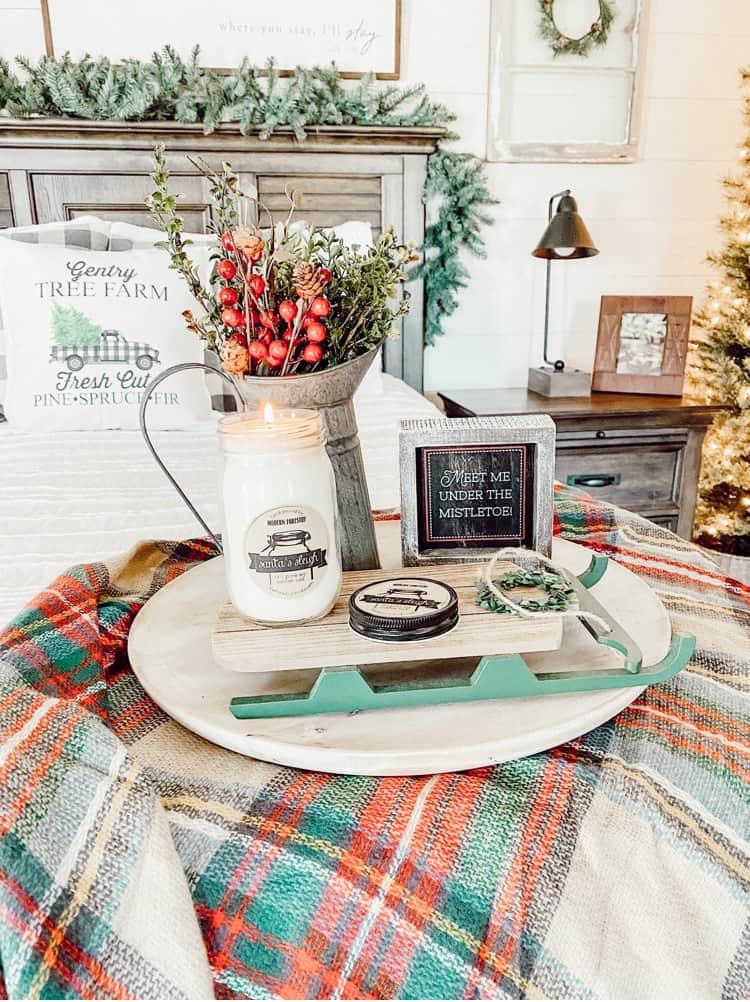 Vintage Christmas Office
I spend a lot of time in my office obviously writing blog posts, so I definitely like to add in a lot of Christmas decor here as well.
Especially when I sit in here and write, I love to have a full view of a Christmas tree too!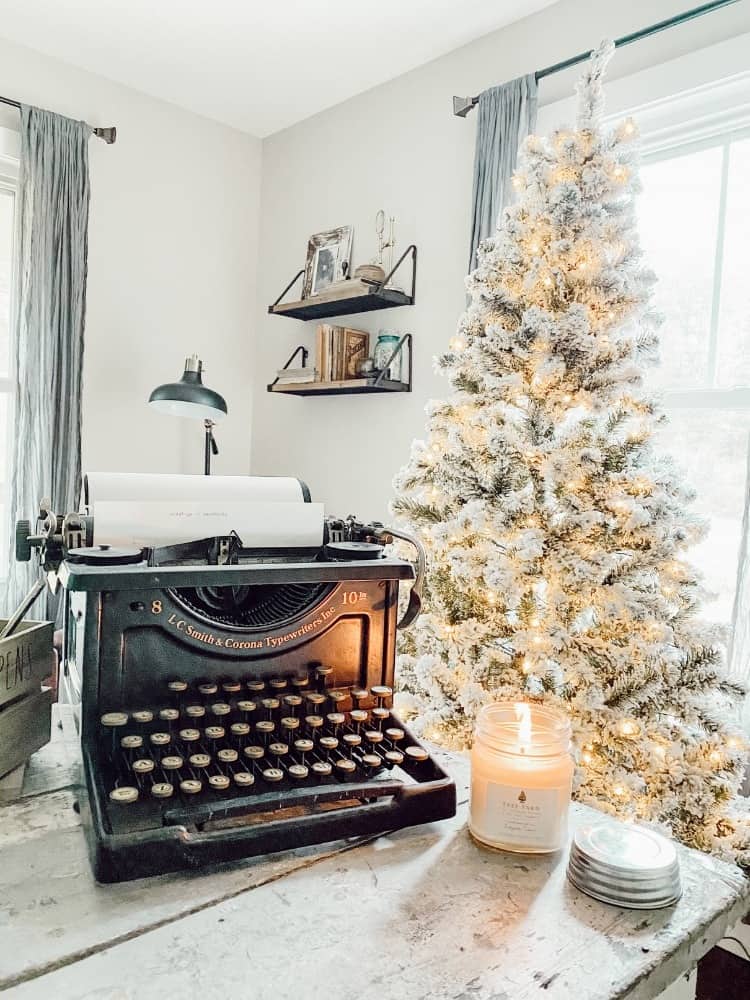 I have a little 6 foot tree right beside my desk in here so I can always look at the pretty glow! My goal for next year is to be able to decorate this tree all with vintage ornaments too.
I am hoping to find a lot next year since I didn't really get a chance to get any this year. I also always love to have my favorite, Tree Farm Candle burning here as well. It definitely is the total scent of Christmas to me!
I also ended up ordering some vintage inspired Christmas prints for my wall behind my desk this year as well.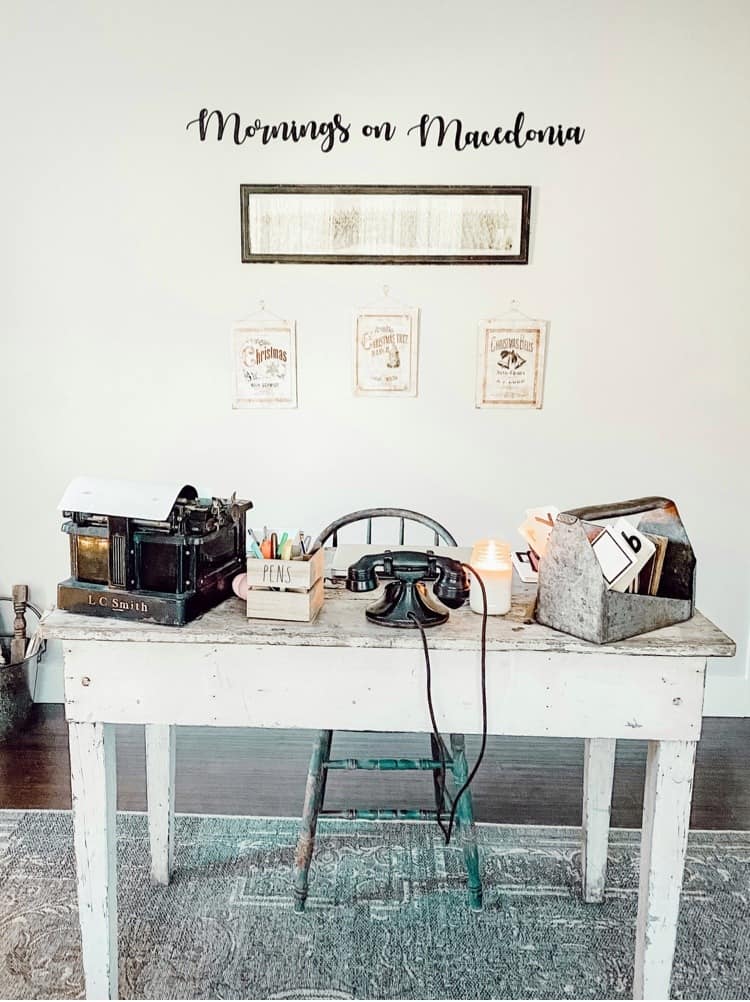 This prints came in a pack of four so I ended up putting my extra one on my open shelves in my office too.
That way my shelves have a little touch of Christmas to them too!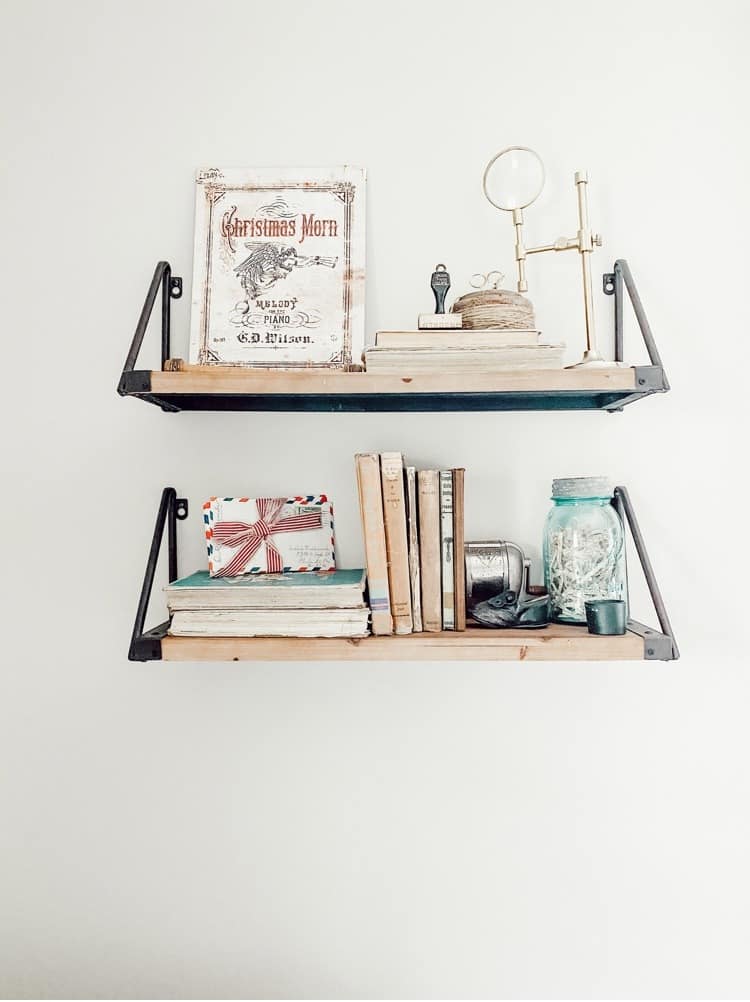 Guest Bedroom
I even added in some Christmas touches to our guest bedroom as well this year. I of course had to add in a little pencil Christmas tree in here as well!
I love having neutral bedding, that way I can easily add in a few pops of Christmas decor. Such as these cute Christmas pillow covers. I have the rest of them scattered around my house too.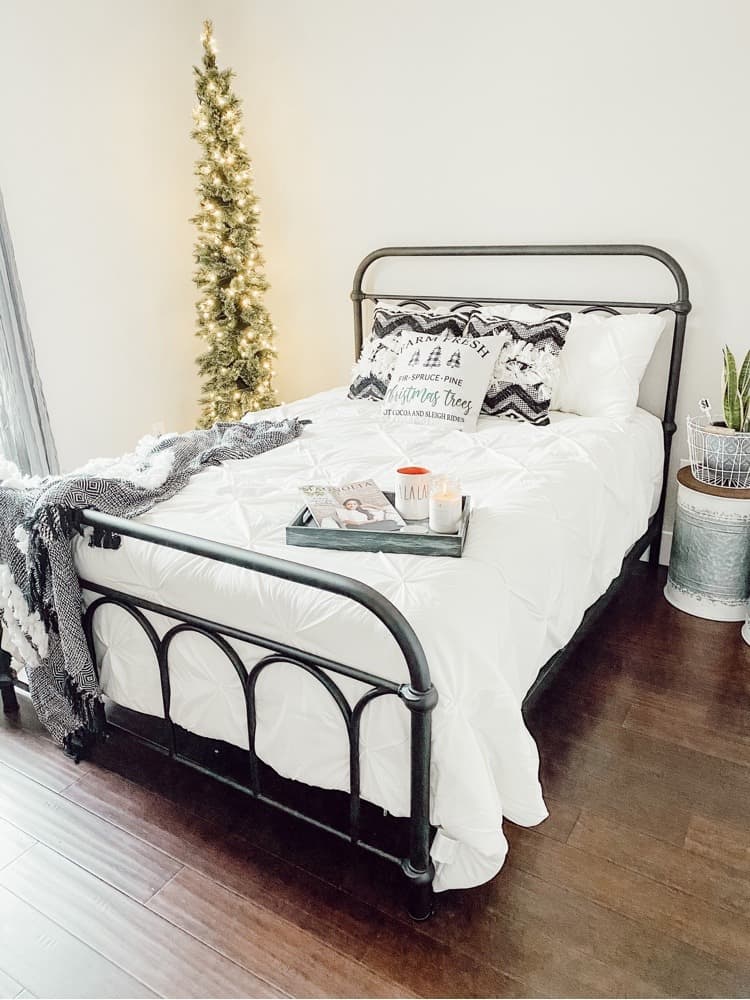 We recently installed some open shelving in here too and I added a few Christmas touches to those as well.
Such as my cute little DIY Gingerbread Houses I did a few weeks ago.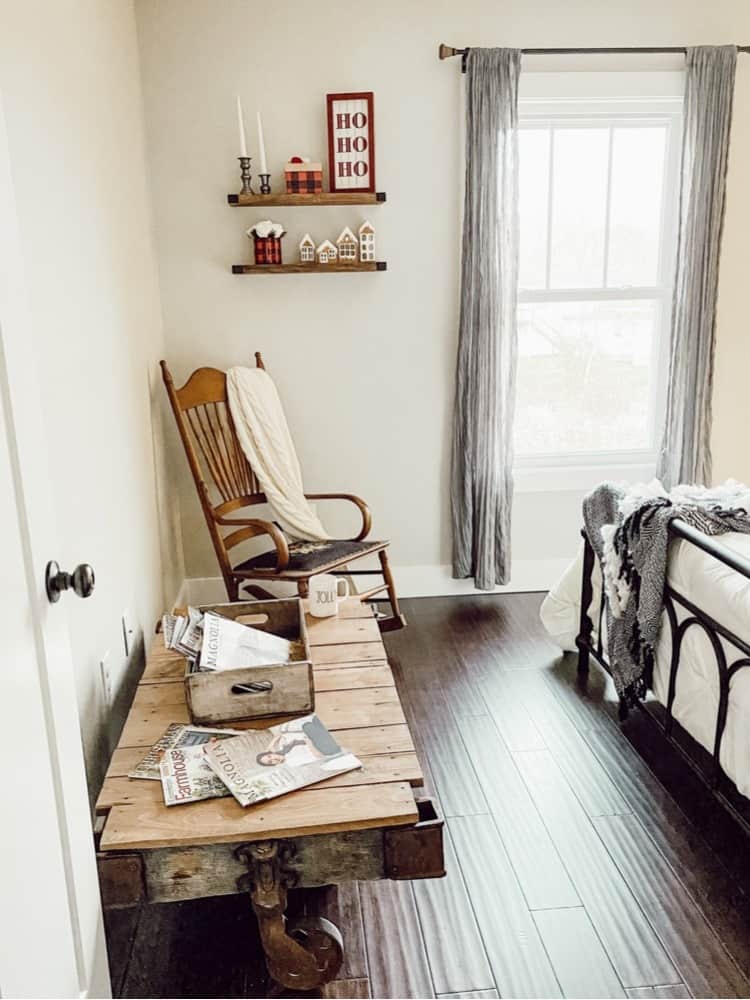 Downstairs
Last up on my Christmas home tour is our Downstairs area. This is a space I rarely show on here or on my Instagram because it has sadly been neglected all this time!
We just haven't really started styling this space until the very end of this year so I am very excited to finish this space up in the coming new year!
We got this amazing new Christmas tree for this space down here this year and it has several light changing options.
It can change from white to multi colored lights so I have definitely been enjoying the different lighting options!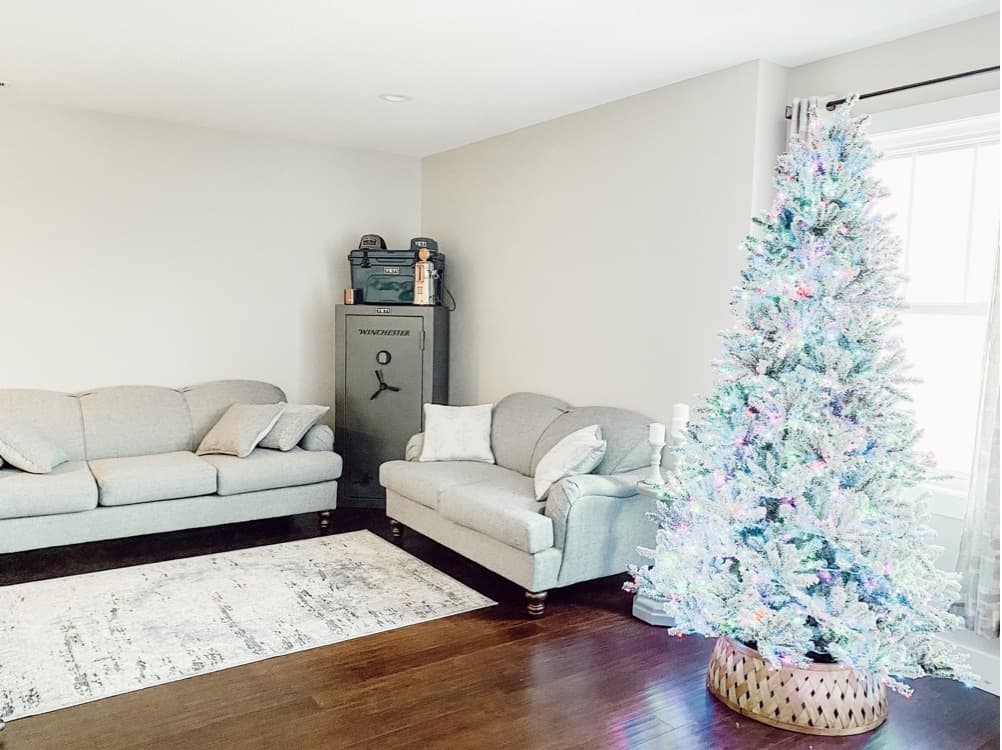 We also finally got a little electric fireplace that works as a tv console for the space down here as well. I am so excited that this space is starting to look more and more put together.
Our dream is to transform it into a vintage game room! So maybe by next Christmas, we will have achieved that goal! I will of course let you know when we do!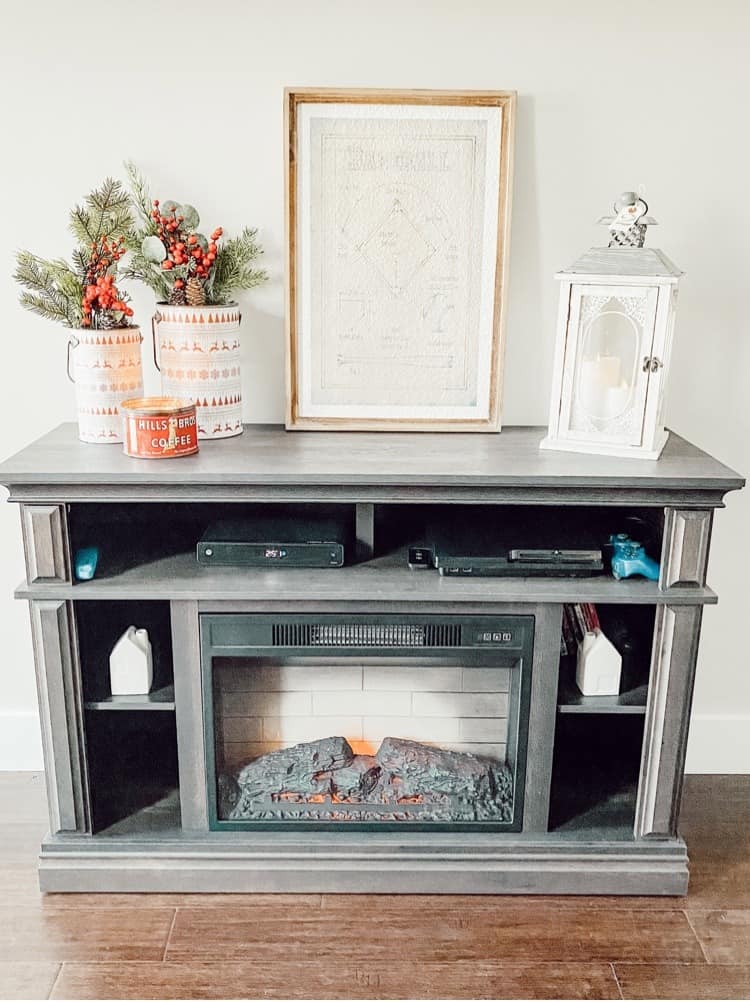 End of Christmas Home Tour
Well friends, this concludes my Christmas 2020 Home Tour! I hope you enjoyed it as much I did while styling everything.
I absolutely love Christmastime and I am so sad to see it drawing to an end. I am also dreading taking down all of this decor!
As you can see, it will probably take me a few days to get everything back to normal! But, I hope you and your family have a very blessed Christmas this year and let's all hope that 2021 is a little better to us!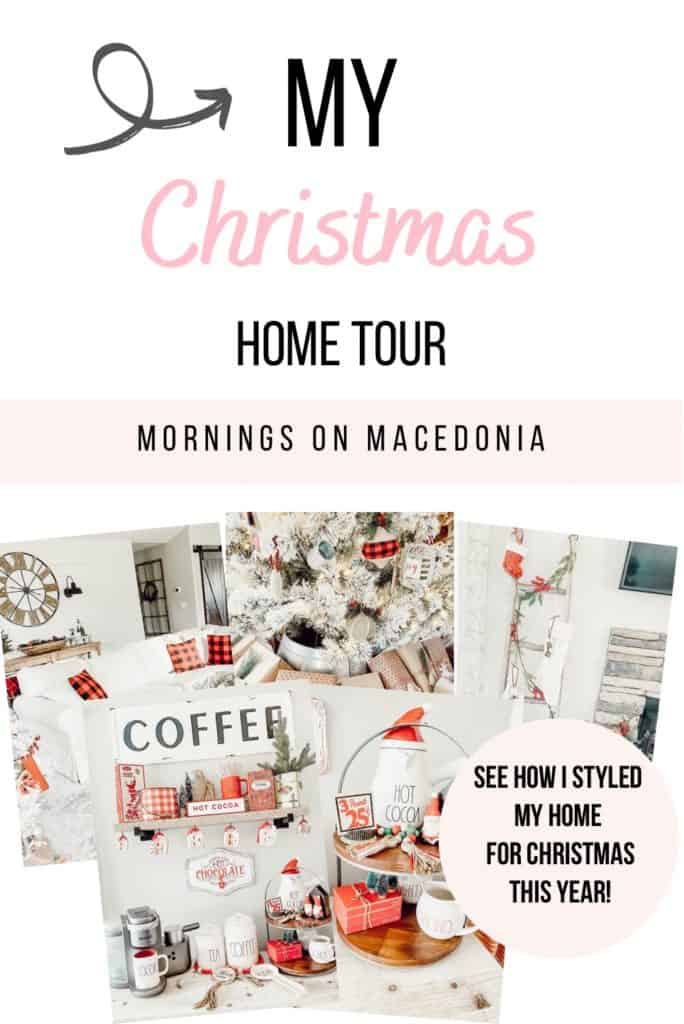 Also, if you want to watch my Christmas 2020 Home Tour on IGTV- then Click Here to view it!