Who doesn't love a super easy recipe that requires little to no work?! I know I sure do! I love baking, but sometimes I don't love all the work that comes with it. That's why I am sharing this easy apple dumpling recipe with crescent rolls!
I remember my mom making these all the time growing up. And they really are so yummy and easy. You kind of get an apple pie vibe, without all the work of making an actual apple pie!
And by not making the dumplings from scratch, it makes this recipe even easier! Honestly, you can't even tell that you are using crescent roll dough instead of actual homemade dough!
Another secret ingredient that makes this easy apple dumpling recipe so good is Mountain Dew! Yes, you read that right! I don't know how, but it's definitely the magic ingredient into making these super tasty and delicious!
And once you serve a warm dumpling (or two) with a scoop of vanilla ice cream, you will be just as hooked as I am!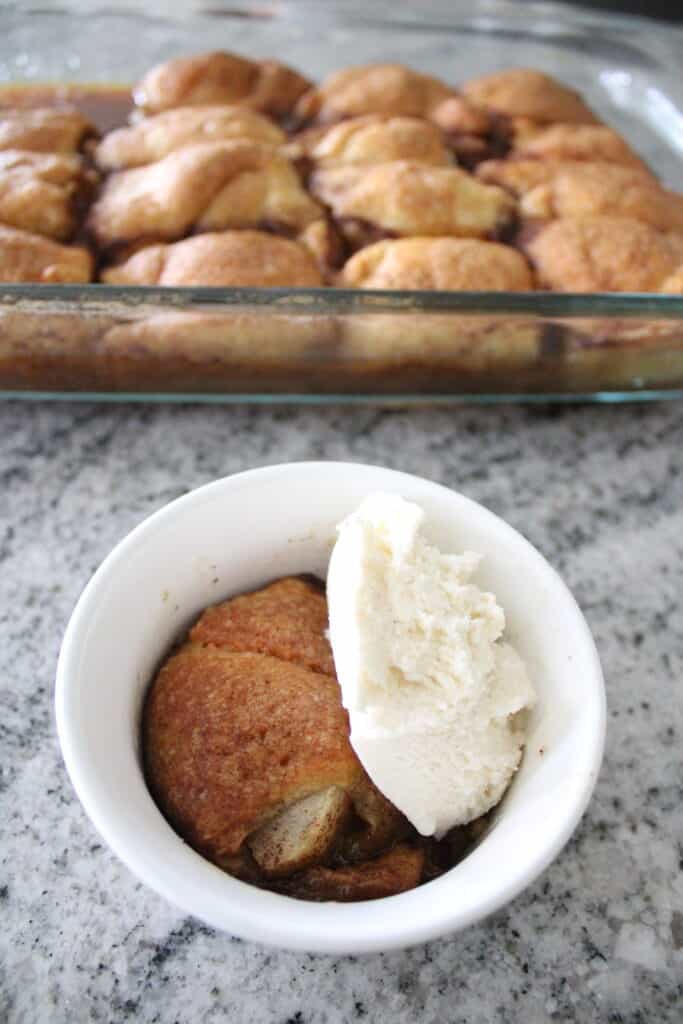 Ingredients Needed for Easy Apple Dumpling Recipe
2 (8 oz) cans of crescent rolls
2 sticks salted butter
1 1/2 cups brown sugar
1 teaspoon vanilla (I used my homemade vanilla extract)
1 teaspoon cinnamon
1 1/2 cups Mountain Dew (You can also use any other kind of lemon lime soda here as well)
2 apples (I used honeycrisp apples, but golden delicious or granny smith apples work great too)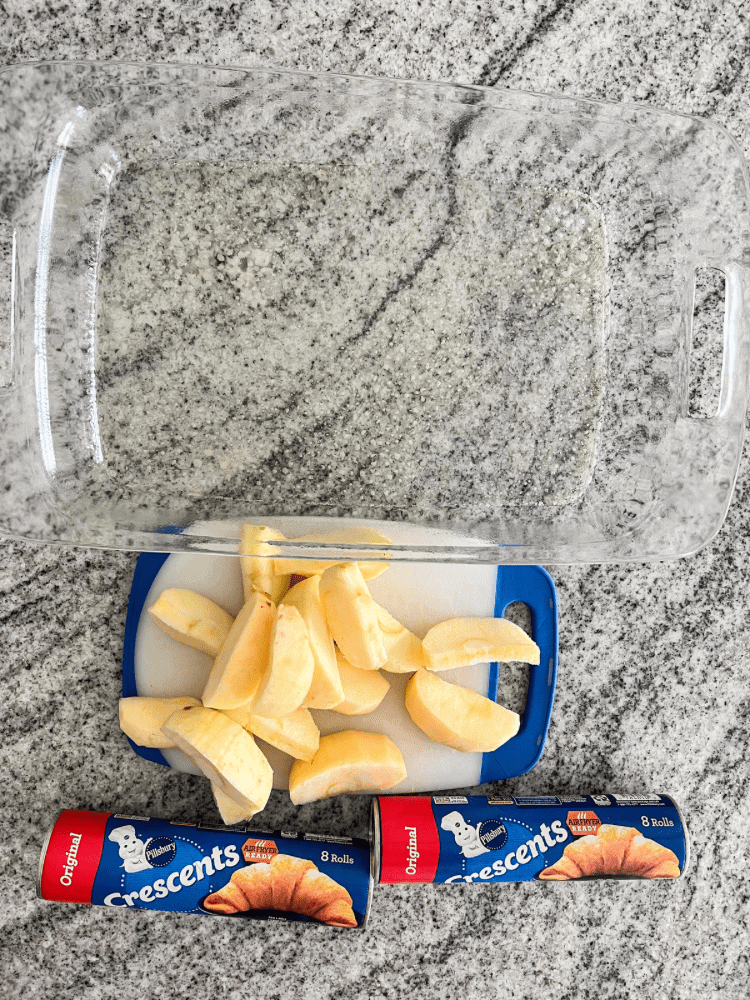 Make The Apple Dumplings
So really the hardest part for this recipe is peeling and chopping up the apples. But, since there are only two to deal with (unlike my German Apple Pie Recipe), it is super simple!
Once you have the apples chopped up, each with 8 slices, so 16 slices total, then you can add the crescent roll dough to them. Just pop the can open and unroll the dough.
I used the Pillsbury brand and it already has sections where it is pre cut. So just take each triangle piece of dough and wrap it around one apple slice.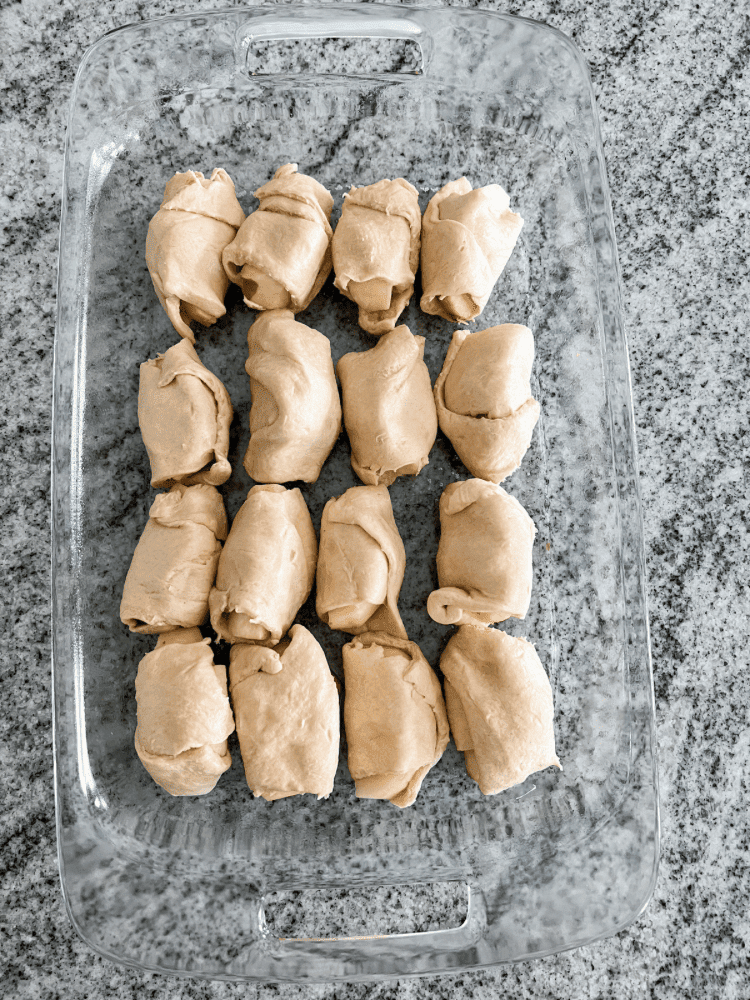 Place them into a greased 9 x 13 pan and make sure your oven is preheating to 350 degrees while doing the prep work. To make the sauce, melt the butter in a saucepan over medium heat.
Then add in the brown sugar, vanilla, and cinnamon. Stir until the sauce thickens, about 5-10 minutes. Then, pour over the apple dumplings.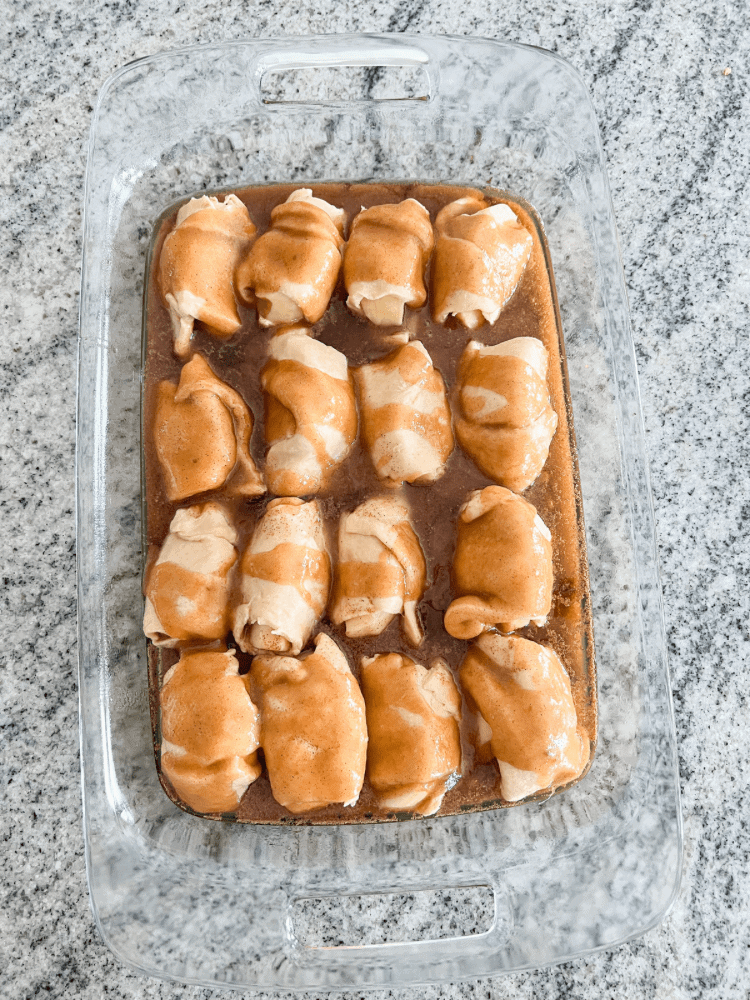 The last step is to pour the soda right into the middle of the baking dish, not directly on top of the apple dumplings. Also, be sure to pour some around the rim of the dish too, that way all the apple dumplings are sitting in the soda mixture.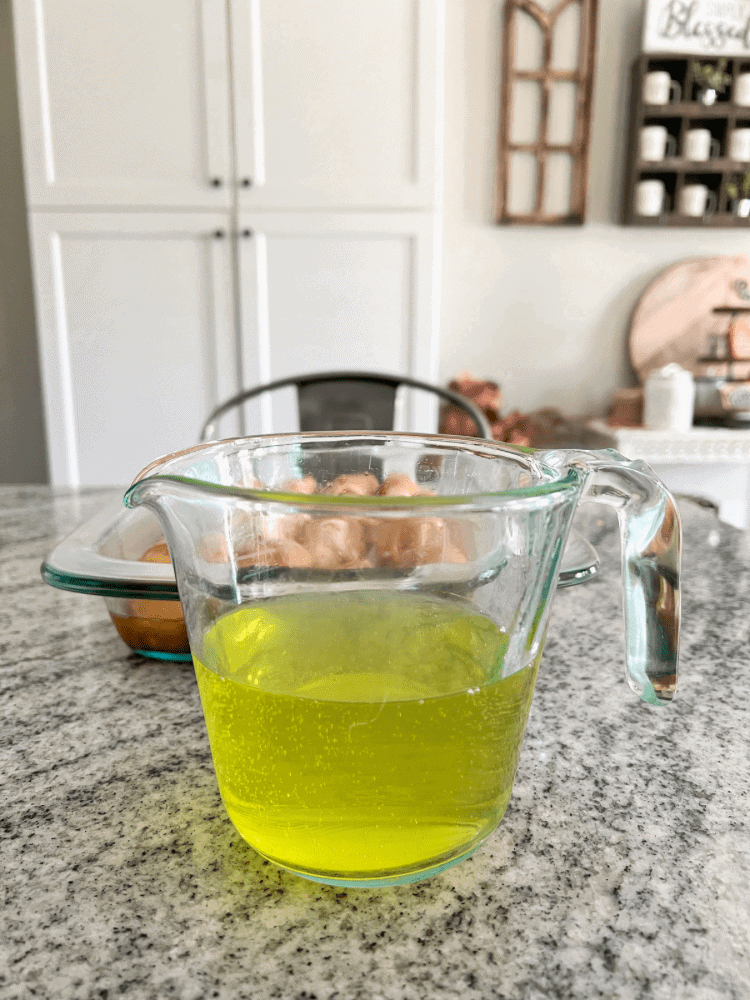 Bake 35-45 minutes or until they become golden brown on top. I baked mine the full 45 minutes. Let cool slightly, but be sure to serve warm with a scoop of ice cream for best results!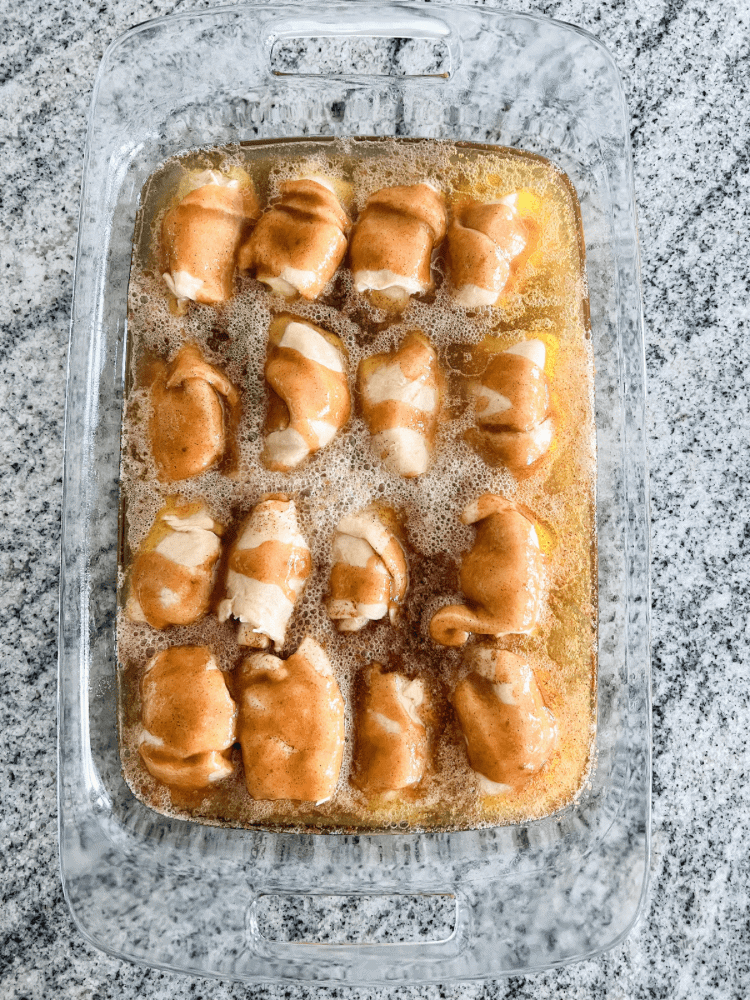 Can You Leave Apple Dumplings Out Overnight?
Now that you made these delicious and easy apple dumplings, you are probably wondering how you should store the leftovers. They can be kept out at room temperature for up to 2 days after baking them.
But, if you want to preserve their freshness even longer, place them in an airtight container in the fridge. That way they last 4-5 days instead!
I don't recommend freezing this recipe though since the dumplings contain a lot of liquid. I don't think they would hold up well in the freezer, so just enjoy them right now instead!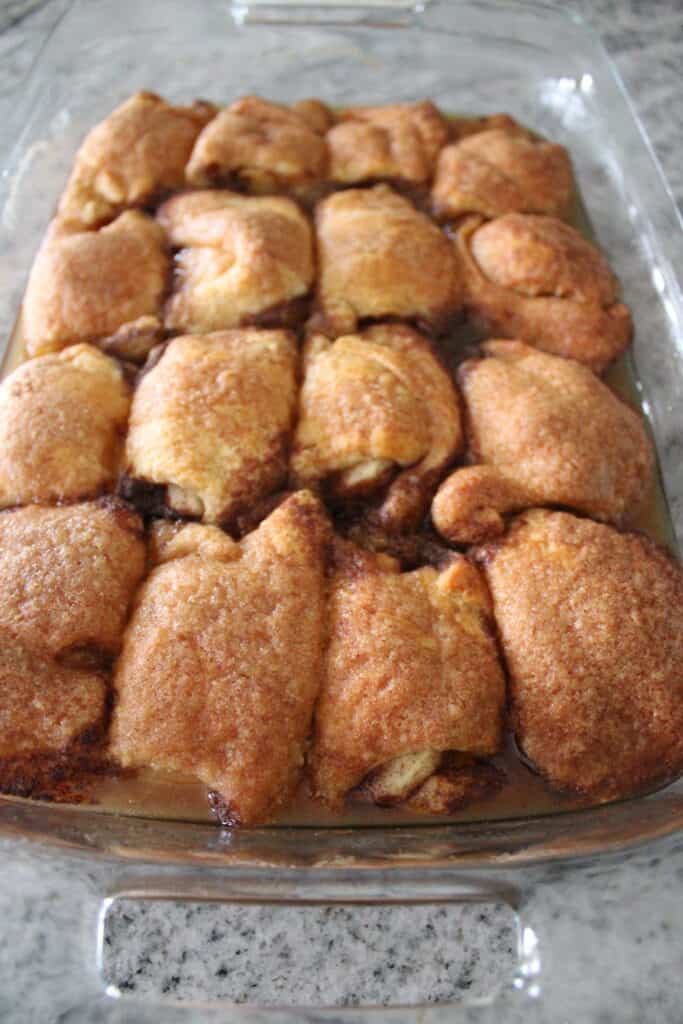 Can You Put Dumplings In The Fridge Before Cooking Them?
It is definitely not recommended to do this. As I mentioned above, dumplings are very moist to begin with. So when you refrigerate them, the moisture seeks into the dumplings, causing them to be more soggy.
So when you start this recipe, make sure you have adequate time to make it all the way through! There really is no way to prep ahead for this one unfortunately. But as you can see, it is super simple and most of your time just goes into the baking process instead!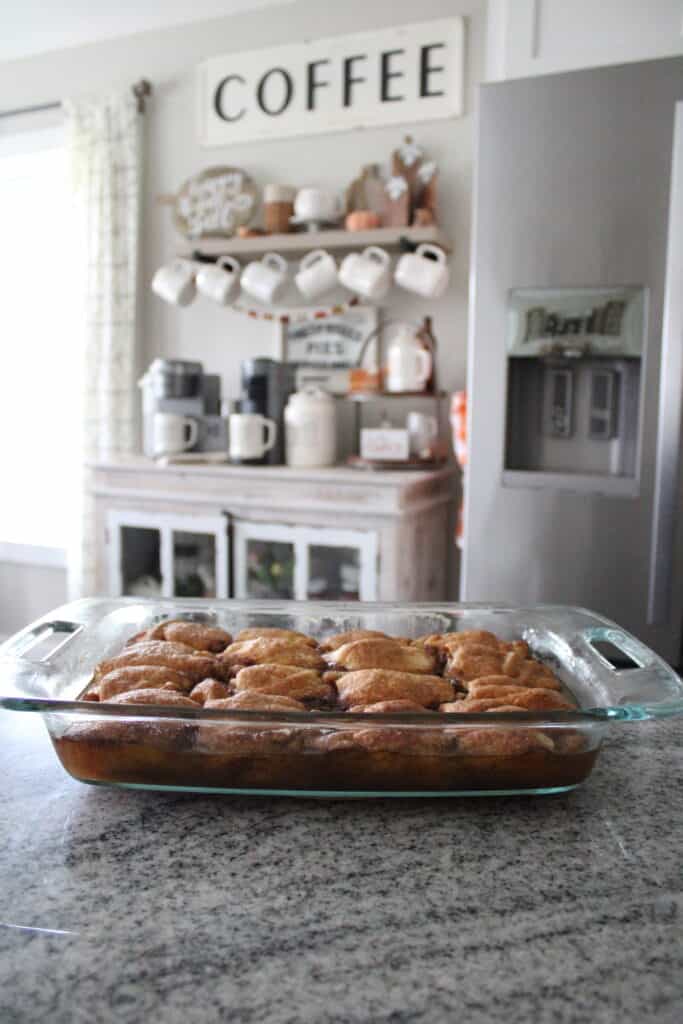 Can You Reheat Apple Dumplings?
Yes you can! I love this fact because this recipe does make a lot of dumplings. So if I am not making them for a crowd, we tend to have a lot of leftovers.
To reheat them, I recommend placing them in the oven at 350 degrees for 10-15 minutes. I actually just keep them in the original baking dish when storing them in the fridge. And then I just pop it out and place it in the preheated oven when we want some leftovers.
You can also reheat quickly in the microwave for a minute or two if you prefer. But, doing it that way makes it a little more soggy. I like how reheating it in the oven, makes the top of the dumplings a little more crispy again!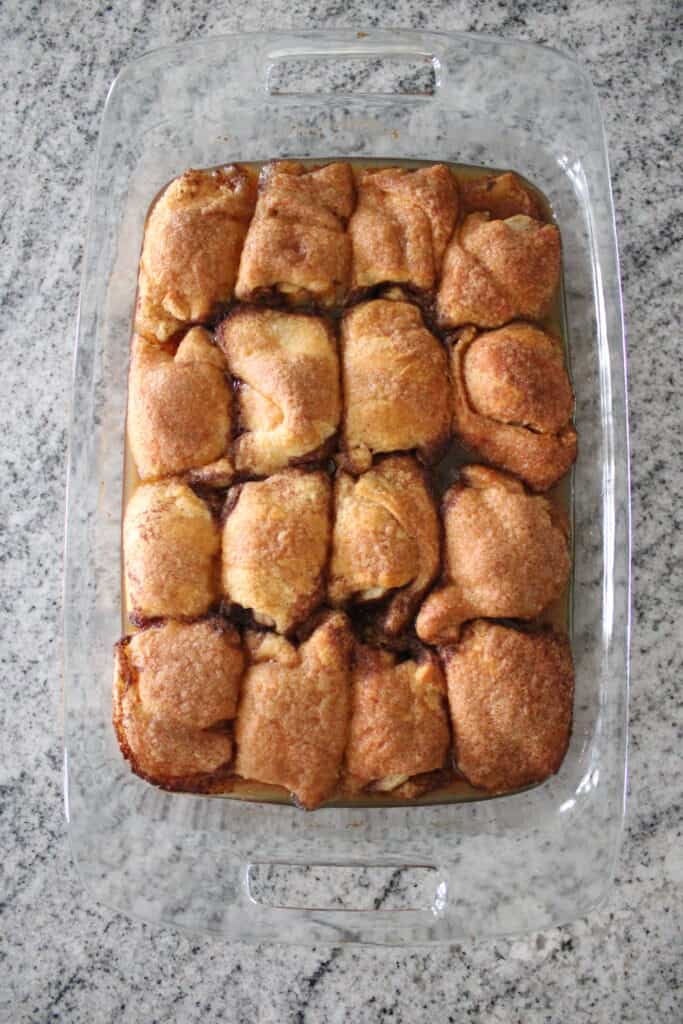 Enjoy These Easy Apple Dumplings!
Have you ever made this easy apple dumpling recipe before?! If so, I would love to hear how you liked them! I try to make them every year because they are so delicious and scream fall to me!
And since we just got back from the apple orchard with some fresh apples, I of course had to make a yummy apple dessert. You may remember last year I shared my fresh apple walnut cake recipe after we got back from the orchard then.
Early September I am all about the apple yumminess and then I will of course switch over to all things pumpkin later too!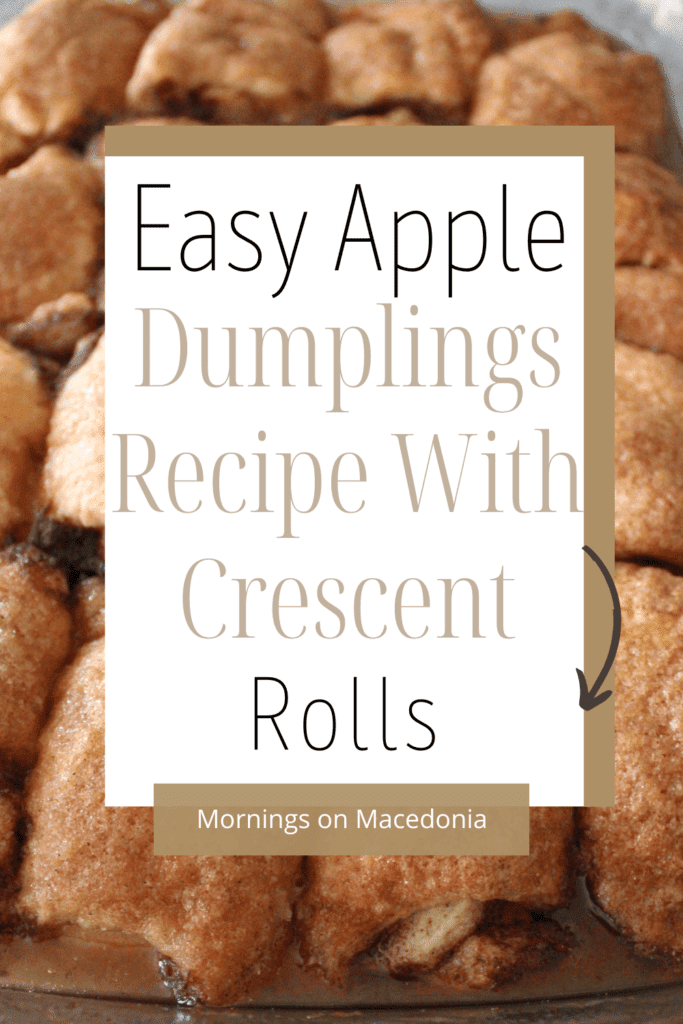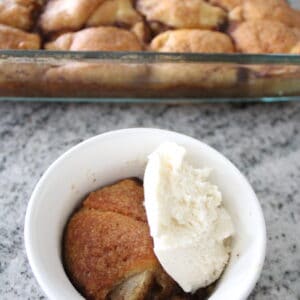 Easy Apple Dumplings
Ingredients
2

8 oz

cans of crescent rolls

2

sticks

salted butter

1 1/2

cups

brown sugar

1

tsp

vanilla

1

tsp

cinnamon

1 1/2

cups

Mountain Dew

or another lemon lime soda

2

apples

sliced and peeled
Instructions
Grease a 9 x 13 baking pan and preheat oven to 350 degrees.

Peel, core, and slice apples. Cut each apple into 8 slices.

Roll each apple slice in a crescent roll and place in greased baking dish.

Melt butter, brown sugar, vanilla, and cinnamon in a pot. When thickened, remove from heat and pour over dumplings.

Pour soda in the middle of dumplings, or around the edges. Do not pour soda directly on top of dumplings.

Bake 40-45 minutes or until a golden brown color on top.

Serve warm with a scoop of vanilla ice cream on top!