Around this time of the year, I always struggle with my home decor. The Fourth of July is over so I don't want anymore red, white, and blue out. And it's technically too early to pull out my fall decor (I say technically because I think it's never too early for fall since it's my favorite. But I know I would be judged if I did pull out the pumpkins this early lol). So I was trying to come up with some ideas on how I could style an easy summer tablescape.
I wanted something that I could leave up until early September, because let's be honest- that's about as long as possible that I can wait before decking out everything in pumpkin spice! But I also didn't want to spend a bunch of money because it really isn't that much time until then.
I decided to do a lemon theme because I already had a few pieces and I thought I could be able to add a few more pieces for my summer tablescape easily without breaking the bank.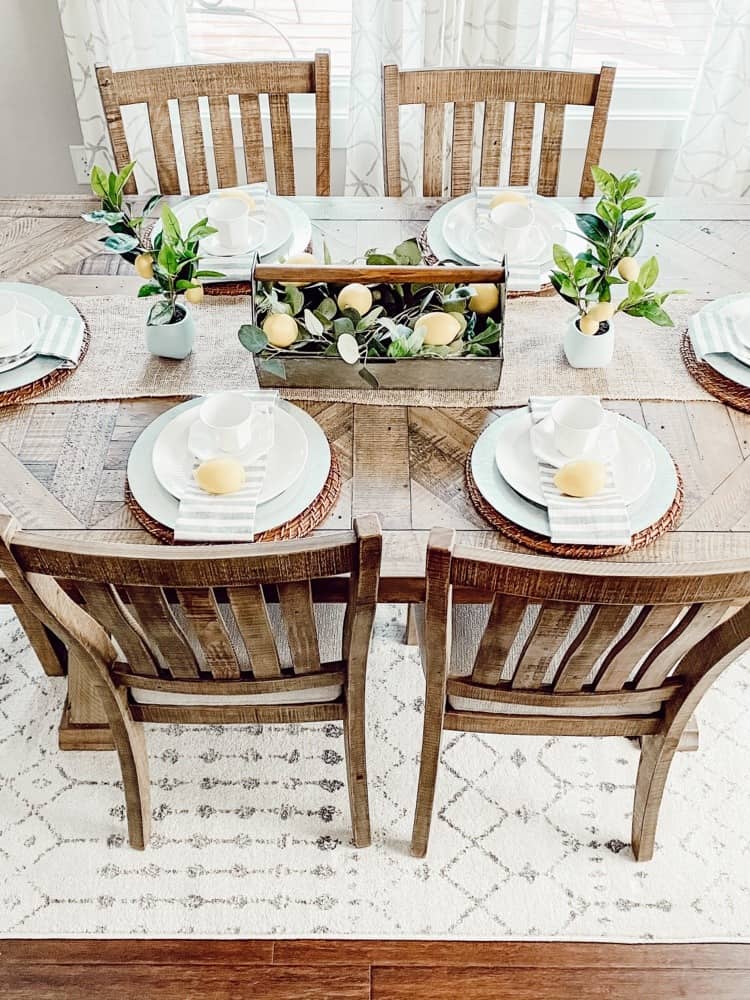 Materials Needed for Easy Summer Tablescape:
Dishes
Napkins
Table Runner
Decorative Lemons
Other Decorative Lemon Decor (Such as lemon trees, lemon garland, etc. See below for some cute lemon decor ideas!)

As you can see from the list above, the materials needed for this easy summer tablescape are all very basic and pieces you probably already have on hand. For the most part, I had everything on hand too, expect for the lemon pieces that I picked up from Target.
If you notice from my previous tablescapes (such as my Fall Tablescape from last year or my Valentine's Day Tablescape from earlier this year), I tend to keep all my place settings the same and I just rotate the centerpieces and other simple touches out every season.
I find that doing this gives me the change I crave, but it doesn't cost me a fortune because I am reusing all the pieces that I can.
I use the same wicker place mat and galvanized charger every tablescape that I set up, and then I change out the dishes and napkins as well when I feel like it.
I kept my vintage ironstone dishes and tea cups out for this tablescape because I think they just look so cute with the lemons!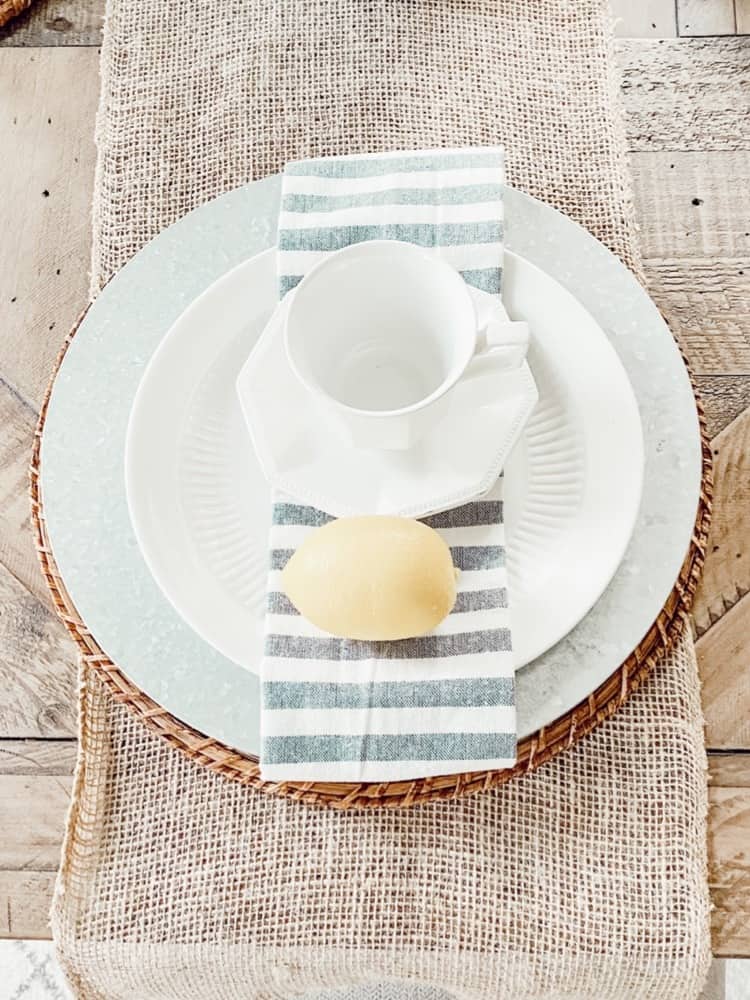 Setting Up The Tablescape
I try to keep my tablescapes nice and simple and stick to just a basic layout as I mentioned above. I use my burlap table runner most of the year (which is actually leftover wedding decor!) and then I stick a centerpiece right in the middle.
I usually use my big dough bowl, but since I got my new entryway table, I moved it there instead. So for now I just have a magnolia home galvanized metal tray as my centerpiece instead.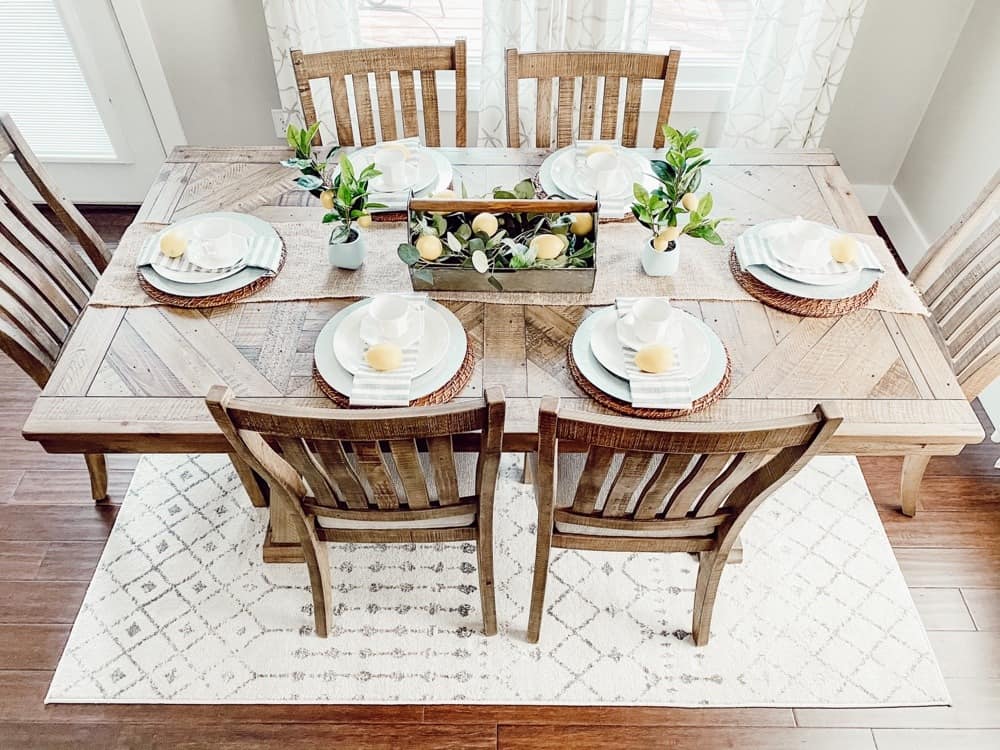 I filled up the tray with garlands that I already had on hand and then I placed a few lemons here and there inside it.
Ultimately, I would love to find another dough bowl that way I could have one on my dining room table and one on my entryway table as well.
But, they are pretty pricey so I may just have to wait before diving into that!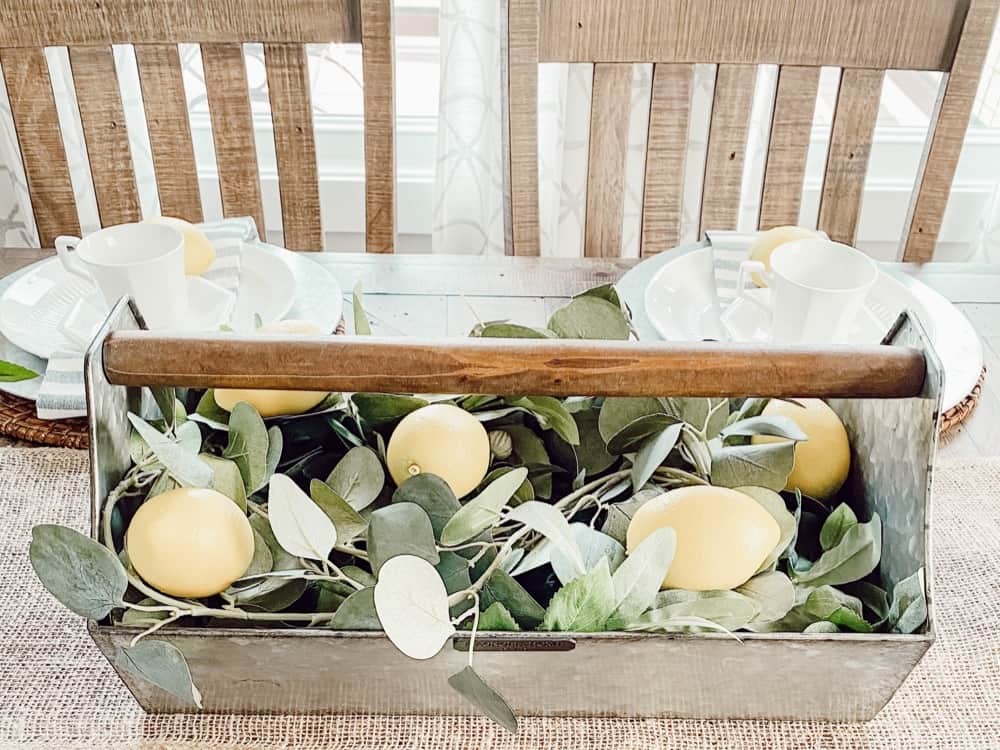 Since the tray isn't as long as the dough bowl was on my table, I decided to add a cute little lemon tree on each side of the tray to fill up the space.
I found the trees at the Target dollar spot and they also had the same ones but with oranges instead too. I think oranges or lemons or basically anything citrusy would work perfect for an easy summer tablescape!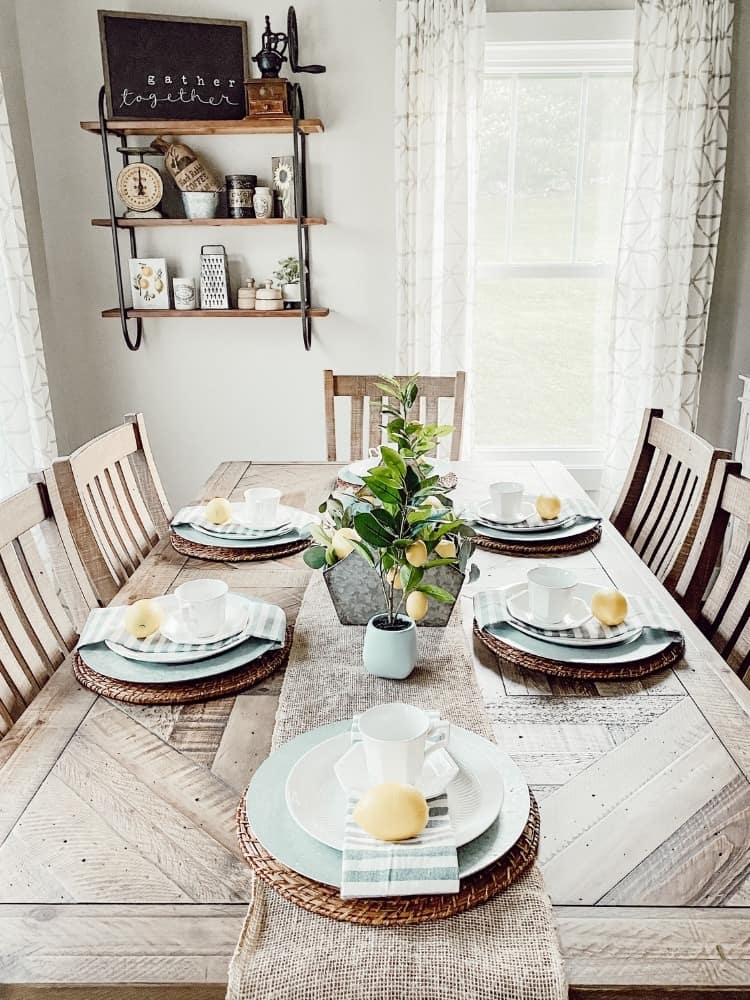 The base of the lemon trees are a nice light blue color, which matches my dinner napkins perfectly too! I also placed a faux lemon on every place setting on my tablescape as well.
So, that's really all you need to create a super easy and simple summer tablescape that will last you all the way into fall. And I can't wait for that!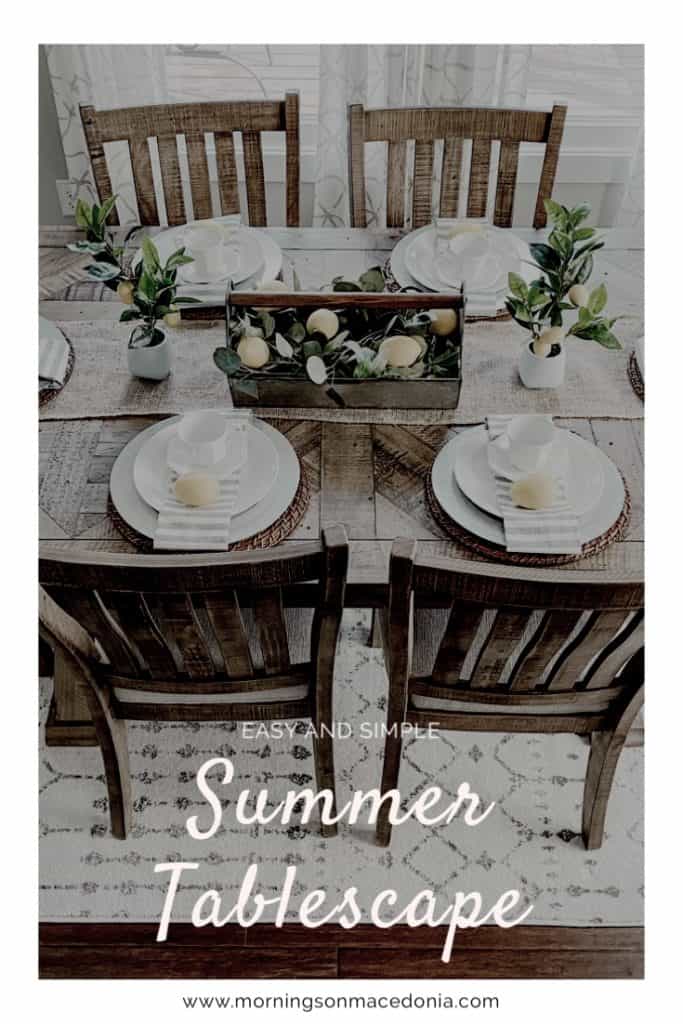 What do y'all use for the transition between summer and fall as decor?! I would love to know below. I had also thought about doing sunflowers too, which I think would be very pretty, but I already had more lemon decor on hand.
And like I stated above, I did not want to spend a lot of money on this refresh! I hope I have given you all a few ideas on how to style an easy summer tablescape. If you're looking for more summer decor options, check out my post on how to decorate your home for summer as well.