We just got back from celebrating my dirty thirty in good ole Nashville, Tennessee! My hubby planned out the best birthday weekend for me and I couldn't have asked for any better! I am here to tell you all about the fun and unique things to do in Nashville for couples!
I'm sharing everything we did and giving you all the tips and tricks to optimize your Nashville experience! And if you're not looking for a big Broadway experience, don't worry, I am sharing way more than just visiting all the honky tonks on Broadway street! There is still so much more to do in Nashville TN!
It's great spot for music lovers with so much talent around every corner! I think it was an absolute perfect place for me to celebrate my 30th birthday! And seeing as how me and my hubby are huge country music fans, it was a fun place full of music history for us to experience!
In fact, our hotel was right beside the Country Music Hall of Fame Museum as well! Keep on reading for our full 3 day itinerary in Nashville!
This post contains affiliate links. Click here to read my disclosure policy.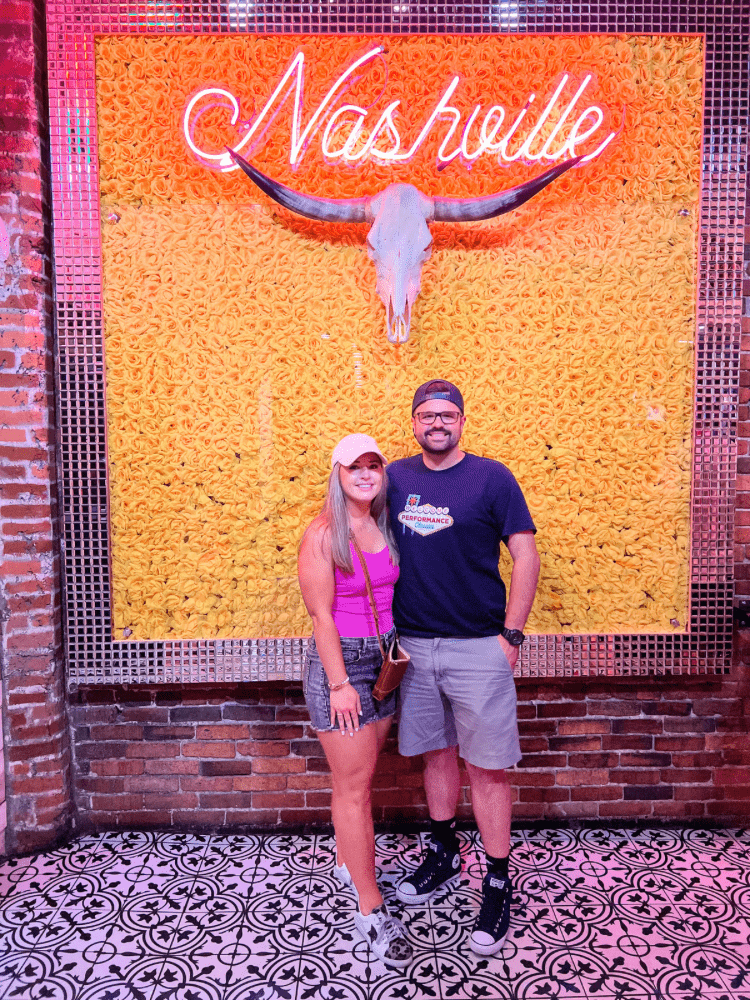 Where to Stay in Nashville
First things first, where should you stay in Nashville?! Well, we stayed right in downtown Nashville, at The Omni Hotel. And it was wonderful!
We were within walking distance to both Broadway Street as well as The Gulch area too. So it was a prime location. As I mentioned above, it is adjacent to the Country Music Hall of Fame, and the iconic Hatch Show Print Shop as well!
There is also a great rooftop pool and hot tub as well as a fitness center. They also offer valet parking and there is a hotel restaurant that is really good too!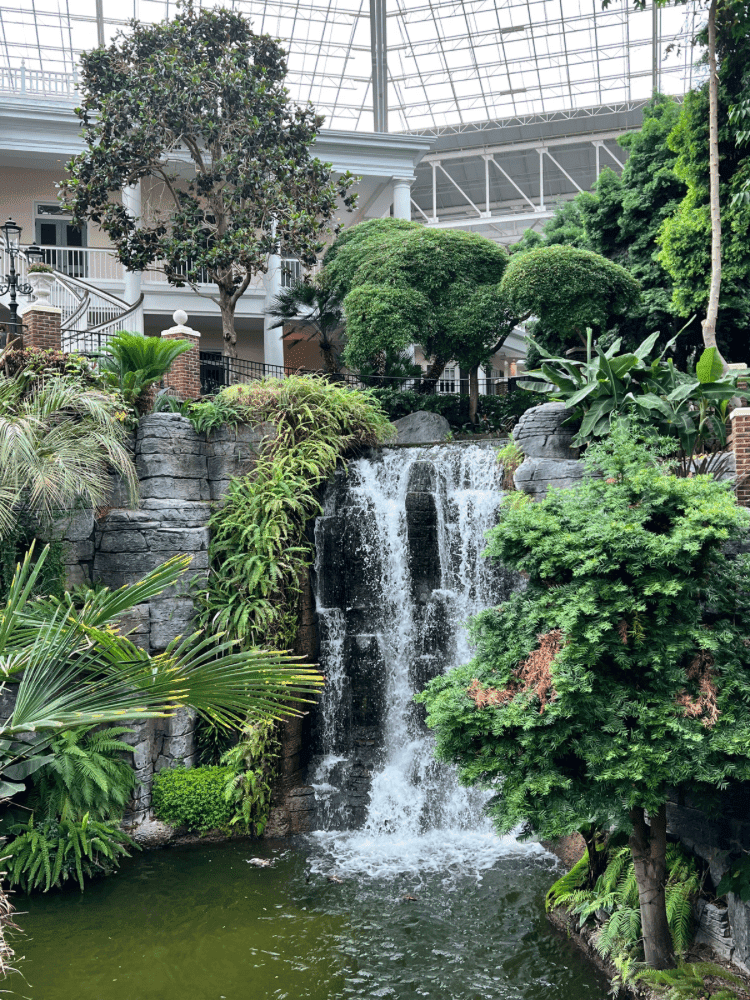 However, if you aren't looking to stay downtown, I would highly suggest staying at Gaylord Opryland Resort! We walked around there a little before visiting The Grand Ole Opry and we were amazing with how beautiful it was! It is also huge so we didn't even get to see it all!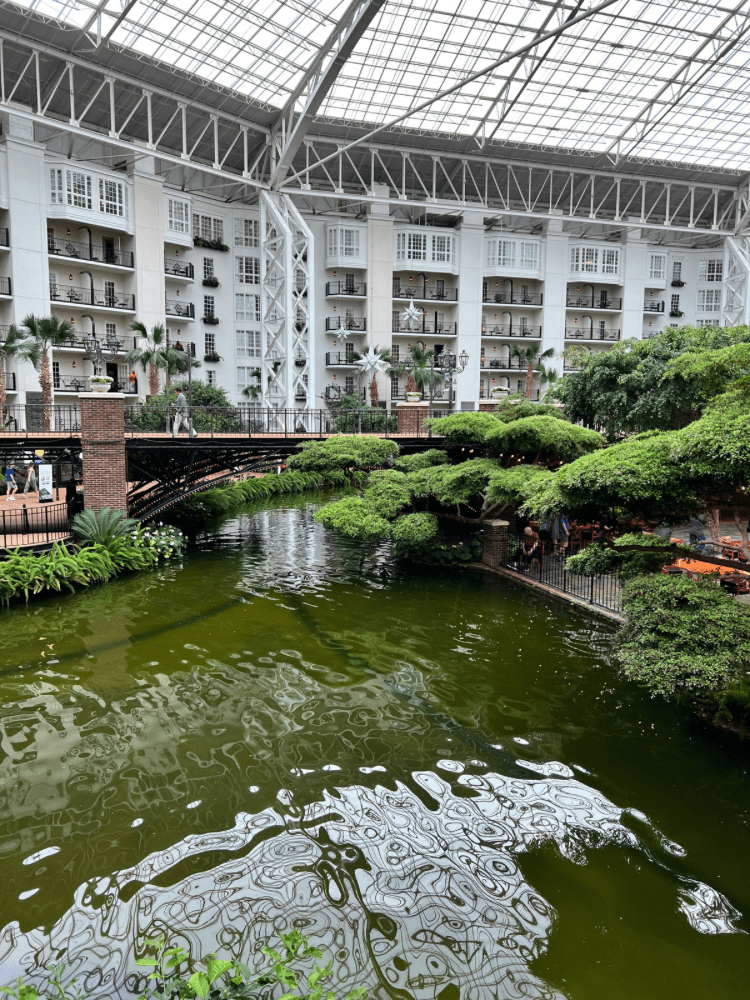 If you're looking for a quieter, more laid back trip to Nashville, I would definitely recommend staying here! If we ever go back again, we already decided we want to stay here instead! And, you can still get the downtown experience too! It's only a short drive, just 15 minutes away, so no worries!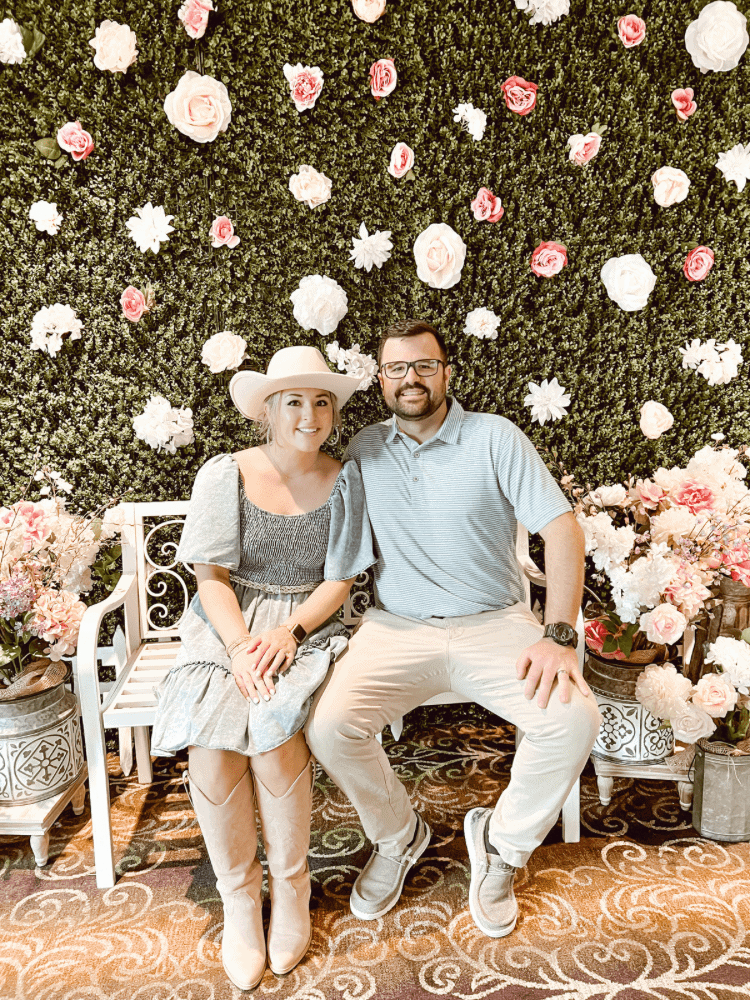 What Is The Main Attraction Street In Nashville?
As I mentioned above, Nashville is probably known best for all the honky tonks of Broadway street. So you might as well at least experience a few of them while you are down there! And that's exactly what we did on our first night.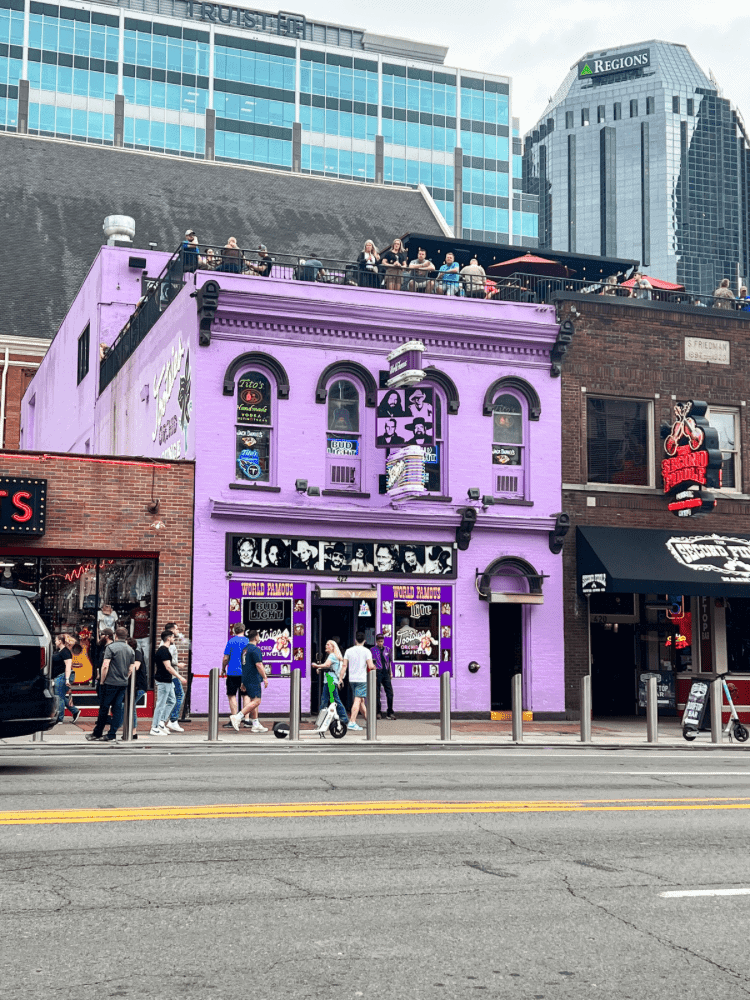 We went to Luke Bryan's, Jason Aldean's and Miranda Lambert's place. And I've got to say, Miranda Lambert's was my absolute favorite! Everything was decorated so cute inside, with pops of pink everywhere! Plus, they serve a delicious Tex Mex cuisine there as well.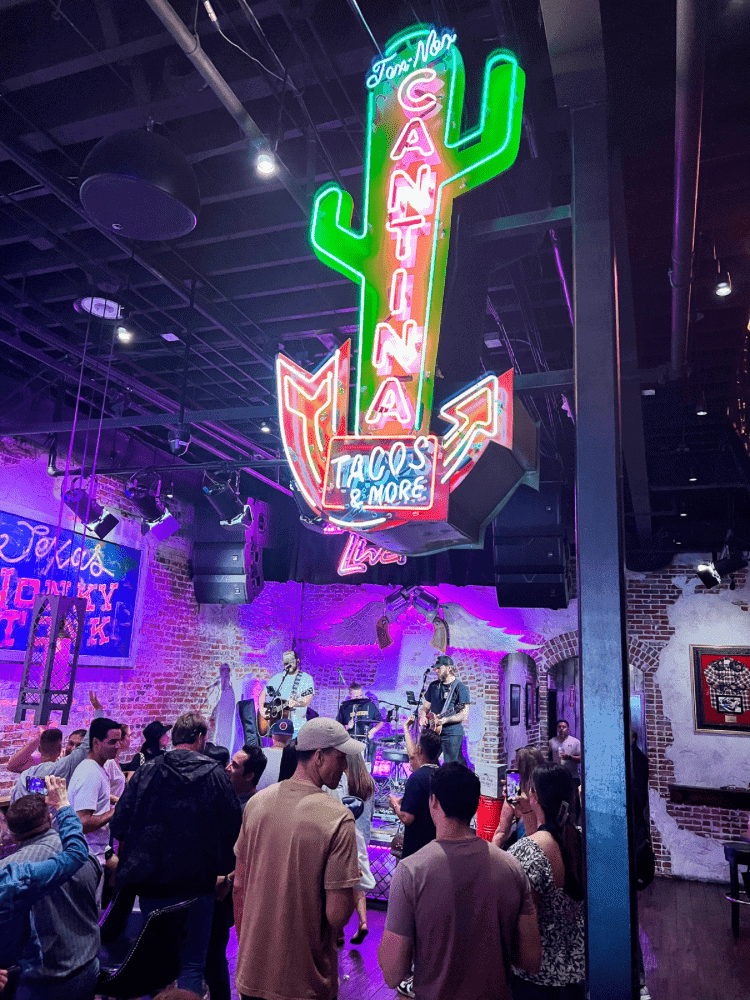 The talent in the Music City is also unreal. There are live performances all the time at every place, no matter what time of day! You're basically getting a free concert everywhere you go! However, if you're looking to go out around dinnertime, I highly suggest making reservations in advance. That way you get a table!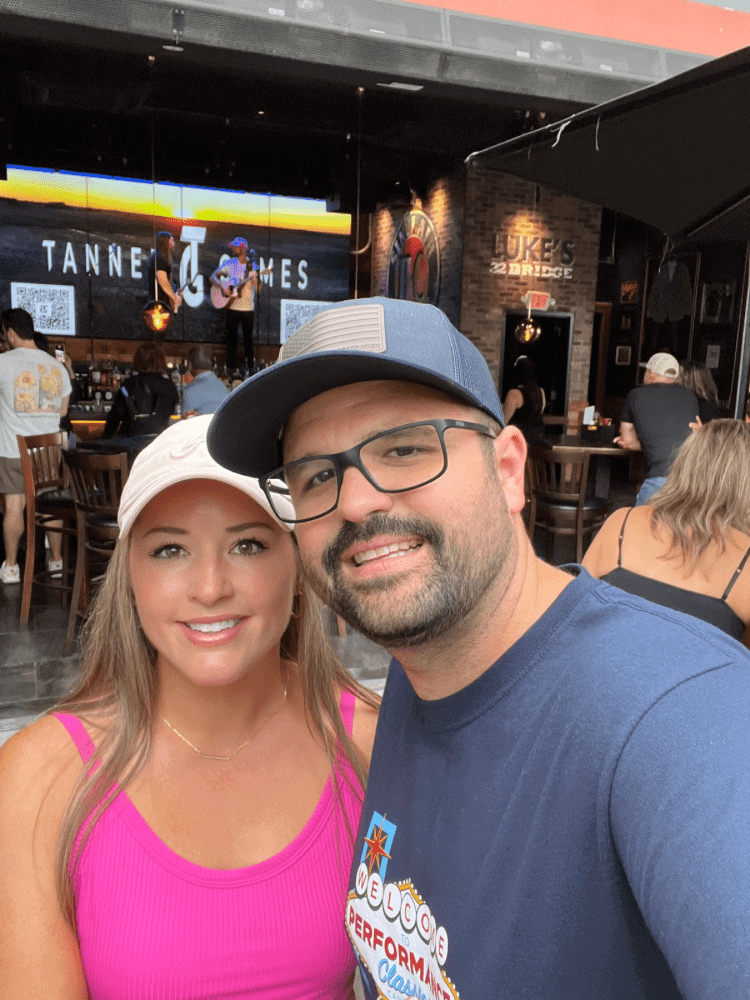 When we went to all these places, we didn't have a reservation, but it was on Thursday night so it was as crowded. Once Friday and Saturday night hit, it was insane!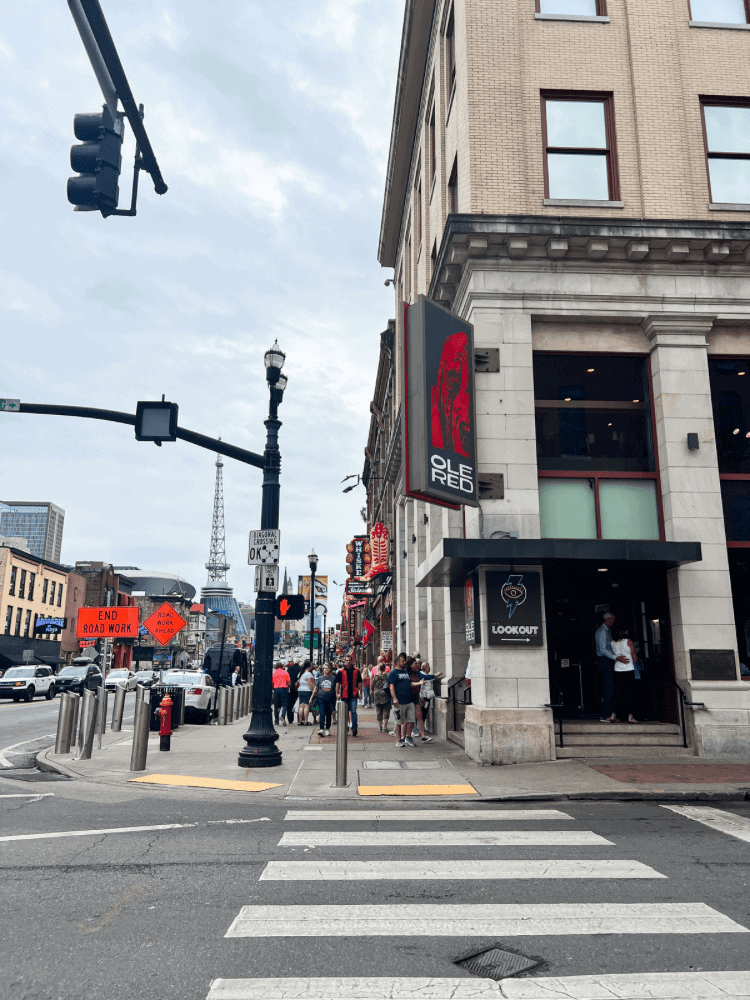 Also, later on in the weekend, we tried out Kid Rock's place too. However, unfortunately, it was one of my least favorites. Super crowded, and the talent there was not as great as other places.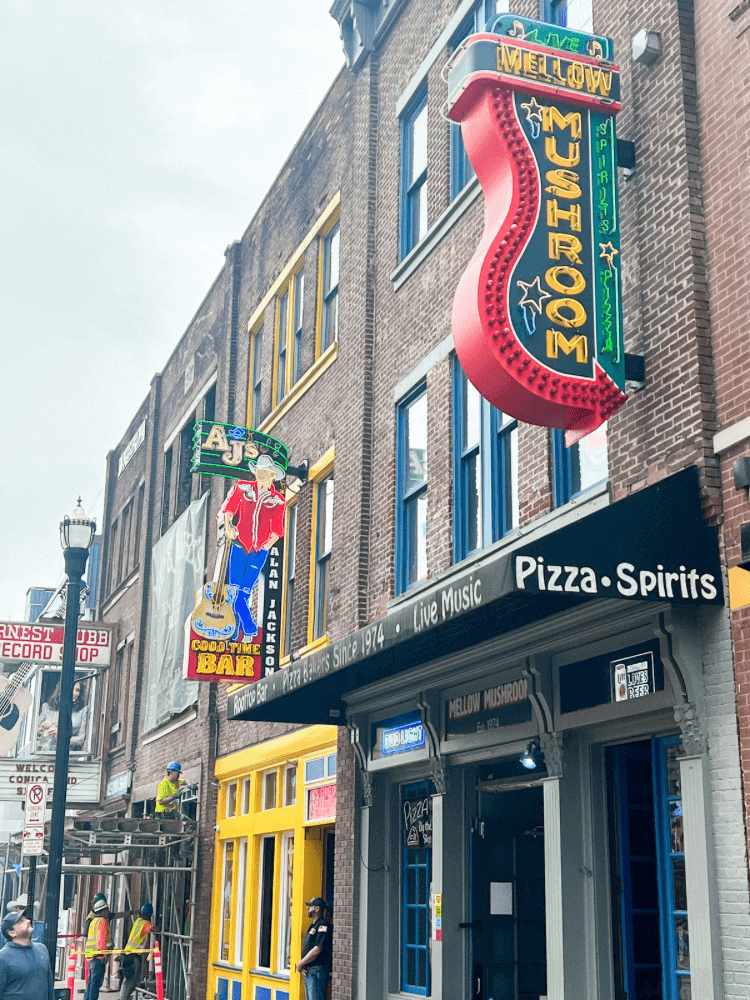 So in order to fully maximize your experience, hop into a few places and listen for awhile and see if it's your jam or not! Once you find a spot you love (like Miranda Lambert's) stay there awhile and enjoy it! Most of them have a rooftop bar area, with beautiful views of the surrounding downtown Nashville! There's plenty to check out on the honky tonk highway!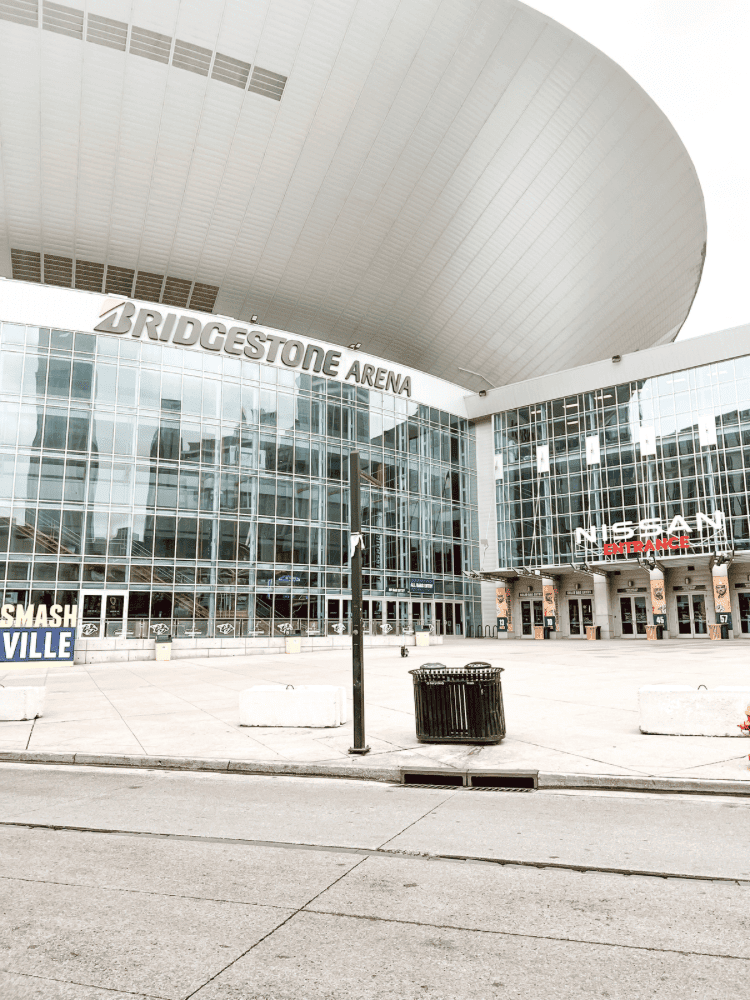 ​Places to Eat in Nashville
​We had a reservation our first night to Skull's Rainbow Room and it was not only delicious, but the vibe there was super cool! This place is located in Printer's Alley, which is just a short walk from downtown Nashville.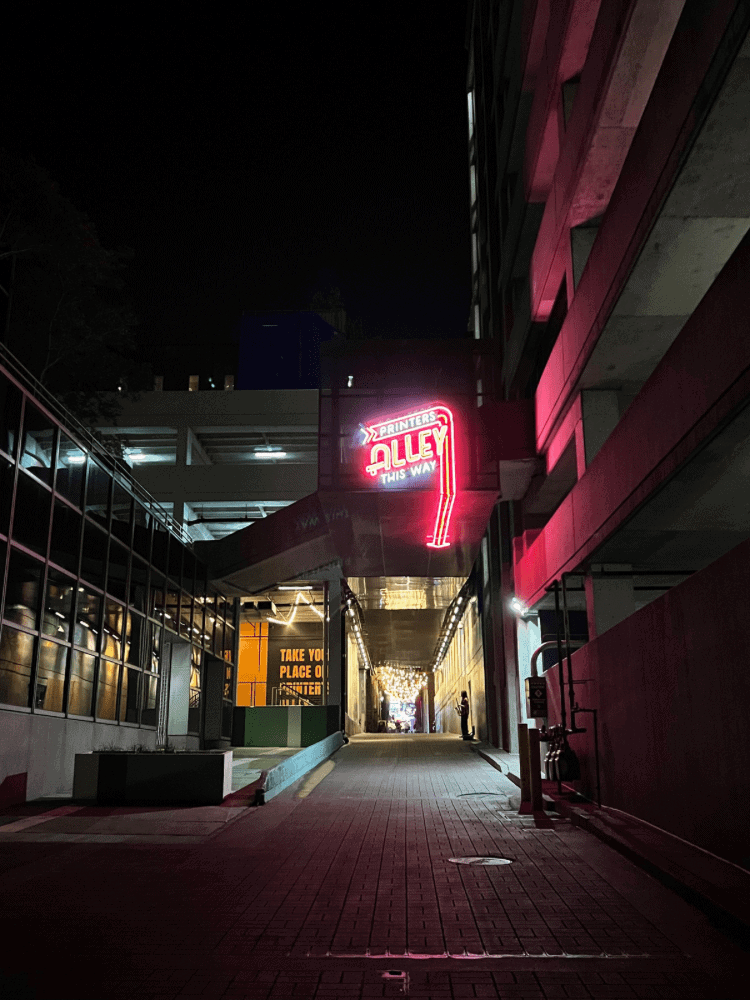 Skull's has more of a jazzy vibe to it, as most of the other places located in Printer's Alley do as well. Frank Sinatra even has a restaurant here as well and I would have loved to try that one out, but we ran out of time!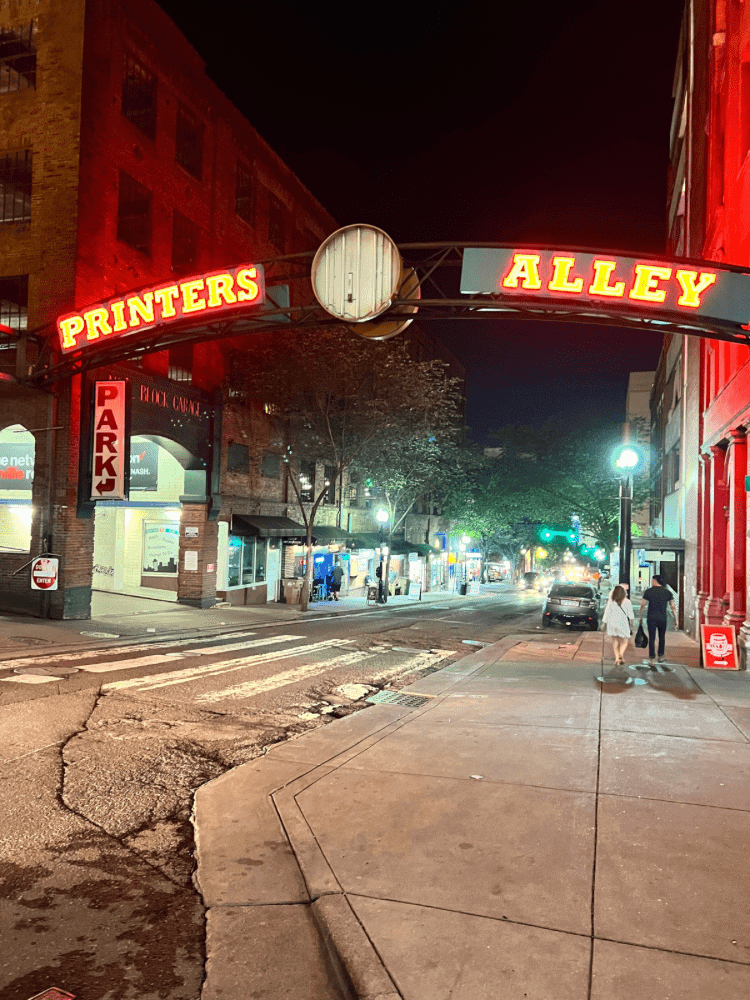 You also of course have to try out some hot chicken while you're in Nashville too! There are two main places for that, Hattie B's and Prince's Hot Chicken. We went to Hattie B's and it was really good! However, I am not as big of a fan of hot chicken as my hubby is, so I opted for the mild!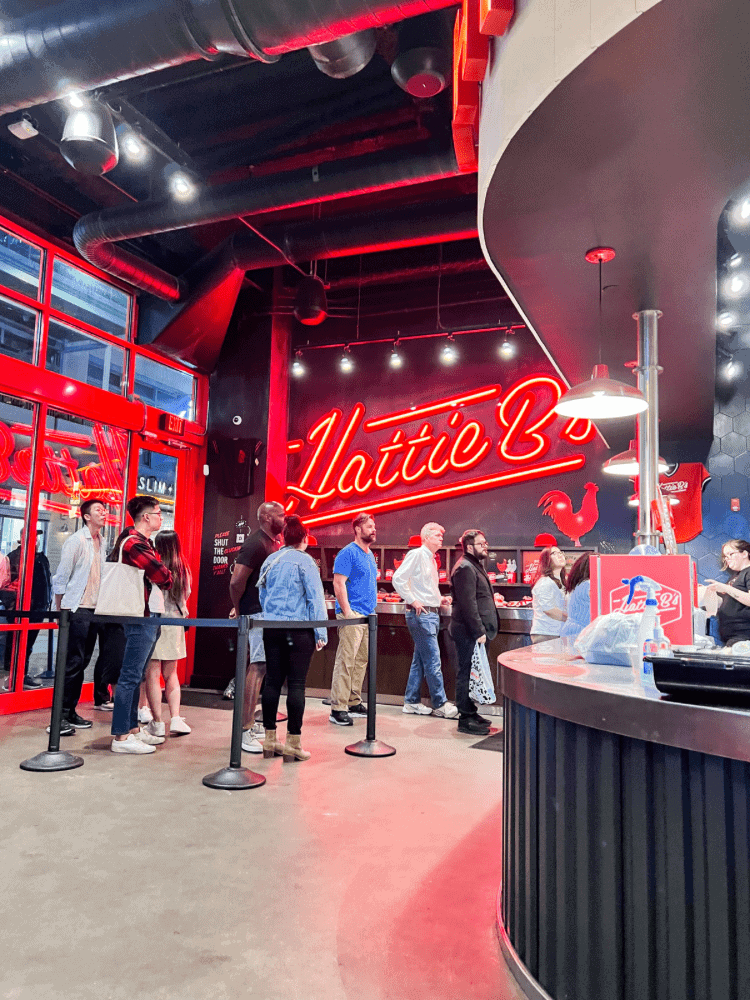 My absolute favorite place we ate all weekend was brunch at Biscuit Love! You have definitely got to try this place out! Literally, the best breakfast I've ever had! We got their east nasty biscuit, which is a play on words considering it's located in East Nashville.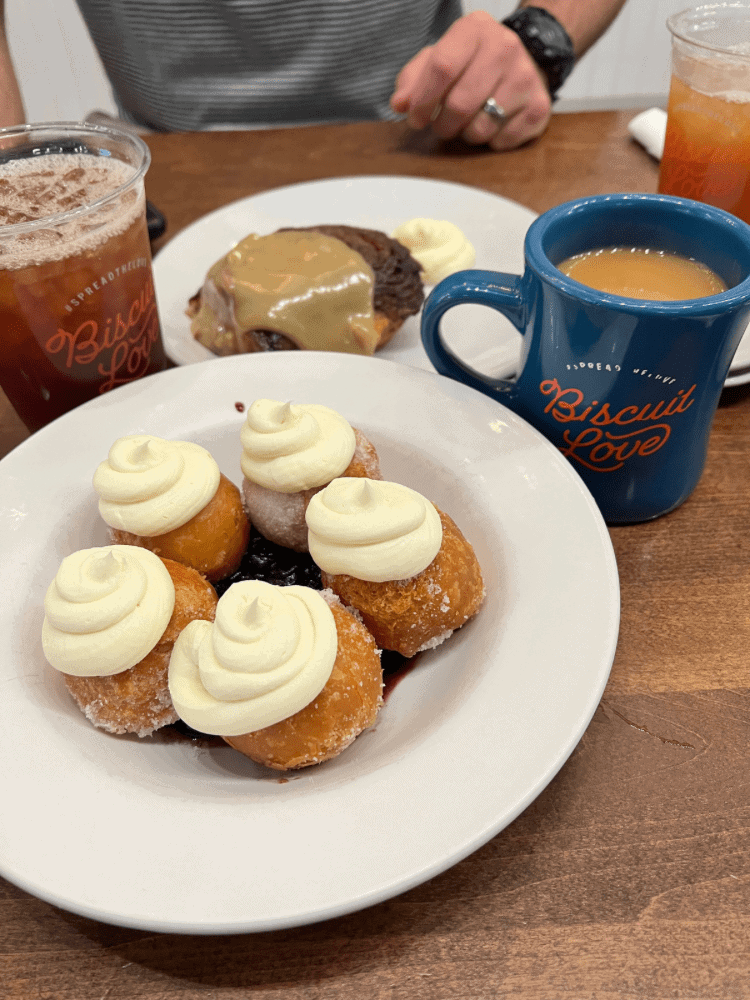 And you've also got to try their Bonuts while you're there too! It's like a biscuit and donut combined- so good!! There will probably be a line out the door when you go visit, but trust me, it's so worth it!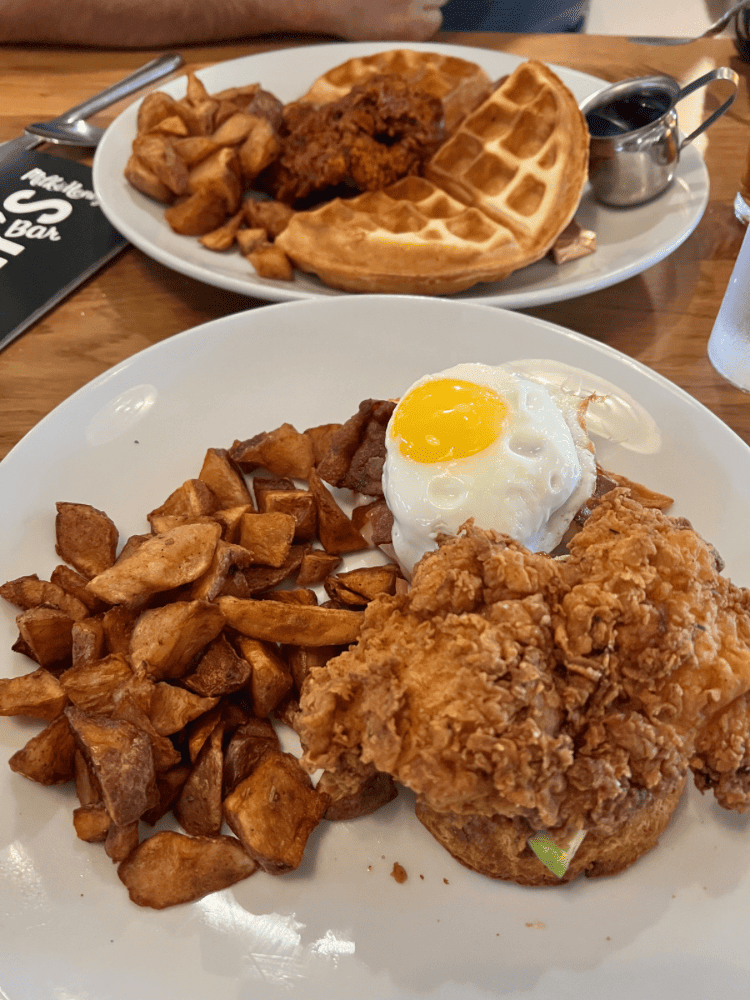 Another good brunch spot is Milk + Honey, and it's located within walking distance from Biscuit Love too. And another great place to eat and enjoy the night is the Twelve Thirty Club.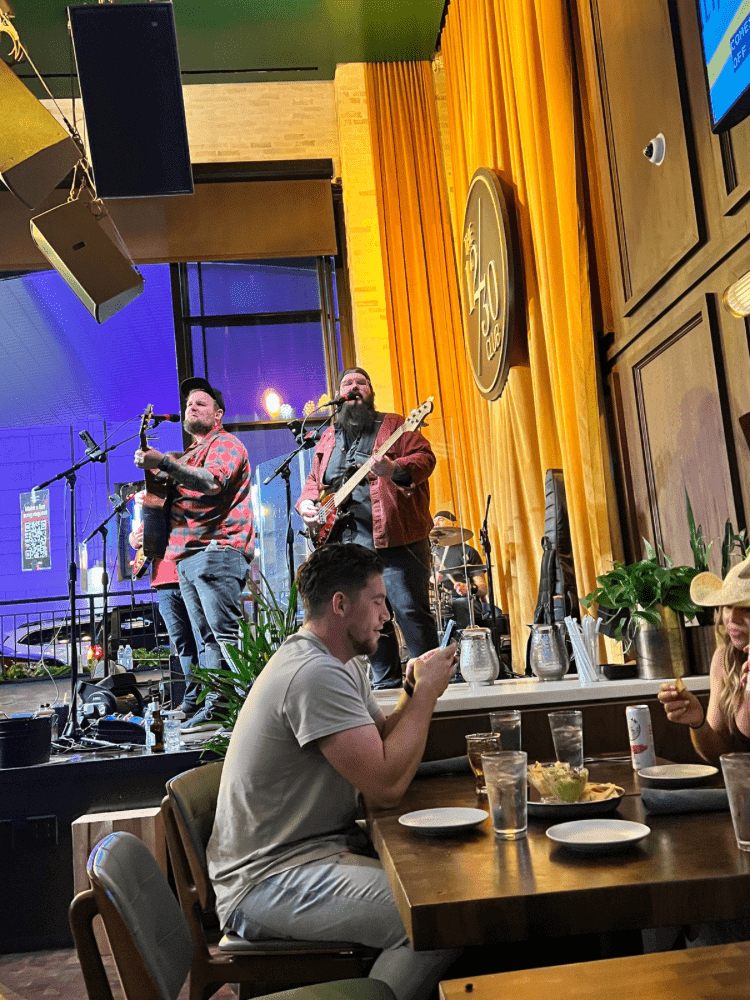 This is Justin Timberlake's place down there and not only was the food super tasty, but again, the vibe was so cool and fun! The band preforming there was great and the decor inside was phenomenal!
​
Unique Things To Do In Nashville For Couples
Okay, so now that I've gone over all the basics like where to stay and where to eat, you're probably wondering what else is there to do in Nashville, especially for couples? Well, no worries! There are plenty of other things to do here besides go to the honky tonks. And I am here to tell you all about them!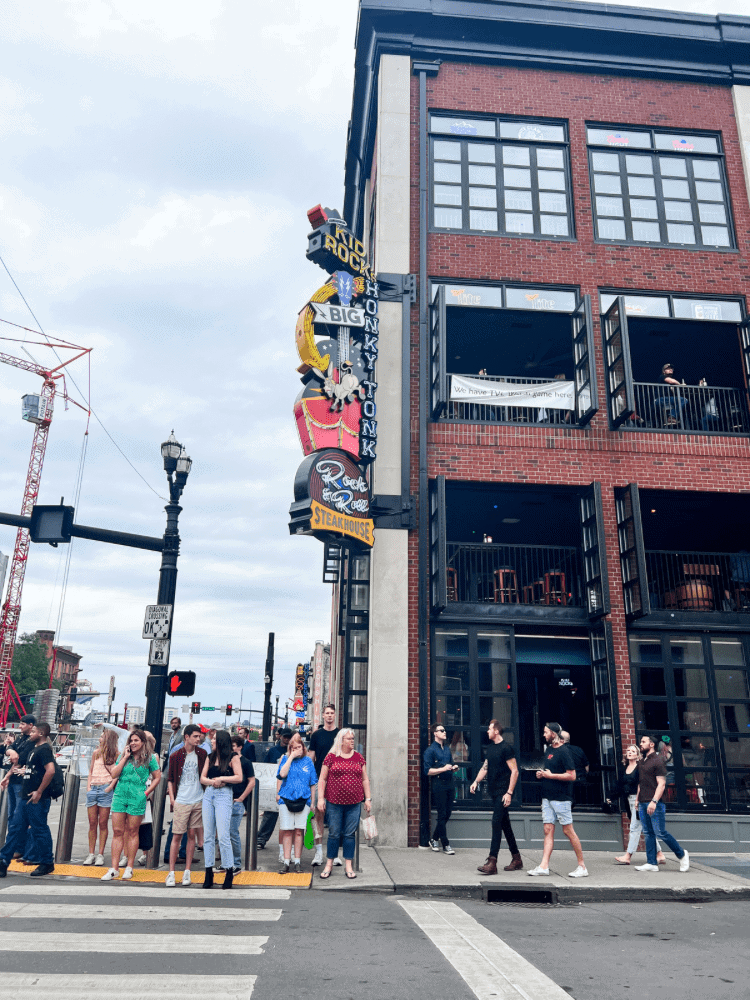 Make A Custom Hat At Rustler Hat Co.
This was perhaps one of my favorite things we did while in Nashville. I am a big hat girl, I have plenty to choose from and am always looking to add more to my collection! But, this one is especially unique because it is totally custom! No one else will have a hat like mine, and I love that!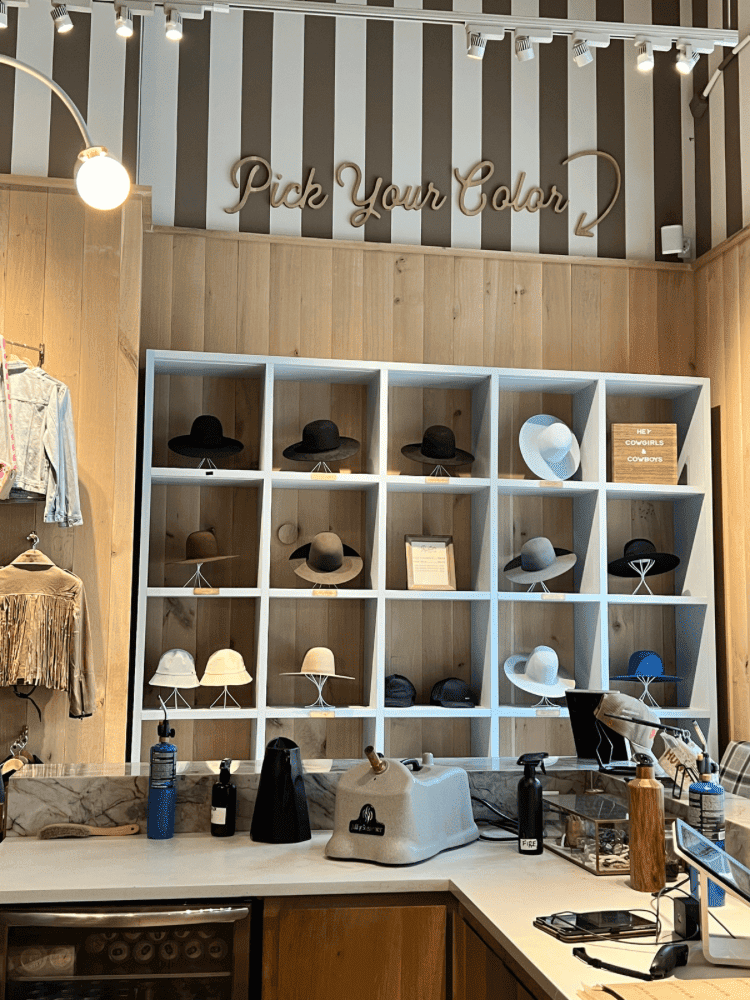 You basically choose a base of a hat, then choose all the personalization and customization you want to add to it. Like feathers, fabric, chains, etc. They even can torch it a little for a rustic look and brand them as well! I had my initials branded in the bottom of the hat to make it even more personal!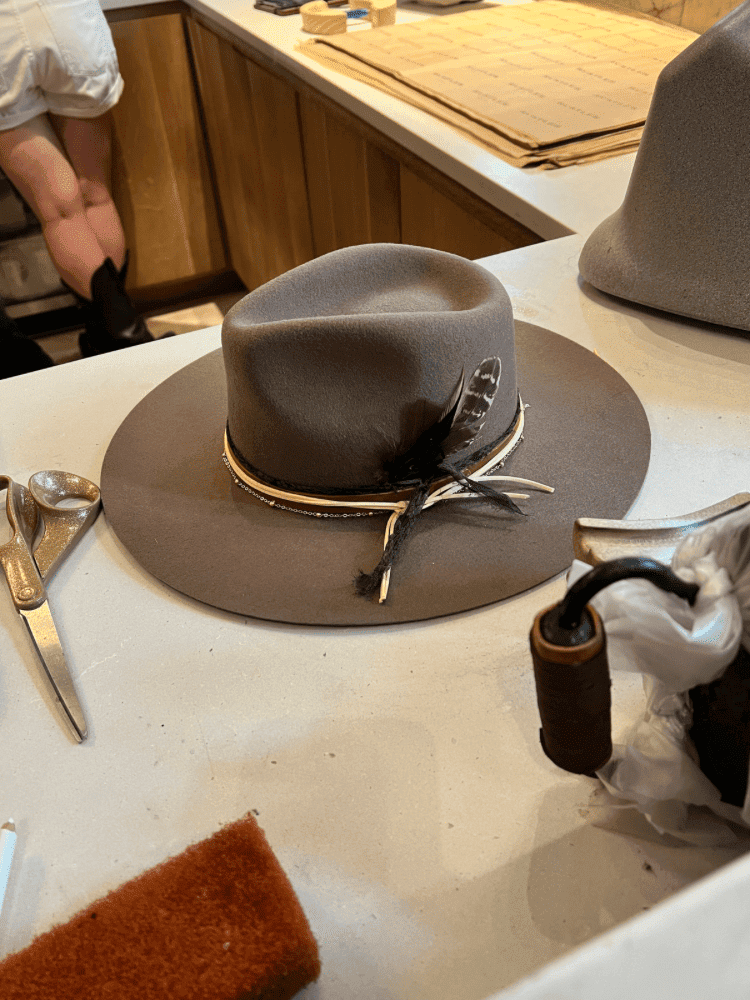 And, my favorite thing about the hat is that we added three stitches right on top to symbolize thirty years! I couldn't have even asked for a better birthday present! My hubby knows me too well and knew I would enjoy this.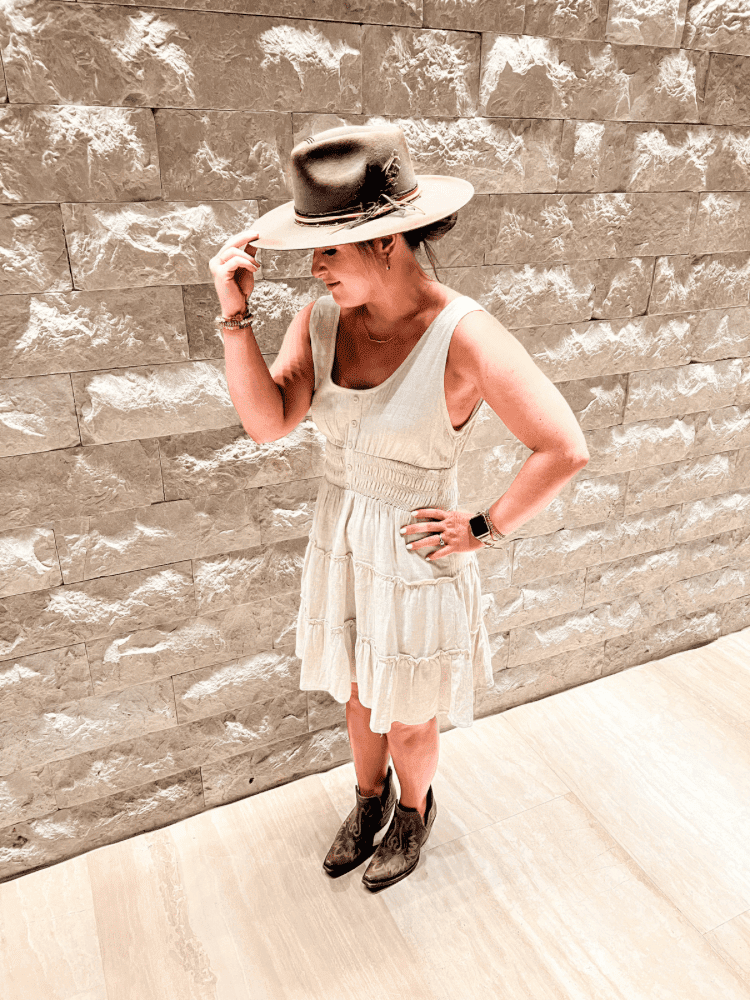 And the cool thing was the guy who made my hat for me, his birthday was the same birthday as me too! How neat is that?!
It was definitely a fun and cool experience, so if you're a big hat lover like me, you've got to try it out! Plus, there is only one other location of Rustler Hat Co. (in Florida) so while you are there in Nashville, you might as well check it out! And it would be a fun couples experience for both of you to make your own custom hat together while you are there!
Music Row Happy Hour At Margaritaville
Y'all already know my love for Margaritaville! As we have stayed at the Margaritaville Island Hotel earlier this year and absolutely loved it! But, if you're big country music fans like us, then you have probably heard of Sirius XM Radio's County Station, The Highway.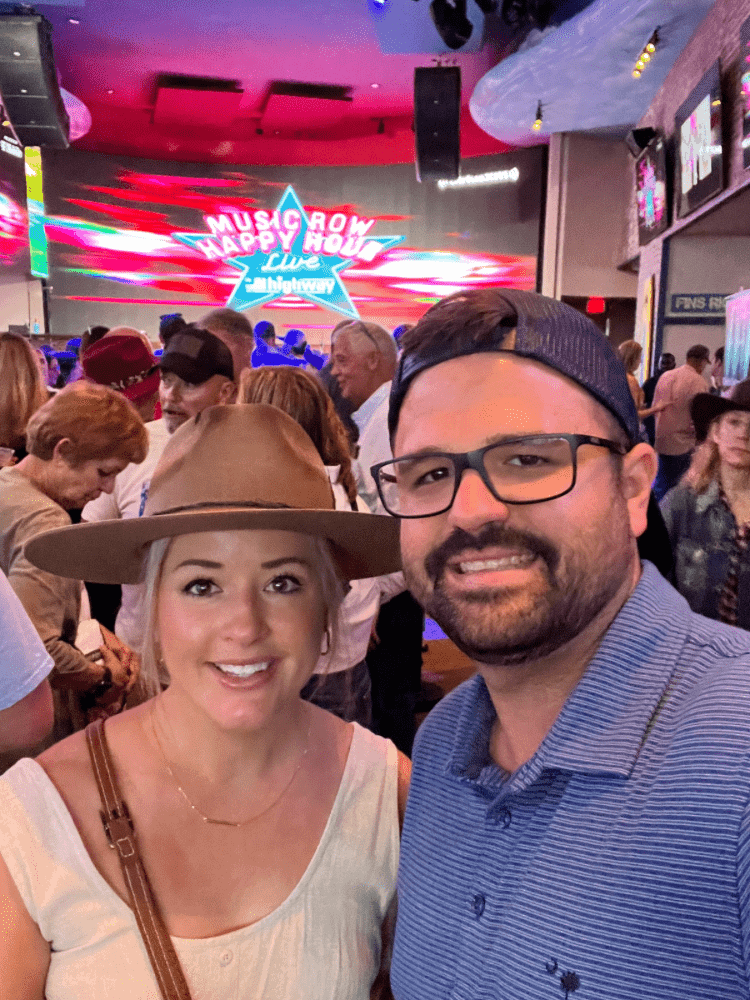 And every Friday afternoon, their host, Buzz Brainard, does a fun music row happy hour at the Margaritaville, where you can listen to the radio show live. And sometimes even special guests come out and preform! You also have the chance of being live on air with Buzz too!
When you get there, you can fill out a card and state why you are there, if you're celebrating anything in particular, and they will sometimes call on you to come on air! How cool is that?! Unfortunately, we weren't chosen to go on air, but we had an absolute blast there and did get to meet Buzz too!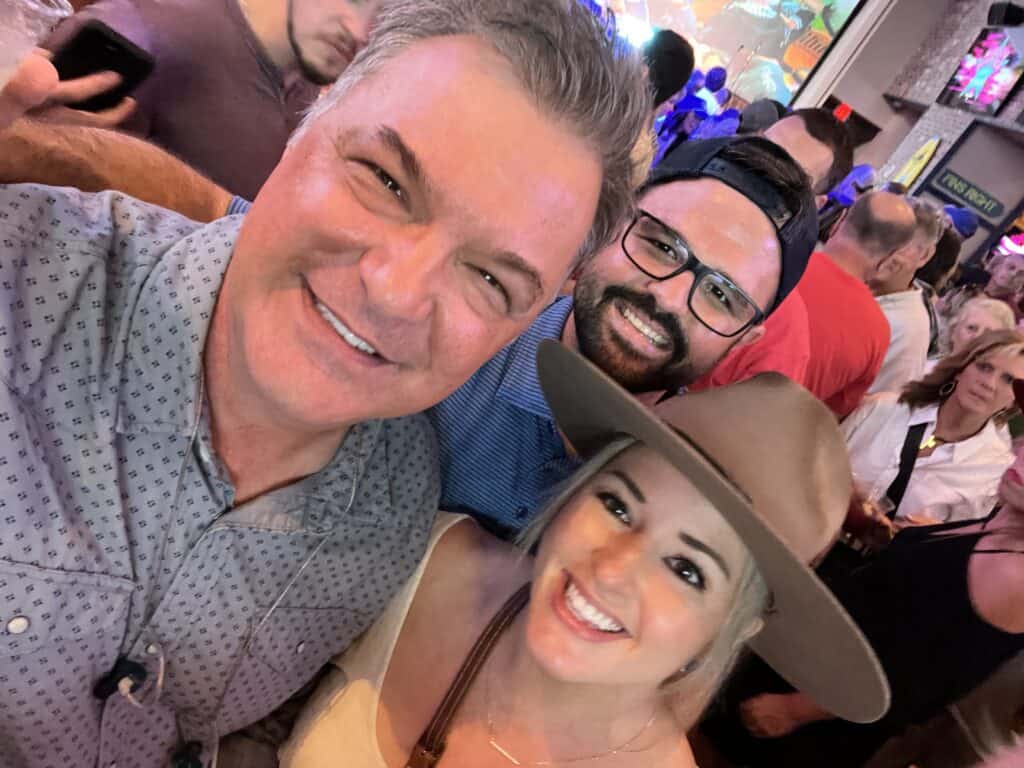 They also brought out a special guest as well! Their new highway find, Lauren Watkins, came out and preformed her new single, "Shirley Temple". So that was a super cool experience! We met another couple there that said they were there before when Buzz brought out Luke Combs on stage too! So you really never know who will be there, which is a fun surprise.
But, if you want to go, I highly suggest getting there early. The doors open at 1:00pm, and the show starts at 3:00pm. We got there around 1:30, and it was already PACKED. You are squished in there like a can of sardines, so just be ready for that.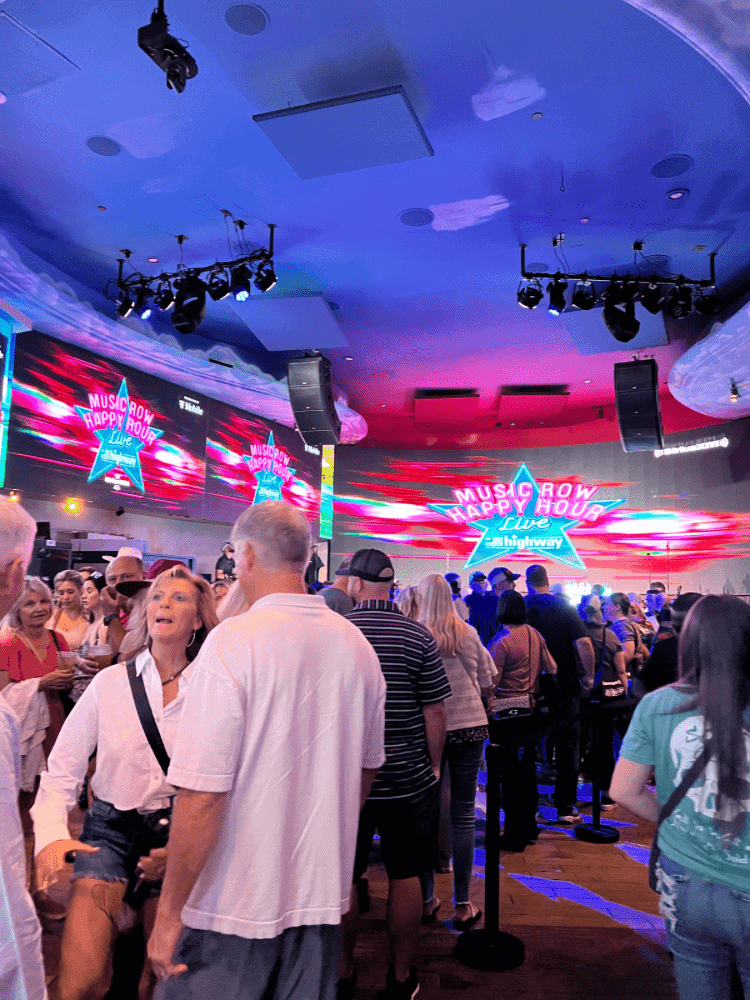 Usually, that's not my thing and I hate crowds so I thought we would end up leaving early from it. However, we had such a great time, we stayed for the entire thing!
Another tip I have for you though if you go, wear comfy shoes! I wore my cowboy booties because they were cute and on trend for Nashville, but I can't even tell you how many blisters I had on my feet after! Since you are standing the whole time, I wouldn't recommend cowboy boots, just FYI!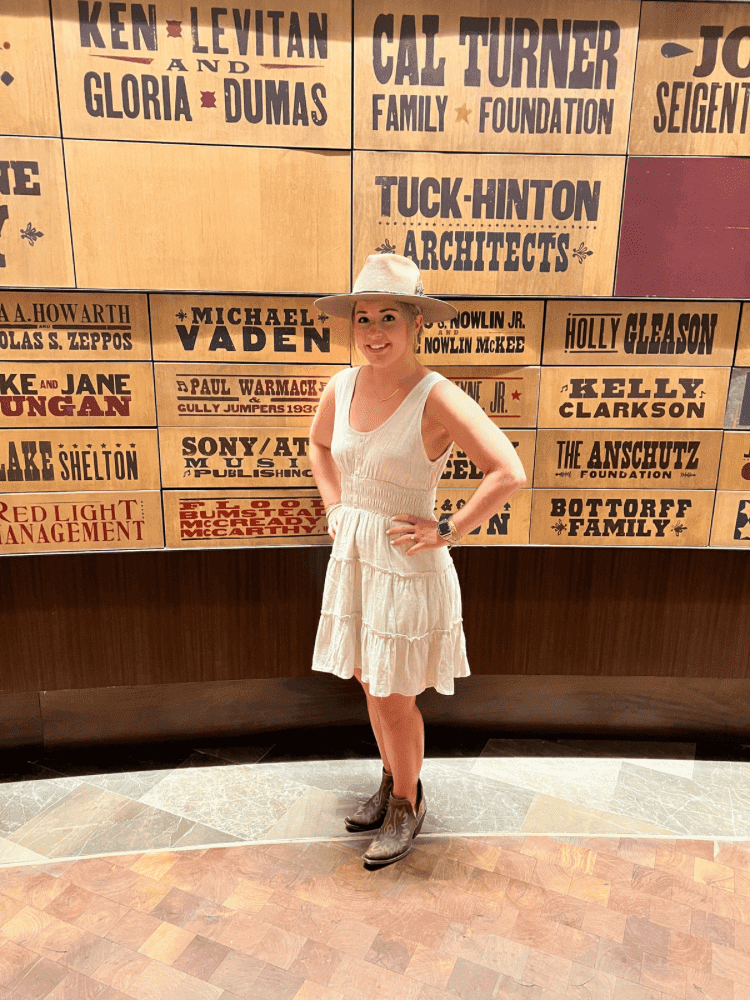 ​Shopping In Nashville
If shopping is your thing (which surprise, that is one of my favorite things to do too!), then Nashville has a ton of cute shops and boutiques to choose from too. In The Gulch area, a lot of celebrities have stores there too.
I went to Uncommon James, which is a jewelry store owned by the one and only Kristin Cavallari. And it had a ton of cute and dainty gold pieces, which is right up my alley!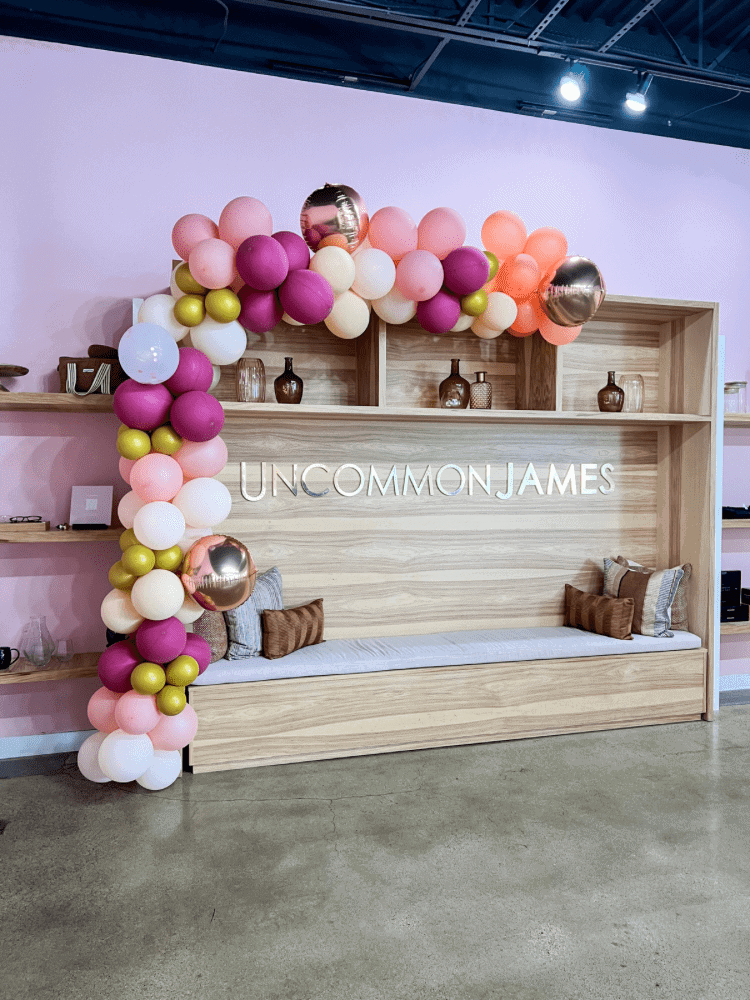 Then, I went to Kittenish, which is owned by Jessie James Decker, and it was super cute too! Loved the decor and everything inside of it. Reese Witherspoon also has a store in Nashville, but it is further away so you would have to drive to it and we didn't get a chance to make it out there unfortunately.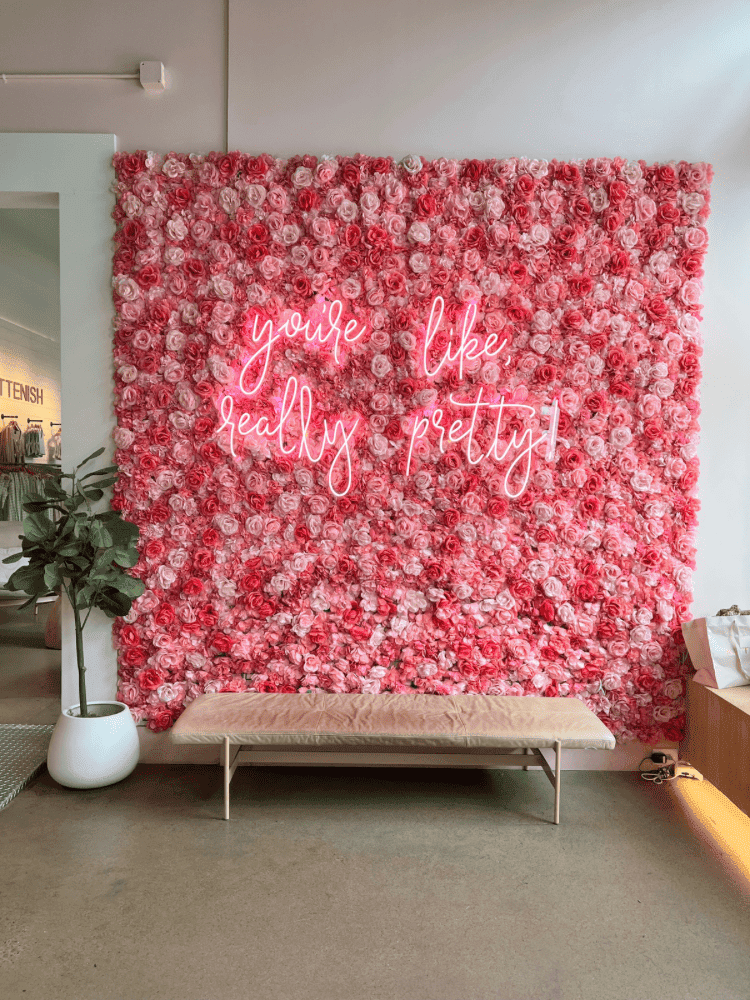 They also have a cool candle bar, where you can make custom candles too! Which downtown Charleston has a similar store like that too. I've always wanted to try it out, but again, we ran out of time!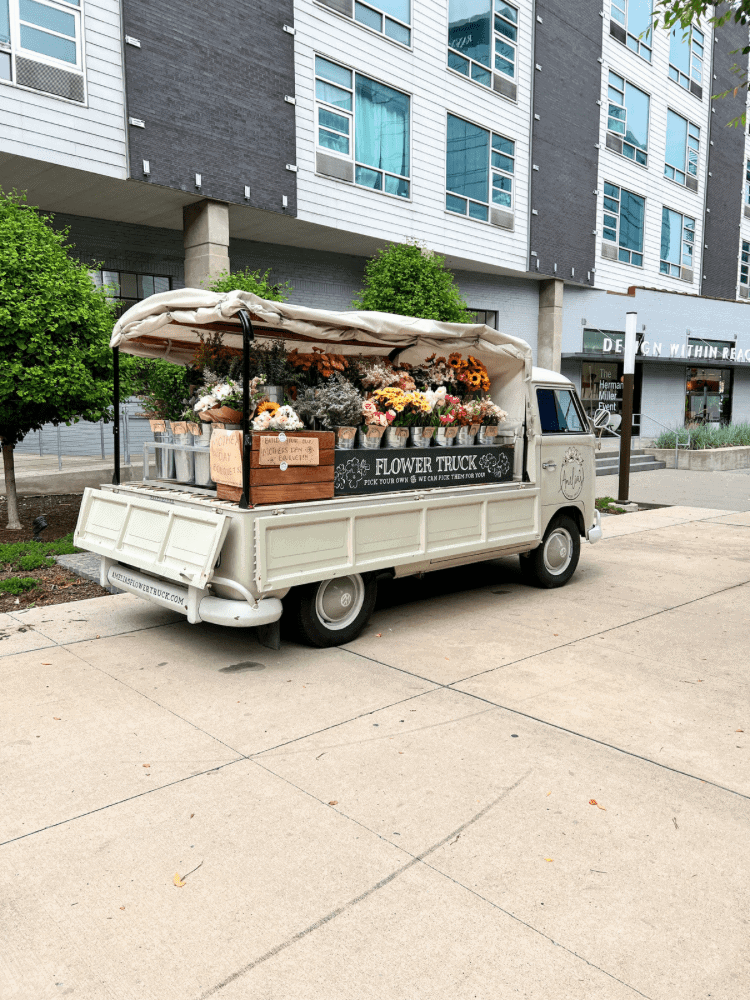 And, if you're staying for awhile and want some fresh flowers, you've got to check out the cute flower truck located in The Gulch too! You can create your own bouquet of custom flowers. Such a cute idea!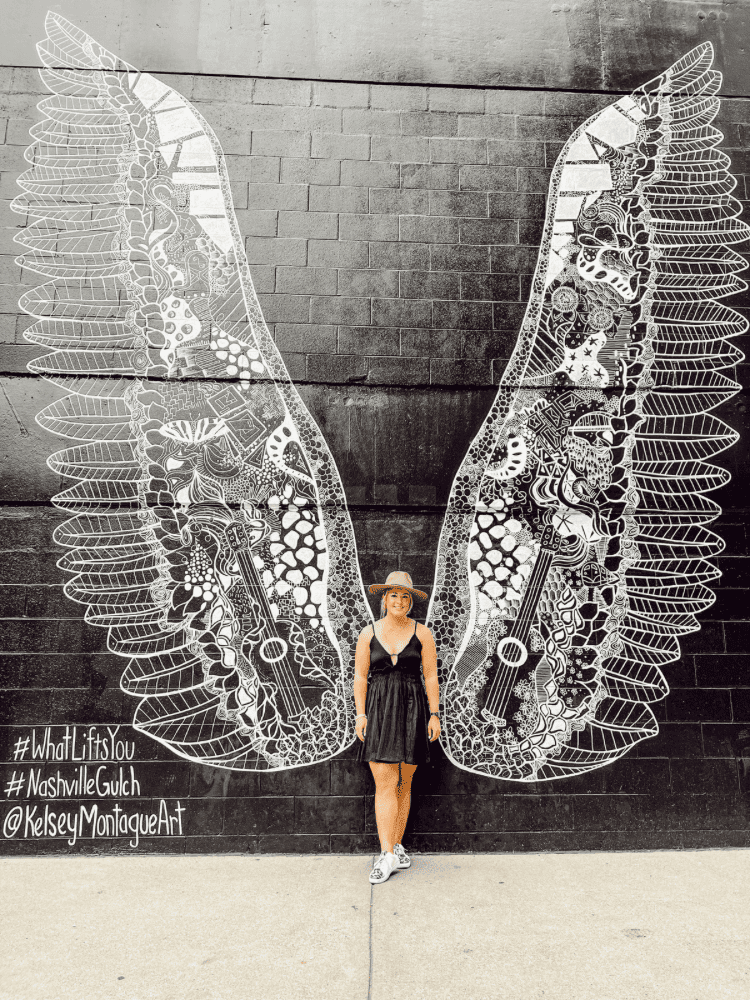 Also, be sure to check out all the fun murals painted around the city too! They make for great photo ops, although, you may want to get there early! A lot of times, there will be a line of people waiting to take a picture there too!
​Tour The Ryman Auditorium
Now, this was definitely a fun couples thing to do in Nashville! You've got to tour the mother church of country music! This is actually where the Grand Ole Opry House started and legends like Elvis Presley, Dolly Parton, Willie Nelson, Hank Williams, Waylon Jennings, Loretta Lynn, Patsy Cline, and more played here!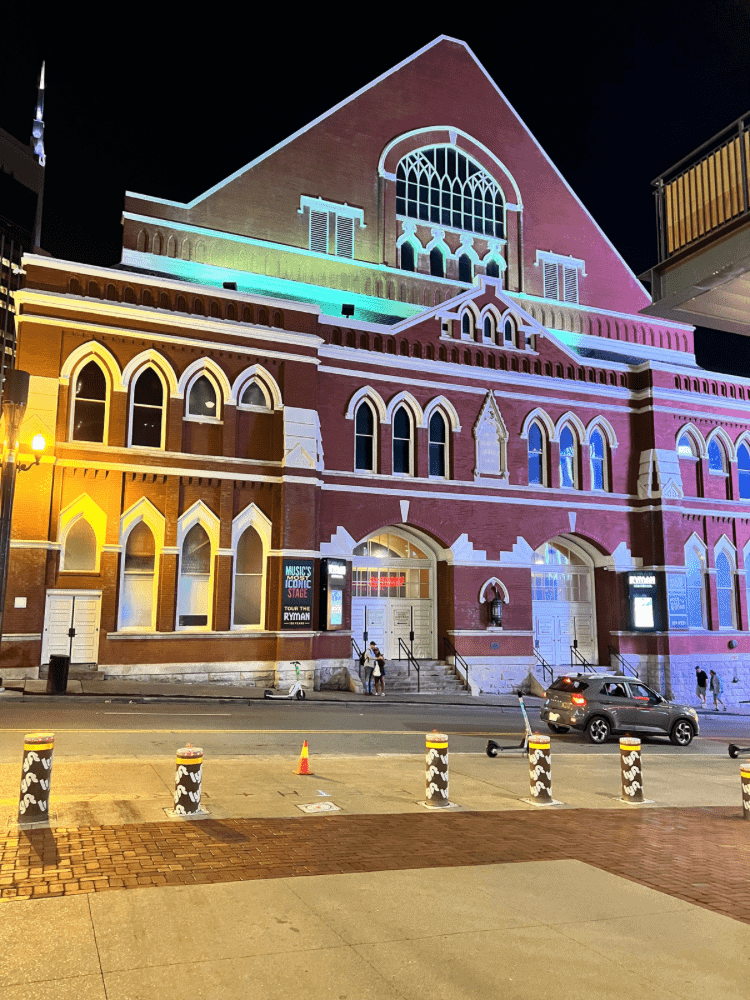 We took a self-guided tour and it had plenty of interactive exhibits where you could learn more about the stars that played there in the past. They also have current star exhibits like Taylor Swift and Garth Brooks too! There is even a recording studio inside that you can use if you want to record anything yourself!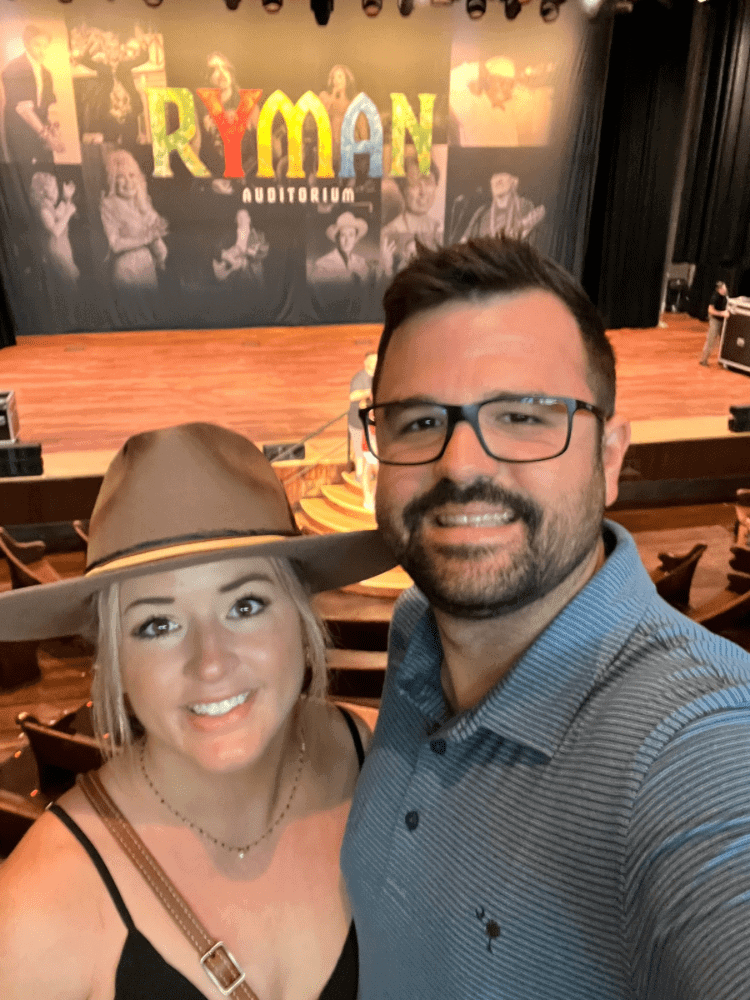 They still also offer live entertainment there at night too, so you may see them setting up for a show while you are touring as well. So if you're looking more into the history of country music during your time in Nashville, you've got to come here!
Another cool thing they do is take your picture, for free, on stage at the Ryman! Then, you can go pick it up at the gift shop when you are done! Talk about a great souvenir!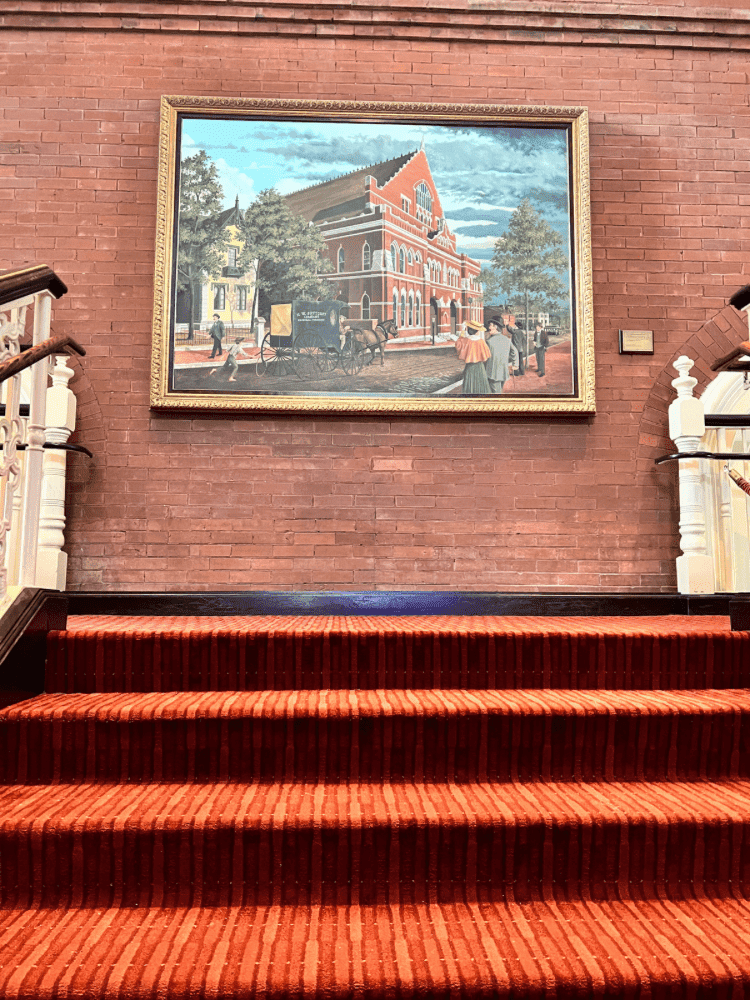 They were also offering free Hatch Prints when you filled out a survey about your experience when you left. These were all legit prints of artists who had preformed there in the past. So my hubby and I both got one. We plan on hanging them up downstairs in our game room at home! That's another perfect, vintage souvenir to take home with you too!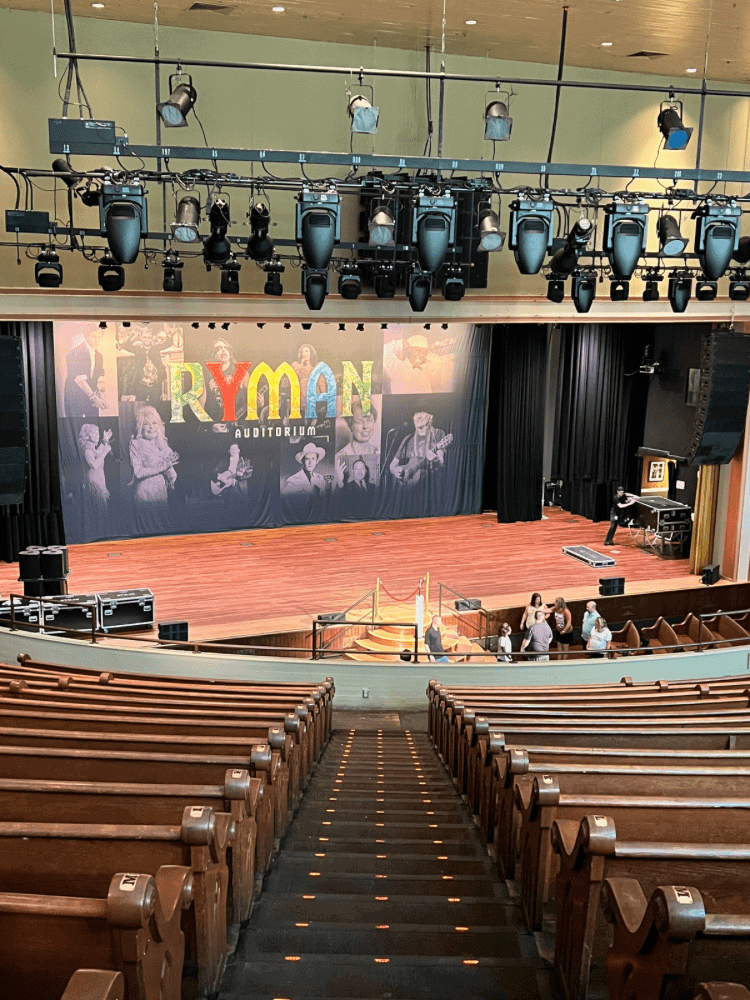 ​Visit Antique Archaeology
If you're big American Pickers fans, then you know they have a flagship store in good ole Nashville! So of course, that was one of our first stops while we were down there! It was a little too long of a walking distance from our hotel, so we drove there first before checking in.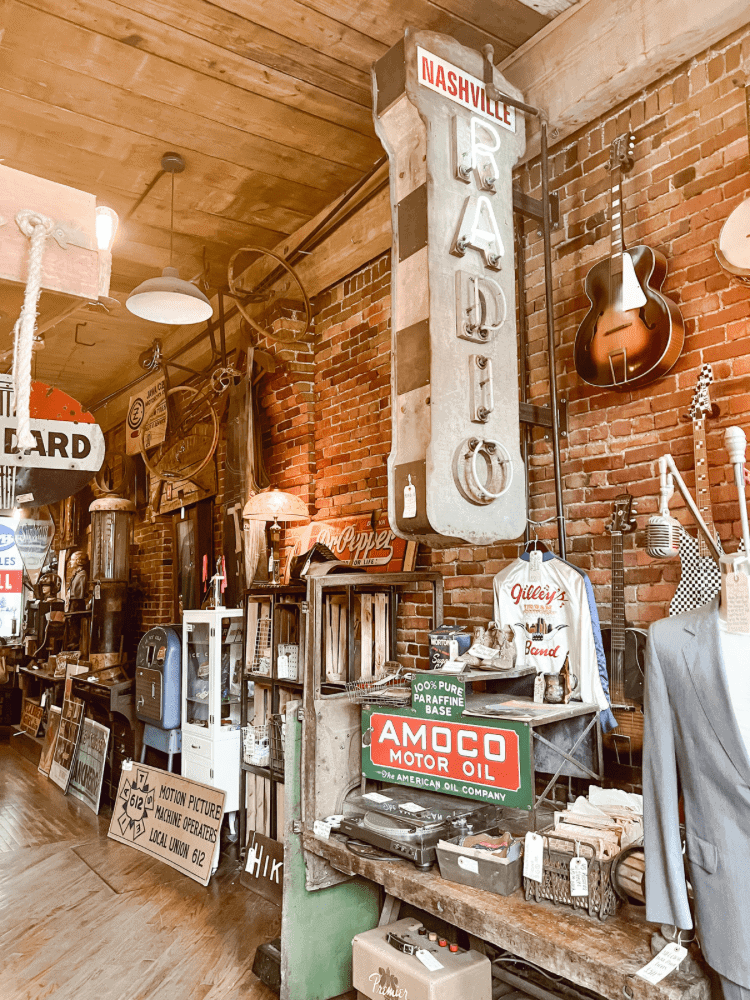 I will say, it is a lot smaller that I thought it would be, but still super cool to check out! They have antiques for sale in there from all their pickin trips, as well as cool merchandise. We definitely got some to take back with us including a shirt for me, a hat for hubs, and some cool stickers too!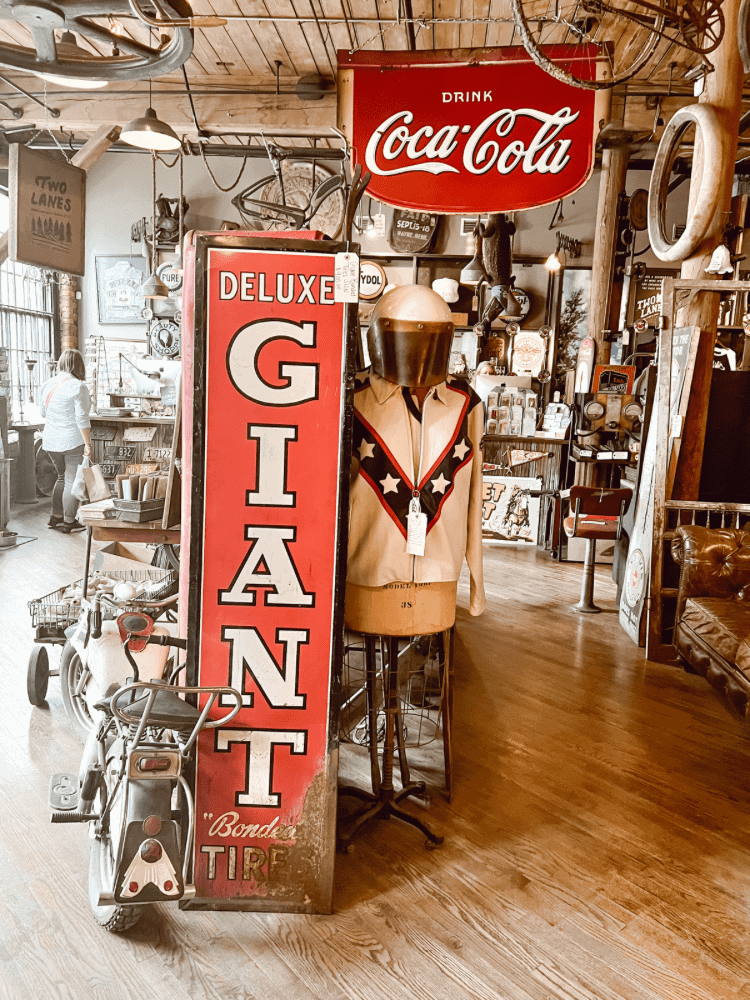 There are also a lot of other cool shops and places around this area such as the Jack Daniel's distillery and more! I wish we spent more time in this area checking everything out, but we were eager to get back and check into the hotel too!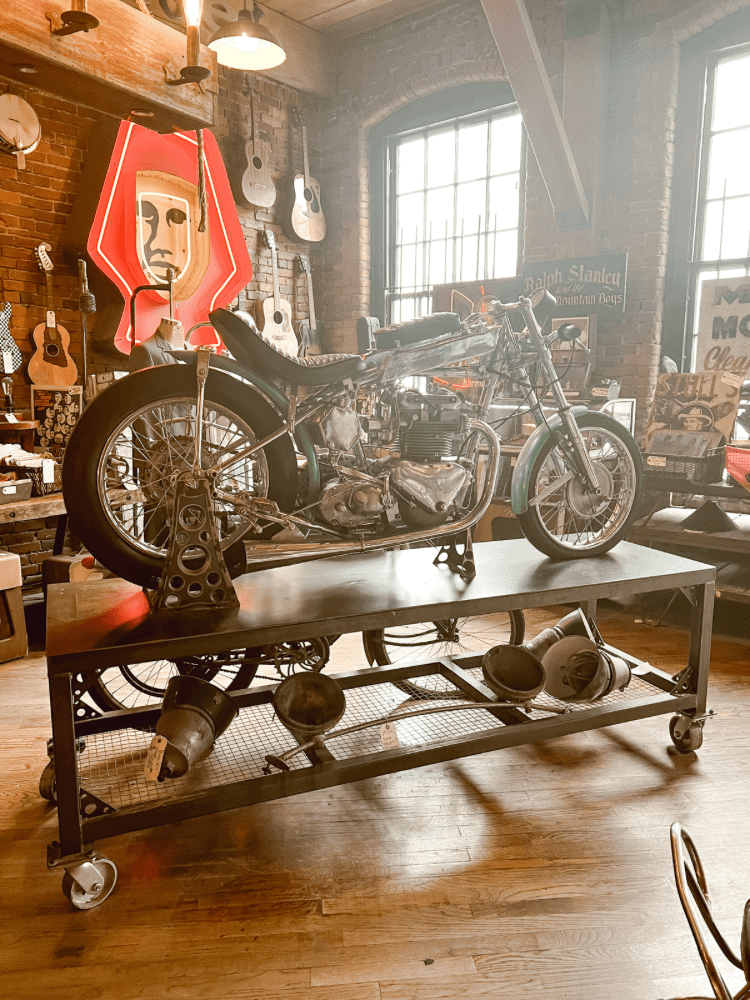 Visit The Grand Ole Opry House
One of the top things to do in Nashville, especially for couples, is to go have a date night at The Grand Ole Opry House! And that is exactly what we did on my birthday! We were lucky enough to see the one and only Carrie Underwood while we were there!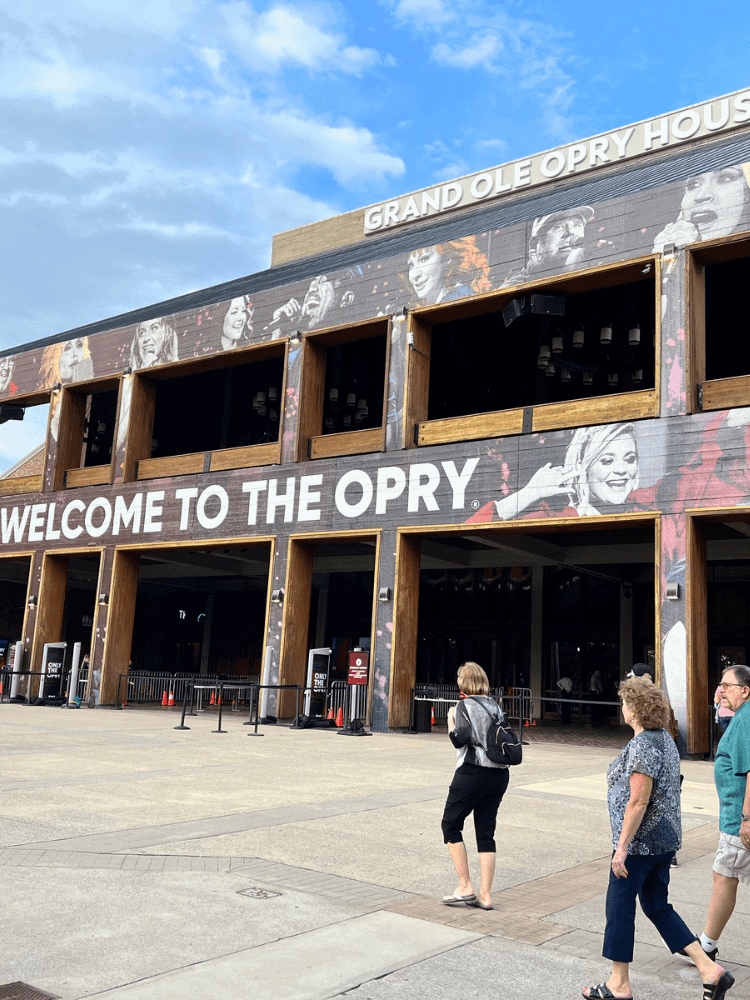 It was her 15th anniversary of playing at the Opry, so it was a very special show! I even ordered another Hatch Show Print announcing her 15th anniversary performance to remember the evening by as well!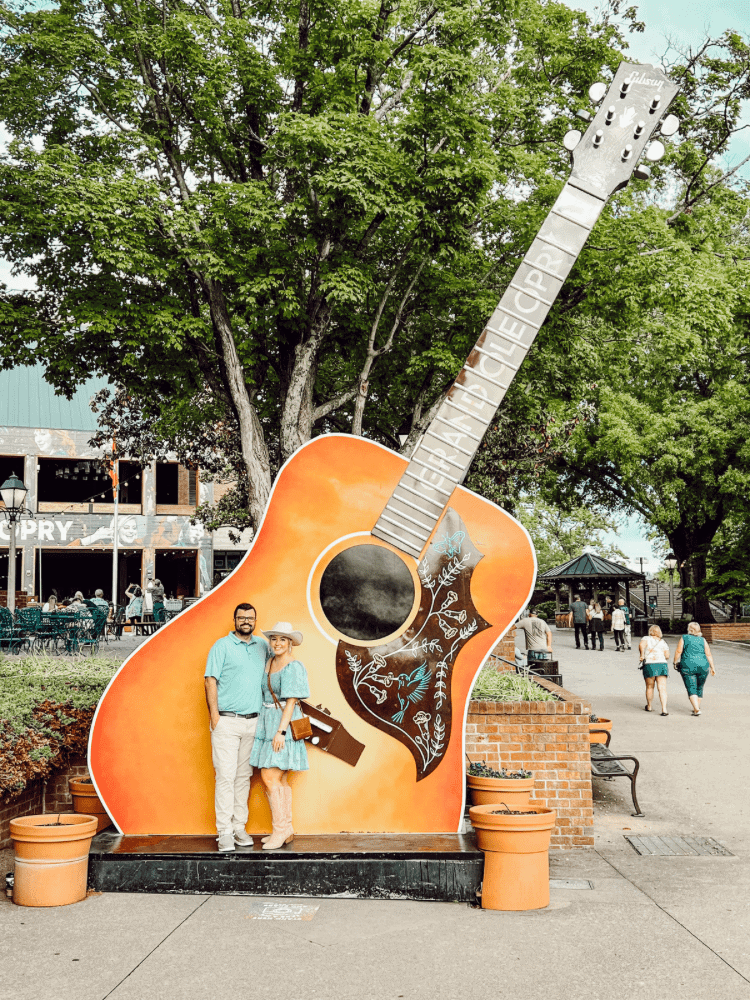 Keep in mind, this live music venue is small and intimate compared to most. But that means, you have a great view of the artists preforming, no matter where your seats are! That being said, I do not recommend buying seats at the very last row like we did! While we still had a great view of her, the upper back rows don't have any air conditioning, so we were dying!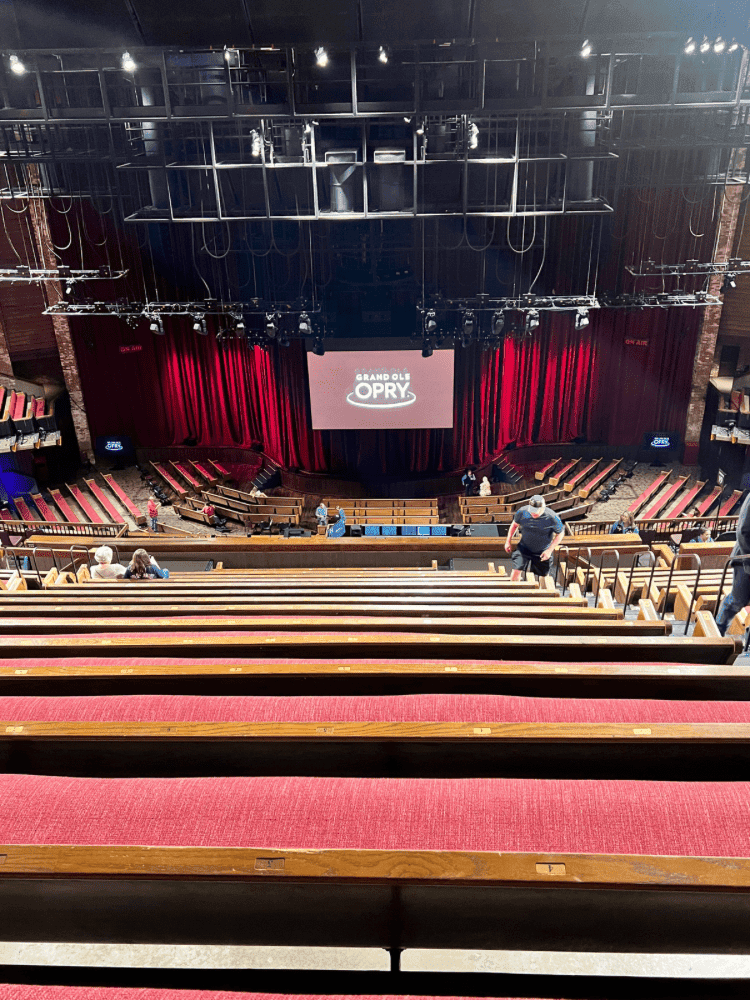 It's worth to spend a little extra and sit where you will be more comfortable in my opinion! Especially since I had on a whole themed outfit for the occasion! A denim dress and some pink cowboy boots along with a blingy rhinestone belt and cowboy hat to go along with Carrie's "Denim & Rhinestones" album!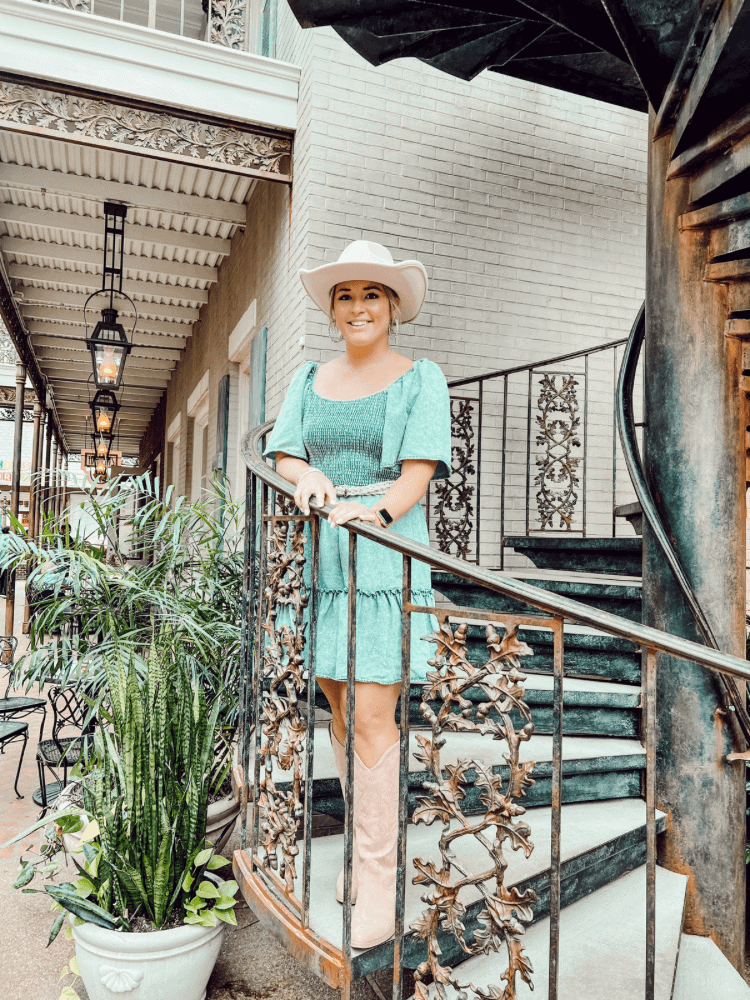 But all in all, it was worth it and she is absolutely incredible live in person! And when you go to the Opry, there are usually several other stars preforming as well. We were also lucky enough to see Michael Ray, who is another talented country star! And we watched the sister duo, Tigirlily Gold, get inducted into the Opry while we were there too!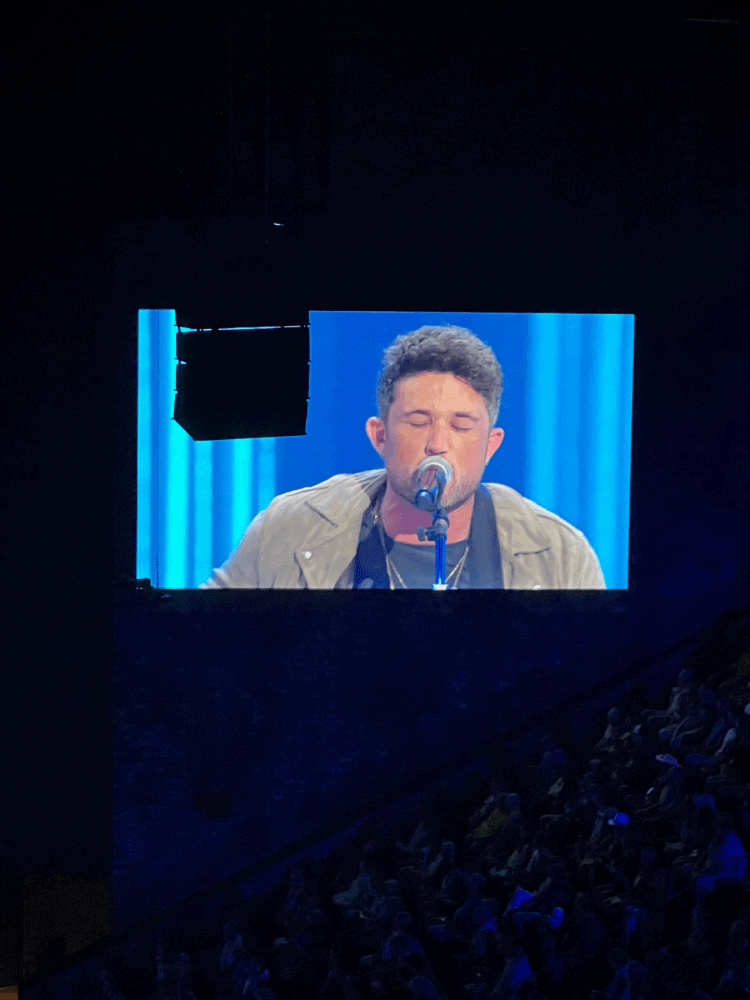 Other Fun Things To Do In Nashville
Like I mentioned above, we couldn't really fit everything we wanted to do in our weekend, but I think we accomplished most of them!
One of the cool things we didn't get to experience was visiting the full-size replica of the Parthenon in Centennial Park while we were there. Or walking across the John Seigenthaler pedestrian bridge to get a good view of the city.
Another cool place for music history lovers is to visit the Johnny Cash Museum there too! But I think we were able to fit in some of the best places during our quick weekend trip!
Just be sure to research the area before you go to determine where all you want to go as well. It's best to come up with a game plan and a list of can't miss things to do before you go, which is exactly what we did!
Is Nashville A Good Place For Couples To Vacation?
If you want a fun romantic getaway, Nashville is a great option! There are plenty of things to do for couples here and we had the best time together! I am glad I finally got to experience Nashville and could share it all with you!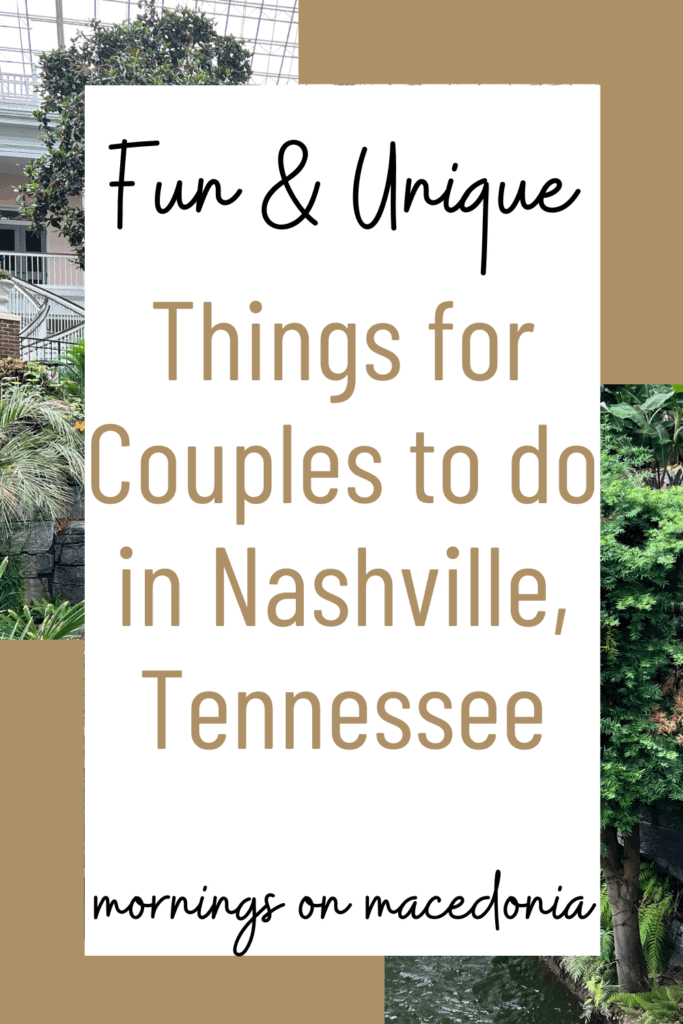 Have you ever been to Nashville before?! Let me know below if so and what your favorite part of your trip was too!