If you know me, then you know I am completely Christmas obsessed and I have to have at least one kind of Christmas tree in every room of my house! So I figured today I would share with you all where to find some of the best artificial Christmas trees.
Especially since it is already early November and it is time to start planning your Christmas decor! If you're in need of a new tree this year, see some of my favorite options below!
This post contains affiliate links. Click here to read my disclosure policy.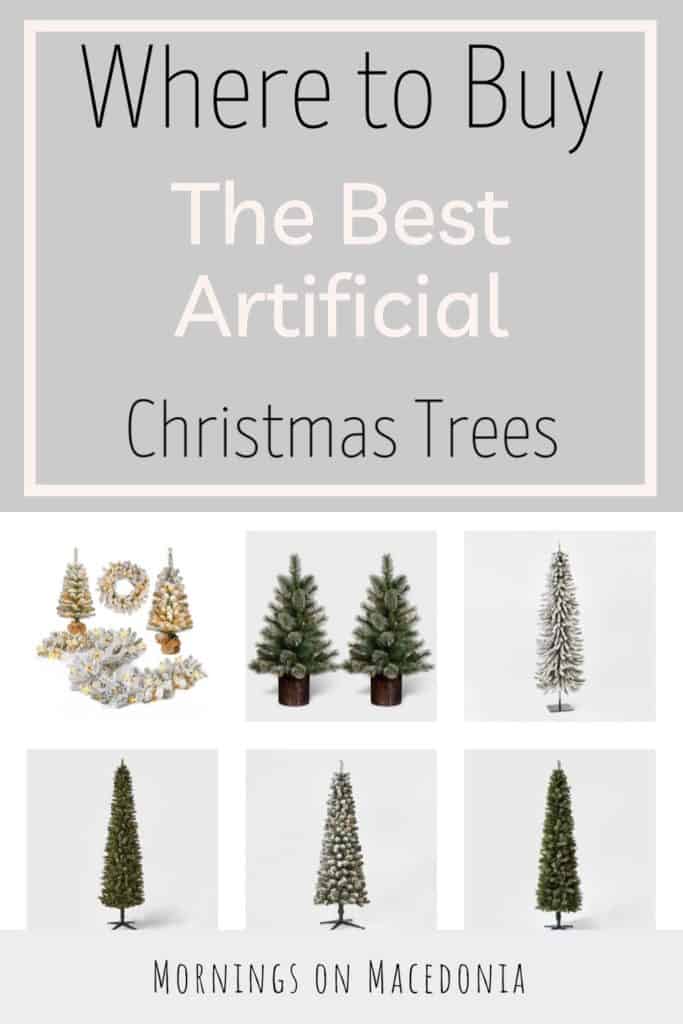 Target's Wonderland Christmas Trees
It's no surprise that Target has made my list of where to find the best artificial Christmas trees! I think that Target has some great options for a low price.
And if you're trying to stick to a budget this year, Target may be the place to check out first. For example, this pre-lit 7 foot tree below is only $96, which is an incredible deal for that size!

They also have some really cool and unique tree options as well. So if you're looking for something non traditional, they have you covered too!
I absolutely love the shape of this one below, it's so unique and different!

I'm also a sucker for flocked trees. Most of the trees I have in my home are flocked so I of course had to include some flocked favorites from target below too!


Target also has a great selection of smaller and table top trees as well. If you're looking for a tiny tree for a kids room, or another area of your home, these would be some great options to consider.


Michael's Stores Christmas Trees
Another place I love to shop for Christmas trees at is Michael's stores. They usually have a great selection and most of the time you can find them on a great sale.
I believe that they tend to do a killer 50% off sale around Black Friday too, so hopefully that tradition will continue this year as well.

I usually get my pencil trees from Michael's and I have several already, but I am looking to add in a few new ones. Especially since I now have a guest bedroom to decorate for Christmas too!
I will share a couple that caught my eye below.


I also love how they have many brightly colored ones to choose from this year as well. I mean how fun would that little pink tree be in a little girls room?!
I remember I had a pink tree growing up in my bedroom and it was one of my most favorite trees!



King Of Christmas Trees
Now, if you really want a high end Christmas tree, then I definitely recommend King Of Christmas Trees. I personally have one of these trees, and I am so obsessed with the quality and beauty of that tree!

These trees are a little more pricey than the above options, but you honestly get what you pay for. I believe these trees are way more fuller and more realistic like than some others I've seen.
This would definitely be more of an investment piece if you chose one of these trees, but it would really be worth it year after year!

This is the one I have below and I place it in my office every year. You can see more about my review of it in my King of Christmas Tree post that I did last year.
But it definitely does not disappoint and it is one of my most favorite trees!

King of Christmas has a lot of different varieties of artificial trees to choose from, and they are all so lifelike and real!
I am definitely impressed with this company and they ship fast for free in the USA as well!

King Of Christmas Garlands and Wreaths
King of Christmas also offers some beautiful garland and wreath options as well. I have one of their unlit garlands and I hang it above our bed every year.
It gives our bedroom just the right amount of Christmas flair!

You can see more about that garland in my Christmas Bedroom post from last year. I chose to get an unlit garland, and you can see the one I have below.
I mainly got unlit because I already have two pencil trees up in our bedroom and I figured that would be too much with a lit garland too!

But they do also offer several options in their wreaths and garlands as well. Such as lit or unlit and flocked or not.
I feel like you definitely get more options when you order from this company as well.

The Home Depot
So I can't believe I have never thought to get a tree from The Home Depot before, but we got one this year!
And let me tell y'all, I am in love with it! It is so pretty and I love how it has the option to switch from the warm white color to multi color.
It also has several light options where you can make them twinkle or slow fade as well. It was also super easy to "fluff" it. You basically just pulled down a branch and it all fell into place for you!
This very well be my favorite artificial Christmas tree we have in our home this year!

I love the flocked look to it and I think it looks perfect in my woven tree collar that I got from Target too.
This also comes in the wooden option or the black option as well. It is a part of their Hearth and Hand collection and I will link it below.

Conclusion
Well I hope this gave you somewhat of an idea of where to search for Christmas trees this year if you're in the market.
I'm not an expert, but I do have roughly 7 trees up at our house of varying sizes so I can say I do have a little experience with artificial trees lol Do you guys prefer artificial or real trees?
I love real trees for the smell of them, but prefer artificial trees because you can leave them up longer and reuse them every year. Let me know your thoughts below!