I have to say my favorite room in our whole house would be our office space. We just completed it and I am in love. There is nothing I like to do more than sit in here and write up a few blog posts while sipping on my coffee. The space just relaxes me and inspires me and I am just so happy with how everything turned out with it. I thought I would share how to style a home office space with you guys in case you are looking to create an office space of your own too!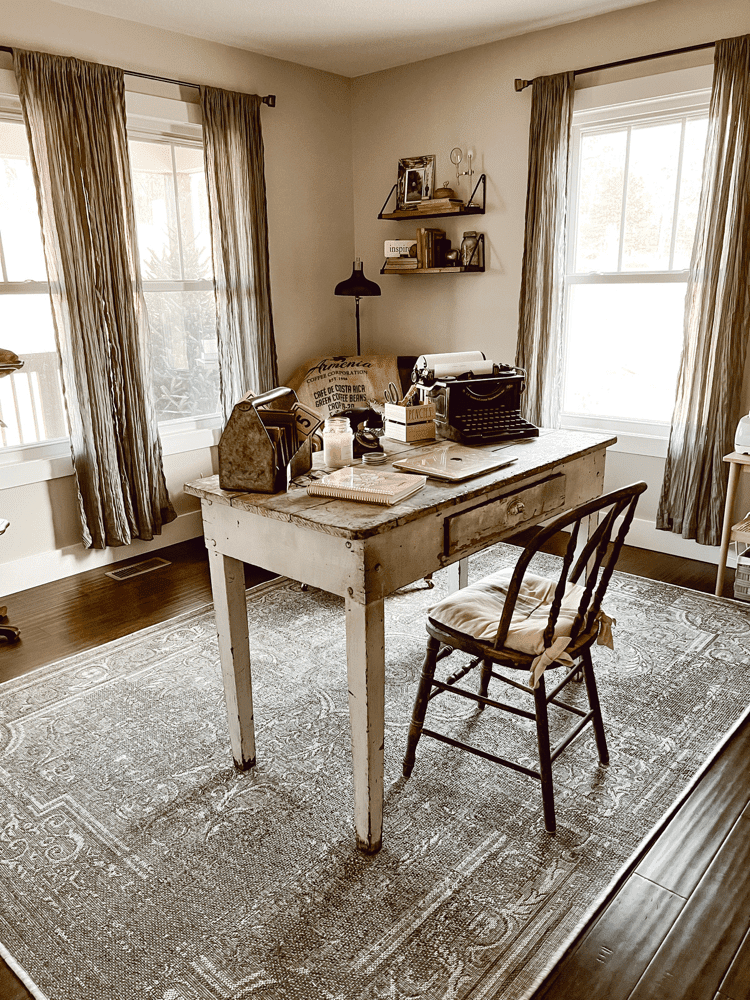 This post contains affiliate links. Click here to read my disclosure policy.
Choosing Your Style
I think the most important thing for you to figure out before you start styling your home office space is, what kind of style do you want to go for? Do you want farmhouse, vintage, modern, boho, etc.?
There are so many styles and there really isn't any right or wrong answers. Find what speaks to you and go from there. As long as you love it, that is all that matters!
Once you have nailed down your style, it will be easier to pick out furniture and decor for the office space.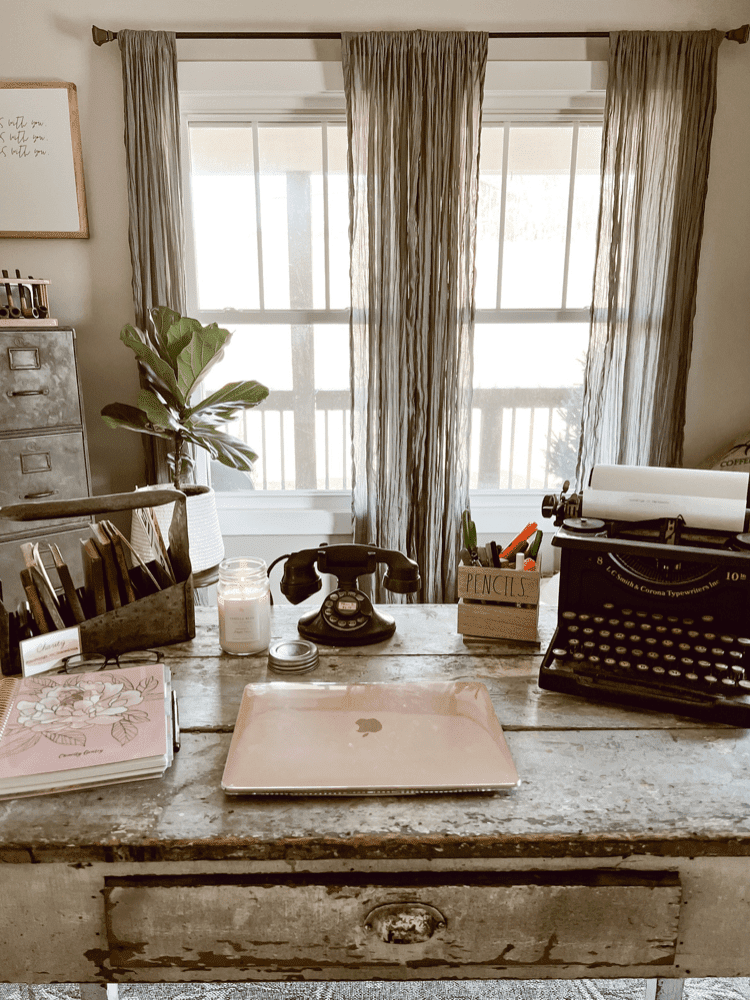 Choosing Your Office Desk
Obviously, the first thing you need to style an office space is a desk. I chose to get a vintage, chippy desk because that is my style and that is what I love.
But again, choose whatever is closest to your style. I got mine from Vintage Pickin, which is a large event full of vintage and antique goodies. If you're looking for more of a modern style, then there are plenty of options out there as well.
Go to a big box store or look online. Many companies, such as Wayfair, have great options and will ship directly to you which is awesome!
You just want to make sure your desk is big enough and that you have plenty of space for the work you need to do.
Since I love home decor as well, I got a pretty large desk because I wanted to have enough space on there to display all of my vintage pieces too.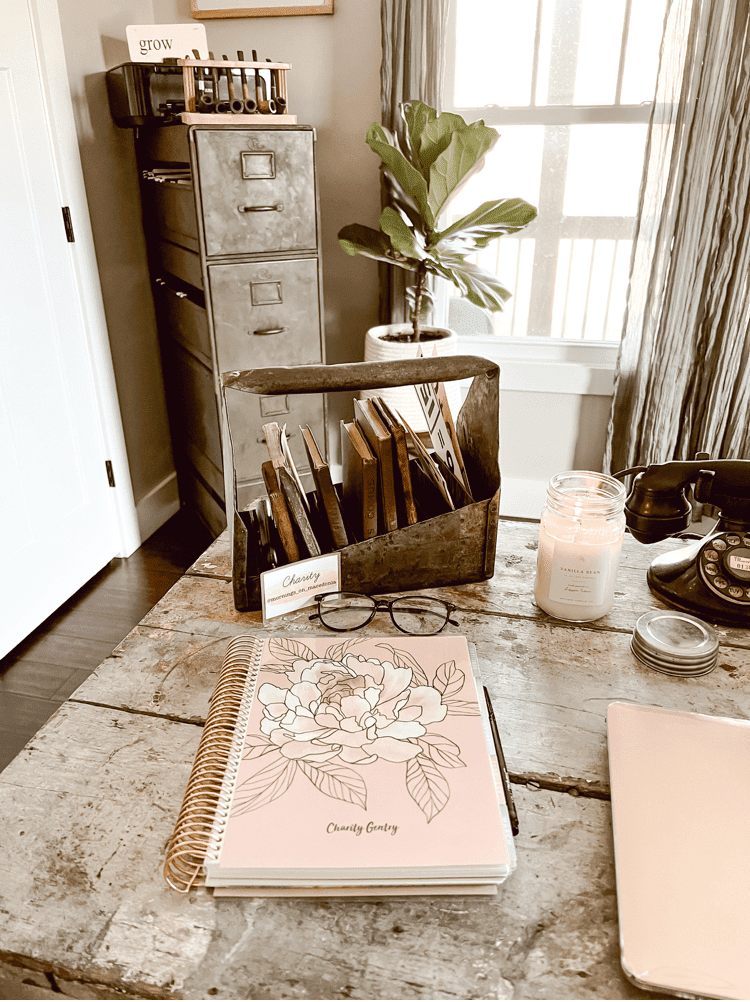 I like having my typewriter in the corner of my desk as well as vintage books. And I also have my laptop front and center for when I am working and I, of course, have candles burning as well.
Another thing I always have out on my desk is my favorite Erin Condren Planner. I use this all the time to keep me organized and plus, it is just super cute as well.
I like to keep it a mix of decor and functionality and having a large desk allows me to do so.
Desk Placement
Another important thing to consider once you have chosen your desk, is where are you going to place it? If you have a whole room to use as an office, then that's great!
You have plenty of options as to where to place it. But, if you only have a small corner in a guest room, then you're options are more limited and you want to be mindful of that when choosing a desk.
Luckily, we had a whole spare bedroom so I started with an empty canvas which made styling the office easier to me. I decided since I had so much room, I wanted to place the desk in the middle, instead of against a wall.
My reasoning for this was I wanted to be able to look out the windows and see the birds chirping, rather than stare at a wall when I was working.
I find that I am much more productive when I have a nice view. I don't feel so cooped up that way. Again, that was totally my own choice though.
If you like having a desk against the wall because that is more traditional, then go for it! You can always add some fun detail to the wall space you are looking at too!
Filing Cabinets and Lockers
Since I was going for that vintage vibe, I also decided to add in some old lockers and filing cabinets. I am all about the chippy and rusty pieces, so I found these pieces at antique stores.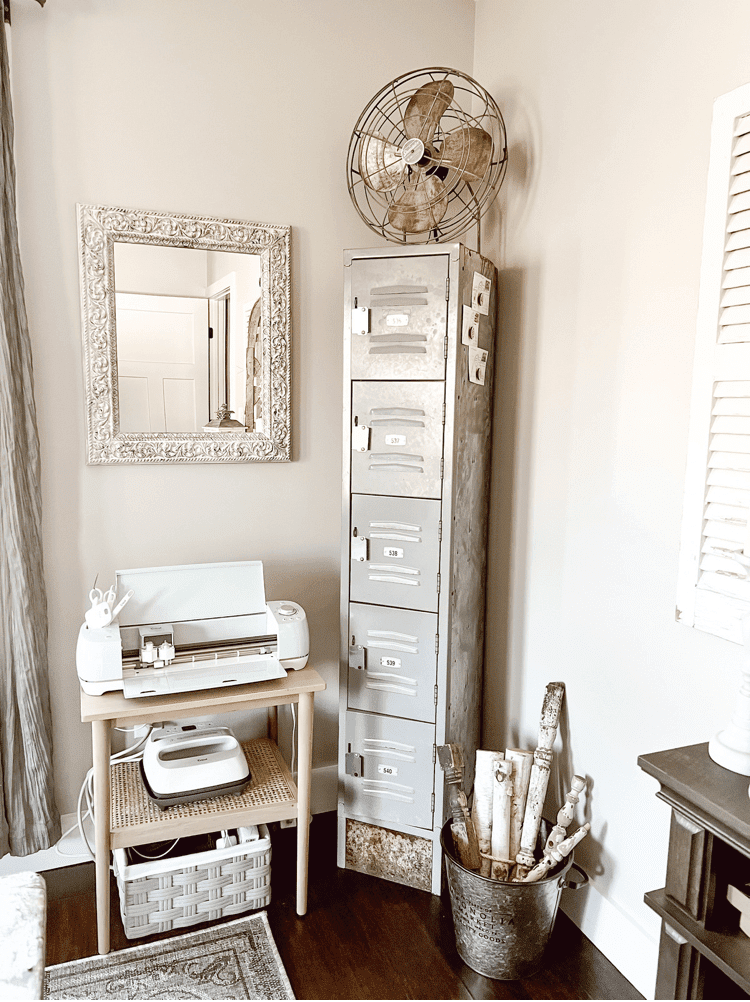 I love having the filing cabinet to file away our important bills and papers. It definitely has helped us organize our documents much better than we were doing in the past.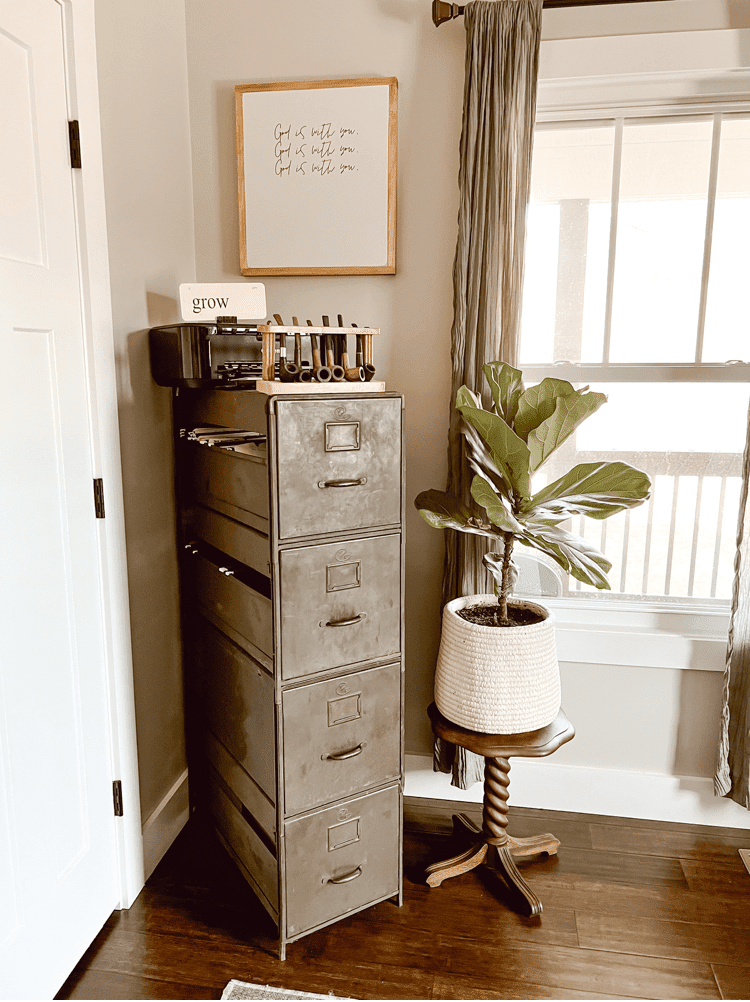 I also love having my little locker in the corner too because I am able to use it for so much storage. If you know me, then you know I have an addiction to Rae Dunn coffee mugs and I started running out of room in the kitchen for them.
So when I got this locker, I started storing some extras in there! I know, I know, it's not really "office related" but it definitely helps my kitchen storage situation!

Reading Nook in Office
I also decided to include a reading nook area in my office too since I had plenty of room. I got a super comfy old leather chair and positioned it caddy cornered.
To make it cozy, I also draped a comfy blanket and pillow on it so it is ready to go whenever I get in the mood to sit down and read for bit.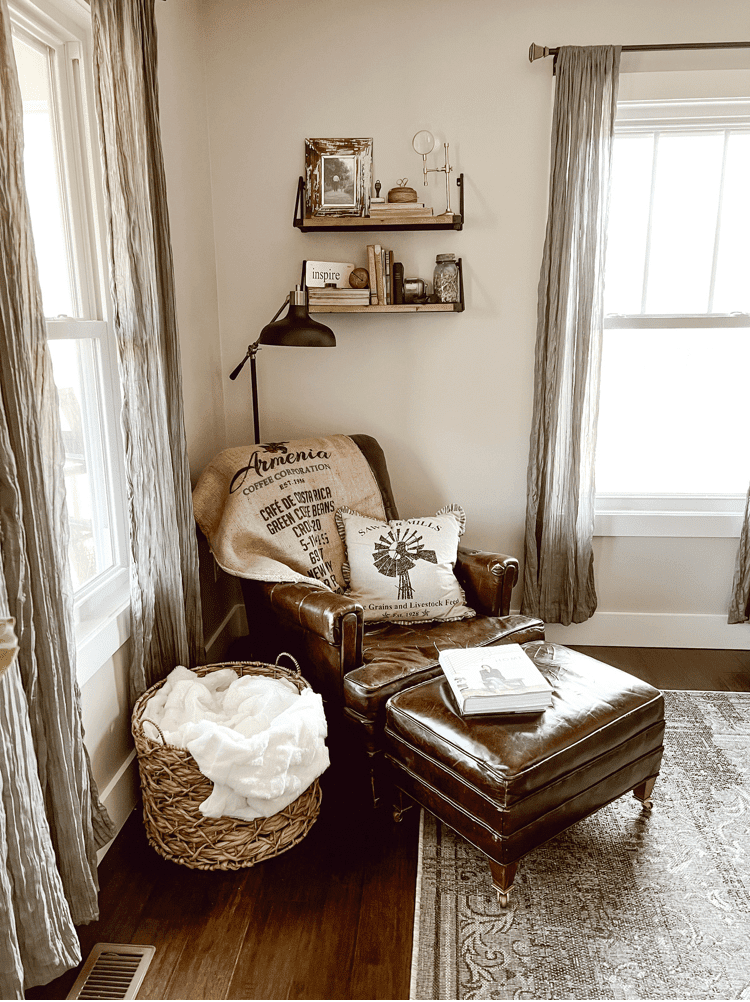 The open shelves above the chair too provide some extra space to style my antique pieces and I love changing them up season to season.
I also added in a little more of a modern floor lamp behind the chair and I love how it all came together. I think it is just the perfect little reading nook for an office space!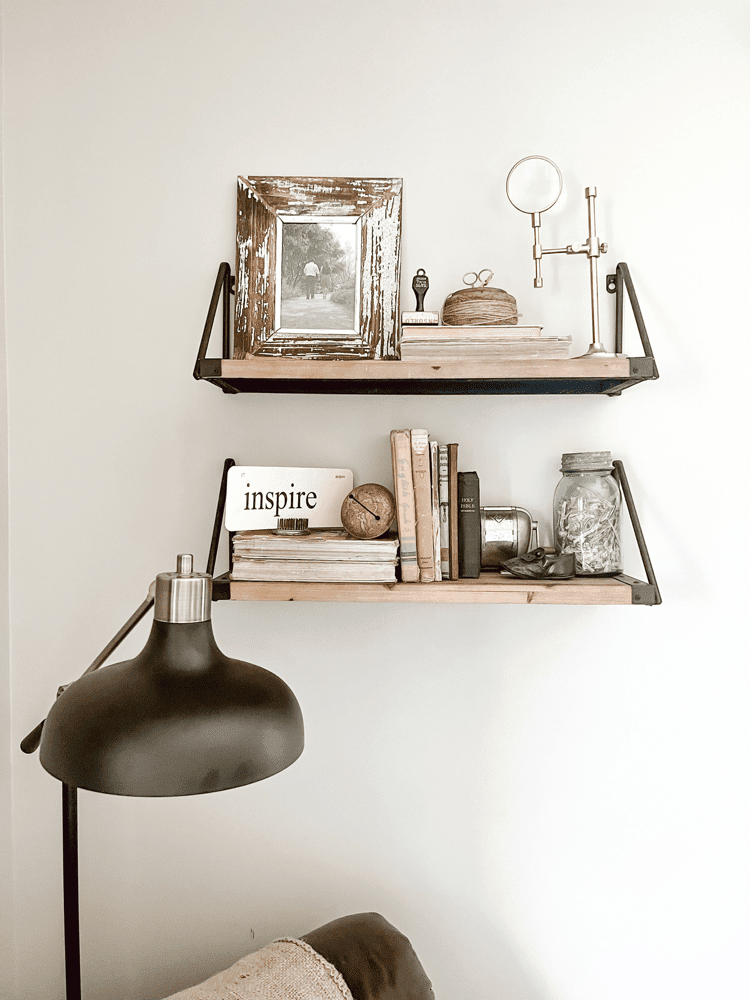 Feature Wall
The last thing I want to talk about in how to style a home office space, is the possibility of adding in a feature wall. Since I did not place my desk against the wall, I had a huge wall space to fill up. I decided on doing a feature wall here to help fill up the space.
Again, sticking with the vintage vibe, I found a pair of old antique shutters. Then, I found an old tobacco basket and added a neutral wreath to the middle of it.
I also like to change this wreath out for every season too! And my finishing touch for my feature wall is my metal "Mornings on Macedonia" customized sign made by Vintage Metal Co.
If you have a large wall space in your office too, then consider doing a feature wall too. Or maybe a gallery wall. Do some fun wallpaper or some shiplap. Really anything goes!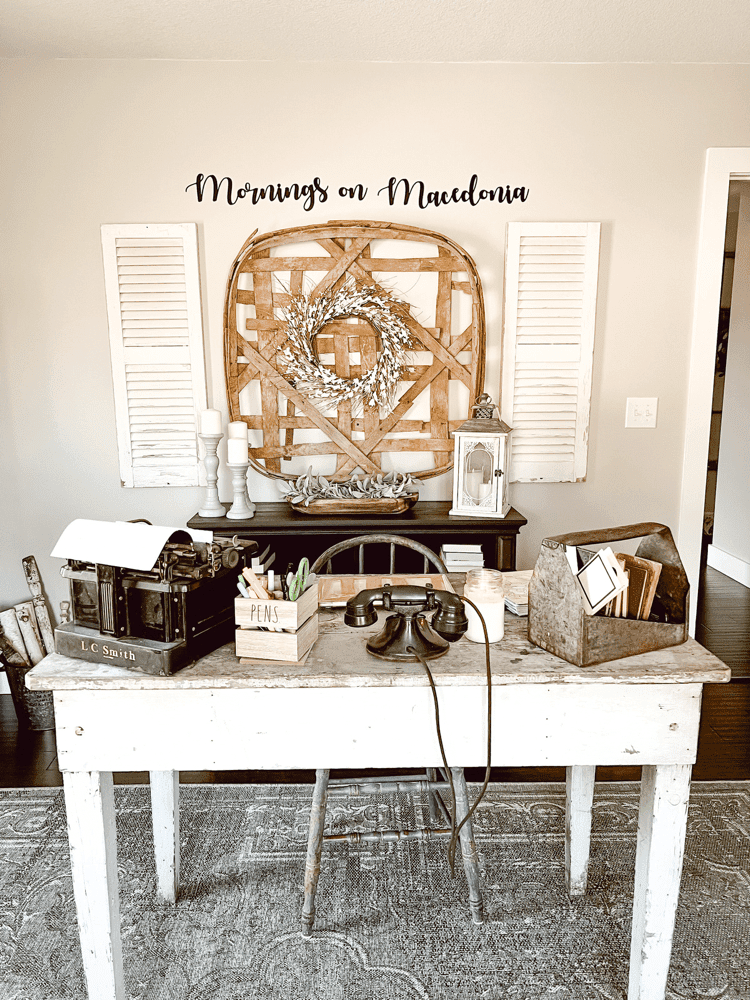 Other Home Office Accessories
You all probably know by now if you've been around long enough, that I'm a tad Cricut obsessed! So of course I had to make space for my favorite Cricut products in my office too.
I have the Cricut Explore Air 2 and the Cricut Easy Press 2 machine. So I found a small little side table that was perfect to place them on over in the corner of my office.
And whenever, I have an urge to craft, I can easily access them that way!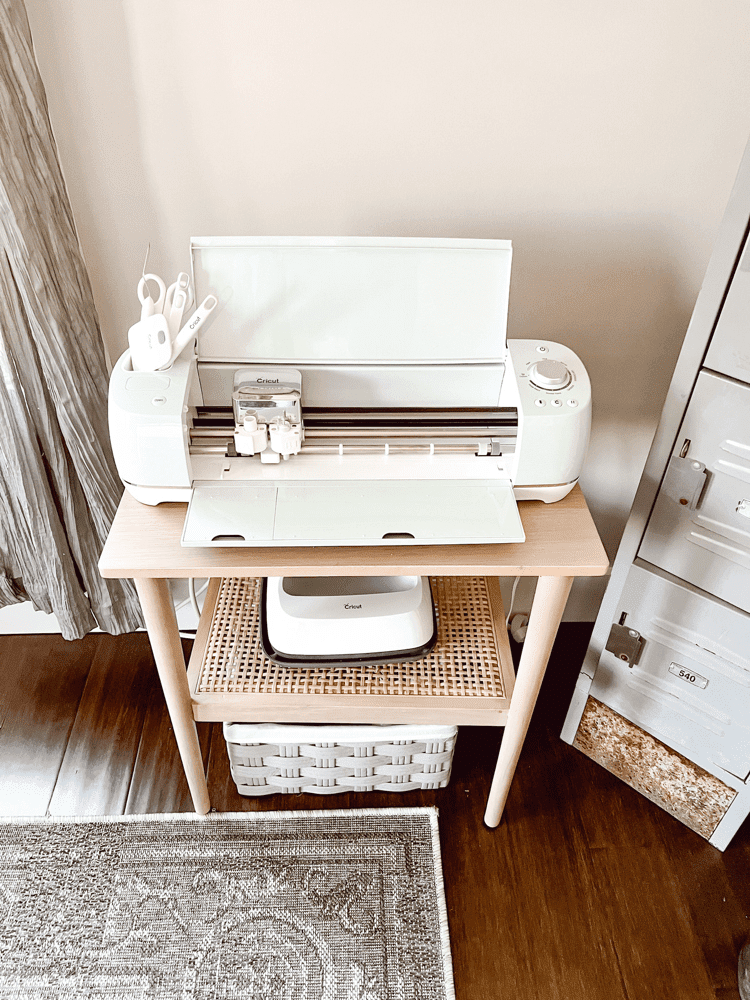 I also always have to have a candle burning in the office when I am working. And again, if you know me, then you know I love Antique Candle Co. They are always my go to candles for any space in my home, including my home office!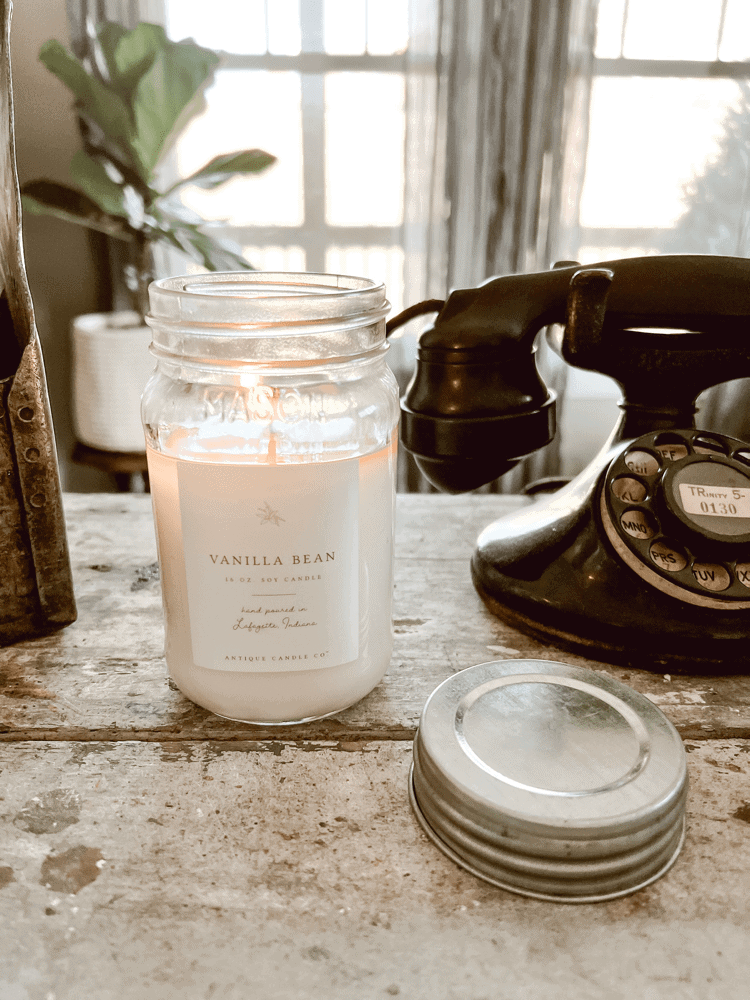 Another thing I like to decorate is my inbox/outbox shelf with some old vintage postcard and letters. You could totally use it for actual mail too, but I like to keep it more decor related.
Especially since it goes so well with the whole vintage farmhouse office vibe I've got going on here. And another thing I like to collect are old vintage spindles.
I just throw them in a Magnolia bucket next to my old lockers in my office too. The more vintage pieces in here, the better in my opinion!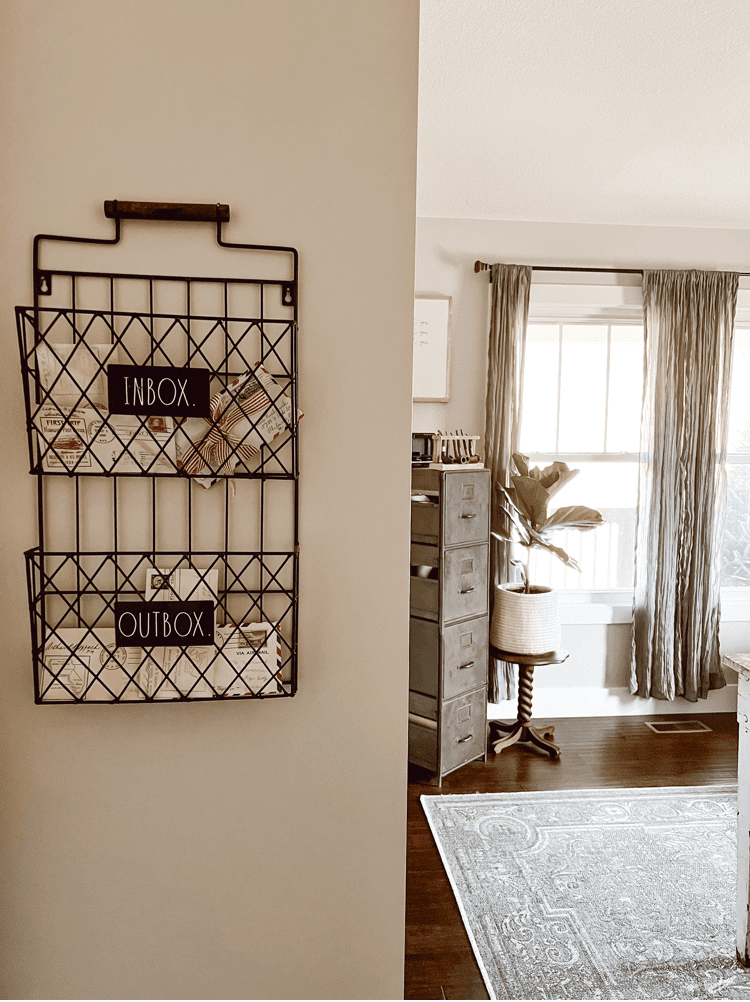 Well, I hope you found this post post helpful on how to style an office space. Do you all have a large office space too, or a smaller one?
What are some of the ways you have styled your office and what kind of style do you prefer? Let me know below and thanks so much for taking the time to read!