If you know me, then you know I love to style tablescapes for each different season. Of course, Christmas is no different. So here is my Christmas tablescape this year.
I am usually able to change it up with just a few pieces here and there so it doesn't cost me too much. To do this, I keep the basic set up the same and just add a few seasonal touches.
I am really happy with how my Christmas tablescape turned out this year so keep reading to see what I used and how I set it up!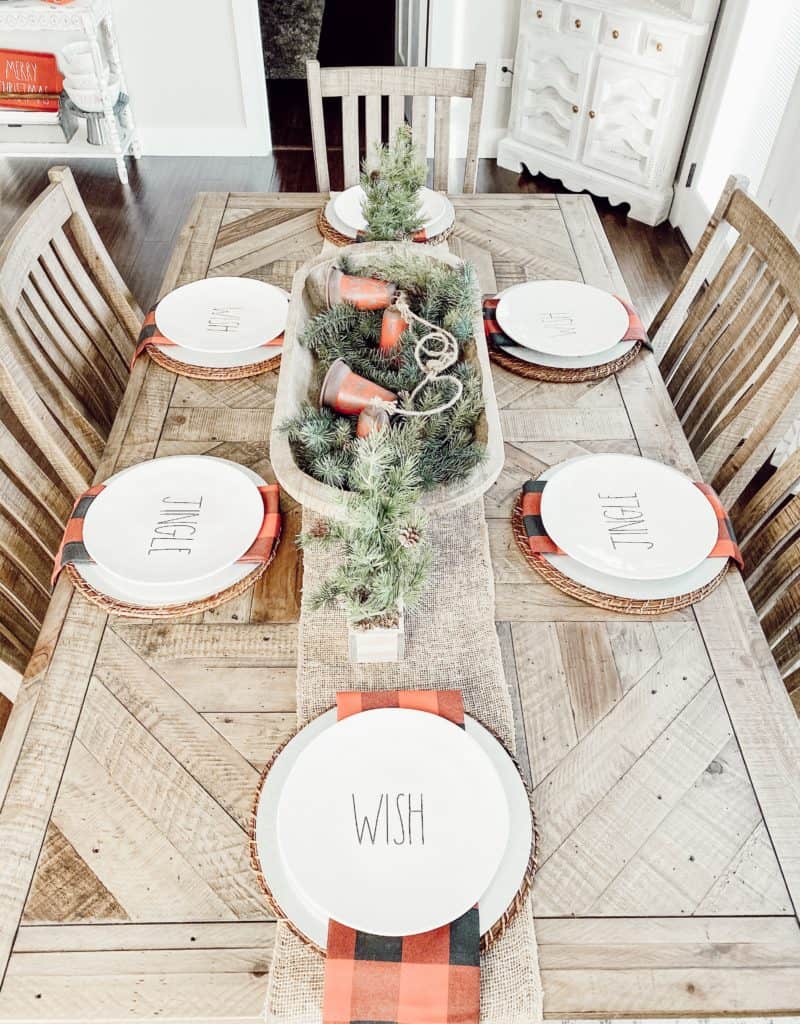 Christmas Dough Bowl
If you remember my tablescape that I created for the fall this year, then you can see that I really didn't change the layout of it too much.
And if you don't remember, you can click here to read all about it. But basically I let the dough bowl be the main centerpiece again and I just filled it with more Christmas-like pieces.
I used a plain garland I found from Michael's and put it in the bottom of the dough bowl. This was the garland of my choice because it doesn't have a lot of color to it and it just has the pine needles and pinecones on it.
A perk of using this garland is that after Christmas is over, I can still use that for some greenery and turn it into more of just winter decor.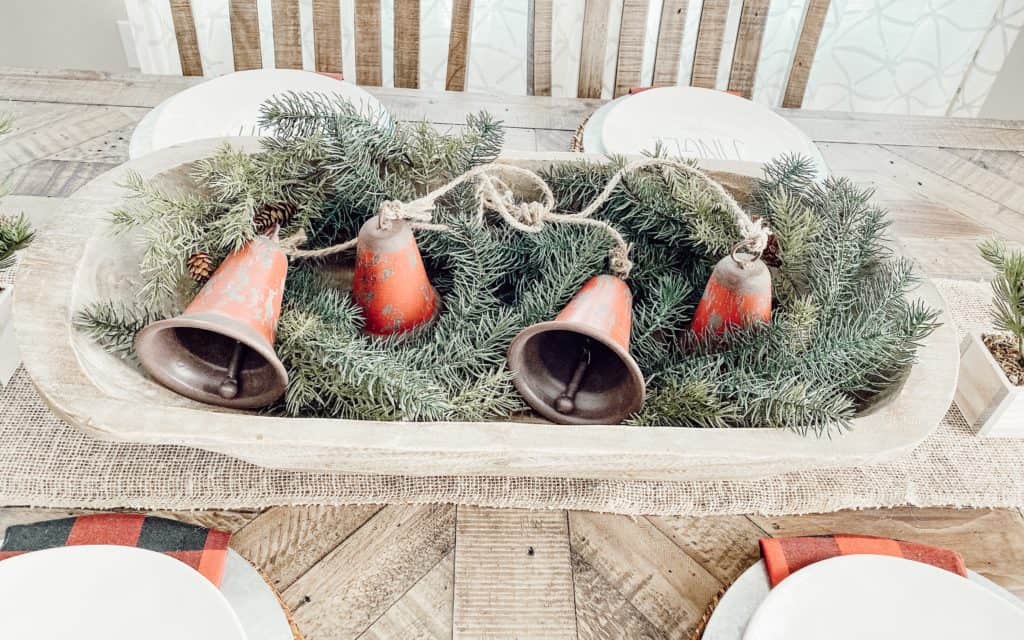 I placed my red vintage bells on top of the garland in the dough bowl too. I have to say when I bought those bells from Vintage Market Days, I wasn't planning on using them in my tablescape.
But once I placed them there, I fell in love with how it looked! And I love how there is twine tying them altogether because I think it looks great with my burlap table runner.
Which again, if you don't remember from my last tablescape post, that garland was actually decoration from our wedding and it fits our table perfectly! It's like it was meant to be!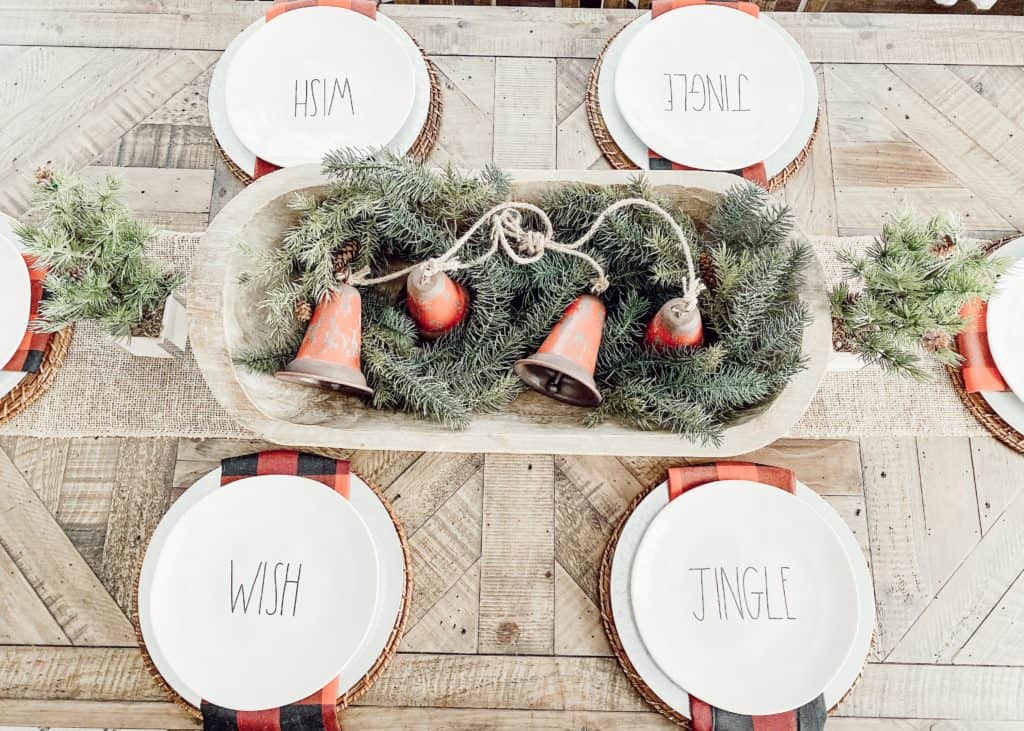 Beside the dough bowl, I just added two identical Christmas trees from the Target Dollar Spot. And I even got those last year so I didn't have to run out and buy some more.
Then, for the place settings, I kept the placemats and chargers the same. After that, I just added new plates and new napkins.
I got the buffalo plaid napkins from Hobby Lobby last year. And my plates are of course Rae Dunn and I found them last year as well. They say Jingle and Wish and I was able to get three of each so I just rotated them around the table.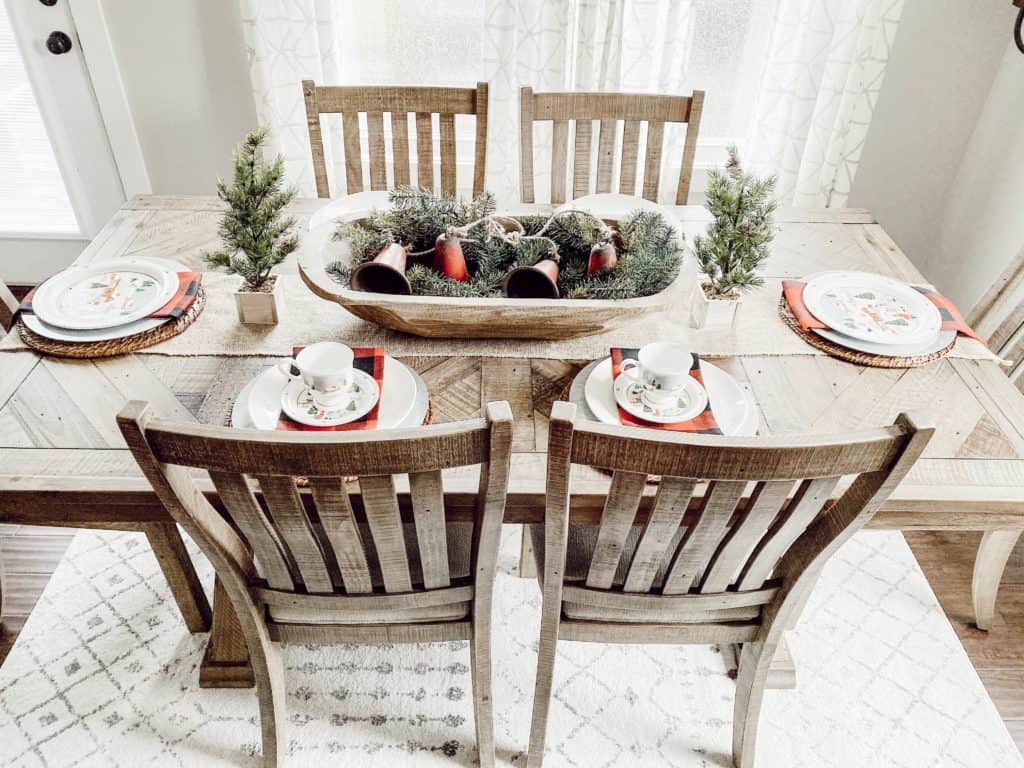 Christmas Napkins
I love how I was able to incorporate the buffalo plaid on my tablescape. Since my whole tree in the living room is decked out in buffalo plaid too. Click here if you missed my tree post.
So really the only new items on my tablescape this year were my bells and the garland. This was a very cost effective way to transform my table into a festive, Christmas view.
I also get a lot of questions about the table itself. We found the table from Ashley Homestore and it is actually made from reclaimed barn wood.
I get asked a lot if we built it ourselves. And that would be super cool if we did. But we just bought it as is and it was much easier to do so!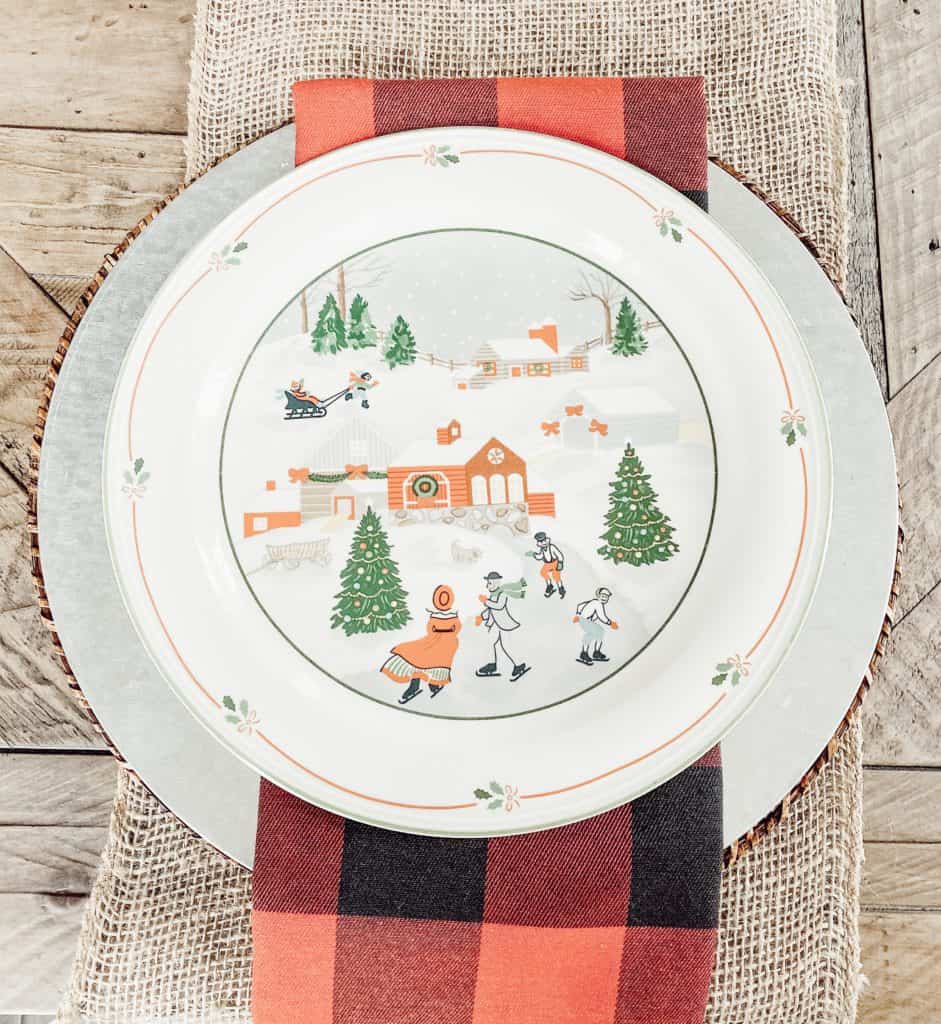 Another way I styled my table to make it a tad bit different was to add these beautiful, vintage Christmas plates that my mother in law gave to me.
I love how unique and beautiful they are! And they have just the right amount of craze lines in them to show just how used and loved they were. I loved them on my table, but sadly I only had four place settings in this style.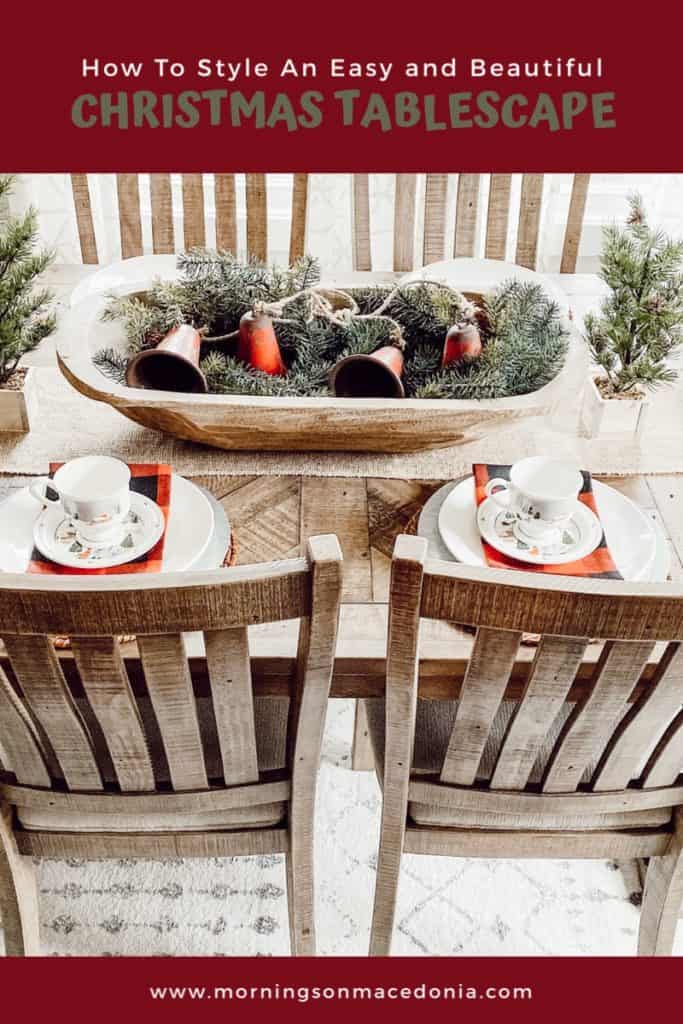 So I decided that I will style my bar area in my kitchen with these incredible pieces instead since I have four bar stools there. I had to order one replacement teacup to complete the set and I then was able to style my bar area with all four place settings.
Click here to see how my Christmas Bar Tablescape turned out in case you missed that post! Do you guys like to style tablescapes for different seasons too?
And if you do, do you like to keep it simple or go all out? Let me know below!