If y'all have been around here long enough, then you know I love to decorate our camper just like our house! If you remember, I shared all about my Fall Camper Decor last year too. I have our house all decked out for spring. So I figured why not deck out the camper all in spring decor too?! I think it's so much fun to add little touches in here and there. So I figured I would share with you my spring camper tour today!
This is perfect if you have a camper to decorate too, or a smaller space like an apartment. I often get comments that people love my decorating, but they don't have the space to do what I do in my house.
But I want to show y'all how simple and easy it is to add in a few spring pops. Even in a small space such as a camper!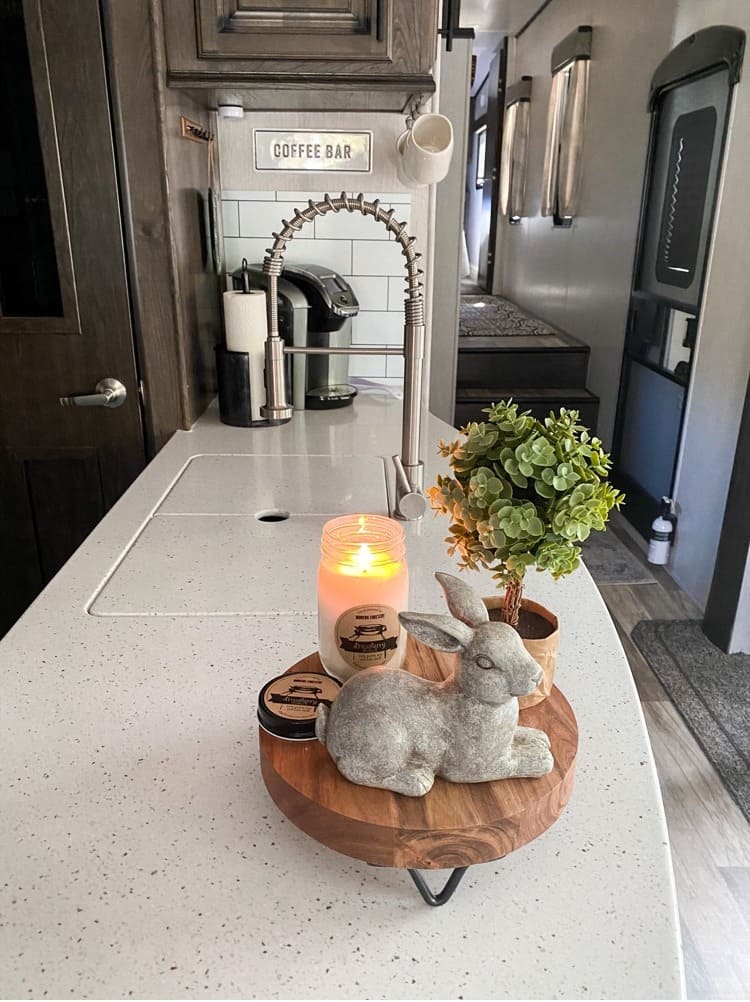 This post contains affiliate links. Click here to read my disclosure policy.
Small Spring Tablescape
The focal point of my spring decor in the camper is our tablescape. It's one of the first spaces you see when you walk into our camper. Therefore I want it to make a statement!
I did this by adding in some fun floral plates. These plates are perfect because they can be used even after Easter.
Since they just have flowers on them and no bunnies. I am all about reusing and repurposing pieces throughout different seasons!
I also got some matching floral napkins to go along with the plates as well.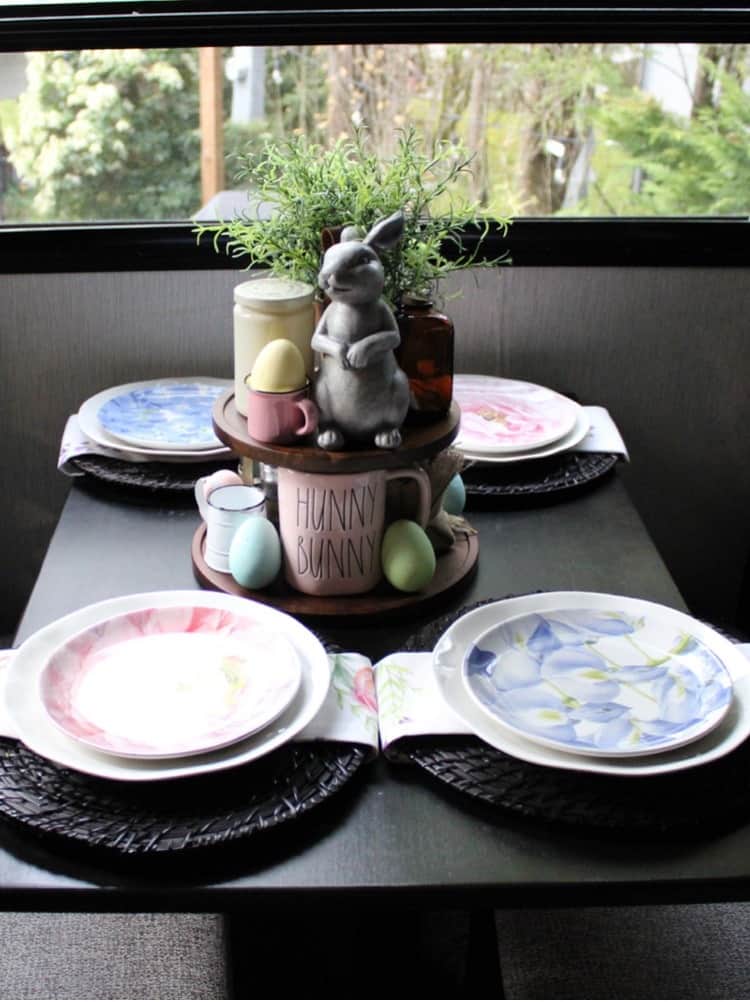 The place settings I kept the same just like I do for everyday decor. There are four place settings and I just have four round placemats.
I just put the fun spring plates on top of the placemats. I also have a very small tiered tray in the center of the table.
This is where you can really have fun with adding in some seasonal pieces. If you notice, the tray is super small, but packs a punch of seasonal decor!
So even if you have a very small space to work with, I would suggest adding in a tiered tray or a regular tray of some kind.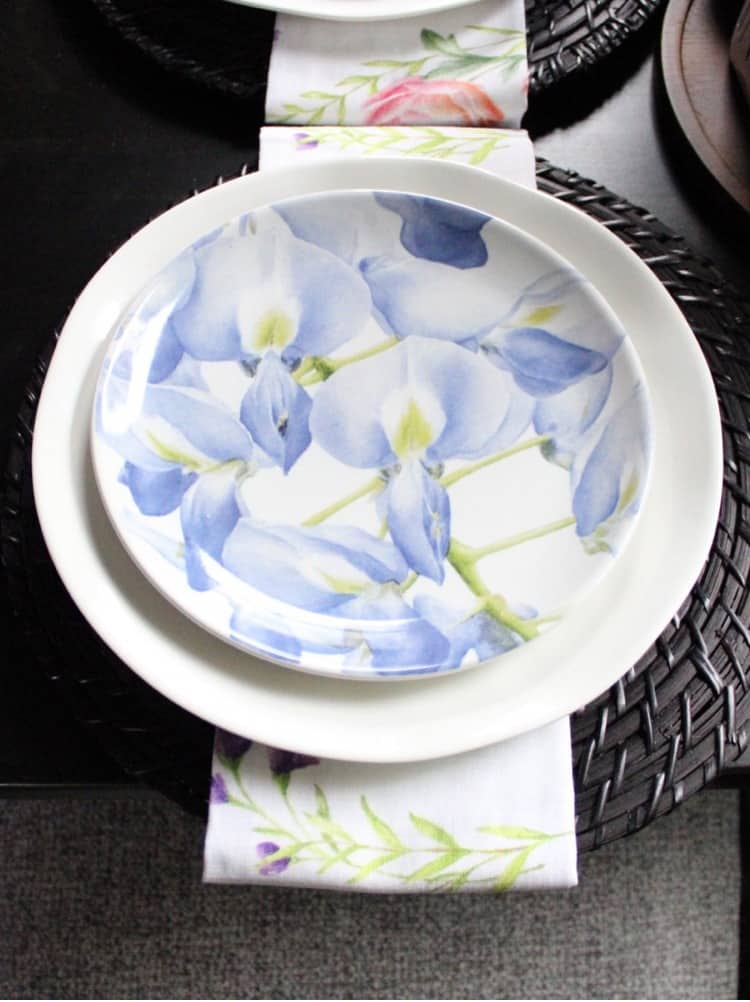 Tiny Tiered Tray
On my tiny tiered tray for the tablescape, I just swapped out a few pieces for more of a spring feel. I love the look of faux concrete bunnies so I added that as my focal point.
Then, y'all also know I love me some Rae Dunn! So I added a nice light pink mug on the bottom of the tiered tray that had a bunny theme to it as well.
For even more of an Easter punch, I added in some sporadic pastel faux eggs to give it more color. I love using pastels for spring and Easter decor!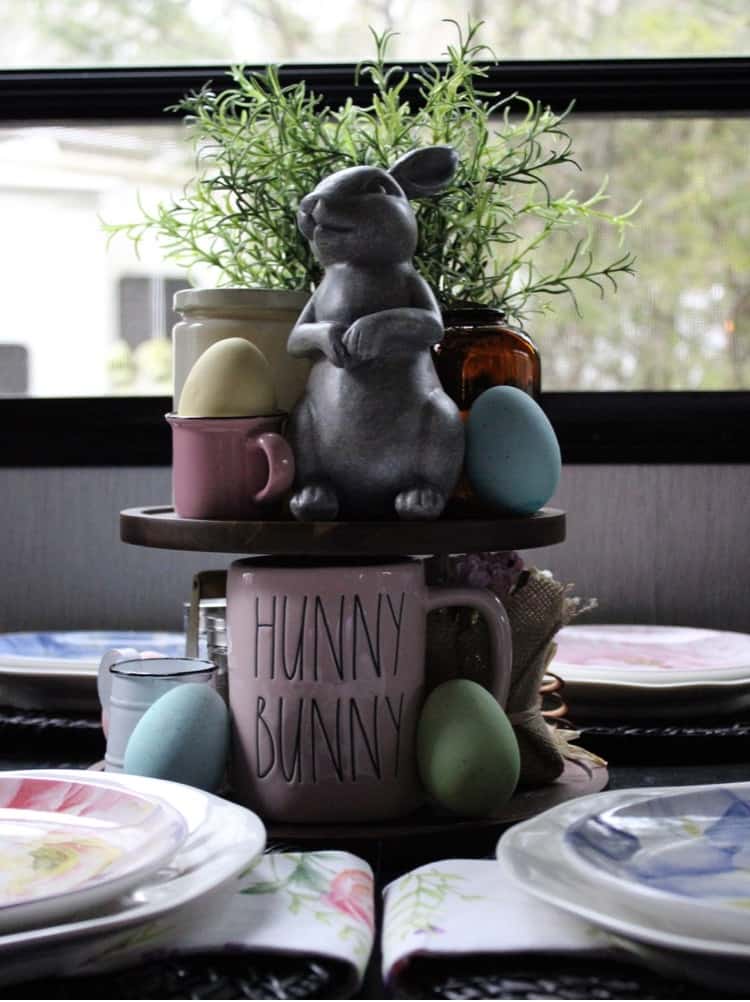 And not only do I have a tiered tray in the camper, I also have a small riser tray as well. This is another cute aspect to my spring camper tour.
I keep this cute riser by the sink on the camper kitchen island. When styling small risers like this, it's nice to keep things practical.
For instance, I love to put a candle on here and light it to give the camper a wonderful spring scent. Or you could also put some spring scented hand soap on there as well since it's near the sink.
I had another faux concrete bunny so I placed it on this riser as well. Greenery is also another great option to add in for spring decor.
I usually get some cheap faux plants from the Target Dollar Spot. I think the one I have here looks just perfect! Plus, they are super cheap so you can't beat that!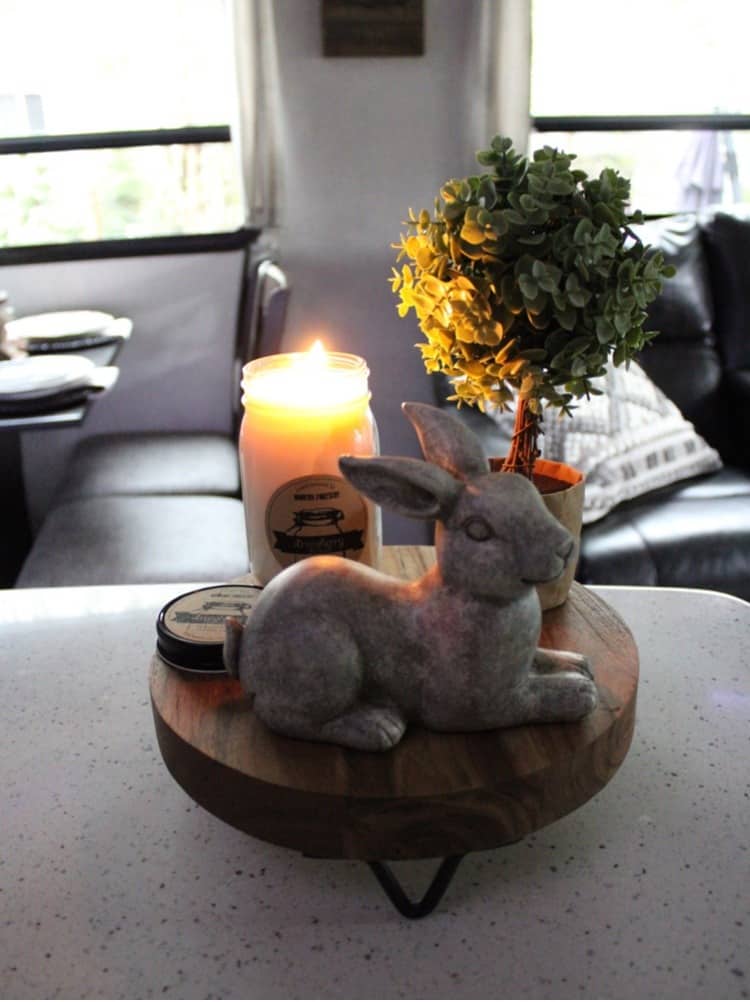 Spring Bedroom Decor
In our camper bedroom, there is a small little cubby where I can place a few knick knacks above the bed. So I like to have a tiny dough bowl there where I can change the decor out from season to season.
I have a faux lambs ear garland in there currently and I thought it would be fun to add in a little more of a spring/Easter touch to it instead.
I had more of the pastel Easter eggs leftover from the tiered tray on the tablescape, so I decided to add them into the greenery in the dough bowl.
It gives it the perfect amount of spring decor!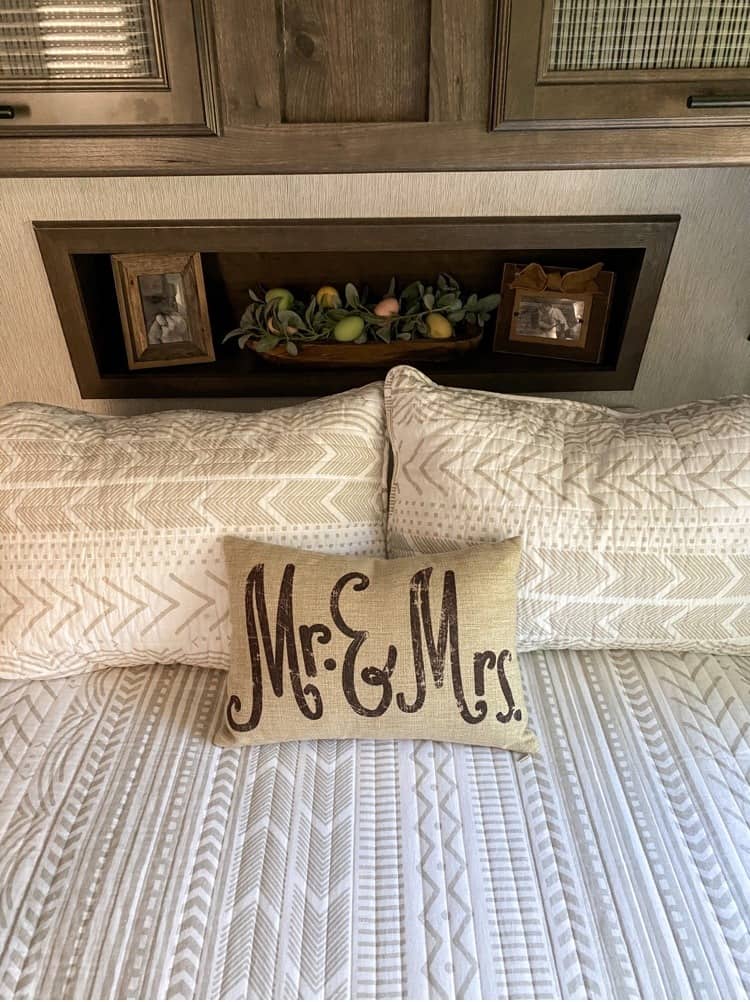 Also, on my nightstand you can see my Goli Gummies. I take these every single day so obviously I don't travel without them.
I shared more about the Apple Cider Vinegar Gummy in a blog post before. But I plan on sharing more about their new gummy, Ashwagandha, soon too.
It makes me sleep AMAZING so I definitely have to bring it to the camper with me! And if you're interested in trying them out, you can always use my code "morningsonmacedonia" to save you a little money on it too!

Spring Coffee Bar
One of my favorite spots to my spring camper tour, is my coffee bar. It's so simple and easy to change out a few things here to make it more spring-like.
For example, I just added in a few spring themed coffee mugs. Rae Dunn mugs of course! You know I have a big Easter coffee bar at home, so I thought it would be fun to include a mini version here too!
This is just another example of how you incorporate spring decor in a small space too!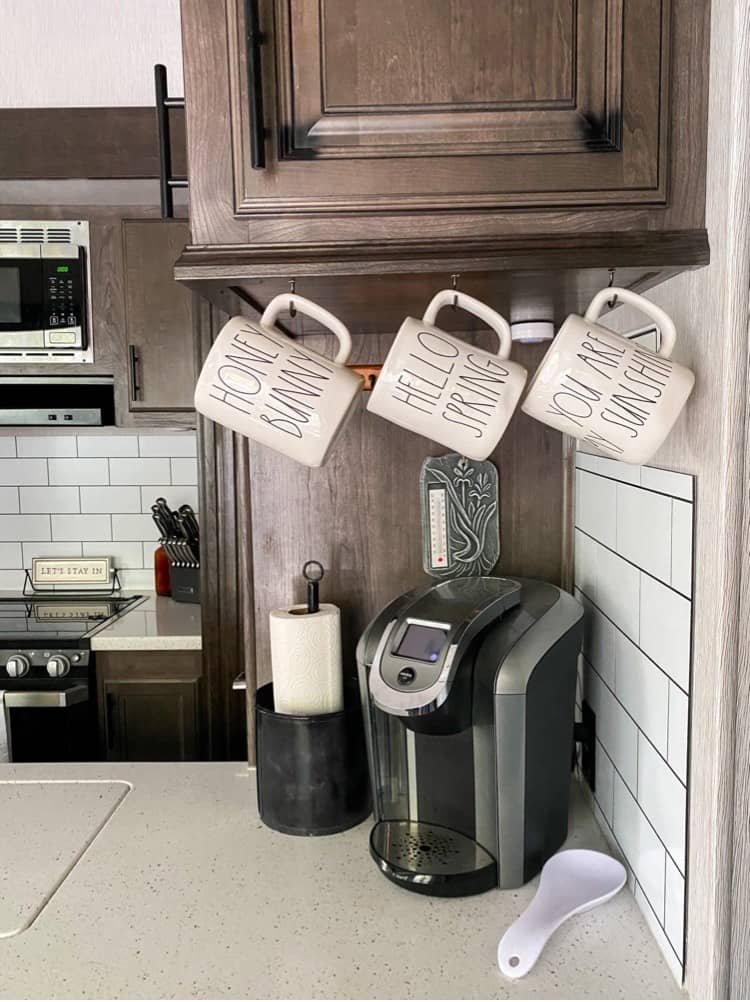 Spring Signs, Towels, and Other Items
Other things I like to add in around the camper are small spring signs. I love the tiny ledger signs I got from Rodworks in Asheville.
They are the perfect size for a tiny space like a camper. Another way to tie in some spring decor in your kitchen is to add in a seasonal hand towel.
Which I did here in our camper as well. I just placed it on the handle of our oven and let it hang there. It says "Fresh Flowers" which is definitely so perfect for spring time!
Also, on my kitchen counter, I thought it would be fun to add in a little spring sign too. If you remember my DIY Wooden Signs I did last year, I made one specifically for spring.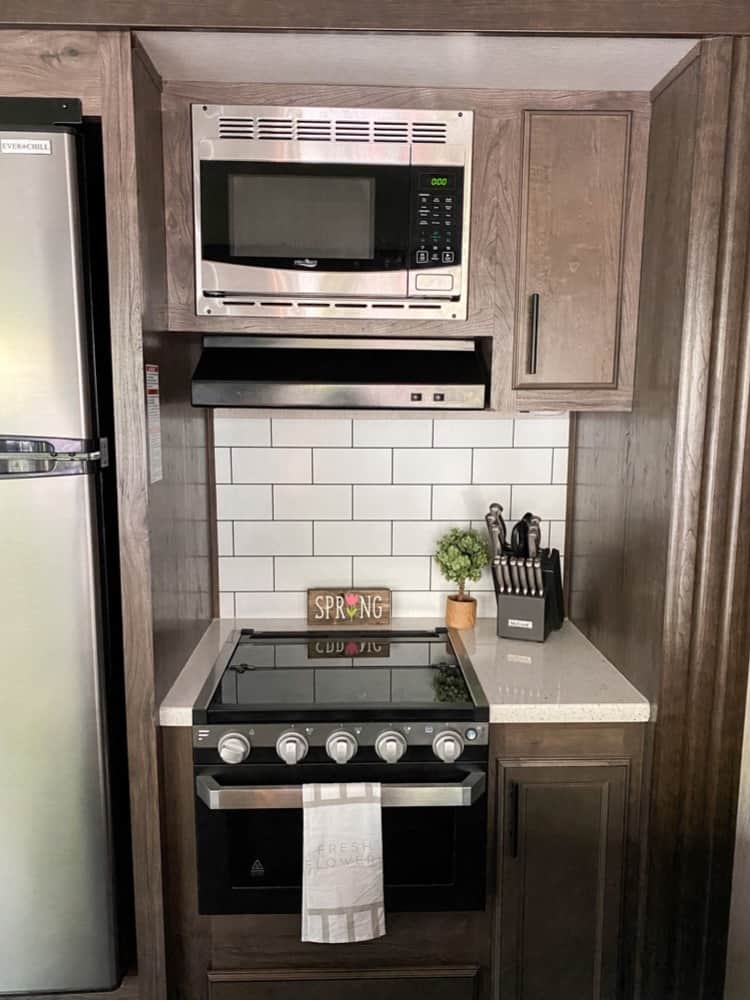 I also love to have rugs, throws, and throw pillows hanging around for extra comfort. Plus, they also give the space so much texture and warmth.
I keep the same rugs and pillows throughout the year to cut back on costs as well. If you get a nice neutral option like the ones I have, then they are perfect to reuse season after season.
You could always switch them out for more color options, but I always try not too spend a lot of money when decorating the camper.
I like to use what I have the most that I possibly can.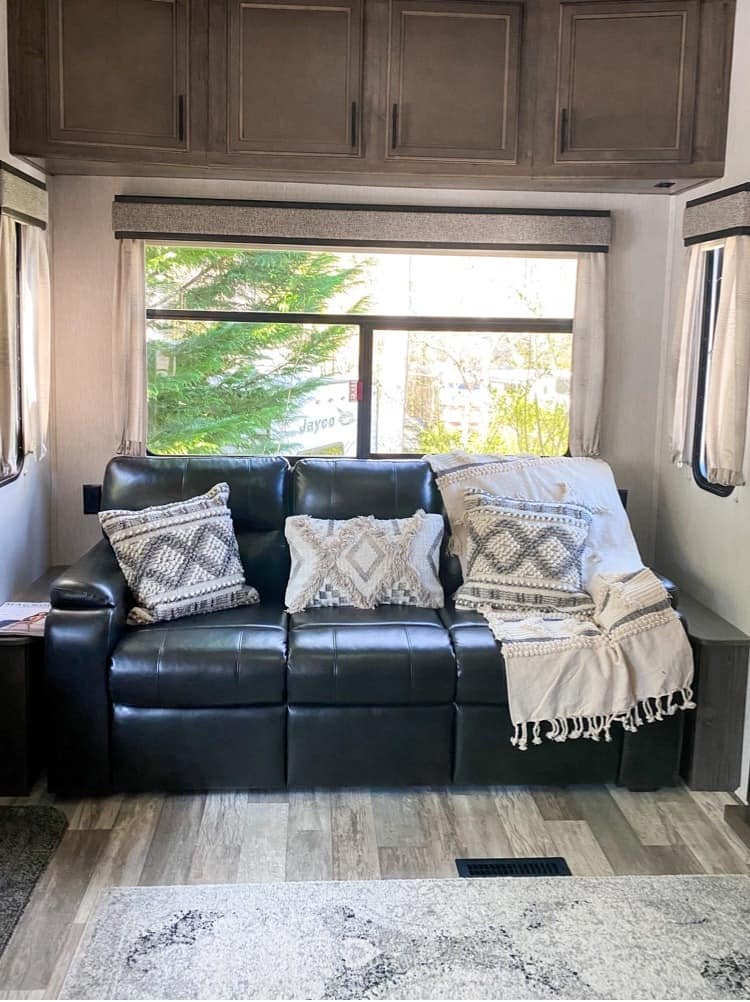 Conclusion
Well, I hope you guys enjoyed my little spring camper tour! I always think it is so much fun to decorate and style the camper every season.
If you wanna watch a full video tour of our camper, I have one saved on my IGTV here. What about y'all? Do you like to incorporate seasonal decor in your home or space as well?
Or do you prefer to keep things neutral and every day decor instead? I have a creative mind and brain so it helps me out when I can re-decorate and re-style spaces in my home and camper.
It relaxes me and actually helps me think! Let me know if you have any questions or anything about my spring decor in my camper. I would love to help you guys out too!