Hey Y'all! Welcome to my Spring Home Tour 2020! This post is actually part of a big blog hop with 5 other bloggers who are sharing their tours too! I am sharing tips all about how to decorate your home for spring so hopefully you will find some inspiration from it if you haven't started decorating yet!
If you are coming over from my friend Janice's home of Our Perfecting Manor, welcome! I just love Janice's home!
Note: At the bottom of this post, I will be directing you on to the next stop on our spring home tour – there's a total of 7 other bloggers and I hope you will visit them to get a ton of spring inspiration this year!
How many of you have started your spring decorating this year? Or better yet, do you even bother to decorate for spring? A lot of times people will tell me that they don't really change things up because it is too much work.
Well, I am here to give you a few tips and pointers on how to decorate your home for spring easily. I just like to add in a few touches here and there to give my home a more spring like feel!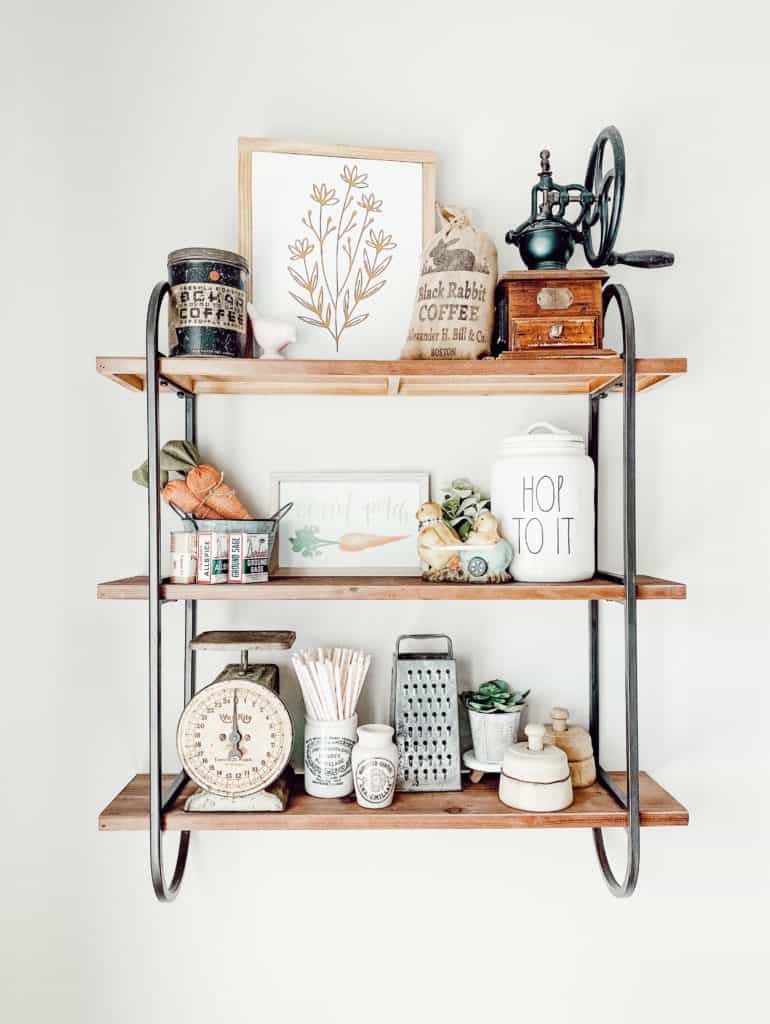 Use Florals And Greenery
I think my biggest tip for spring decorating is to use floral and greenery throughout your home. And it is a quick and cheap way to add in some spring touches.
Faux florals will last you from year to year so it really isn't a huge investment to get some and display them. Plus, I think it really brightens everything up and makes your home feel happy and bright for spring.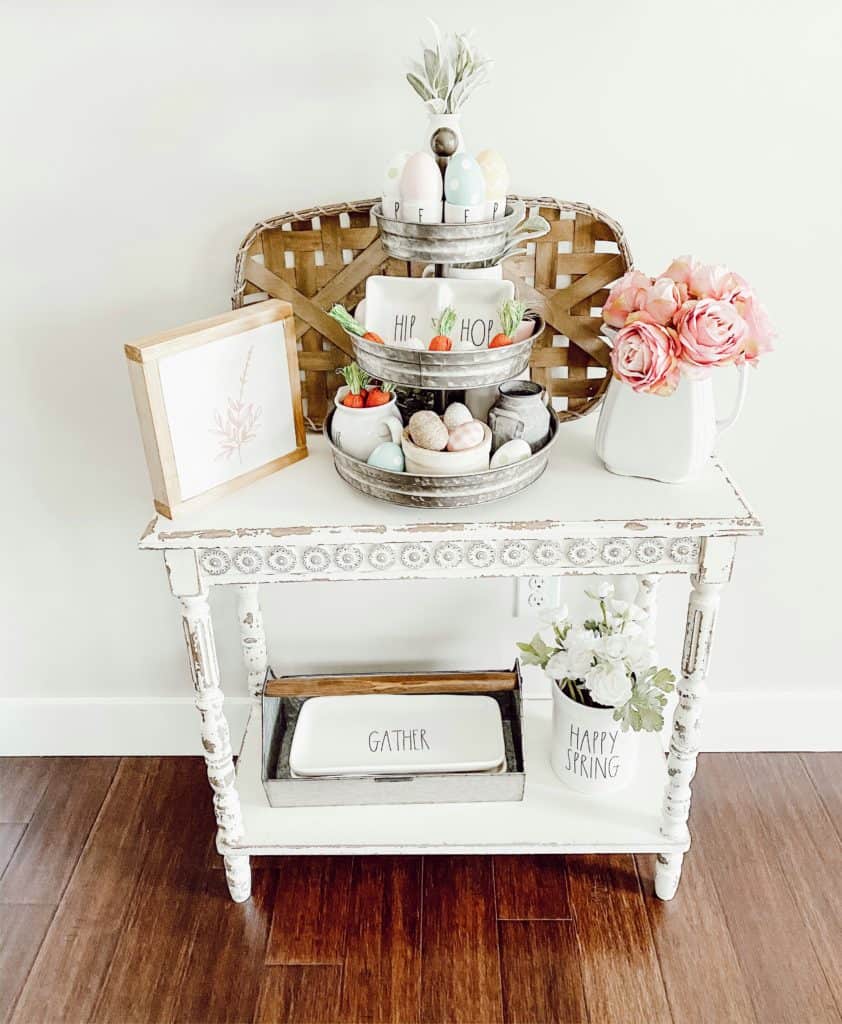 Use Colors
I keep a majority of my home neutral so when a holiday comes around, it is easy for me to add in a few pops of colors here and there.
Places I love to add colors into are especially my coffee bar and my tiered trays. I usually do the most color here because it is confined to a small area of my home and adds just enough color without being too overwhelming.
I love to use pastel colors for spring decorating as you can see below on my coffee bar.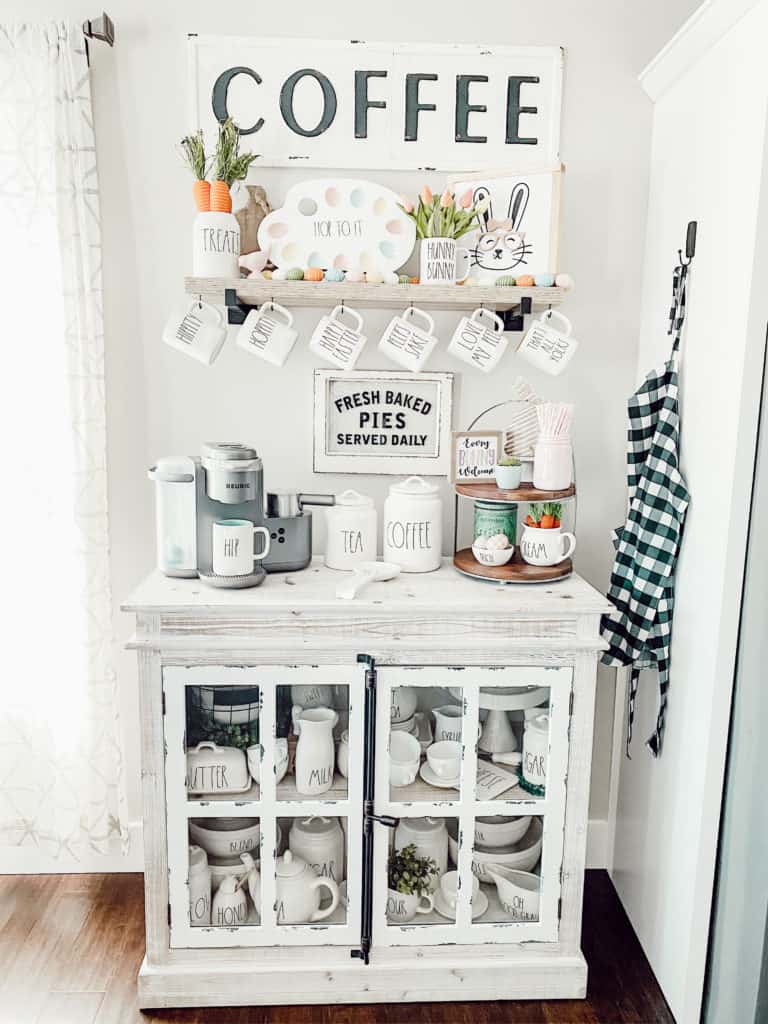 Use Candles
Not only do you need to add a few decorative touches in your home to make it look more like spring, but you also need a few candles to make it smell just like spring too! I love fresh and light scents during this time of the year.
And y'all know I am obsessed with my Modern Forestry candles, so my current favorite spring ones are Lavender and Glazed Lemon Cake- so perfect for spring! Not only do candles smell great, but they look pretty in home decor too!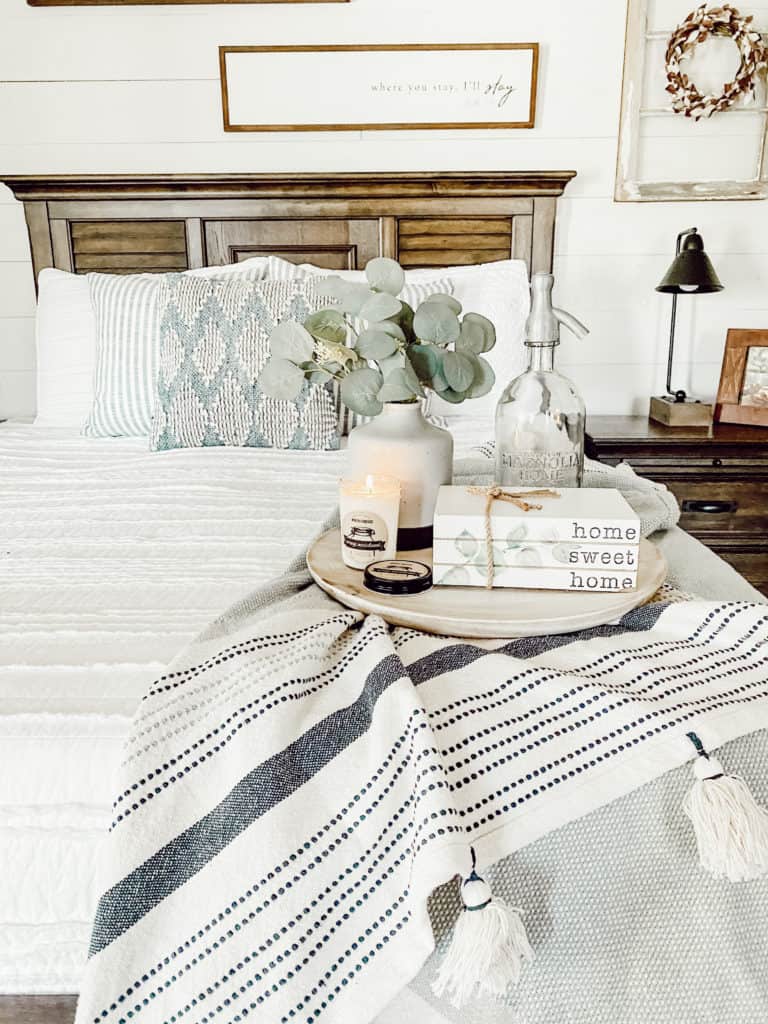 Use Pillows
How easy is it to add in a little decorative pillow for a spring touch?? I love to use pillows for seasonal decor because they are so easy to add in and you can find them relatively cheap too.
And again, this is something that will last you year after year so it is definitely worth it to get a few Easter or Spring like pillows for your home.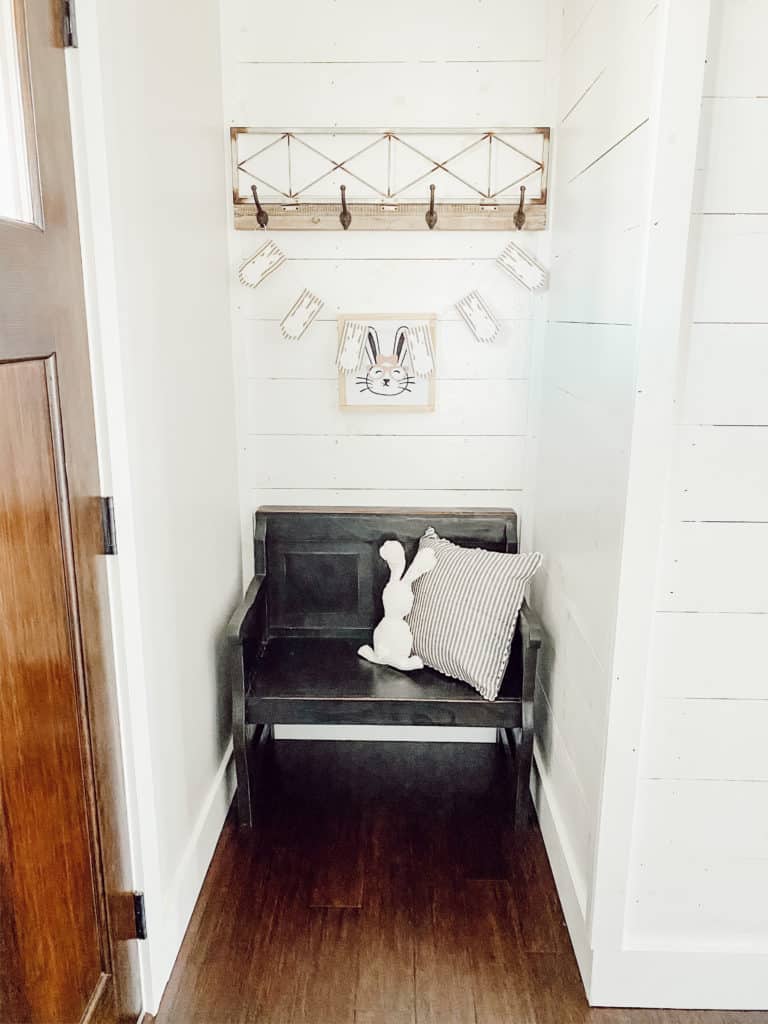 Use Garlands
I always like to have a seasonal garland displayed on my hutch for each different holiday. So this ticking stripe bunny garland is the perfect little touch to make my hutch more spring appropriate.
Plus, it's super easy just to add in a little banner and keep everything else the same!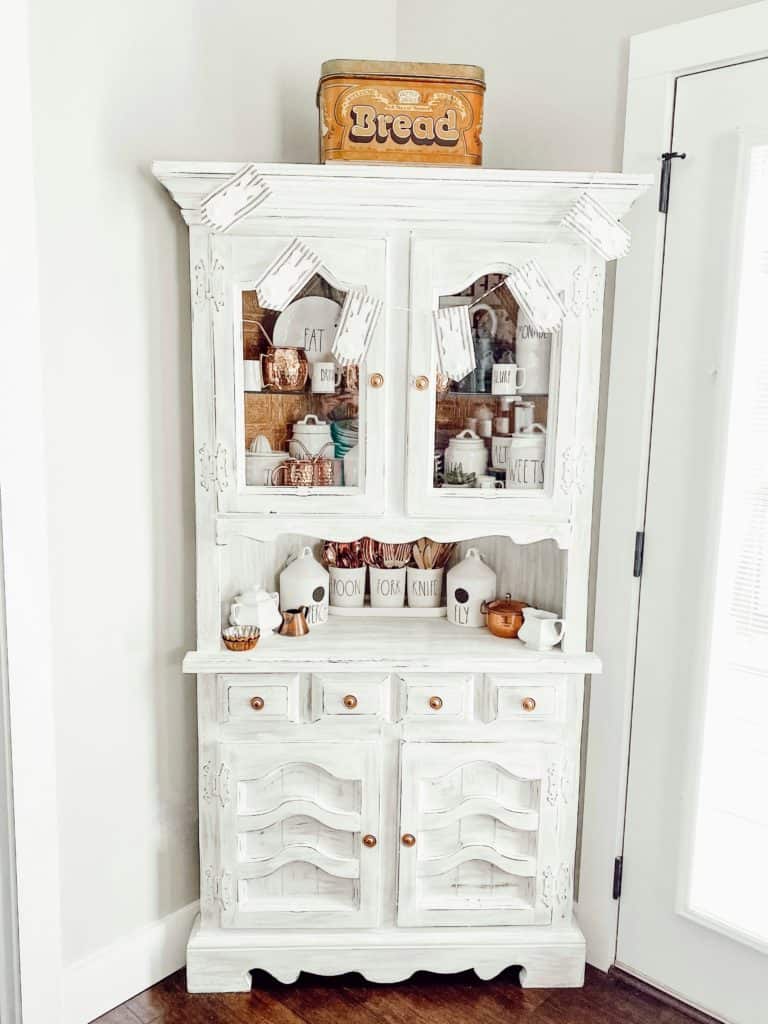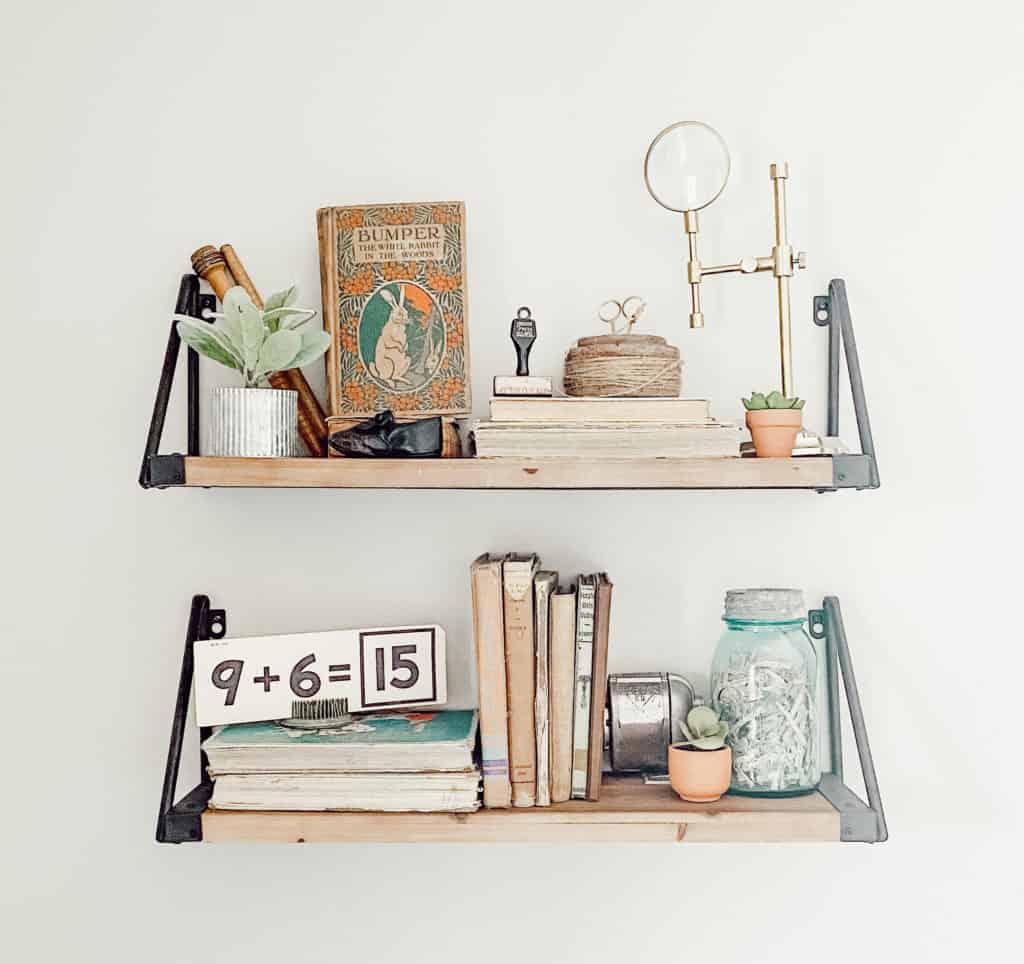 Well, I hope these little tips and tricks will help you get inspired and motivated to do a little spring decorating in your home this year too. I would love to see what y'all come up with! Have a lovely day my friends and thanks for stopping by!
Now go over and check out my friend Lynn's home over at At Home In The Wildwood and see just how she styled it all for spring as well!