I can't believe it's Christmas already! And it dawned on me that I haven't shared a vintage Christmas home tour with you all yet either. And I have been meaning to!
So I am sorry for the delay, but I figured better late than never right? I hope you enjoy my little tour and hopefully it will give you some inspiration for next year's Christmas decorations too!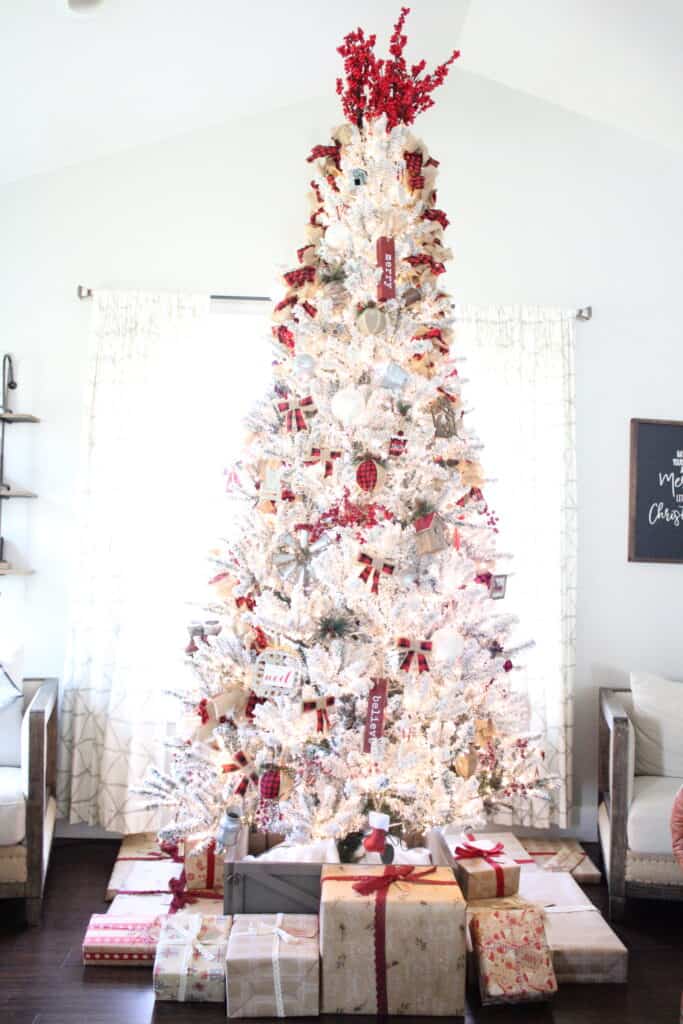 This post contains affiliate links. Click here to read my privacy policy.
Vintage Christmas Living Room
We recently changed things up pretty big in our living room. We got a set of vintage leather sofas and replaced our old white sectional in here.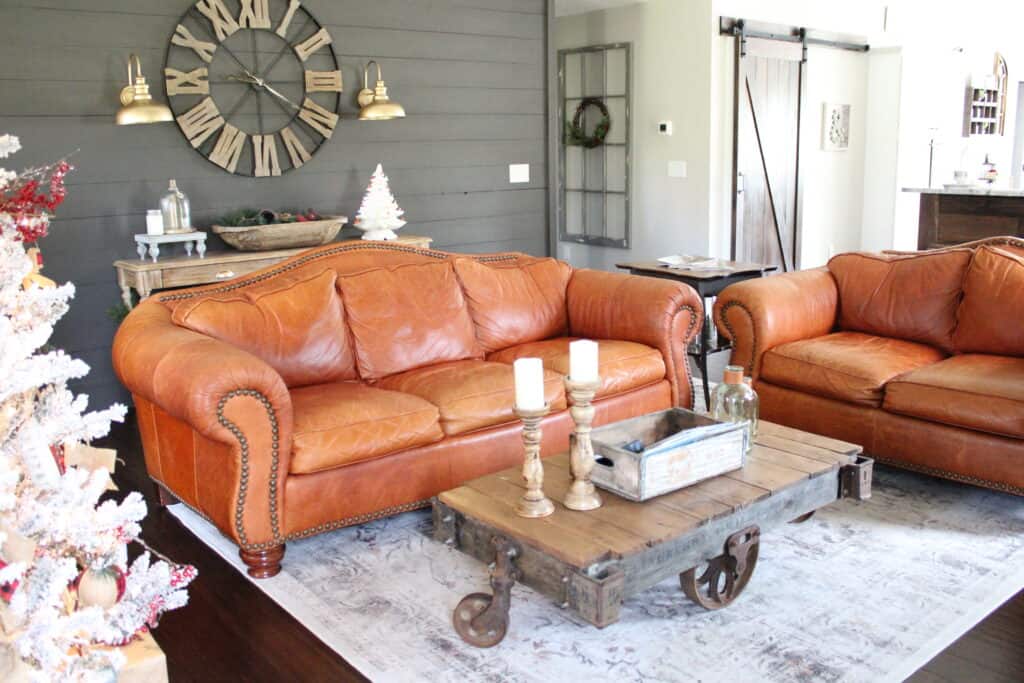 I have to say, at first I wasn't really loving them. I thought they were a little too orange in color. But now, they have really grown on me. I love the style to them and the bead detailing.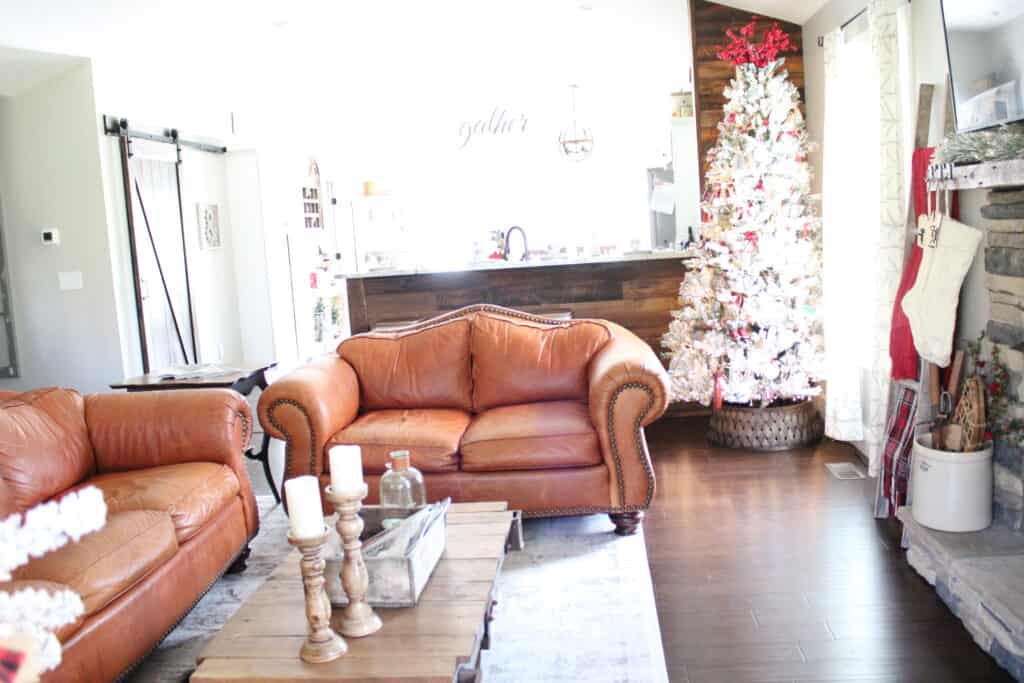 Also, the cool thing about them is that they can be used with or without the back cushions as well. So you can have two completely different looks with just one sofa!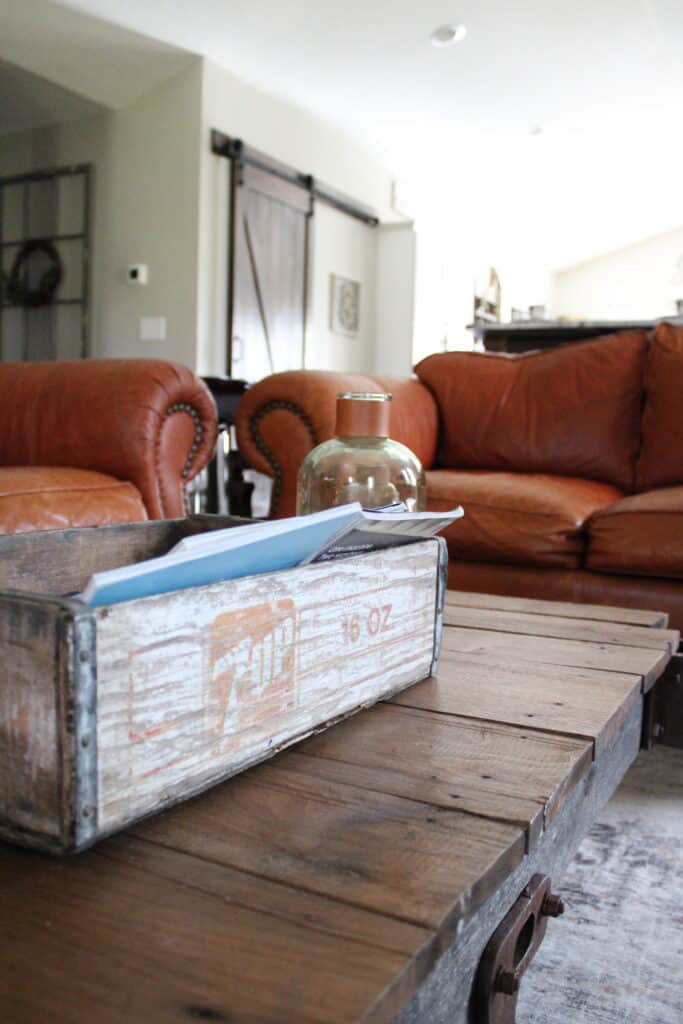 I will say though I don't love all the red Christmas decor with it. In my opinion, I think it clashes. But I am pretty OCD when it comes to things like that.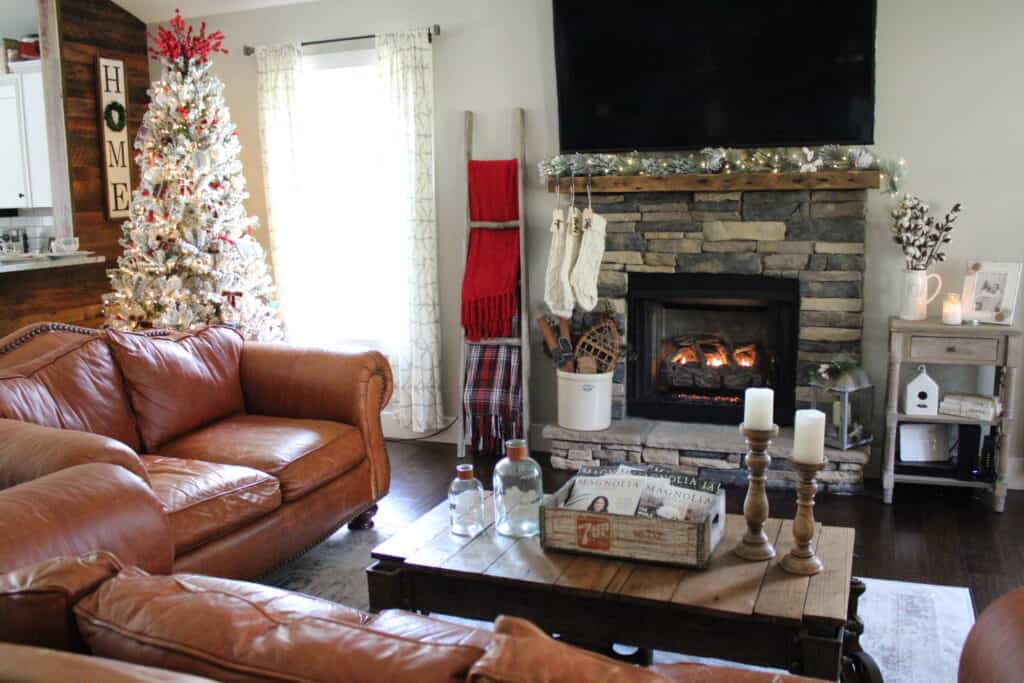 Next year, I want to replace all my red Christmas decor and do more of a gold and copper theme. I think that would really make the vintage sofas pop! So I am definitely going to be hitting up a lot of after Christmas sales!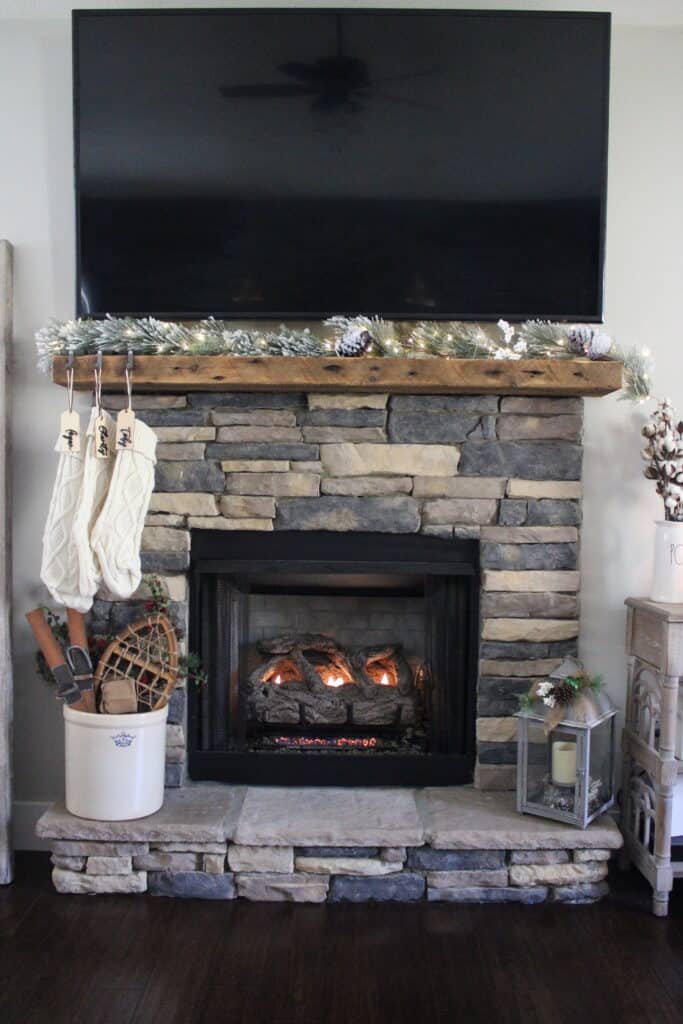 Another new thing to our living room this year is this vintage side table that I restored with some Fusion Mineral Paint! I plan on sharing a full tutorial on how I did that soon. So be on the lookout for that tutorial!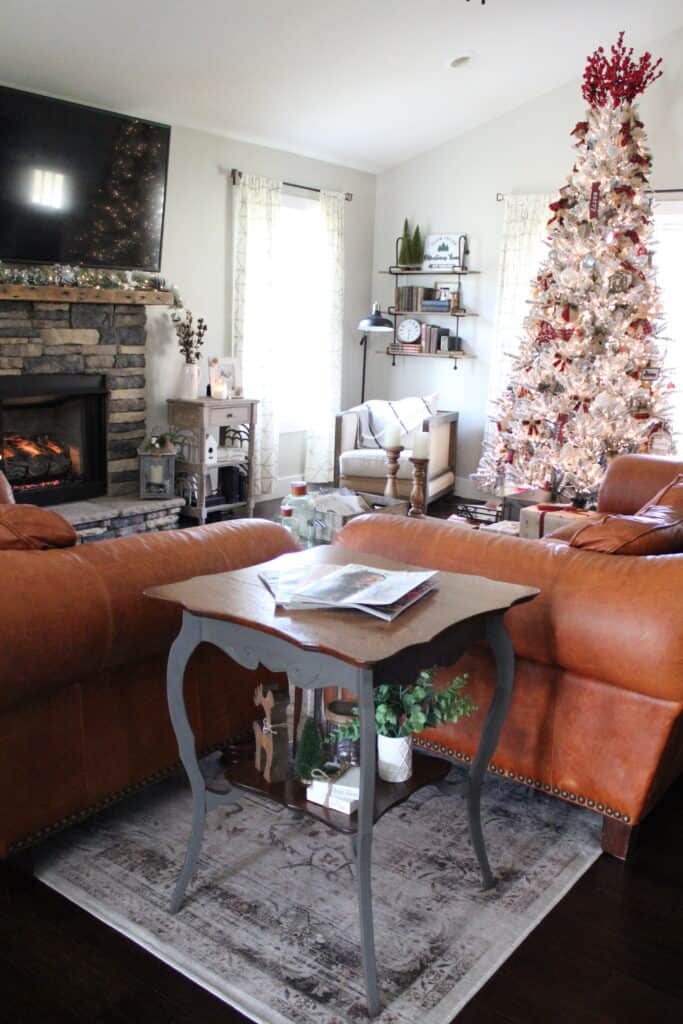 And I wrapped my presents just like last year too. I just can't get over the vintage lace and ribbon! Most of the wrapping paper and supplies I got from Zulily and Amazon as well!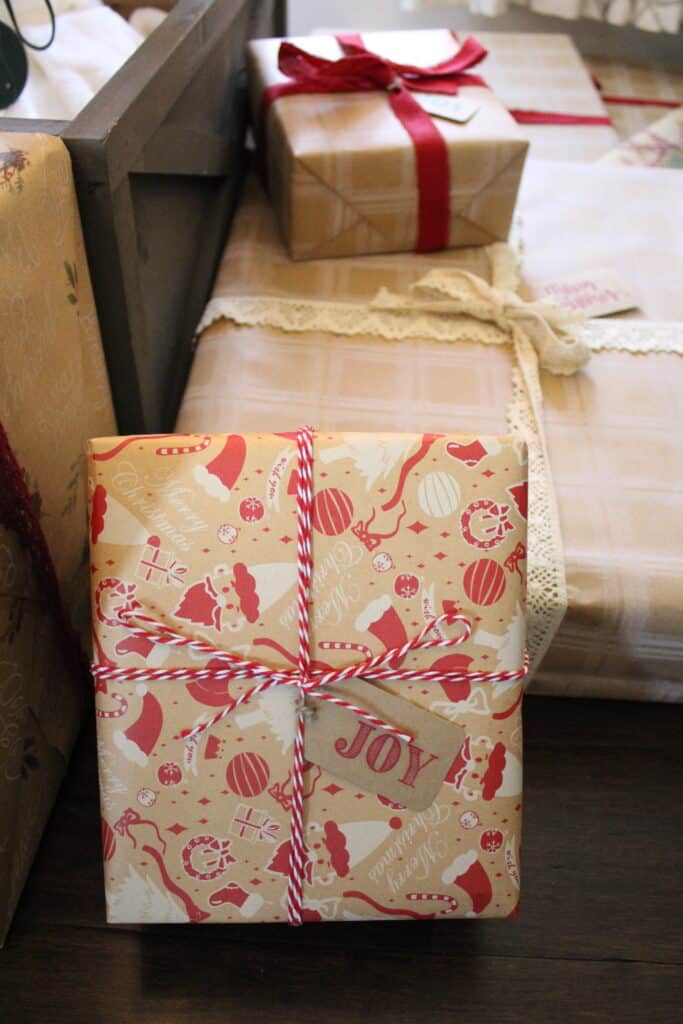 Christmas Entryway
I kept everything on our Christmas entryway the same. Although the paint and gold sconces are different than last year. You may remember that we did a whole entryway refresh at the beginning of this year too.
The vintage ceramic Christmas tree pops better against the darker color too. If you remember, the previous wall was white as well. So it kinda blended in more last year.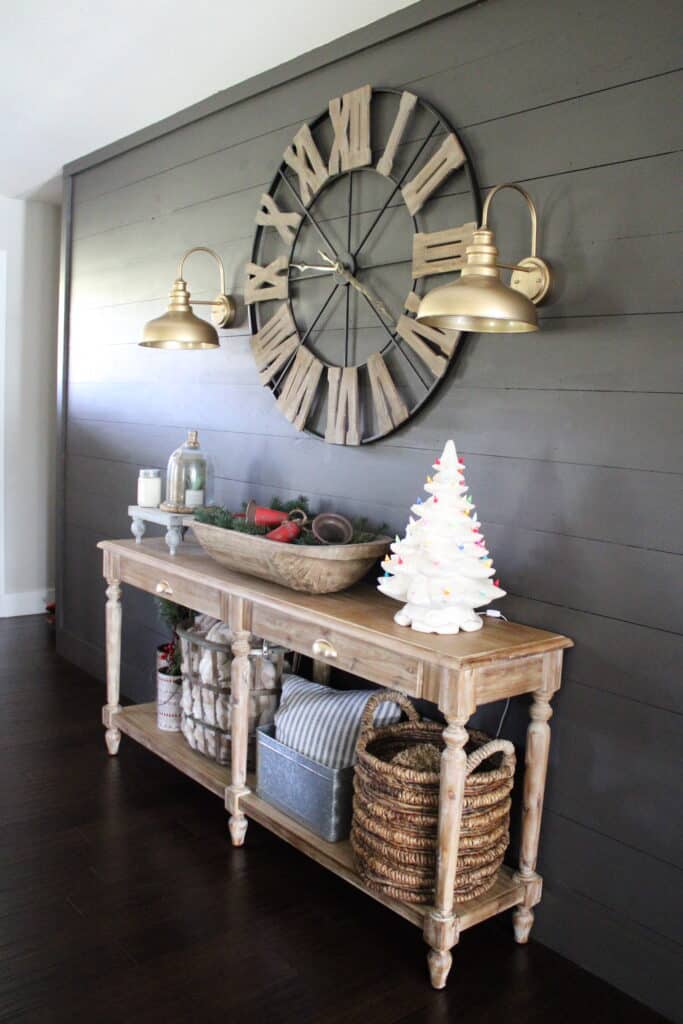 Vintage Christmas Kitchen
Now, it's time for the kitchen in my vintage Christmas home tour! I always love displaying my old Christmas dishes!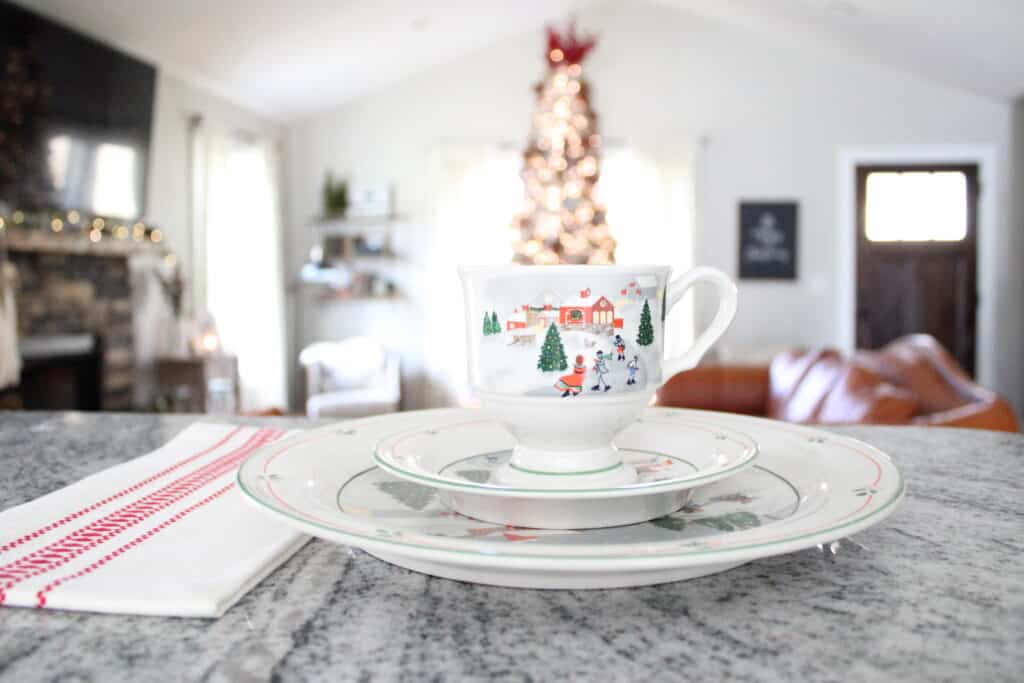 I usually always do a vintage Christmas tablescape on my bar in the kitchen. The old dishes only came with four place settings, so I didn't have enough for my full dining room table.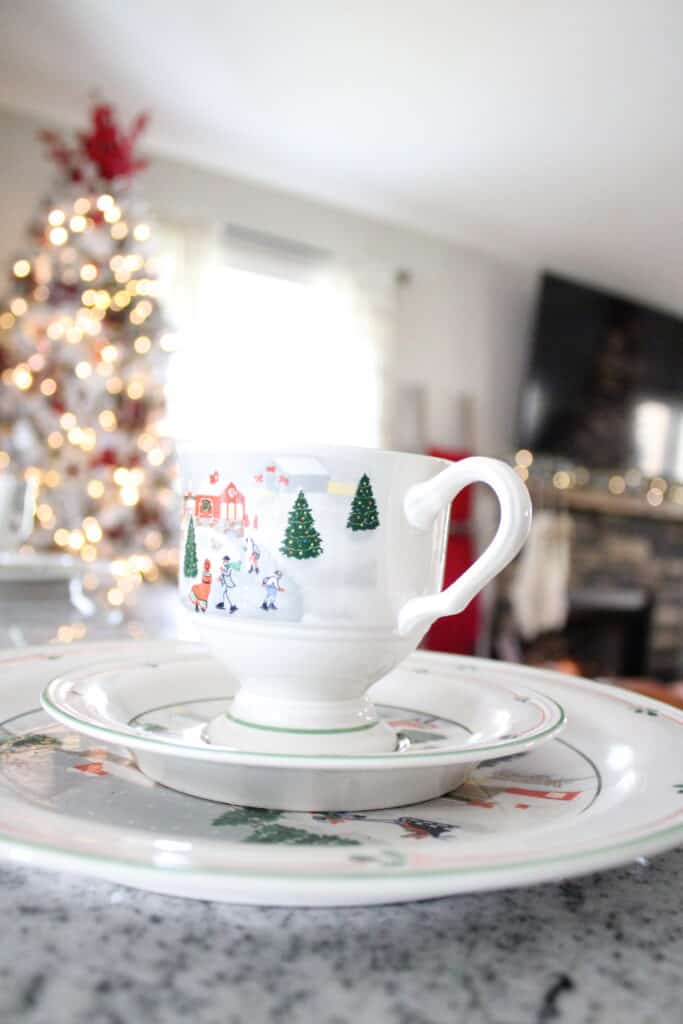 I also love to display a few Christmas touches to our tiered trays in the kitchen too. It makes for a festive centerpiece on our island.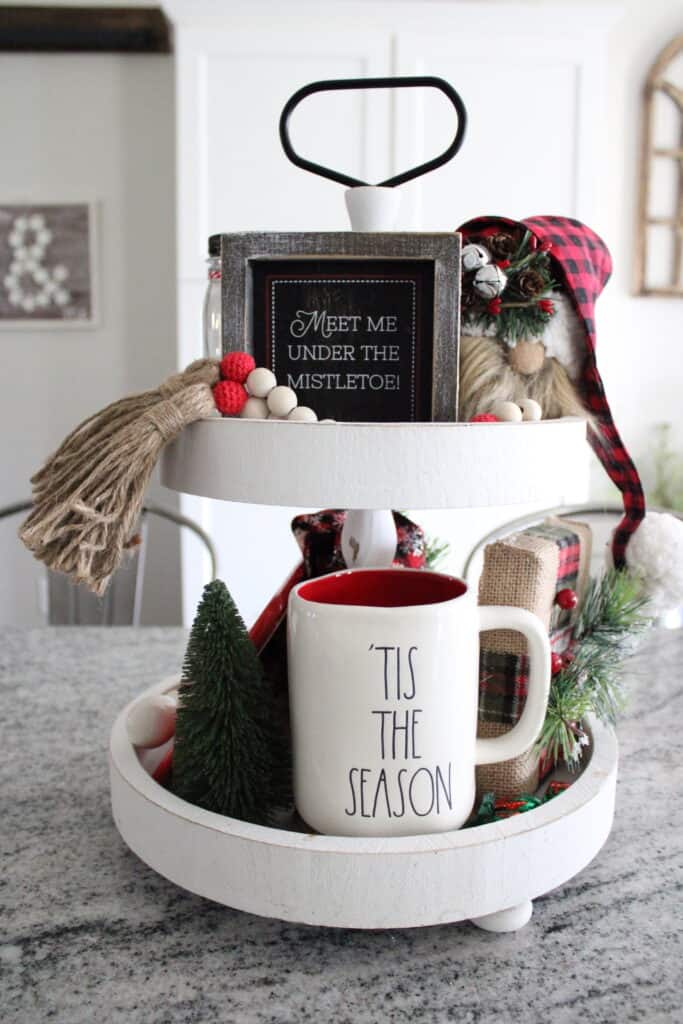 Christmas Coffee Bar
And now my all time favorite Christmas place to style, my coffee bar! Y'all know I always love to style my coffee bar. But Christmastime is my very favorite!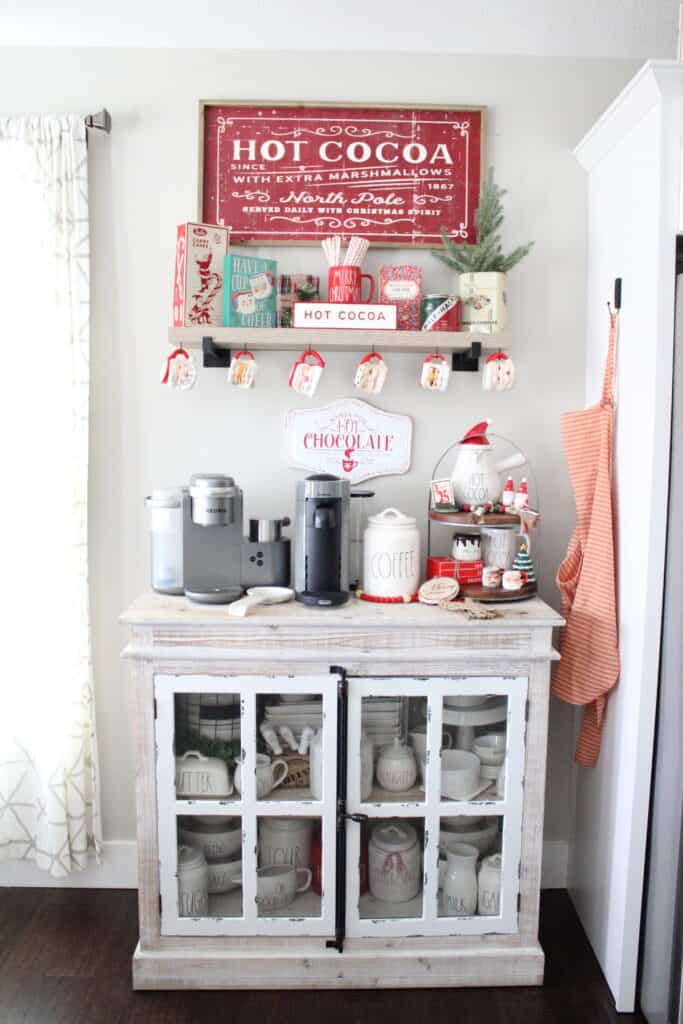 I also really love the vintage Santa mugs I hang on the hooks too. It took me a few years to find enough to hang up there!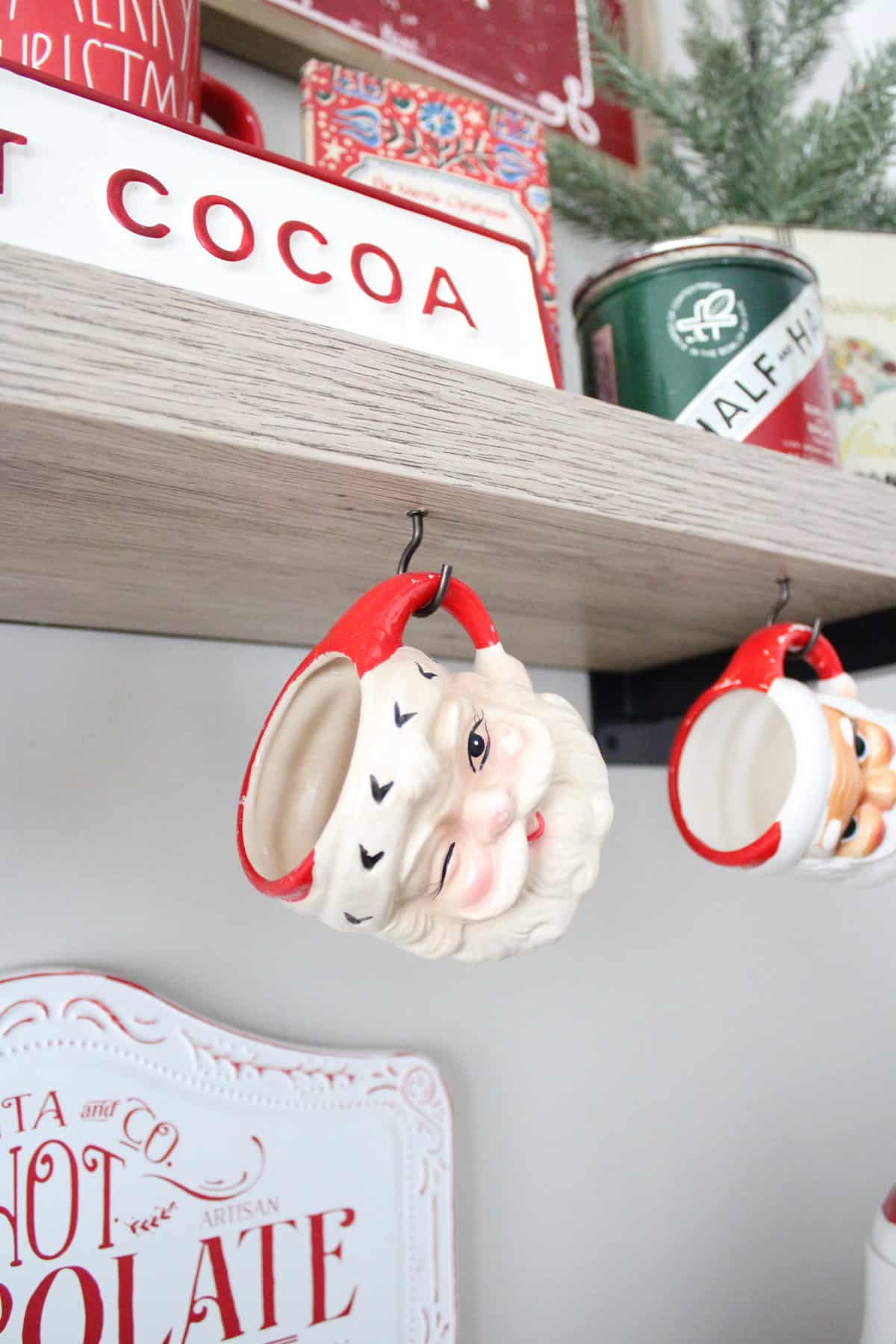 Vintage Christmas Dining Room
I kept my Christmas tablescape pretty much the same as last year too. I just loved it so much, I didn't want to change it up any!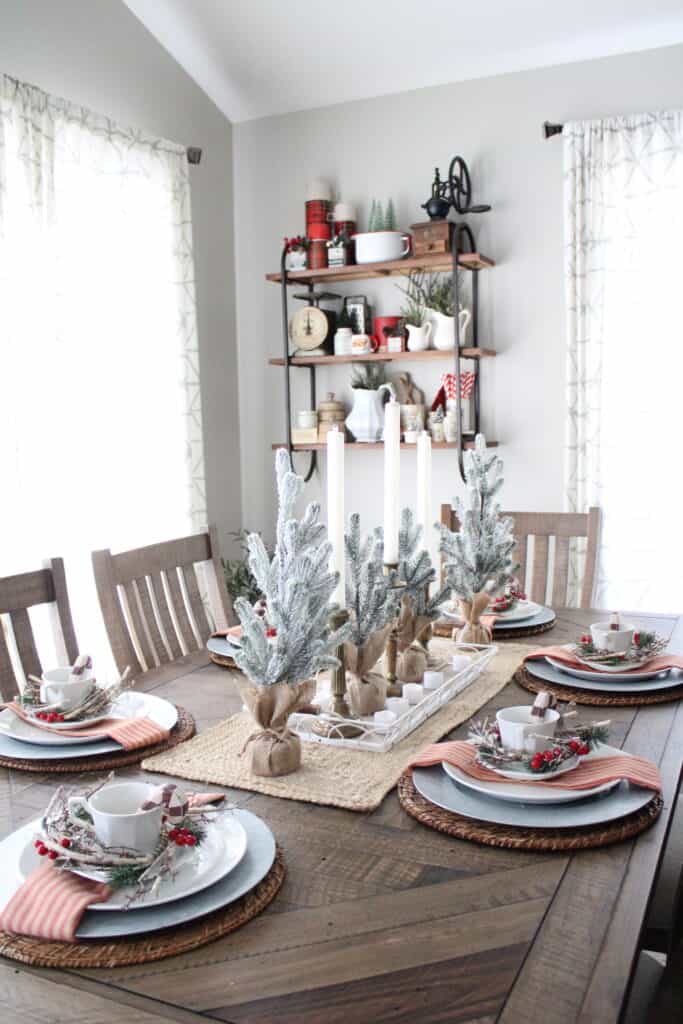 You'll notice that I keep my vintage ironstone dishes on my tablescape a lot and reuse them almost every season. They are just timeless and classic and go with any kind of decor!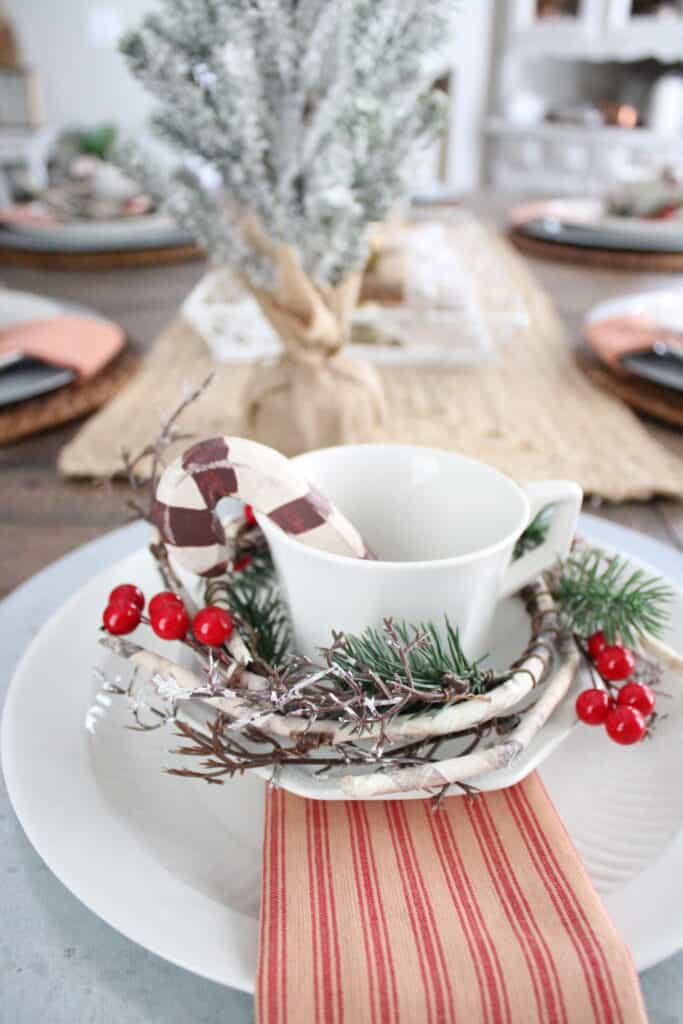 Another one of my favorite things to decorate each season are my open shelves in my dining room. It's the perfect place to display all my vintage goodies!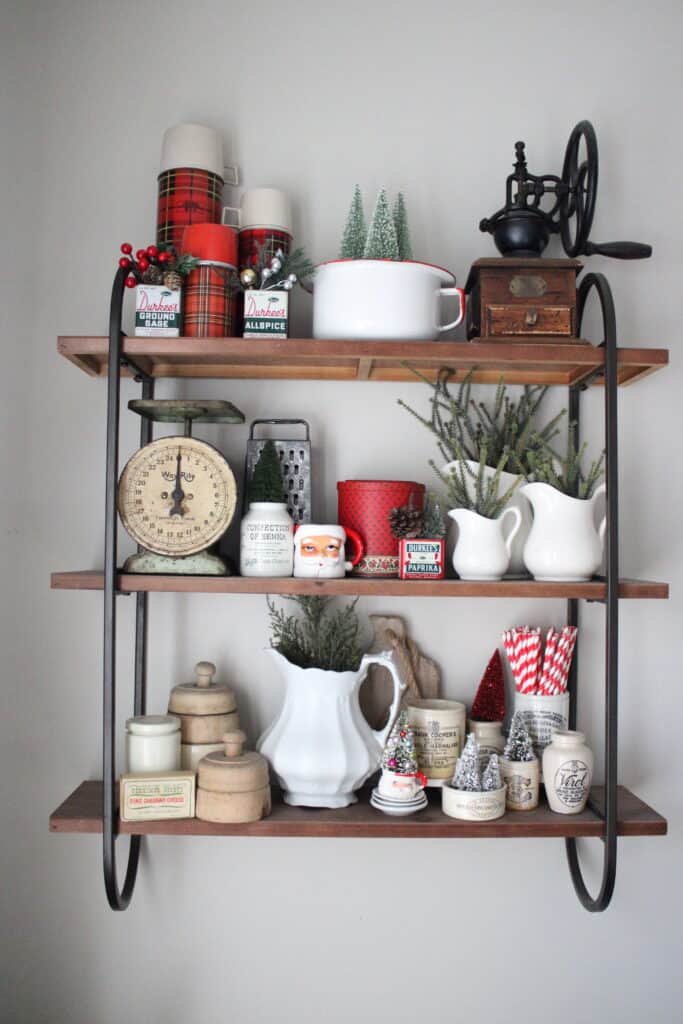 You may also recognize my vintage Christmas spice tins on these shelves that I shared a few weeks ago too.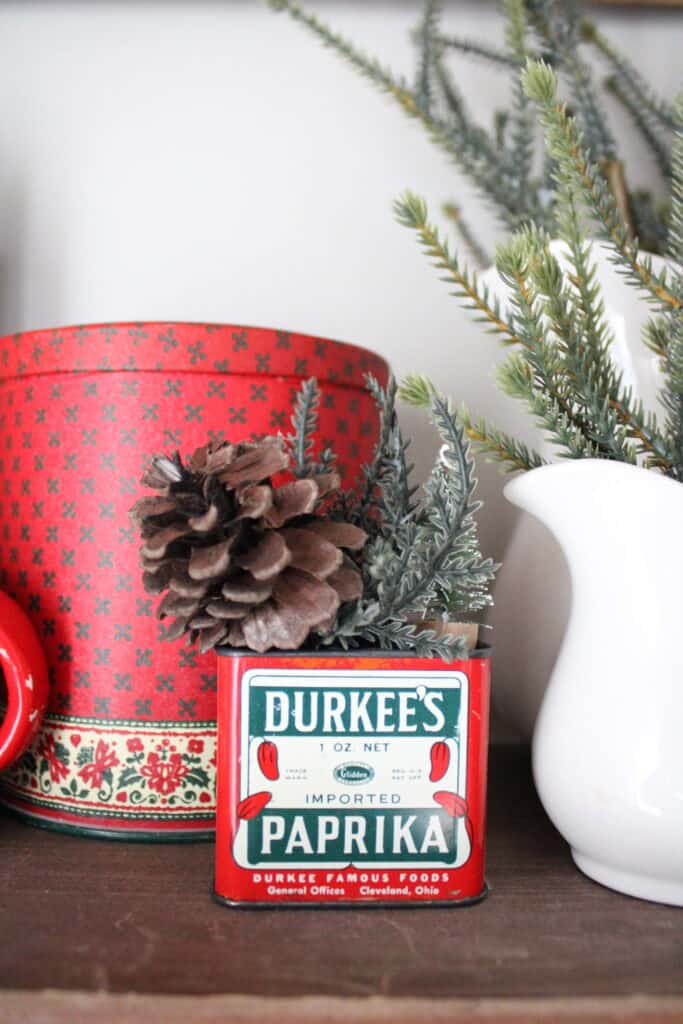 Christmas Bedroom
As usual, I had to have my two pencil trees in my bedroom this year too. I love the cozy glow it brings to the space!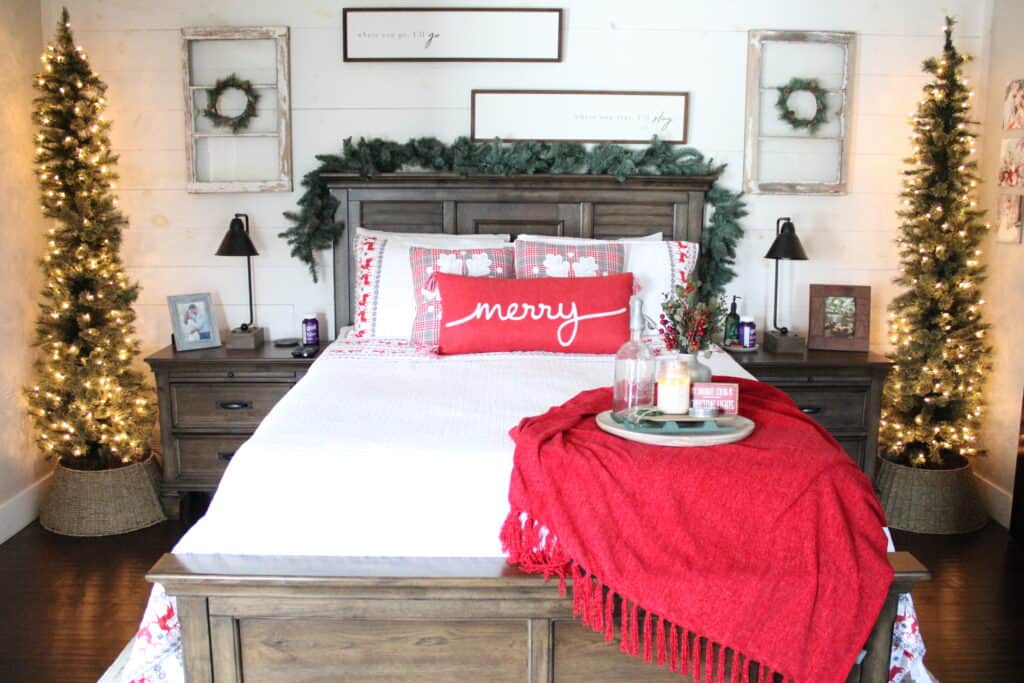 I shared more about how to style a Christmas bedroom on my blog a few years ago, so be sure to go check that out too!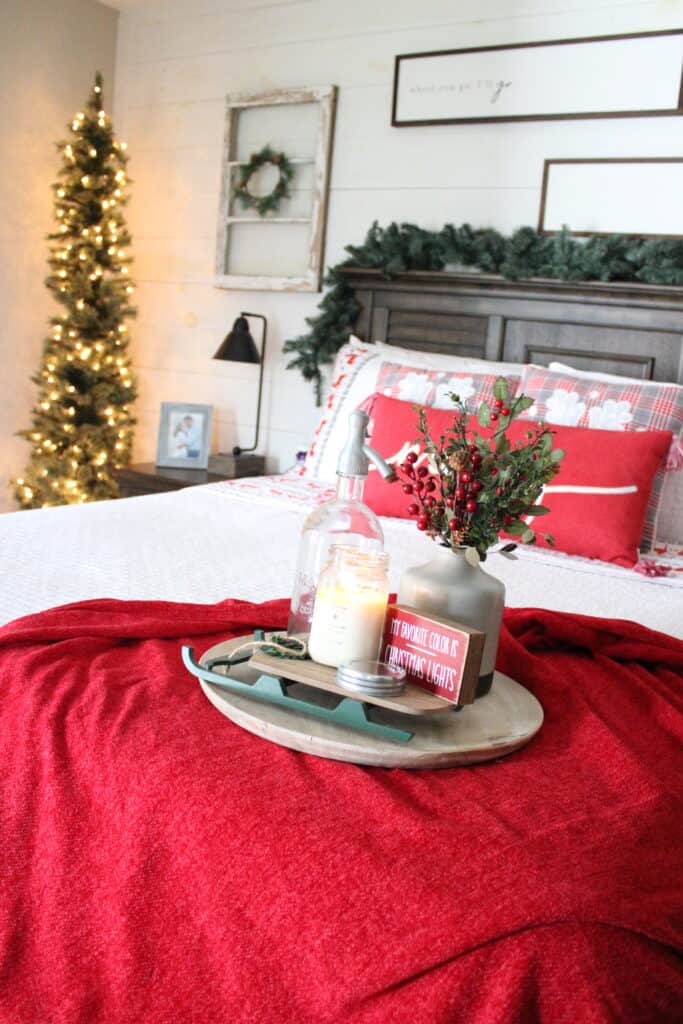 Vintage Christmas Office
One of my favorite rooms in the whole vintage Christmas home tour, is my office! I love to sit in here and write next to the pretty Christmas tree!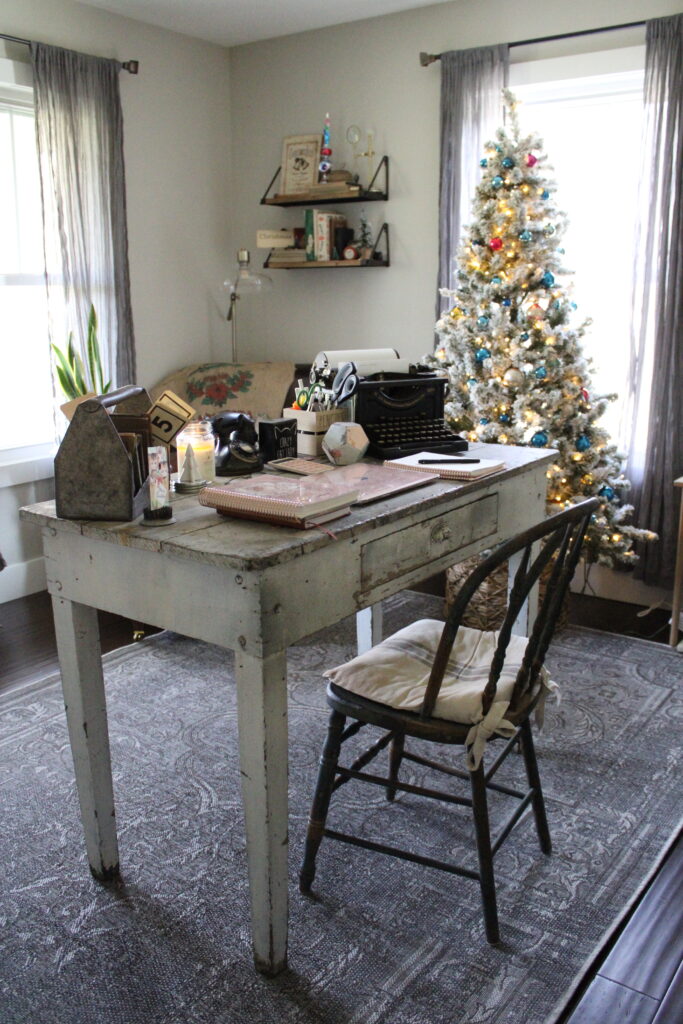 And I have plenty of other vintage touches in here as well. Such as the vintage postcards in my inbox/outbox mailer. And the vintage Christmas card on my flower frog. You knew it had to be one with cats, didn't you?!
You can also see my cute office assistant down below too. Toby loves to be in the office working with me!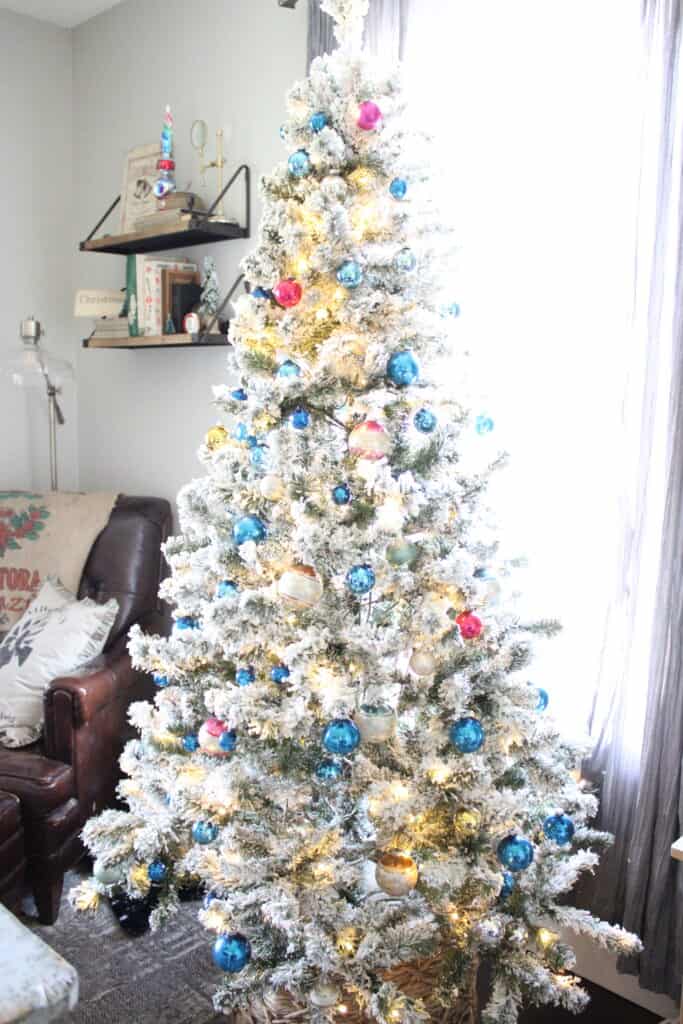 You can also see above that I have my favorite Tree Farm candle from Antique Candle Co. burning in the office as well. I always gotta have one burning during the Christmas season!
And, I found some more vintage Shiny Brite ornaments this year and decided to display them in my dough bowl I love the grayish blue color to them!
Christmas Guest Bedroom
I also am obsessed with our Christmas guest bedding! It has cats all over it, which you know is right up my alley!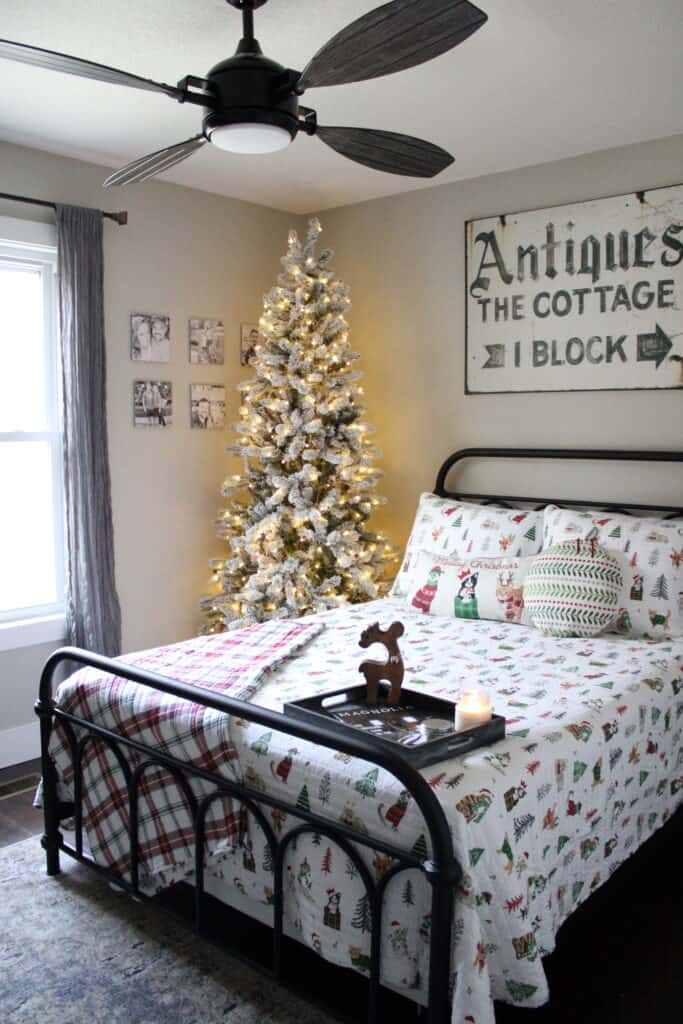 Another new edition to the guest bedroom is my olive tree! And it is actually real! So let's hope I am able to keep it alive until next Christmas too!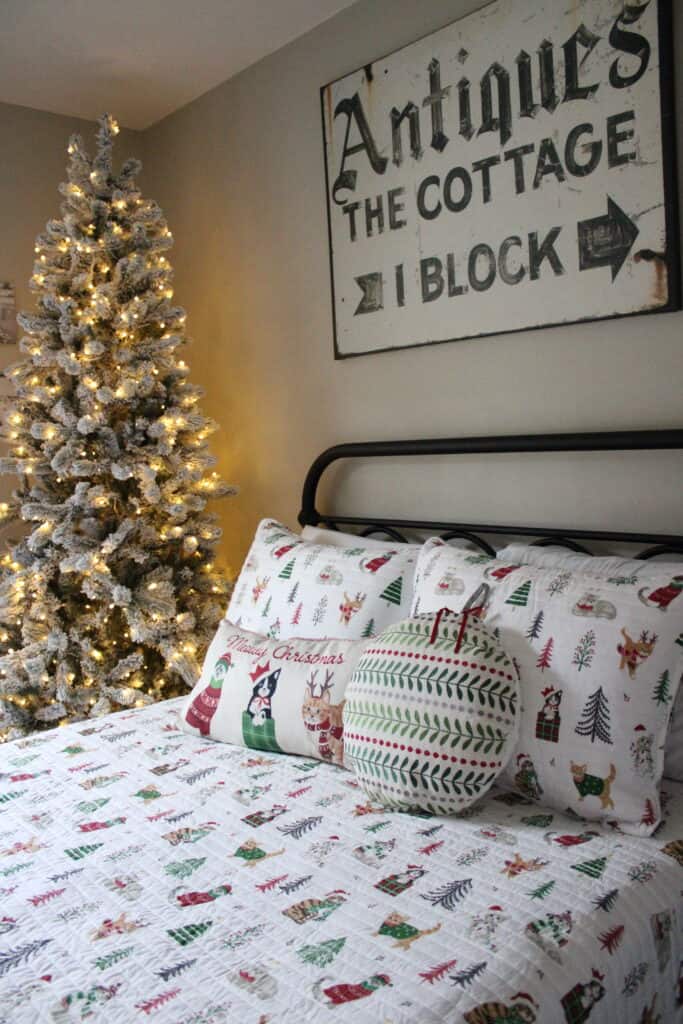 Well, I hope you all enjoyed my little vintage Christmas home tour! I threw it together really quickly and only made it time by just one day before Christmas!
But, I hope you also have a wonderful Christmas and enjoy spending it with family friends! And as always, I am so appreciative of all of you stopping by my blog! Merry Christmas!