There is nothing like counting down to Christmas. The excitement is in the air and the holiday season is just my very favorite time of the year! I love to spend my time creating fun and easy Christmas crafts that can be used as gifts and decor too. So I thought I would share with you all my 25 days of Christmas Crafts for the whole family to enjoy!
There is a little something for everyone on this list. Whether you want to make gingerbread houses or display vintage Christmas cards, I have so many fun ideas for you! This is a great way to spend time with family members this Christmas season too.
And the best part is you can start this list December 1st and continue with it all the way up until Christmas. So you have many days of Christmas activities to do throughout the whole month of December.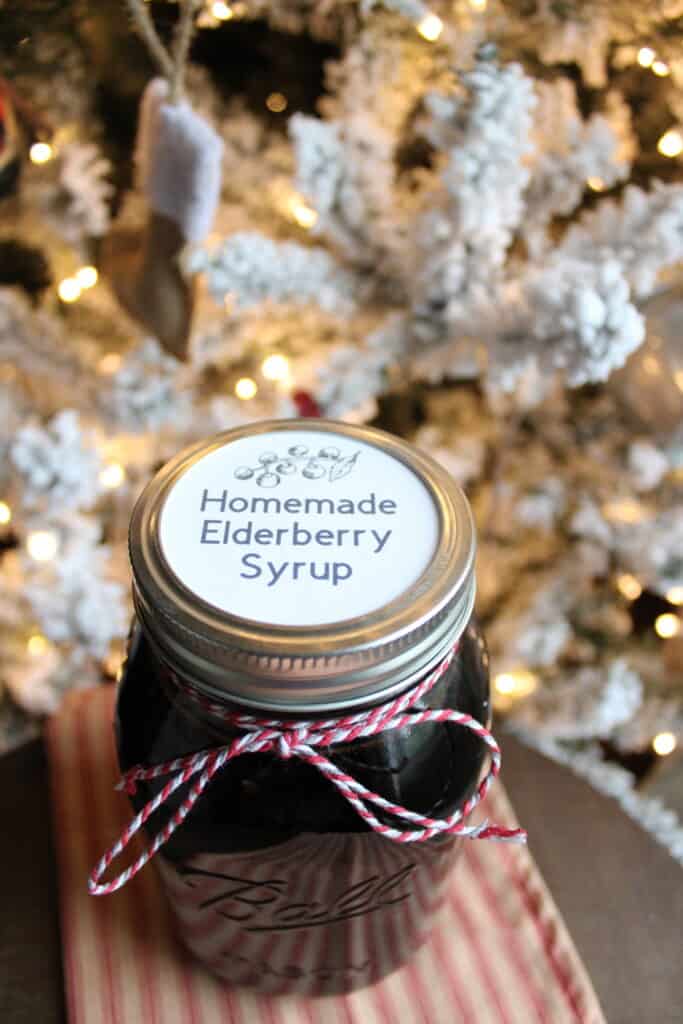 This post contains affiliate links. Click here to read my privacy policy.
1. Salt Dough Ornaments
I absolutely love making salt dough ornaments and I think this is the kind of craft that is perfect for kids to help along with too! And usually, there is only a few ingredients needed to make these cute little homemade ornaments so it is not too hard to do! I'm pretty sure you already have everything stocked in your pantry to make these handmade ornaments as well!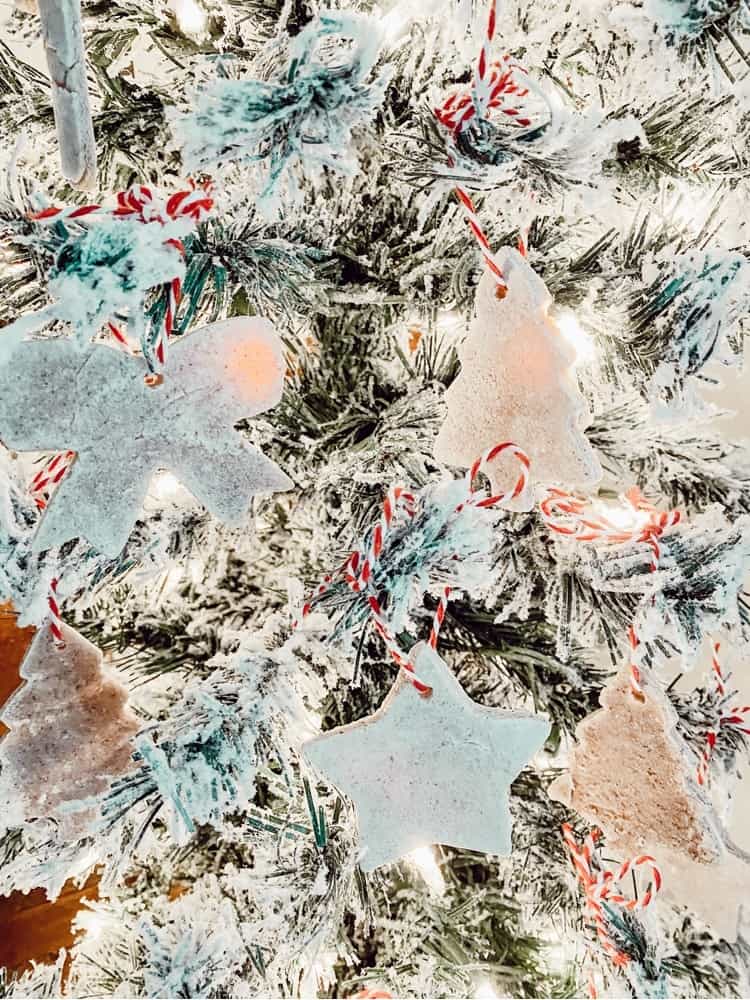 2. Homemade Vanilla Extract
If you like going the route of handmade gifts for Christmas, then be sure to check out my homemade vanilla extract recipe. Again, this is such a fun project that would make for an incredible gift for someone you love. Especially if that person loves to bake and be in the kitchen as well!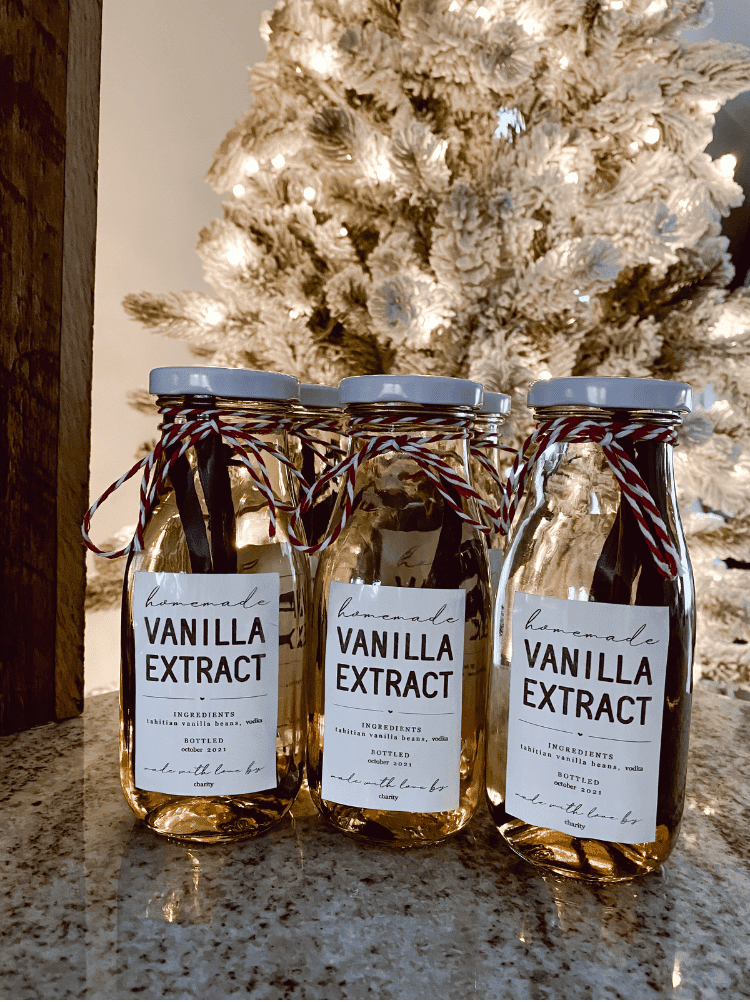 3. Vintage Christmas Card Garland
If you know me, then you know I love all things vintage Christmas! That's why I had to figure out a creative way to display all my vintage Christmas cards I have collected throughout the years. And with just a little bit of lace and some clothespins, I was able to do so! This would be a great way to display Christmas cards from your friends and family too.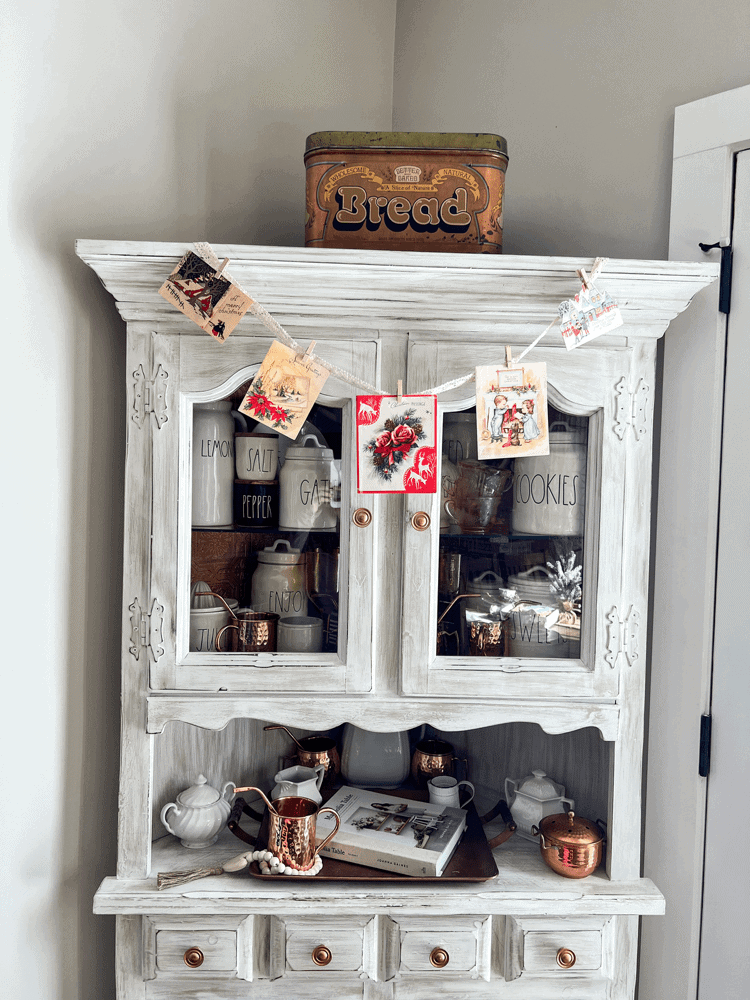 4. Hanging Stockings Without a Mantel
Just because you don't have a mantel, doesn't mean you can't hang up Christmas stockings! I used to not have a mantel either in our living room, so I improvised and used a blanket ladder instead.
This is a great option to use in case you don't have a mantel either. Get creative and have fun with trying to figure out how to hang stockings without a mantel in your home too!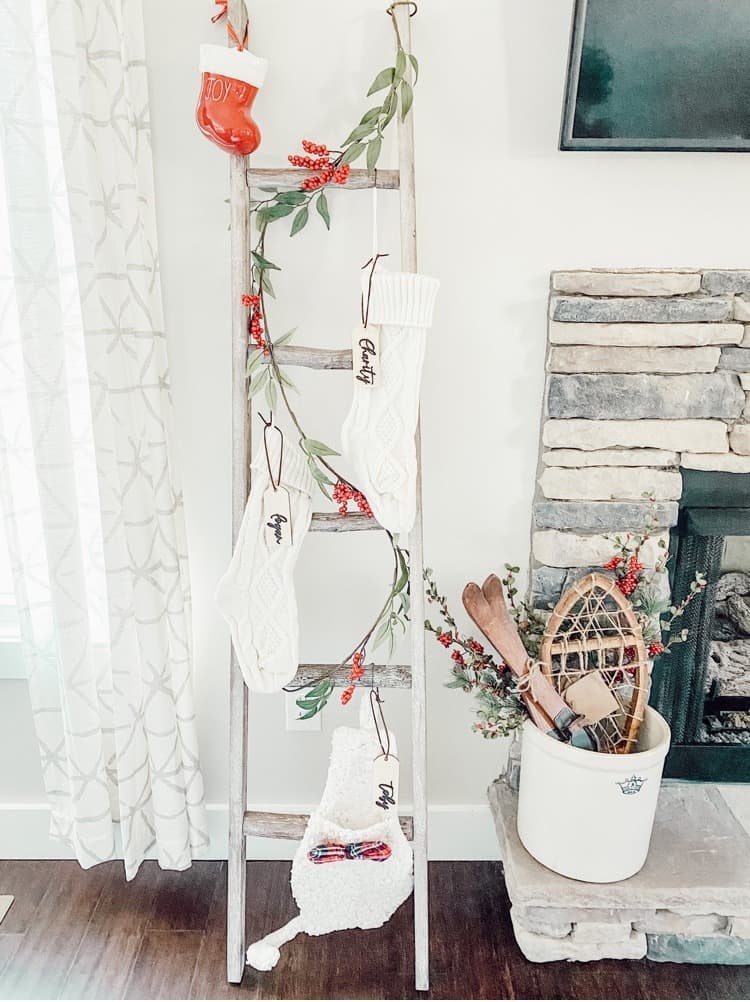 5. DIY Gingerbread Houses
I made these cute little gingerbread houses a couple of years ago and I just love the way they turned out. You can definitely make them in so many different ways and this is a perfect, simple craft to let kids help with as well.
I just used puffy white paint to draw an outline on the houses and then dipped it into a bowl full of faux snow! I'm sure some little hands would really enjoy this easy DIY holiday craft as well!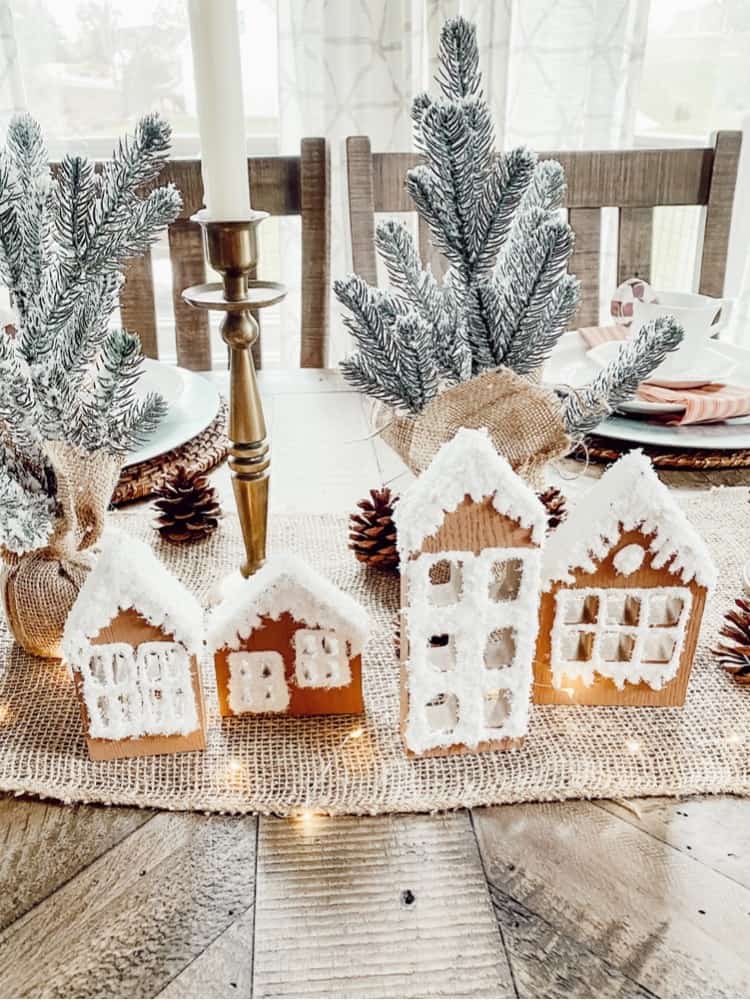 6. Dried Orange Garland
If you have some leftover oranges hanging around, why not make a dried orange garland? It's classic and timeless and such an easy way to make a garland for your kitchen. Plus, it smells really good when baking the oranges too!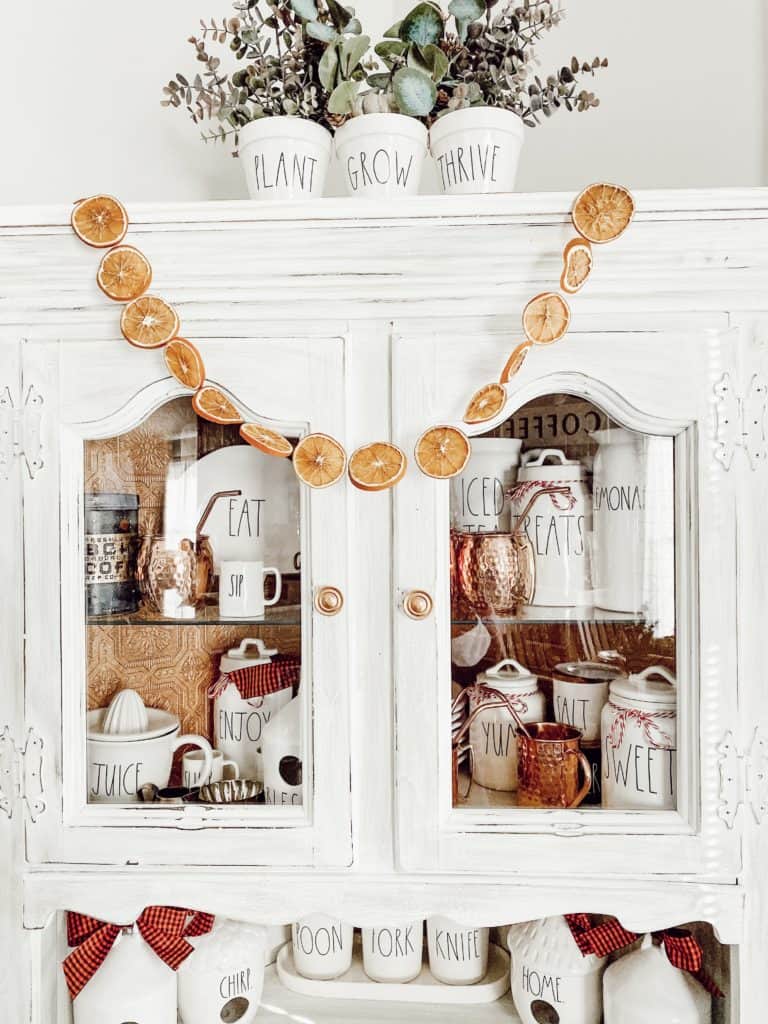 7. Repurposing Old Candle Jars Into Snow Globes
If you're like me and go through a ton of candles throughout the holiday season, then this is the perfect craft for you! Again, it has the faux snow, which I am sure younger kids can appreciate! And with just a couple of other materials needed, it is definitely one of the most simple Christmas crafts you could do this season. Plus, I love the fact that you get to repurpose some old jars too!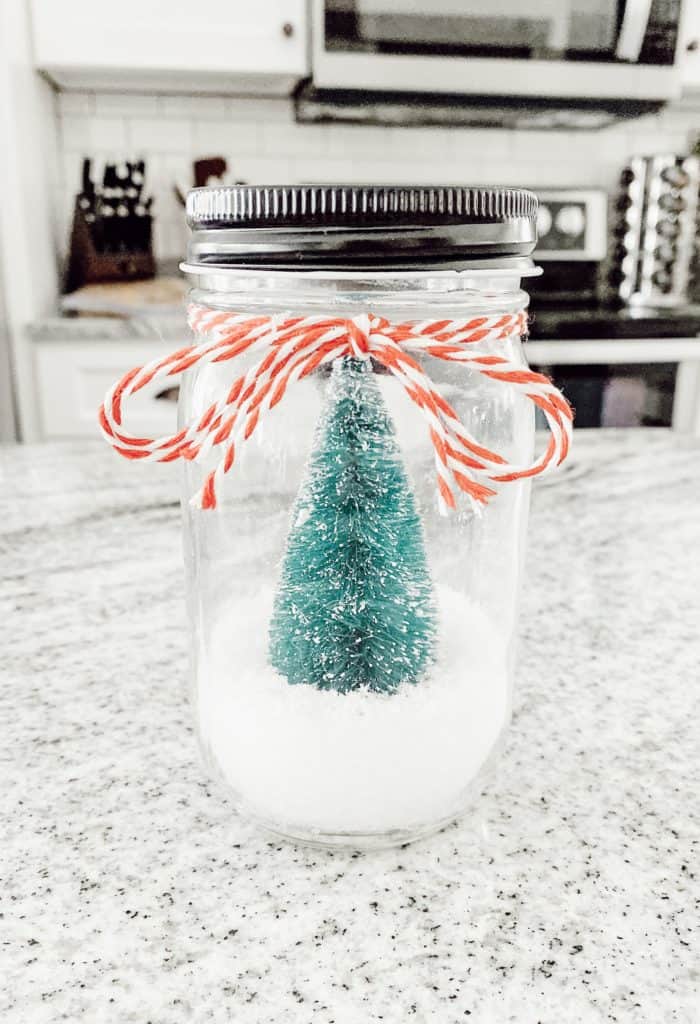 8. Vintage Gift Wrapping Inspiration
Again, you I try to make everything vintage inspired with my Christmas decor. And that includes all my gift wrapping too. Did you know you can wrap your presents with some plain kraft paper and then add some vintage lace to give them an elegant and classy look?
I also love to keep the presents in a neutral color scheme since my tree is full of pops of red too. There's nothing like tearing into a vintage inspired gift on Christmas morning!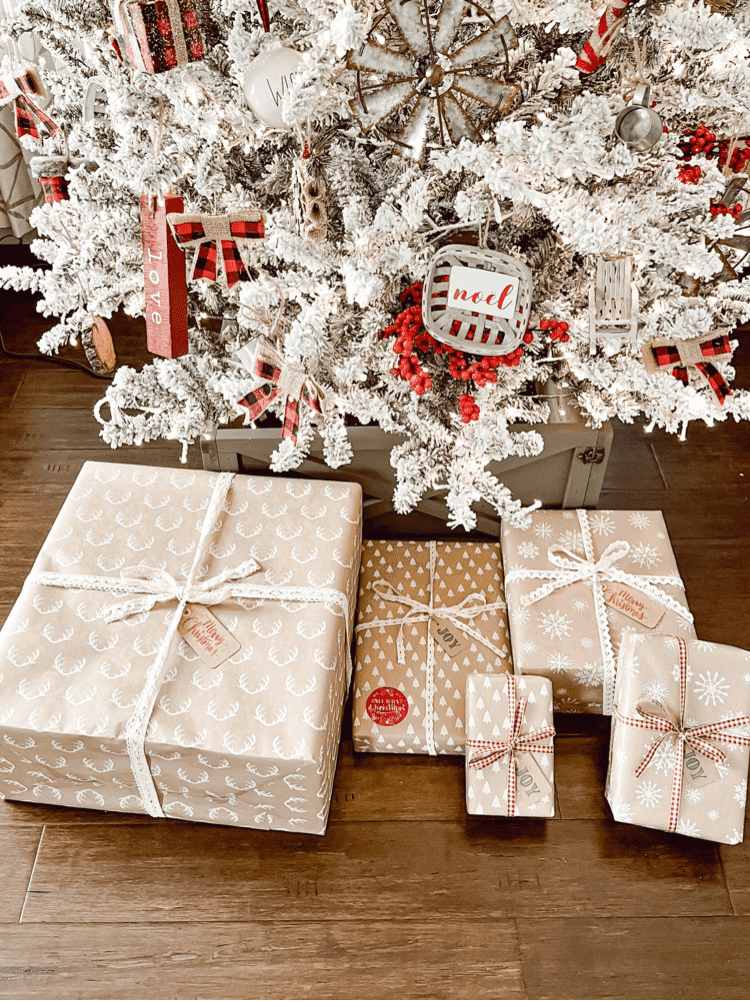 9. Farmhouse Gift Wrapping Inspiration
If the vintage wrapping style isn't for you, then maybe the farmhouse gift wrapping style is the way to go instead. You could also tie in some of those salt dough ornaments on the present to give them some more visual interest and texture as well. Or tie in some faux greenery to give it the same effect too! I love coming up with new ways to wrap gifts each season.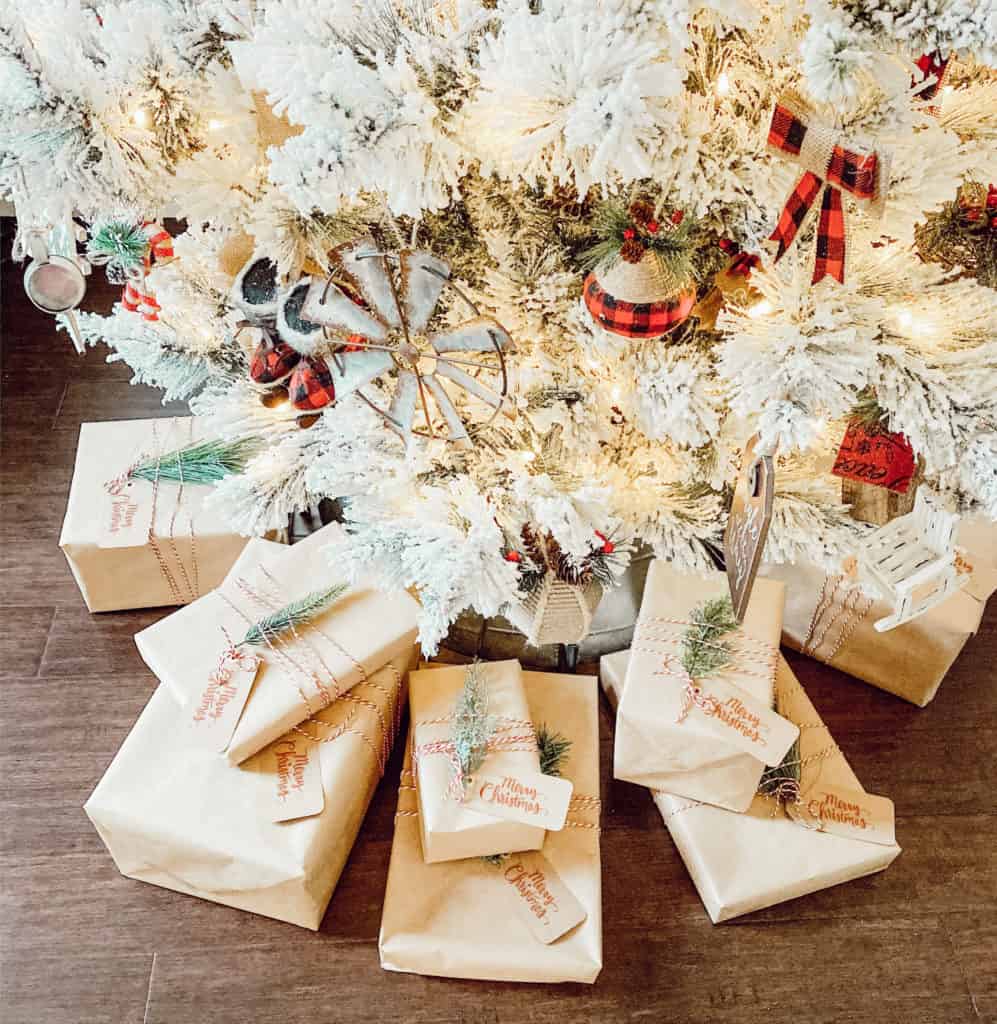 10. Homemade Elderberry Syrup
Another great DIY gift idea would be this homemade elderberry syrup. If you're looking for some mason jar crafts to do, then this one would be a great one to try. Simply pour it in the jar, and tie a ribbon around it and that's it! Easy peesy! Plus, it's the perfect time of year to gift out this syrup since it is cold and flu season after all!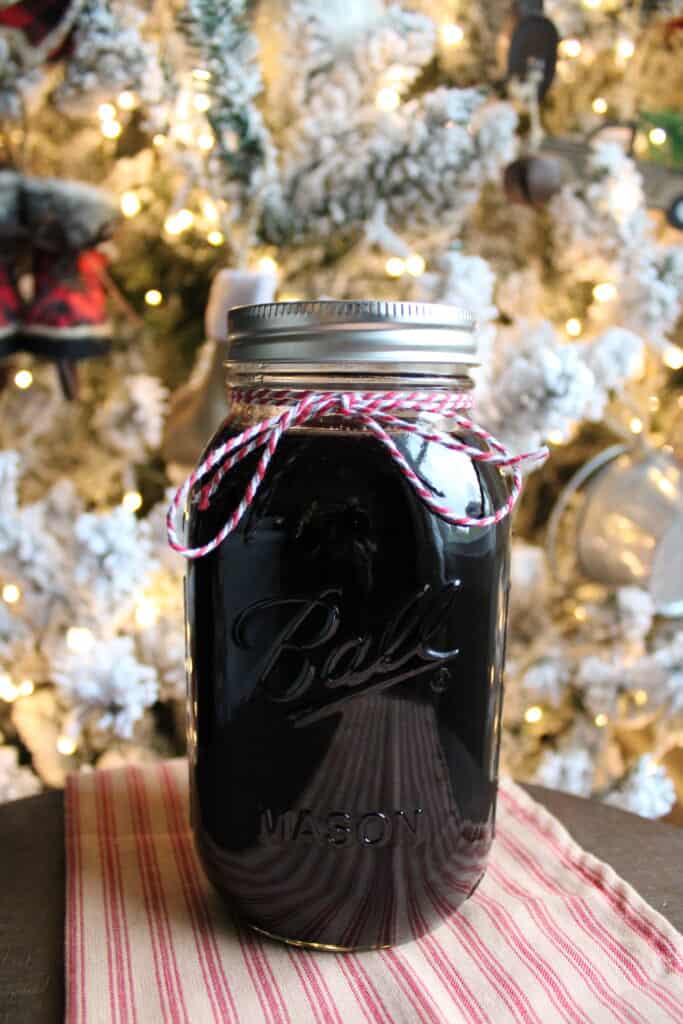 11. Mason Jar Lid Stickers
Going off of the homemade elderberry syrup, you could also take it a step forward and make your own lid stickers as well! You could totally customize them to the way you want or even make it more of a gift tag with a "to" and "from" on it. I always love it when gifts are personalized like that!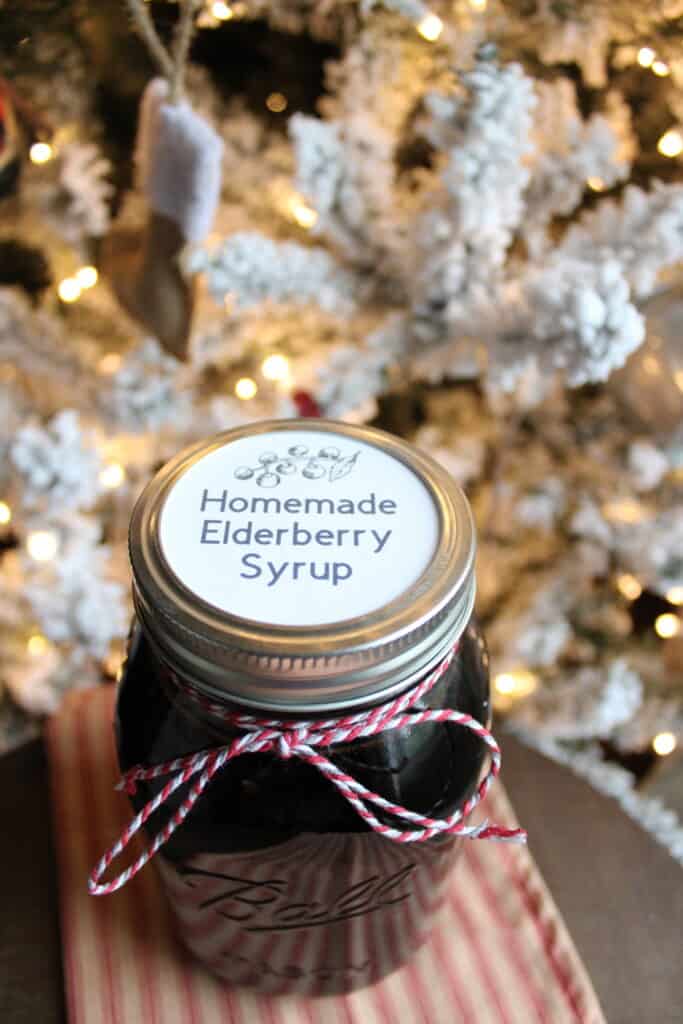 12. DIY Mercury Glass Ornaments
These Christmas ornaments are some of my very favorite ornaments I have ever made. I would say this would be a perfect craft for older kids with adult supervision too. I mean what kid doesn't want to try their hand with a can of spray paint, right?
These mercury glass ornaments really shine in the Christmas lights of the tree too. Definitely consider making these if you are on a budget and want to try out a new Christmas look this holiday season!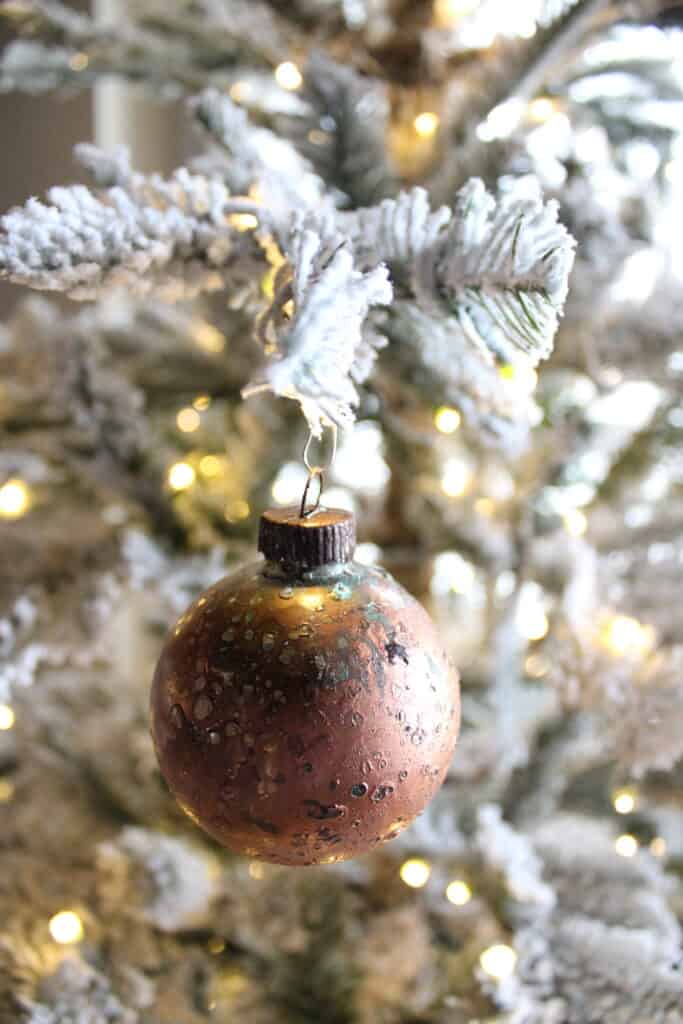 13. Faux Planter Display
I love being able to use faux pine and greenery during the Christmas season. And I was able to create this faux planter display very easily just using a few materials. I also love the fact that you can carry it into winter too after Christmas is over.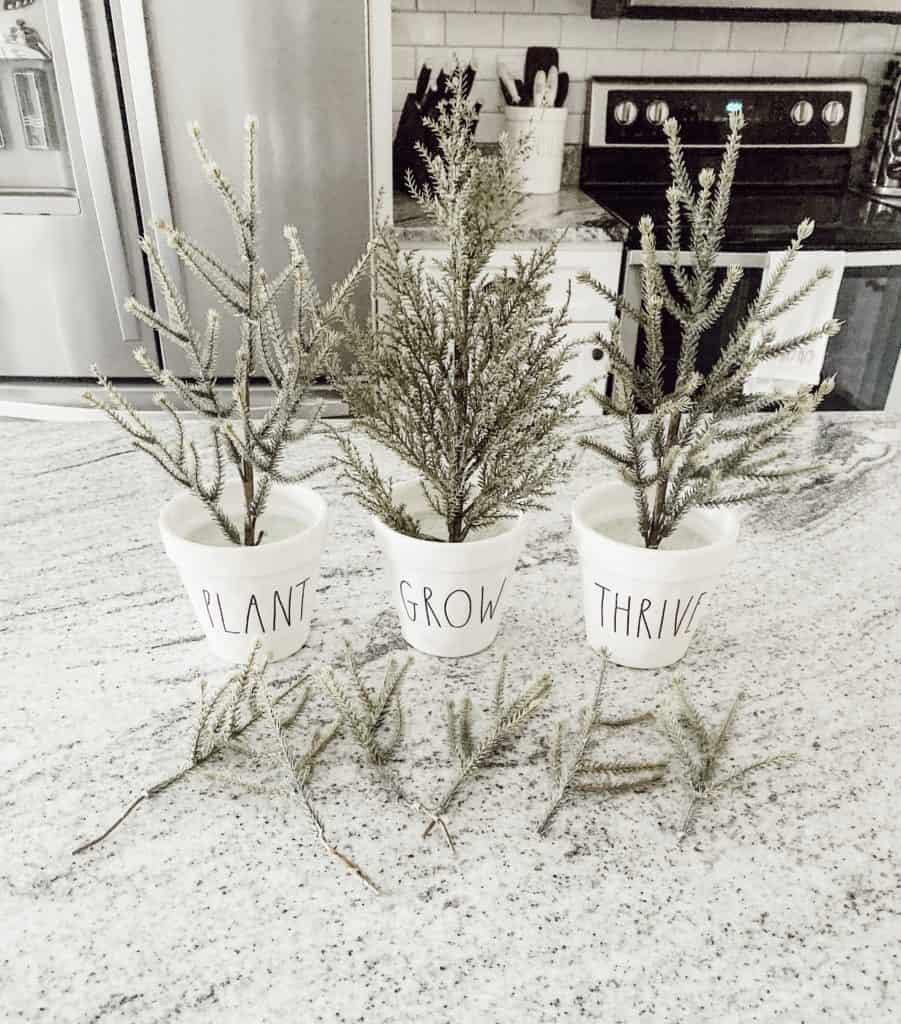 14. Christmas Vacation Sign Using a Circut Machine
Now, this craft in particular is a little more dependent on the fact if you are a Cricut machine or not. But no worries if you don't, you could always create something similar using some paint and stencils instead of the vinyl. I made a fun little sign based off of my favorite Christmas movie, Christmas Vacation.
And you could easily make a sign based off of your favorite Christmas move too. Whether it be Elf, a Christmas Story, Home Alone, The Grinch, etc. The possibilities are endless!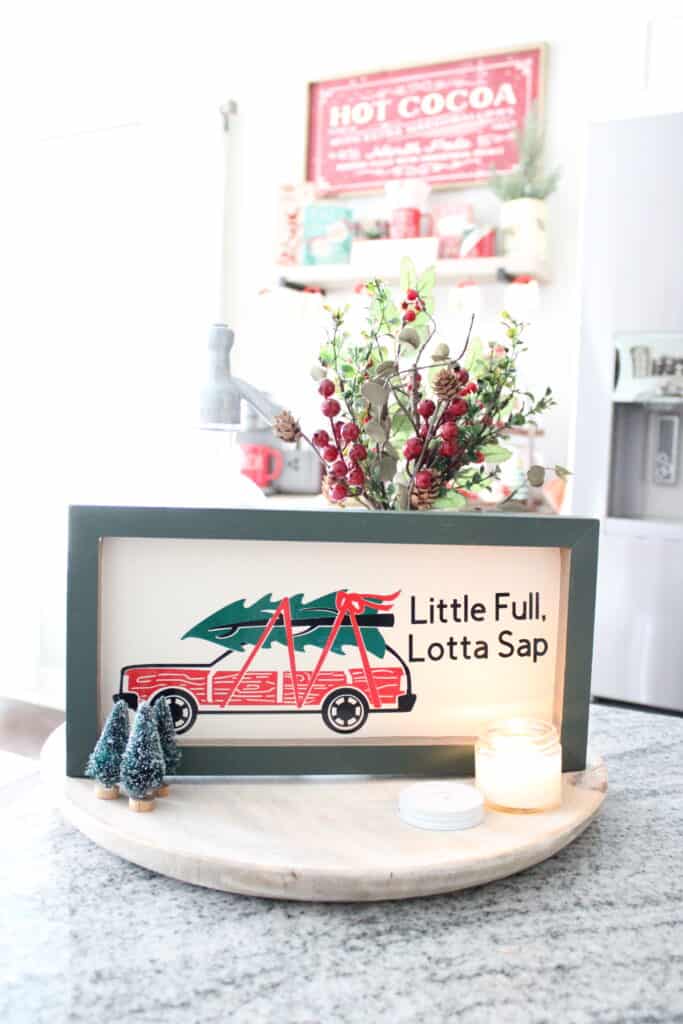 15. DIY Reversible Christmas Sign
Again, I made this Christmas craft using my Cricut machine. But I love the fact that it is double sided and can be easily flipped over to a more neutral side after Christmas is over. That way, I can still leave it out for winter decor too!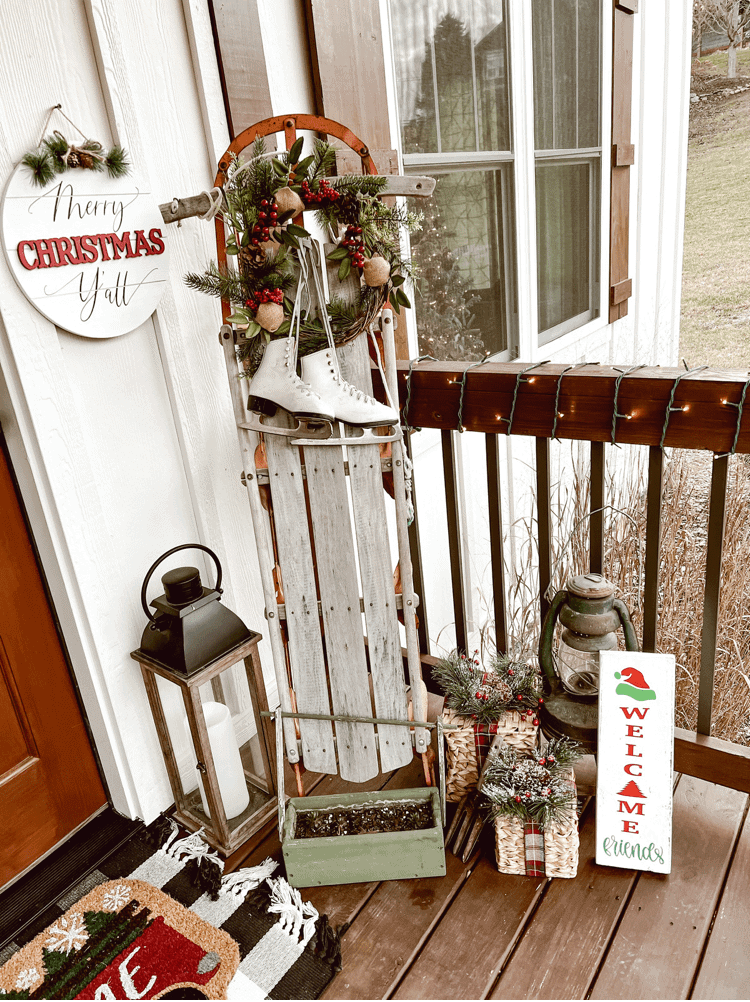 16. Adding String Lights to a Garland
Here's a super easy craft idea for you! This would be perfect for little kids too since there really isn't anything to it. If you have a garland that needs some twinkle, just buy some battery operated string lights and wrap it around the garland.
And viola! You now have a lit Christmas garland. I use this process over on my new mantel in the living room since I don't have much clearance between the mantel and TV. So I need something small with just a little bit of twinkle there!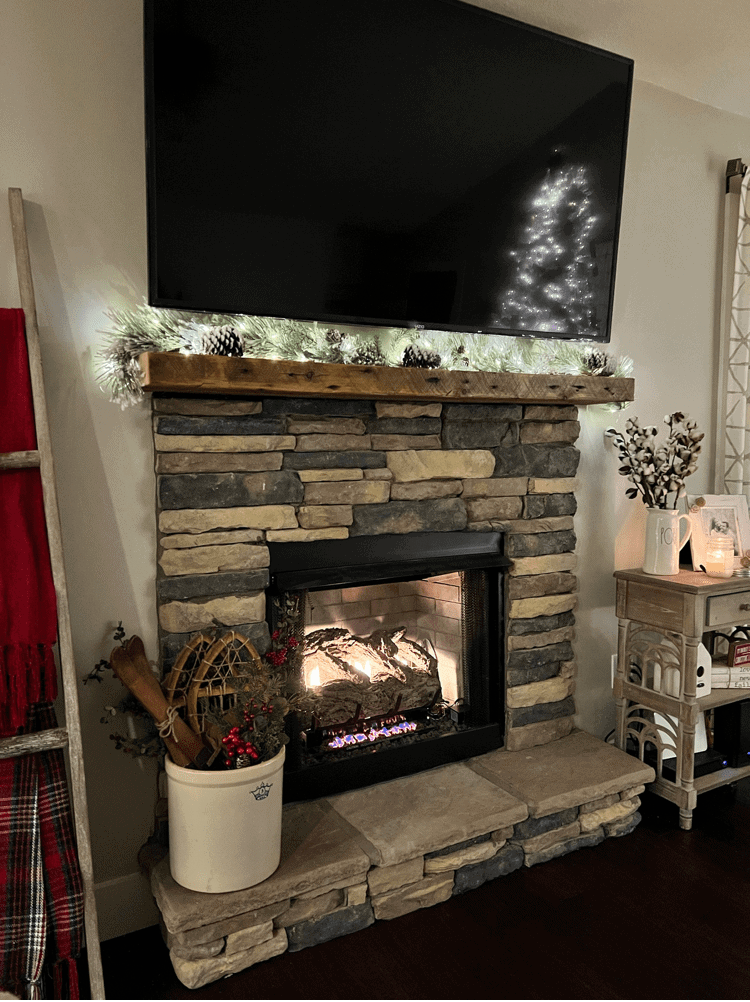 17. Personalized Christmas Gift Tags
Going back to gift wrapping, a fun way to personalize each gift is to make your own tag for it. I do this by getting blank kraft paper gift tags and then a beautiful Christmas stamp. Then, in red or green ink, I stamp the front of the gift tag with the design, and personalize the back of it with "to" and "from" and a little note!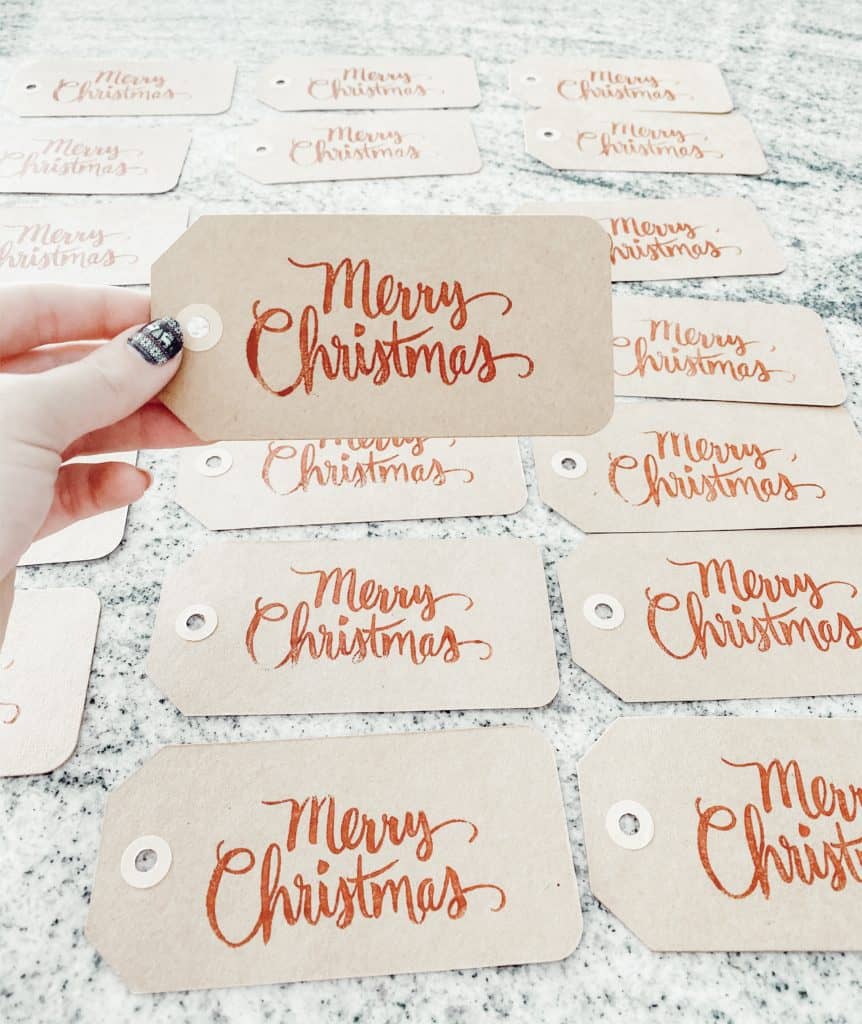 18. Personalized Christmas Gift Tags Using A Cricut Machine
Again, you can use the same process as above, but instead of using stamps, you could use a Cricut machine to print out a fun design or Christmas saying for your gift tag. I've done them both ways and loved the outcome of both. Plus, it is such a fun way to personalize a gift for a loved one or family member too.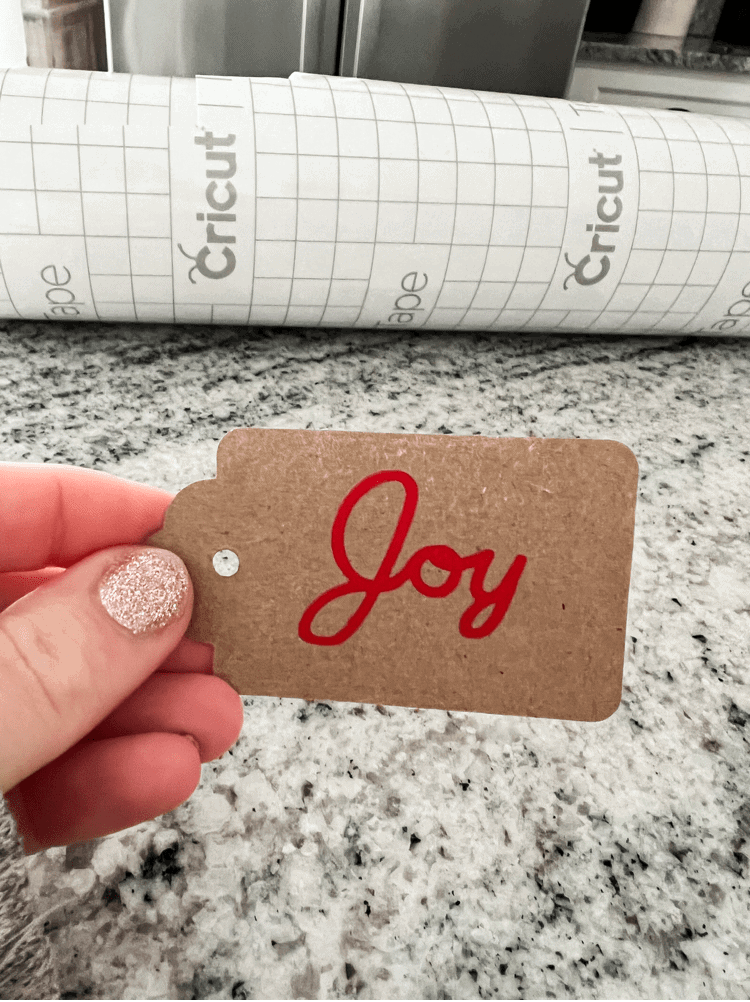 19. Staining Book Pages
Another cool paper project to make this holiday season would be to stain book pages and use them for Christmas decor. Once dry, you could cut them into Christmas shapes or even into paper snowflakes and hang them around or group them together in a garland too!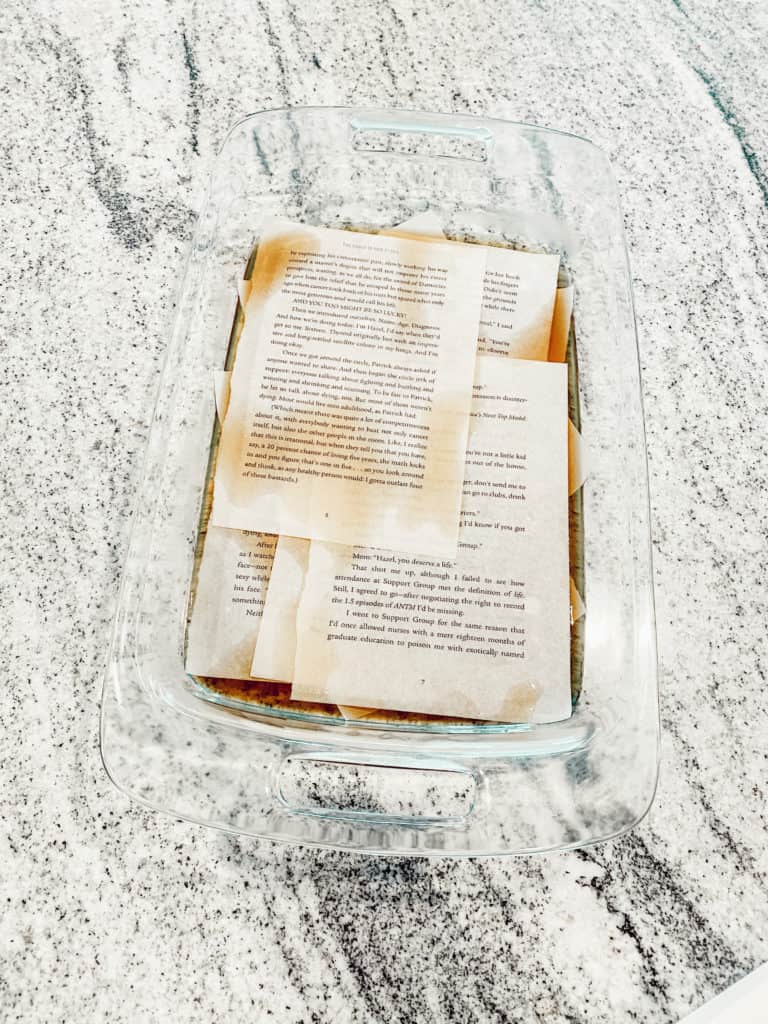 20. Make a Winter Wonderland in a Lantern
If you have an old lantern laying around, why not transform it into a beautiful winter wonderland. I used faux snow and Christmas trees. One of the most fun Christmas tree crafts I have ever done! Loved creating a little forest of Christmas trees inside this lantern!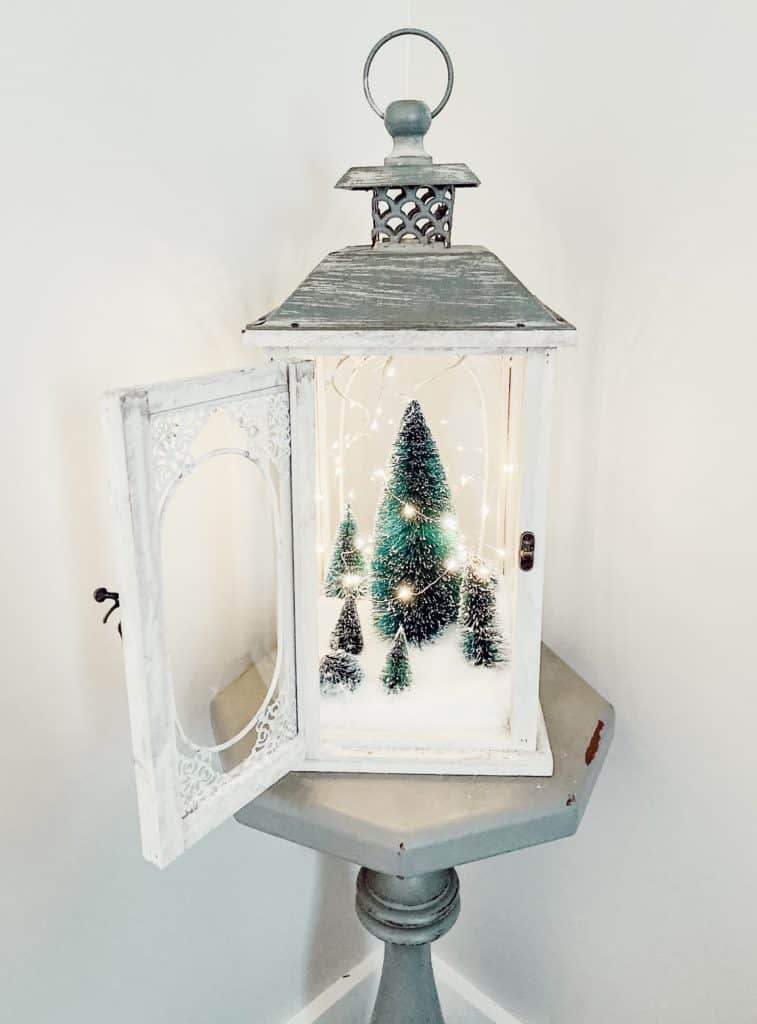 21. Paper Towel Napkin Ring Craft
Talk about a fun and easy Christmas craft idea! I got this post from my friend, Marie, over at This Dear Casa blog. She made DIY napkin rings using old paper towel rolls, patterned paper, and a little modge podge. This is the perfect, simple addition to a Christmas Day tablescape!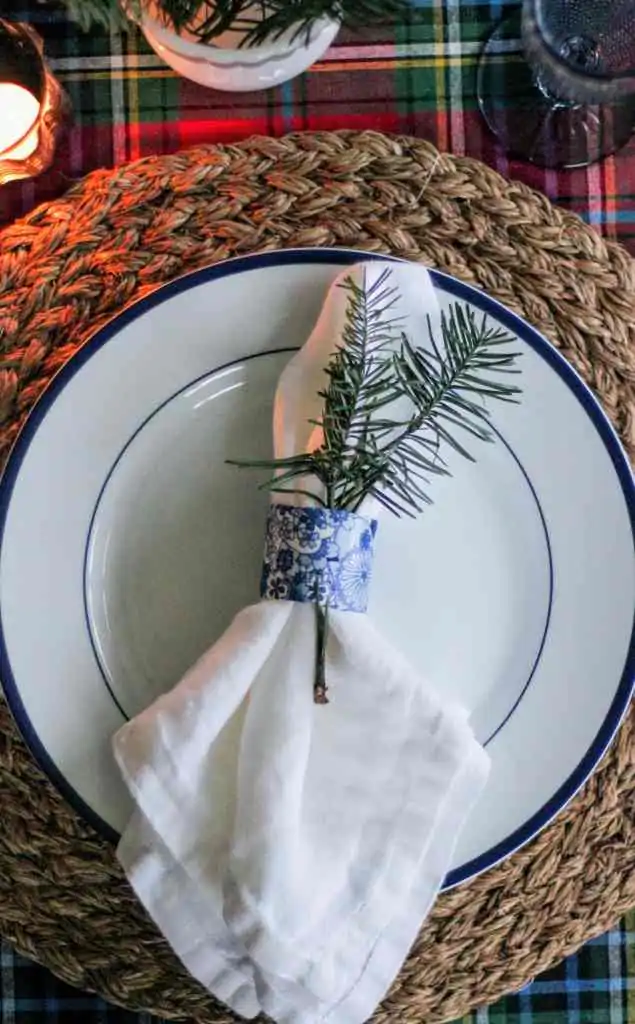 22. Showcase A Special Christmas Ornament
If you have an extra special ornament you would love to display outside from the Christmas tree, you should definitely create a special ornament showcase for it! Especially if the ornament is very fragile or breakable, this is the perfect way to display it without the risk of it falling from the tree.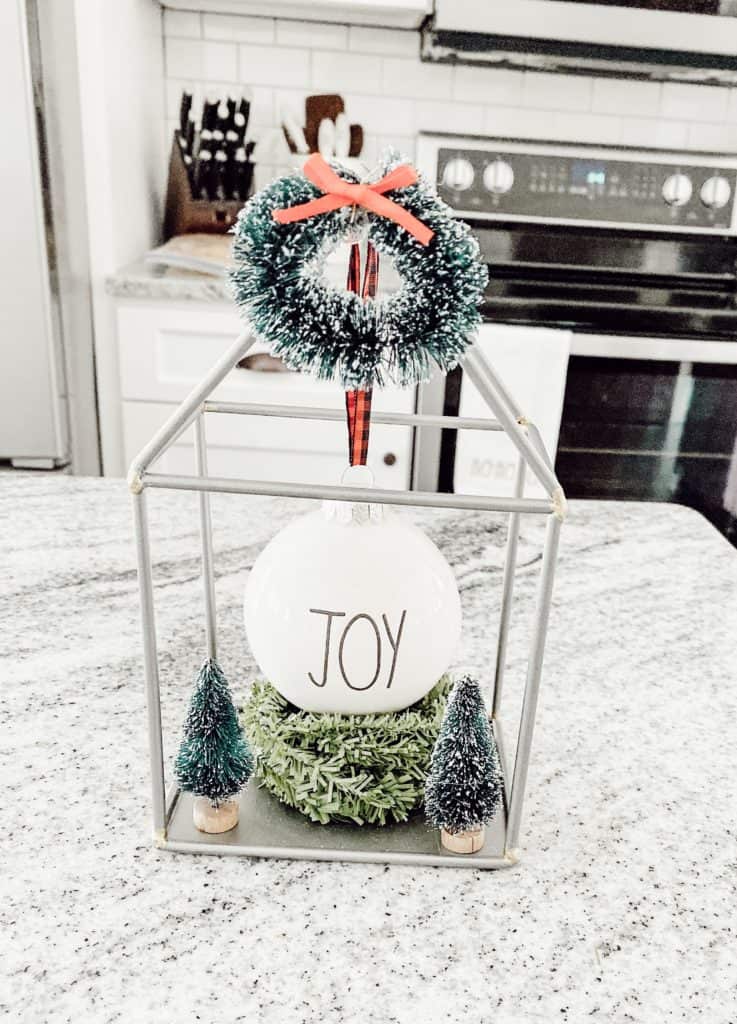 23. Decorate Some Sugar Cookies
This next one isn't really one of my Christmas crafts, per se, but a fun idea for the whole entire family to do instead! Bake up some sugar cookies or gingerbread cookies on Christmas Eve, and then decorate them using my favorite icing technique. Trust me, it's really simple and always turns out so cute! Or you could keep it super simple and sprinkle on some crushed up candy canes or sprinkles instead!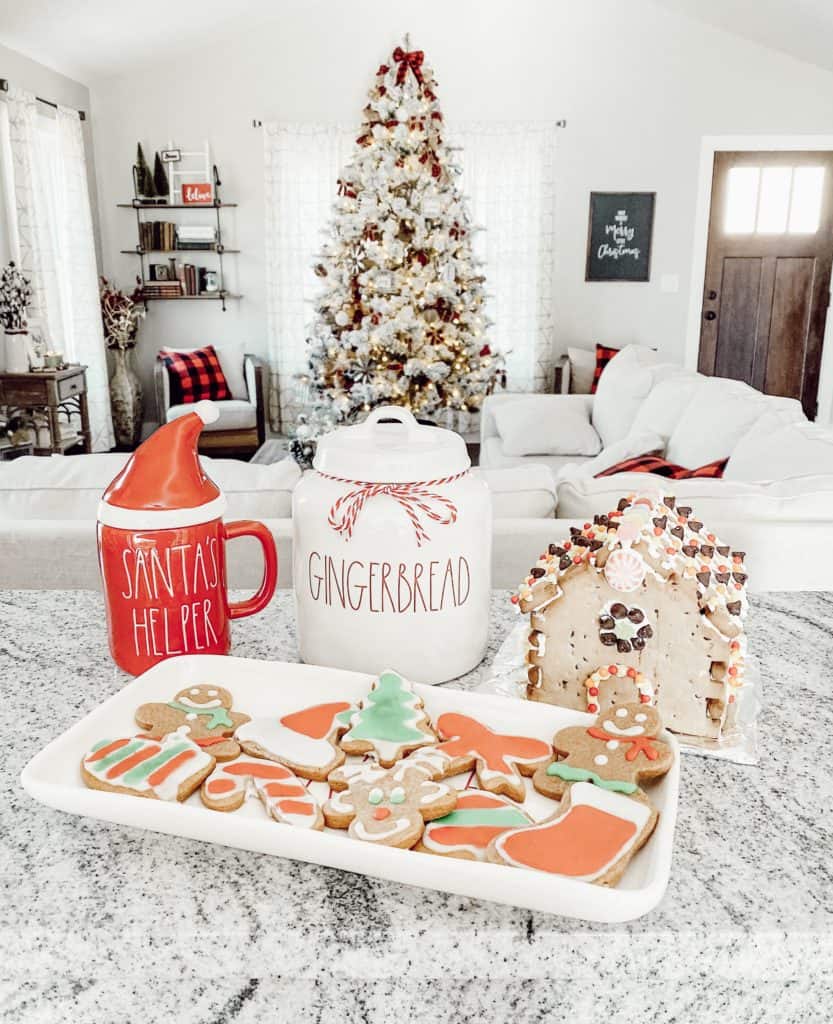 24. DIY Advent Calendar
If you're looking more for some Christmas countdown activities, then this one is perfect for you. I got this idea from my friends over at Birds of a Feather blog. They shared how to create this cute countdown calendar using an old, antique washboard! My vintage loving heart adores that idea! So fun!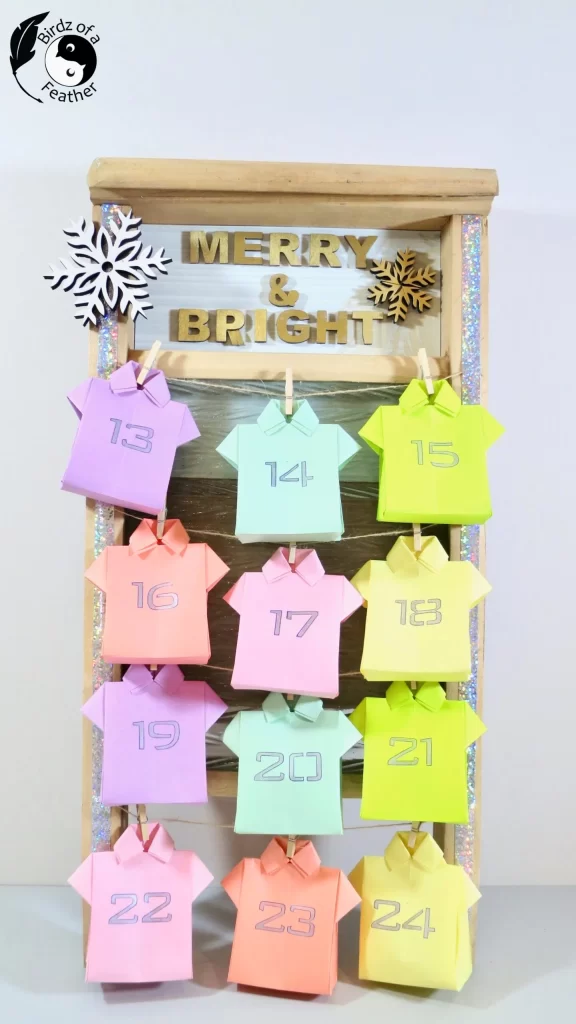 25. Create a Hot Cocoa Bar
I think kids of all ages can appreciate a good hot cocoa bar! I absolutely love sipping on hot chocolate during the Christmas season, so to create a designated station of it, is one of my greatest Christmas ideas yet! I love to decorate mine with all my vintage Santa Claus mugs, but you could easily style it and decorate it any way you wanted to!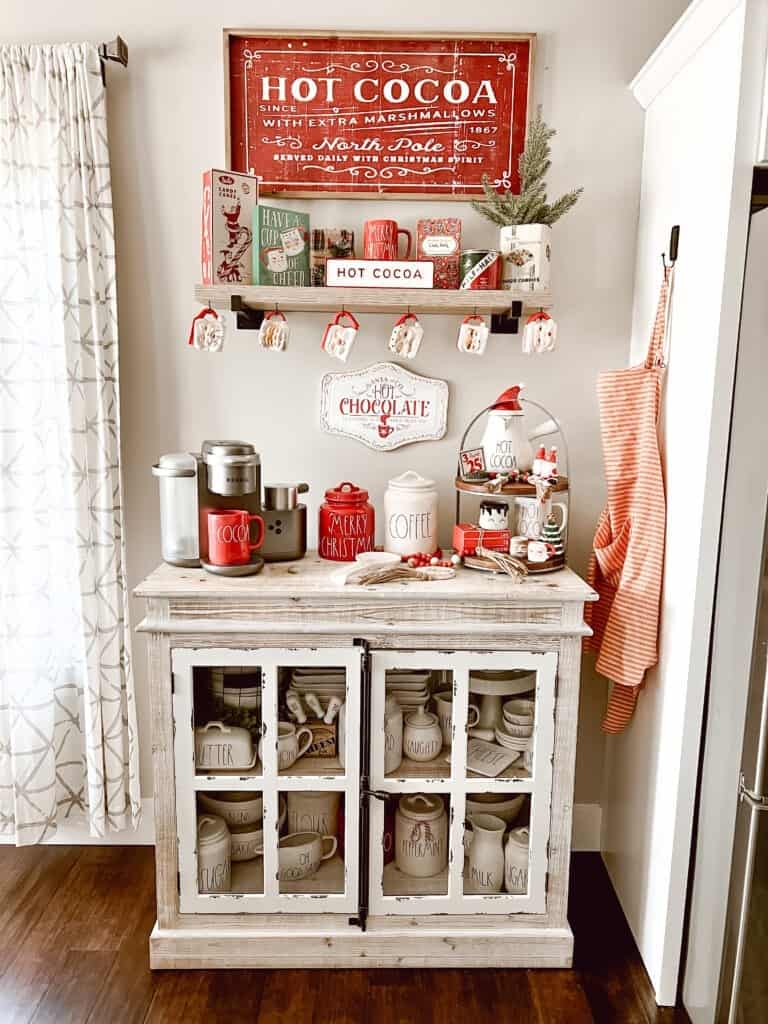 Well I hope all these Christmas crafts and holiday ideas get you into the Christmas spirit! I tried to share with you all the most fun Christmas activities I could find for the whole family too, that way everyone has something to enjoy this Christmas time.
Let me know if you try out any of the simple ideas listed above and how they turned out for you too. I hope you all have a very Merry Christmas this season and enjoy it with your family and loved ones!